VietNamNet Bridge - From November 12, the weddings of people of the same gender will be no longer banned in Vietnam.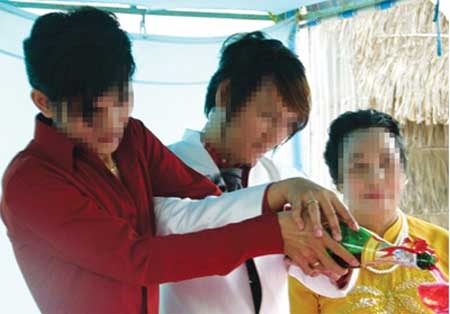 A gay wedding in Ca Mau.
In 2012, two weddings of a gay and a lesbian couple were held in the southern provinces of Kien Giang and Ca Mau.
The local authorities intervened and imposed a fine on them, given that the weddings were "contrary to the habits and customs of Vietnam" and the Law on Marriage & Family of Vietnam, which bans marriage between persons of the same sex
However, according to Decree No. 110/2013/ND-CP which took effect on November 12, marriage between people of the same sex has been rejected from the banned cases of marriage. It means that the organization of wedding parties between people of the same sex (without marriage registration) will not be illegal any more and they will not have to pay fine.
The gay couples will have the right to live together and organize weddings.
In the case the local authorities appear to sanction or make intervention, they can take this Decree to protect their legitimate interests.
Mot The Gioi