VietNamNet Bridge - Nguyen Thanh Chan, who was sentenced to life imprisonment for "murder" has constantly claimed innocence for ten years and "pointed out" the real culprit who has been omitted by the legal agencies.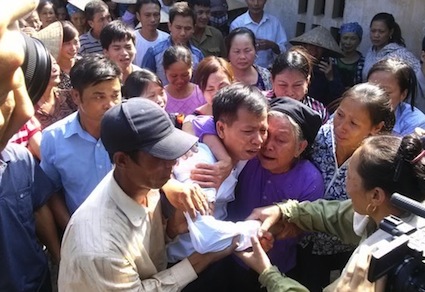 Chan in the arms of his relatives.
Mr. Nguyen Thanh Chan, 52, a native of Bac Giang province, was temporarily released from the Vinh Quang prison yesterday while waiting for the review hearing of the People's Supreme Court at the appeal of the People's Supreme Procuracy.
Ten years ago, in Viet Yen District, Bac Giang Province, a woman named Nguyen Thi Hoan was killed at her home. Chan was suspected because his "left foot nearly fits with the footprints left at the scene" and "had dubious signs on the day the incident occurred."
On August 30, 2003, Chan was summoned by Viet Yen district police and prosecuted for murder. In March 2004, Bac Giang People's Court sentenced to life imprisonment with Chan. Four months later, the Supreme People's Court rejected Chan's appeal. At the two hearings, Chan was said to "not admit the guilt" although he "confessed" the guilt with the investigation agency.
According to the verdict, in the afternoon of August 15, 2003, Chan broke into Hoan's house to demand for having sex with her but she did not accept. While hugging her from behind, Chan was beaten by the woman with a beer bottle. During the struggle, Chan pulled out a flick knife from his pants pocket and stabbed her many times in the stomach and the face.
Since his arrest, Chan has submitted many petitions claiming innocence and announcing Ly Nguyen Chung, a villager, as the culprit. The case was then investigated again. On October 25, 2013, Chung gave himself up, confessing that he killed Hoan for robbery.
in early November, the head of the People's Supreme Procuracy – Mr. Nguyen Hoa Binh asked to review the verdict and temporarily released the defendant from the prison.
The review hearing will be held on November 6.
Le Ha