Saigon: Flood fears rise as river levels surge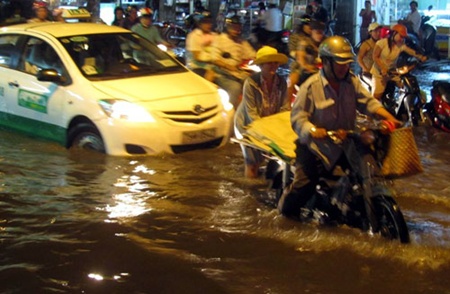 Many areas in HCM City will be flooded today when the tide on the Sai Gon River rises to an expected alarm level 3, the Southern Hydro-Meteorological Station has warned.
The tide reached 1.4 metres (alarm level 2) at 5pm on Saturday, flooding low-lying areas in Districts 2, 8, Binh Thanh, and Nha Be.
It rose to 1.47 metres by 5.30pm.
The water level is expected to recede to 1.4 metres this morning before rising at 6pm to 1.51 metre, a centimetre above alarm level 3.
The tide would begin to ebb on Tuesday, the station said.
Le Thanh Hai, deputy director of the National Hydro-Meteorological Forecast Centre, said though the low pressure that had formed over the East Sea had dissipated, there would be more rain in the south, especially today's evening, which would possibly combine with the high tide to cause flooding.
The HCM City Steering Board for Flood and Storm Prevention and Control has urged district authorities in low-lying districts like Binh Thanh, Thu Duc, Cu Chi, and Hoc Mon to reinforce embankments and focus on efforts to cope with the high tide.
Twenty illegal air guns seized aboard ship
Twenty air guns illegally transported from Thailand onboard the ship "Vinh An" were confiscated by customs officers at Khanh Hoi Port in HCM Cityon Saturday.
According to customs officials, the Vinh An, a Vietnamese vessel, had failed to declare the guns during immigration procedures to enter Viet Nam.
This is the second time this year that illegally transported guns were found onboard a ship at a port in HCM City.
Earlier in April, the customs police discovered a ship named "Thai Binh 27" transporting 104 air guns, 11 packets of bullets and dozens of silencers hidden inside the ship.
Also yesterday, the Express Delivery Customs Sub-Department under the HCM City Customs Department uncovered an illegal air express shipment containing several cases of pistols and bullets.
According to authorities, these packets of weapons were addressed to different receivers in HCM City. All of the weapons have been confiscated.
Further investigation into the cases is on-going.
Bodies of two workers swept away in hydropower plant's tunnel found
The bodies of two workers who were reportedly swept away while working in the tunnel of central Phu Yen's La Hieng Hydropower Plant 11 days ago were found yesterday.
On September 26, three workers, including two Vietnamese and a Chinese, were swept away by rising flood water while they were working a night shift in a tunnel supplying water to the plant's turbine generators.
Five days after the incident, the first body was found one kilometre away from the tunnel, said deputy head of the province's Committee for Flood Prevention and Search and Rescue Bien Minh Tam, adding that the search had been temporarily suspended until yesterday morning because the tunnel gate had flooded and rescuers needed to pump the water out.
Stranded vessel crew come ashore
Rescue teams from the central province of Quang Ngai transported 24 Panamanian crew members from a stranded cargo vessel to a guest house of the provincial People's Committee on Saturday.
The vessel grounded on a reef last Friday, rupturing the hull in two places and spilling hundreds of gallons of oil to spill out.
The Viet Nam Maritime Administration said the vessel was still stranded and unlikely to sink, but strong seas may overturn it.
Vanguard Maritime Co Ltd, the owner of the foreign vessel, has sent a lawyer to deal with the case.
Vice chairman of the committee, Nguyen Truong Tho, has ordered the company to salvage the stranded cargo vessel and stop the oil spill.
MoH to treat people exposed to toxins
The Ministry of Health will discuss tomorrow with central Thanh Hoa Province about providing healthcare to local residents near the area where Nicotex Thanh Thai Joint Stock Company dumped untreated hazardous chemicals.
The ministry ordered its Medical Service Administration, Bach Mai Hospital and the Viet Nam National Cancer Hospital to support the local health department to examine and treat affected locals.
The company has been fined US$20,000 for dumping around 1.4 tonnes of chemicals and pesticides.
Ethnic people express gratitude to General Giap
The news of General Vo Nguyen Giap's death has saddened all local people in Dien Bien province which was closely linked to Giap's image in the 1954 Dien Bien Phu victory over the French colonialists.
Considering General Giap as their father, head of Muong Phang village Lo Van Uong said people in Dien Bien province had indebted to General Giap for not only freeing them from French colonists but also helping them in poverty reduction process as well.
Muong Phang is located northeast of the city of Dien Bien Phu and contains the historical relic site of the Dien Bien Phu Campaign Headquarters.
For people in Dien Bien, General Giap has long time been their "guardian" who organised the army that ended more than 70 years of French colonial rule in Indochina, dealing a humiliating defeat to a French garrison in a 55 day siege of the mountain–ringed outpost at Dien Bien Phu.
Early October 5, Muong Phang villagers gathered at the chief village's house to commemorate their "guardian". Holding firmly the picture of General Giap in her hand, the 100-year-old woman Lu Thi Doi recalled her working times with General Giap. Doi said General Giap had guided her how to persuade Dien Bien's ethinic groups to help the Dien Bien Phu campaign.
The Muong Phang village chief said General Giap was always caring how to improve living conditions for ethnic people in the area. General Giap and his family helped villagers to build school for children. General Giap, personally, made a great effort to help local people have Loong Luong irrigation reservoir.
Local people now have schools, hospitals and convenient roads thanks to President Ho Chi Minh and General Vo Nguyen Giap, said the 80-year-old man Mua A Sau.
"We wish General Giap could be with us at the 60th anniversary of Dien Bien Phu victory in 2014. Now we understand that our wish could never come true." Sau said in a deep sorrow.
Water treatment starts in famous bay
A US$500,000 project for waste water treatment has been recently jointly launched by Japan's Seiwa Denko and Chodai companies, and northern Quang Ninh Province.
Seven bio-toilets and seven new waste water treatment systems will be installed in renowned Ha Long Bay.
Introductions to waste water treatment technology will be popularised and bio-toilets will be set up at public areas and tourist attractions.
The project will be implemented from October this year to February next year.
Toxic waste discharged in northern province
A large amount of industrial waste containing poisonous substances has been accidentally discharged in some areas in the northern province of Ha Nam, leaving local residents concerned.
The areas includes Thanh Liem District's Thanh Tan Commune, Kim Bang District's Thanh Son Commune and the Vicem But Son Cement Plant.
In Thanh Tan Commune only, the waste was about 20 tonnes. In the other areas, the waste was estimated to be about a dozen tonnes, according to the provincial Department of Natural Resources and Environment.
The department conducted tests of the waste samples in Thanh Tan Commune and the results showed that the amount of heavy mental was below the country's regulated levels.
However, the amount of ammonia exceeded regulated levels. The gas is poisonous to organisms and can cause damage to people's skin, mucous membranes, eyes and respiratory system, experts from the department said.
In the beginning of August, the department sent letters asking the Thanh Liem District People's Committee and the Ba An Environment Corporation to set up areas to bury industrial waste in accordance with technological norms.
However, until now, observations by the Viet Nam News Agency's correspondent showed that the waste in Thanh Tan Commune was still present outdoors.
Local residents said that the authorities had covered the waste with canvas, but wind blew the canvas away after just a few days.
The department and provincial police are investigating to locate the owner of the waste.
Delta builds water treatment plants
Seventeen industrial waste water-treatment plants will be built by the Cuu Long (Mekong) Delta Economic Zone until 2020.
According to the region's master plan, the plants will be located in the provinces of An Giang, Kien Giang and Ca Mau and Can Tho City.
They will have a total capacity of 239,720 cubic metres a day.
To build the plants, the three provinces and one city would apply state-of-the-art technologies that help save power and could be upgraded in the future.
Of 17 plants, 11 will be built in Can Tho City with a total capacity of 197,600 cu.m per day.
The others include one in An Giang Province's Long Xuyen City, with a capacity of 12,800 cu.m per day; another in Kien Giang Province's Rach Gia City, with 11,200 cu.m per day; and four in southernmost Ca Mau Province, with 18,120 cu.m per day.
Funds for the construction would be mobilised from domestic and overseas sources, mostly from Official Development Assistance (ODA).
Can Tho is building an industrial waste water-treatment plant in Tra Noc Industrial Park with a total capacity of 12,000 cu.m per day.
The plant, which meets national standards, will be completed by the end of next year.
In mid-August this year, Can Tho also put into operation the first phase of the Thot Not industrial waste water-treatment plant at Thot Not Industrial Park with a capacity of 2,500 cu.m per day.
The second phase will be completed by the end of next year, bringing a total capacity of 5,000 cu.m per day.
It is estimated that a total daily volume of industrial waste water in the Mekong Delta discharged into the environment would reach 369,000 cu.m by 2020. Construction of these plants would help reduce environmental pollution and contribute to sustainable socio-economic development of the region.
More than 90 per cent of the total volume of waste water in Viet Nam is untreated, causing severe pollution, experts have said.
The country has targeted treating more than 80 per cent of its total waste water by 2025.
Golfer shuns the fair-way by taking swipe at caddie
The Viet Nam Golf Association has called on all golf courses in Viet Nam to refuse services to a general director of a State-owned company in Ha Noi because he was reported to have whacked a golf caddie across the head with a golf club in the middle last month.
Association president Doan Manh Giao said that it had demanded the businessman be suspended for one year from all of Viet Nam's golf clubs.
On September 15, the director reportedly used a club to hit the caddie at the beautiful Tam Dao Golf course two hours from Ha Noi. The poor caddie passed out with the shock and had to be taken to hospital. The director later sent his apologies to the man and offered some compensation..
Tam Dao Golf course later banned the businessman for one year. One week after the incident, a vice chairman of the Ha Noi People's Committee asked the director to explain his actions. And the chairman of the committee set up a group to review the whole affair and deliver proper discipline.
Seems almost like an over-reaction, but then, think about the caddie and what amounts to a severe assault. Hardly the sorts of things a State company director in a Socialist nation should be involved in!
What's in a name? An awful lot, says Construction Ministry
In the fourth draft of the revised Law on Housing, the Construction Ministry suggested that the names of housing projects should be in Vietnamese and not abbreviated.
Speaking to Thanh Nien (Young People) newspaper, the vice-head of the ministry's Department for Housing and Real Estate Market Management, Nguyen Manh Khoi, a member of the revised law board, said that using a foreign language to name a project caused administrative problems.
He has proposed that foreign investors choose a Vietnamese name for each project, adding that this did not affect the viability of the project in any way for either investors or buyers.
Some of the current project names seem harmless enough: Royal City and Golden West Lake.
Khoi said: "Another problem would be if the foreign names have negative meanings when translated into Vietnamese," he said. Which they apparently don't have.
Vice president of the Viet Nam Federation of Civil Engineering Associations Pham Sy Liem agreed. He said that he did not agree with the use of foreign languages to name housing projects because people found them hard to remember.
However, he said investors should be encouraged to use Vietnamese names for their projects instead of being forced to do so by law.
Vice president of the HCM City Real Estate Association Do Thi Loan said that the suggestion sounded unreasonable, especially as Viet Nam was becoming more integrated into regional and global affairs.
She said housing developers could be foreign, including multi-nationals who carry out a series of projects with the same name in many countries.
"The name of a housing project may not purely be a name, but a marketing tool that helps attract customers," she said.
Just as well there is no regulations on names under the Law on Children otherwise people would find it difficult to give their baby a foreign name.
Small change for the working classes
In July, the minimum wage in Viet Nam was increased by VND100,000 (US$5 ) to VND1.15 million. The move was welcomed as a move to reduce pressure on workers hit by the spiralling prices of most goods.
However, at its monthly cabinet meeting on Sunday, the Finance Ministry proposed to decrease the minimum wage. The proposed reduction is exactly as much as the increase made in July.
According to the ministry, the contrary move was one of the measures taken to balance the State budget because the country is facing a shortfall in income.
However, as soon as he heard of the proposal, Prime Minister Nguyen Tan Dung rejected it, noting that in the last three years, the minimum wage had increased by about 35 per cent but prices also kept going up.
So, it's back to square one. The workers can have their justified increase thanks to the PM - and, as for the State budget, well, as many say, it will just have to become more creative.
 Preserving the status quo
They love their education up in the hills. They've been without it for so long, they'll do anything to keep the funding for schools flowing in. Anything! That is why several junior students agreed to fill in for their seniors at a recent examination.
The unlikely event happened in the northernmost mountain province of Ha Giang. Some teachers at the secondary school in the province's Meo Vac District were reported to have assigned six students from grades seven and eight to fill in for six, sick ninth grade students at the final exams.
The story stirred public opinion throughout Viet Nam. People wonder how junior students could cope with lessons they had never been taught. Party secretary for the district Hau Minh Loi set up an inspection team to verify the truth of the story. The team reported back that the incident did actually happen.
The school's teachers said that when the examinations were held, some students in Grade 9 stayed home because they said they were sick. Sinh Mi Say, one of the six students, said that he did not want to fill in for someone else. He added that he could only complete the test by copying the results from other students in the test room.
Whatever the youngsters did, they did it well. All six senior students passed, meaning that student numbers were officially maintained and, presumably, the school will still receive full funding for next year.
How's your father - and mother?
Prime Minister Nguyen Tan Dung has agreed with a proposal by the Ministry of Public Security to drop the need for parents' names on new ID cards, no matter how old you, or they, are! It has issued a decree to this effect which will come into effect on November 2.
A year ago, also based on a proposal by the Ministry of Public Security, the Government decreed that new ID cards should contain the names of the ID holder's parents despite opposition from judicial experts.
According to an official from the Ministry of Justice, that provision is contrary to the Civil Code and the International Convention on the Rights of Children to which Viet Nam was a signatory since 1989.
It has been argued that the introduction of human origins to ID cards is very emotional and it can cause psychological affects on those whose parents died or those who do not know their parents. But, red tape being harder to get rid of than the smell of cats, abolishing the regulation does not help reduce the complexity of the new 12-digit card when making transactions at banks or administrative agencies. Despite having new ID, people still have to carry the old IDs with nine digits until they become invalid because the 12 digits are totally different to the nine digits.
If the new decree comes into force, there will be three types of ID cards - the old nine-digit ID, the new 12-digit ID with names of the ID holder's parents - and 12-digit cards without their names. The legitimacy of the three types is the same.
Deputy Director of the General Department of Police for Administration of Social Safety and Order Tran Van Ve said that those who currently owned ID cards with their parent names on them and wanted new ones without their parents' names, could apply after paying their fees as regulated!
Uni withdraws shoddy diplomas
The University of Thai Nguyen in the northern province of the same name has apologised for granting graduation certificates containing obvious spelling mistakes. The documents also do not carry the Ministry of Education and Training's stamps to guarantee they are genuine.
In July, 730 graduates from the university were received certified copies of their diplomas on which, among other things, the title of the university dean was misspelled.
A student said it would be hard to seek jobs using the documents because recruitment agencies would doubt they were genuine. A university leader admitted the mistakes, blaming them on the printers. He also admitted school officials did not closely examine the activity.
The school has said it will withdraw the certificates and issue new ones to students. It will also support the travelling costs for students living outside the province who have to return to school to apply for new certificates.
New flights link Hong Kong-Nha Trang
Flights between Hong Kong and Nha Trang City will begin next month.
The People's Committee of south central province of Khanh Hoa are increasing the number of flights to Cam Ranh International Airport.
Tran Son Hai, deputy chairman of the provincial People's Committee, said the province must have more tourism products so that it can open up more flights. Services at the Cam Ranh airport also need to be improved.
Pham Thi Huan honored with 'Vietnamese Woman Award'
Ms. Pham Thi Huan, Director of Ba Huan Company, has been honored with the 'Vietnamese Woman Award 2013' by the Fund for Vietnamese Woman.
Ms. Huan has made many contributions to public life, such as creating employment for disadvantaged people and for hundreds of poor families in poultry breeding in the Mekong Delta to supply towards the price subsidized program.
This year, the organizers selected ten individuals and five groups for the award. Accordingly, Ms. Pham Thi Huan became the first businesswoman of Ho Chi Minh City to receive this honor.
Vietnamese Woman Award honors outstanding woman individuals and groups who have made great contributions to public life.
Scholarships granted to disabled, dioxin-affected children
As many as 100 scholarships, worth 1.2 million VND each, have been presented to students with disabilities and affected by Agent Orange/dioxin in the central province of Thua Thien Hue.
The provincial Fund for Children in collaboration with the FPT Company handed over the gifts to those in need on October 5.
The activity demonstrated the society's care for disable children, helping them have more confidence to integrate into the community.
Source: VEF/VNA/VNS/VOV/SGT/SGGP/Dantri