VietNamNet Bridge – Catching locusts has become a lucrative job of many farmers in Quynh Luu district in Nghe An province.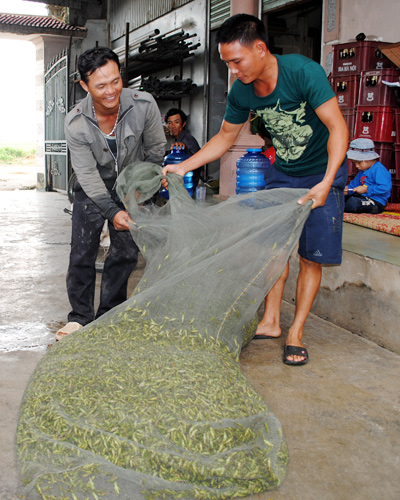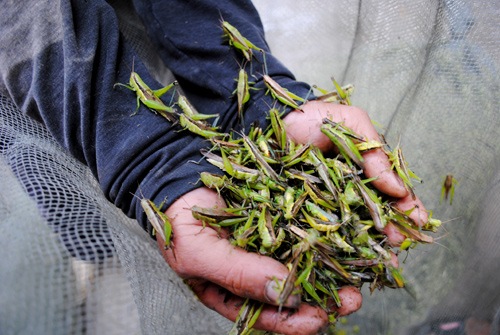 At dawn, when the sun did not rise up yet, a group of four men and one woman were present on the field of Quynh Thach commune, Quynh Luu district to catch grasshoppers. Their tools are a net of 50-60m long, small bamboo slats and a coil of rope of hundreds of meters long binding small bags containing chopped rice leaves.
The teams both walked and stretched the long rope on the field to drive away grasshoppers to the area where they set the net. Being driven away, the locusts flew at the "instruction" of the hunters. In minutes, locusts covered the net and these people only needed to collect the net and pour the locusts into a sack. Each catch, they gained 30-40 kg of grasshoppers.
Grasshopper hunting has become a job of many people in Quynh Luu district for 4-5 years. Quynh Thanh commune is the location of origin of this job. Initially, locust catchers ran motorcycles along the fields and used rackets to catch grasshoppers. But this measure could not help them catch locusts in large amounts. When locust prices increased rapidly, local people "invented" the above method.
Having worked for five years in the profession, Mr. Ho Van Tao from Quynh Thanh commune, considered catching grasshoppers as a profession to earn a living. Getting married so late at the age of 40, his first child is only 9 years old. Tao and his wife left their four children to Tao's parents to earn their living.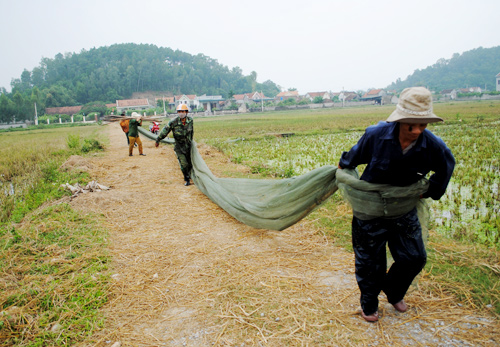 The harvest time is the golden time for locusts hunters. No matter rain or sun, they are present on the field. These days, Tao and other people in his hamlet drive motorbikes to all fields in the district.
During the peak period in July, the price for one kilo of fresh grasshopper was VND50,000 ($2.5), Tao and his teammates went to other provinces like Ha Tinh and Thanh Hoa to catch locusts.
They usually work from dawn to late afternoon. Some days, a team of 4-5 people can catch several hundreds of kilos of locusts in a morning. They sell locusts to traders, who will then transport the pests to Hanoi. Tao said he can earn million dong (at least $50) a day.
Seeing high revenue from this job, hundreds of people in Quynh Thanh commune have pursued it.
Because so many people are hunting grasshoppers, the price for this pest is declining. "The price for grasshoppers has fallen to VND17,000-20,000 ($0.7-1) per kilo. But if you are diligent and hardworking, you can earn money more easily than other job trades," said Mr. Le Van Phuong, 32, from Quynh Thanh commune, a teammate of Tao.
At restaurant in Hanoi, a dish of roasted grasshoppers (about 100 g) is priced from VND60,000 to VND80,000 ($3-4).
VNE