VietNamNet Bridge – At around 8pm on September 8, an advertising billboard of over 8m long in front of the Thang Long Puppetry Theatre on Dinh Tien Hoang Street, Hanoi, suddenly blazed up. Fire covered the building, making dozens of foreign audiences panic.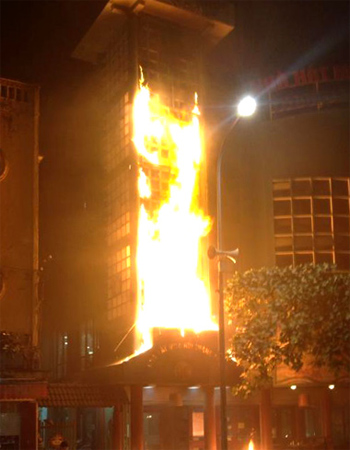 "Aloud bang came from the front billboard, fire blazed up and after several minutes,fire swallowed the whole front of the theater," said Mr. Hoang Manh Toan,who witnessed the fire.
The front of the theater was flaming, with a high column of black smoke. "Plastic from the billboard kept burning after it fell to the ground. Everybody was panicked and ran away. The neighboring stores closed for fear of fire,"Mr. Quyen, an employee of a hotel near the theatre recalled.
At the timeof the fire, about 30 actors and theater staff were welcoming the audience tothe show scheduled at 8pm. Discovering the fire, they both stamped the fire andtook the audience out of the theatre.
Mr. Bui DuyTan, an actor, said: "People initially panicked but then they calmed down when the fire did not spread into the theater."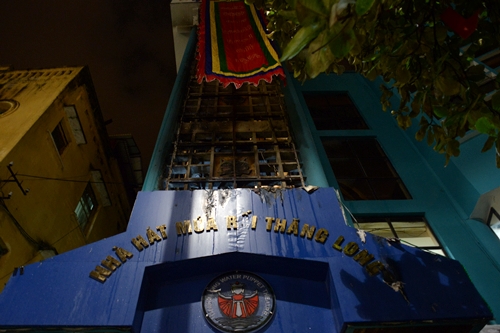 The theatre front after the fire.
About 10-15minutes later, two fire trucks approached. The fire was under control afterabout 20 minutes. No casualties occurred and the adjacent houses were alsosafe. The inside area of the theater was almost unaffected. However, the advertising billboard covering the front of Thang Long Puppetry Theatre was burned down and the front side of the building was covered by black smoke.
The fire occurred on the evening of Sunday, adjacent to Hoan Kiem Lake, where hundreds of people were walking, causing traffic jam on Dinh Tien Hoang Street. Police of Hang Bac Ward said that the fire might be caused by an electrical short in the rains .
The Thang Long Puppetry Theatre has 3-5 shows per day, mainly for foreigners.
The theater director Meritorious Artist Nguyen Hoang Tuan, said the fire did not cause anysignificant damage. The show was canceled and the audience would be served inthe next show.
One hourafter the fire, the theater actors continued to prepare for the show next morning.
Le Ha