VietNamNet Bridge – The average incomes of company employees, especially those working for private-owned enterprises, remain low.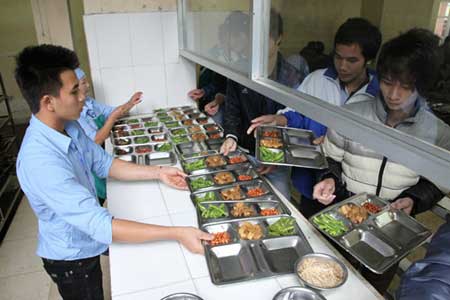 Lunch for workers at a factory owned by Viet Nam National Coal and Mineral Industries Group (Vinacomin). The lives of workers living in urban areas and industrial zones are said to be especially difficult because of the high costs of living. Calls have been made for increases in the minimum wage.
This was indicated by a recent survey into the minimum living standards of workers earlier in 2013 conducted by the Institute for Workers and Trade Unions.
The average salary offered by State-owned companies is recorded as the highest; it is lower in joint stock companies and lowest in private-owned companies.
The survey, which collected opinions from nearly 2,000 workers, trade union officers and company managers in 68 enterprises, revealed that a large number, 62 per cent, of company employees earned less than VND4 million (US$190) per month on average. Among which, 5 per cent received less than VND2 million ($96) a month.
Low incomes are particular to the textile, footwear industries and are even lower in construction and transportation, while enterprises in trading and tourism industries reportedly earn higher salaries.
To make the matter worse, many companies even owed their employees salaries and insurances.
The survey also explains that due to the country's current economic climate, workers do not earn much from the non-salary extras such as bonuses for holidays or allowances.
Nearly half of the surveyed employees reported having to put in overtime hours, with the average overtime amount reaching as much as 20.5 hours per month.
Workers in the footwear, textile, mechanics and electronics sectors, in particular, have to work longer overtime hours (52 hours per month on average), but receive only an average extra income of VND450,000 ($21).
Dang Quang Hop, labour expert from the Institute for Workers and Trade Unions pointed out that the lives of workers living in urban areas and industrial zones in Ha Noi, HCM City and provinces such as Dong Nai, Binh Duong in southern Viet Nam are "especially difficult" because of the high costs of living there.
The standard costs for rented accommodation, for example, range from VND1-2 million, while the costs for extra lessons for children are about VND50-100,000, and children care VND2-3 million per month.
"Most of workers' incomes are spent on their minimum needs, so they don't have any savings," Hop added.
Kieu Hung, head of the legal and policy committee under the Viet Nam General Confederation of Labour, said about 80 per cent of blue-collar workers in Ha Noi do not own houses, so they need to rent accommodation, and the accommodation is by and large cramped and in poor condition.
Hung also pointed out that the quality of life of workers in the capital is very poor.
He mentioned a survey conducted by the Ha Noi Confederation of Labour into the lifestyles of workers in footwear, electronics, construction and textile industries.
It revealed that 60 per cent of the workers do not watch television, 85 per cent do not read books or newspapers, 80 per cent do not do physical exercises and 65 per cent do not engage in social and cultural activities.
The lives of blue-collared workers in HCM City do not seem better and experts continue to stress that much more should be done to improve the lives of workers in the country.
Doctor Bui Thi Nhung from the National Institute of Nutrition revealed a survey into the lives of 1,000 blue-collared workers in HCM City, which indicated an average of only 27 per cent of income was spent on food, she attributed this to the high costs of living in the city.
As a result, nearly 20 per cent of them said they skipped meals at least once a day, mostly breakfast.
The inevitable results are that 30 per cent of the workers interviewed suffer from nutritional deficiencies while 20 per cent from anaemia.
Doctor Nhung suggested regulations be introduced specifying the ingredients of meals offered by companies to ensure workers can obtain a better standard of nutrition. She further added that companies need to allow workers adequate periods of rest.
Addressing the problem, labour specialist Hop proposed that the regional minimum salary be increased by 20-30 per cent next year, in order to meet at least 75 per cent of the minimum living standards.
He also stressed the importance of curbing inflation and keeping prices stable so that the incomes of workers could not be further eroded.
Source: VNS