VietNamNet Bridge – Poor living and working conditions, limited access to public services and high risks of becoming involved in social evils face workers who leave rural areas to work in cities and industrial zones.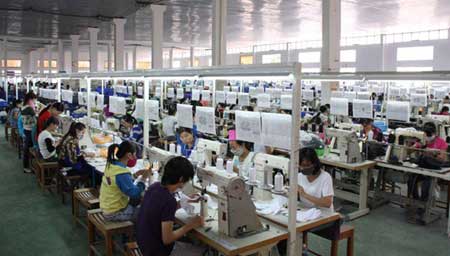 Workers at a shoe factory in Da Nang's An Don Industrial Zone. Migrant workers who move from rural areas to cities face many difficulties, especially housing and public service access.
This was shown in a survey of labour migration during the past five years since Viet Nam joined the World Trade Organisation.
The survey was conducted by the Ministry of Labour, Invalids and Social Affairs and Beyond WTO Programme in 15 provinces and cities nationwide from April, 2012. A total of 7,800 migrant workers responded.
Survey findings showed that 80 per cent left their home towns because of job shortages and low incomes. However, when living in urban areas without residential registration, 18.6 per cent found difficulty in getting jobs, getting their children into school, accessing healthcare services, getting bank loans or business licences as well as benefiting from local support policies.
Housing was identified as the biggest difficulty for migrant workers. More than 86 per cent live in rental accommodation; about 10.8 per cent live with relatives, and nearly 3 per cent own houses.
Expenses for housing, electricity and water account for 23 per cent of their income, but more than 85 per cent said the electricity/water prices were two or three times higher than State-regulated prices.
At the workplace, more than 30 per cent of respondents said they were exposed to noise and air pollution. Another 14 per cent said their jobs were harmful and dangerous.
An official from HCM City's Department of Labour, Invalids and Social Affairs, Nguyen Thi Dan, said better policies were needed for migrant workers, especially on housing.
"Things should start at their home towns where authorities could advise them where to go and how to do do," she said, adding that at present, rural workers migrated freely to the cities, which made them vulnerable.
Director of southern Binh Duong Province's Labour, Invalids and Social Affairs Department, Nguyen Thi Kim Oanh, agreed with Dan. She said migrant workers faced difficulties accessing public services because resources were allocated on a population basis.
However, Binh Duong, with population of 1.8 million people, only gets the funding for 1.4 million people, she said, noting that at present, the province also hosted about 1 million migrant workers.
Deputy head of the Employment Department Le Quang Trung said that at present, about 30 provinces worked with each other to supply labour for enterprises.
"To attract migrant workers, major cities and provinces should have offer detailed policies on housing and the labour market," he said.
Trung said the labour ministry was drafting policies supporting the movement of migrant labour from rural to urban areas. It will be soon submitted to the Prime Minister.
According to the ministry's statistics, in the last five years, about 6.5 million people migrated from rural areas to cities and industries. Seventy per cent are aged under 30.
Source: VNS