VietNamNet Bridge – Today, June 27, according to a government decree, the Ministry of Public Security and the Ministry of Defense will begin the implementation of the death penalty by poison, at the five execution facilities in Hanoi, Son La, Nghe An, Dak Lak and Ho Chi Minh City.
Death penalty not yet authorized by lethal injection because of lacking medication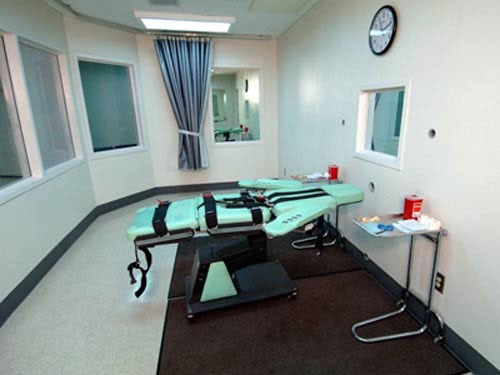 The room for lethal injection in the US.

However, Lieutenant General Cao Ngoc Oanh, General Director of the Agency for Sentence Enforcement and Judicial Assistance of the Ministry Public Security said on June 26 that the facilities and poison for lethal injection "are still being prepared."
Mr. Nguyen Xuan Truong, Chair of the Health Ministry Office, said the production of poison for lethal injection is assigned to the Drug Administration. The information related to poison production is a secret.
The country has over 560 prisoners under the death penalty and 170 people are eligible for lethal injection. Firing has been replaced by lethal injection for two years, since the law on enforcement of criminal sentences took effect but due to the lack of poison, lethal injection has not been implemented in Vietnam. Therefore, hundreds of death-row prisoners have had to wait. This situation has not only caused overload in prisons, but also psychological stress for prisoners and superintendents.
At the meeting of the National Assembly Standing Committee on crime prevention in January 2013, Minister of Public Security Tran Dai Quang said Vietnam would produce poison itself.
The poison that will be used for lethal injection in Vietnam includes the sensory paralyzing drug, the drug that paralyzes the musculoskeletal system and the drug to stop the heart's activity.
In late May 2013, Deputy Minister of Public Security Dang Van Hieu confirmed that of more than 500 prisoners who were sentenced to death, over 170 people would be executed by lethal injection from June 27, under the newly-issued Decree 47 of the Government. Hieu said at that time, three out of five facilities for implementing lethal injection were ready. The training of officers was also completed.
At the National Assembly session on June 14, Minister of Public Security Tran Dai Quang also announced that the implementation of the death penalty by poison will start from June 27.
NLD