VietNamNet Bridge - The UN recently called for humans to eat insects as a way to combat hunger, but in Vietnam, insects have been processed into strange cuisines for a long time.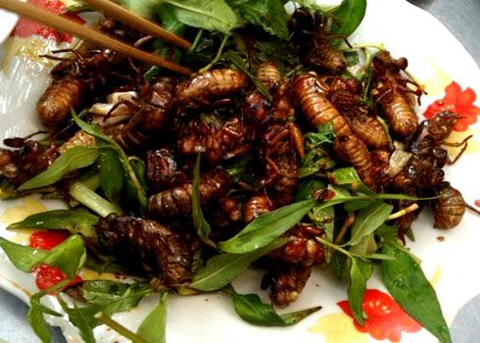 In the southern province of Vinh Long, people process cicadas into delicious food. Cicadas are caught before their transformation because that is the time cicadas is the most fleshy and soft. Fried cicadas are the favorite of many people. Photo: amthuc365.vn.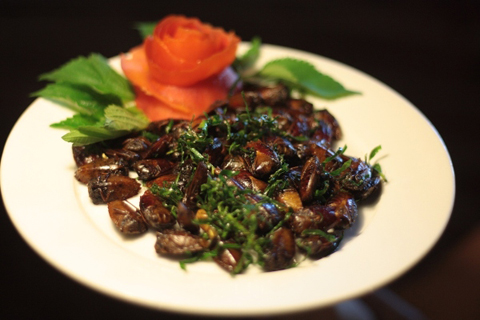 Many people are afraid of stinkbugs because of their pungent smell. But they suck plant essences so they are rich in nutrients. To remove pungent smell, you should soak the insects in salt water for a few hours and then boil them into water of sour bamboo shoots. Then you cut the tail to remove the pungent smell. When roasting stinkbugs, you should use a little spice because the insects are already salty. Photo: quankien.com.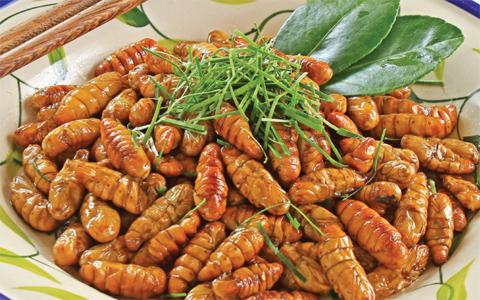 Silkworm pupa is one of the popular dishes. If you want to increase the attractiveness of roasted silkworm pupa, you should roast them with lime leaves. Photo by blogspot.com.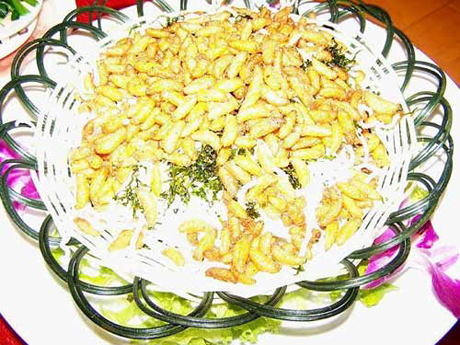 Larva of bees contains a lot of vitamins, proteins, minerals, sugars and amino acids. People in several northern mountainous provinces of Ha Giang, Tuyen Quang, Cao Bang process bee larva into many dishes. They put larva, dried onion, fresh ginger and chopped lime leaves in a hot fat pan. When eating this dish, you'll feel them aromatic, soft and succulent. Photo: tapchimonngon.com.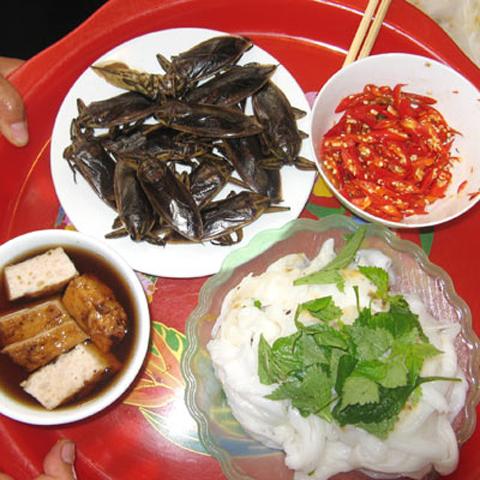 Belostomatids is the spice of many Hanoi specialties like bun cha (vermicelli and grilled chopped meat), banh cuon (steamed rolled rice pancake), bun thang (vermicelli and chicken soup), fried fish and many other dishes. Photo: yume.vn.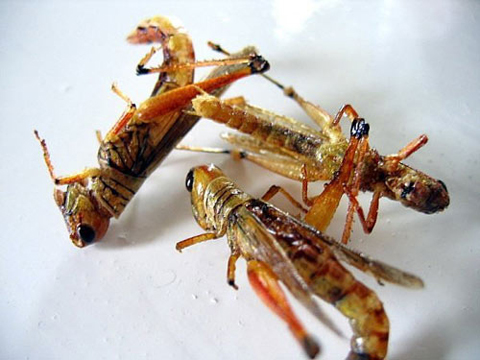 People in Vietnam and other Southeast Asian countries like fried grasshoppers dish. To process this insect into food, they boil grasshoppers, dip them into the egg yolks with a little cereal or spices, then fry them with onion and sauce. Photo: tapchimonngon.com.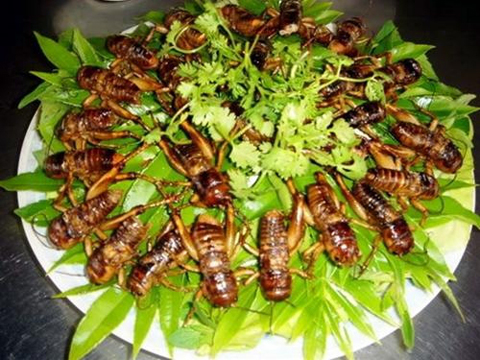 Crickets are rich in protein, calcium, protit and low-fat. Cuisines processed from crickets help reduce the amount of cholesterol in the blood and can be used to treat contaminated urine and kidney stones. The chefs usually fry crickets with lime leaves to increase the aroma and succulence. Photo: gfoods.vn.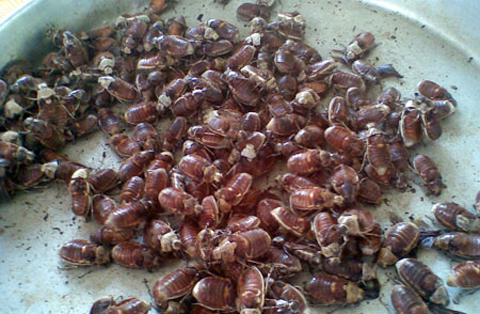 In Tra Vinh, people process larva of palm and coconut bugs into specialties. They put peanuts in the larva to make a special taste. Many people say this food helps men enhance their sexual ability. Photo: naungon.com.
Compiled by Minh Ha