ASEAN gender gap hurts working women
Women from ASEAN nations experience more difficulties at work than their male colleagues, including living on lower pay, according to a regional workshop held yesterday in Ha Noi.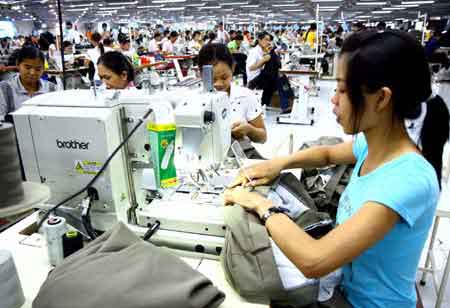 Women from ASEAN nations experience more difficulties at work than their male colleagues, including living on lower pay.
These difficulties involved maternal leave and caring for children, which required a better social security network, said participants at the meeting organised by the Ministry of Labour, Invalids and Social Affairs and Friedrich-Ebert-Stiftung (FES) in Singapore.
Delegates pressed for the equal integration of women into the workforce and social security system. They also discussed protection policies for female workers during pregnancy and maternal leave, including proper salaries, bonuses and reproductive health-care services.
Delegates said ASEAN nations should also promulgate policies to improve social security for female migrant workers.
Participants also exchanged experiences on issues relating to policies for ensuring social security and gender equity.
Hau Giang brides to receive further support
The Hau Giang provincial chapter of the Vietnam–Republic of Korea Friendship Association (VRFA) will assist local brides marrying Korean men to adapt to their new environment.
At the chapter's first Congress for the 2013 – 2018 term held in the southern province, delegates heard that the provincial Women's Union and VRFA have studied policies on women's issues and gender equality in the RoK in a bid to help brides-to-be understand immigration procedures as well as the RoK's culture and people.
It is known that many Vietnamese women marry Korean men just to seek material comfort. However, divorce rates are on the rise as most of them not fully aware of the host country's customs and language.
The Congress elected a new Executive Committee for the new term comprising of 9 members, including Huynh Thuy Trinh as its Chairwoman.
Hailstorms destroy rubber trees in Lai Chau
Hailstorms and whirlwinds during the last week have wrought havoc on 12,000 trees in the main rubber growing area in the northern mountain province of Lai Chau, according to the director of Lai Chau Rubber Company Le Tien Tinh.
Most of the affected trees are three to five years old.
Tinh said the workers had been trying to save as many as they could, but could save only about 4,000. Another 8,000 trees had to be carted away.
The company has not yet calculated the financial cot of the damage.
VNFU congress scheduled for June
The sixth national congress of the Vietnam Farmers' Union (VNFU) will take place in June to clarify orientations and targets for the union's action programmes as well as farmers' movement in the 2013-2018 period.
The focus of discussion will be on the role of farmers and VNFU in developing agriculture and building new rural areas in line with the resolution adopted at the Party Central Committee's 7th session (10th tenure).
Since its establishment, the VNFU has spared no effort to improve farmers' material and spiritual life and promote socio-economic development in the process of international cooperation towards the goal of making people rich and building Vietnam into a strong, democratic, just and civilized country.
By the end of 2012, the union had a total of 10,536 members in 92,700 villages and hamlets across the country.
Regional socical welfare conferece in Hanoi
A regional conference on social welfare was held in Hanoi on May 6 to discuss ways to promote the field in four Southeast Asian nations- Cambodia, Indonesia, the Philippines and Vietnam.
The event was co-organized by the Ministry of Labour, Invalids and Social Affairs (MoLISA), the German Ministry for Economic Cooperation and Development (BMZ) and the German Society for International Cooperation (GIZ).
Ministerial-level managers and leaders involving in social welfare, insurance organisations and agencies, and research institutes from the four participating countries discussed current challenges in the region.
They examined ways to improve a social-security expert network between the regional countries and Germany by setting up an interdisciplinary dialogue forum.
According to MoLISA Deputy Minister Nguyen Trong Dam, ensuring social welfare is one of Vietnam's major policies and orientations.
The country has been implementing policies and programmes to assure social welfare for every people through fundamental social services in health, education, fresh water, food and relief.
More than 40 policies and programmes are underway to support people especially vulnerable groups, Dam said.
The participants stressed the importance of the effective and sustainable operation of social welfare systems in the context of globalisation and worldwide changes in population.
Globalisation and economic growth bring about opportunities to poor people but result in inequality in their societies and between countries, they said.
Since 2007, BMZ and GIZ have devised many social welfare programmes to train young officials and leaders from these four countries.
The programmes have helped improve officials and leaders' capacity and support the policy making process which ensures sustainable development and social welfare in each country.
National Road Safety Week launched
The National Traffic Safety Committee and the World Health Organisation (WHO) have co-launched a National Road Safety Week in response to the UN's Global Road Safety Week dedicated to pedestrians.
The Committee's Vice Chairman Nguyen Hoang Hiep said on May 6 that the campaign aims to raise public awareness of traffic laws, encourage road users to give way to pedestrians, and improve transport infrastructure, he added.
During the Week, a range of activities will be held in all 63 provinces and cities to guide people to cross the road properly.
According to the WHO's latest report, as many as 9,000 people are killed accidentally in Vietnam each year, 30 people a day on average.
In recent times, Vietnam has taken drastic measures, such as completing its comprehensive legal framework and making it illegal to ride a motorbike without a helmet, to ensure traffic safety on the road.
Also at the launch ceremony, representatives from the committee, WHO and other related agencies answered reporters' queries on fining law-breaking pedestrians and improving infrastructure construction. Accordingly, the focus of the week will be on freeing pavements for walkers, reminding pedestrians to keep to designated paths and fine people who violate the regulations.
Hanoi Trade Union honoured with Lao Order
The Lao President has conferred the Order of Labour (second class) on the Hanoi Confederation of Labour (HCL) in recognition of its support for the Vientiane trade union.
The Secretary of the Lao Party Central Committee and Mayor of Vientiane Soukan Mahalath presented the order to HCL Chairman Tran Van Thuc at a ceremony in Vientiane on May 6.
Earlier, the  HCL delegation were received by the Vientiane Mayor, who pledged to create favourable conditions for the VFTU and the HCL to protect the legitimate interests of labourers and strengthen the ties of traditional friend and cooperation  between the two capitals and the two nations as a whole.
VNN/VOV/VNS/VNA