VietNamNet Bridge – According to the Vietnamese Embassy in South Korea, a Vietnamese woman named Nguyen Thi Diem Trinh, from Co Do district, the Mekong Delta city of Can Tho, was determined to have committed suicide in the city of Gumi, South Korea, on January 16.
Rural girls marry foreign men for filial duty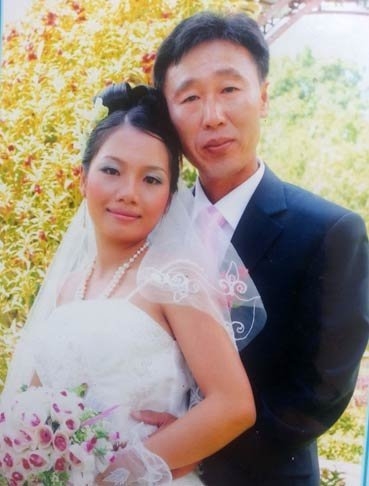 A wedding photo of Trinh, provided by her family.
According to the victims' family, Trinh was discovered to commit suicide with a belt. Trinh, 23, married a Korean man in 2008 and lived on Jeju Island with her husband's family.
The couple had a nearly 4-year-old son. Recently, having conflict with her husband's family, Trinh left the home to live at an inn in Gumi.
Caption: A wedding photo of Trinh, provided by her family.
According to a relative of the victim, Trinh's father divorced her mother, Mrs. Pham Thi Tuyet Hai, just because she could not give birth to a boy. Hai then lived with another man and raised three daughters.
Because of poverty, Trinh and her sister, named Thien, went to HCM City in 2008 to participate in "wife selections" of foreign men. Trinh then married a Korean man who is 20 years old older than her and followed him to live on Jeju Island, South Korea.
The couple lived in their own house until Trinh gave birth to a boy. Since then they lived with the husband's family. Unfortunately, her son, named Bin, did not develop normally. At present, at the age of four, the boy cannot speak or walk.
Meanwhile, the mother-in-law forced Trinh to have another child. Trinh did not accept because of difficult economic conditions and she wanted to focus all resources on treatment for her son. Therefore, the Vietnamese wife was insulted by her husband's family.
More than one month ago, Trinh's husband bought air ticket for her wife and asked her to go home for relieving her stress. But Trinh did not go home. She rented a room near her younger sister's home in Gumi, who also marries a Korean man.
Recently, Trinh's mother suddenly received a phone call from Trinh's husband: "Come to the airport to pick up Bin and your son-in-law."
Trinh's husband saw his mother-in-law at the airport and assigned his son to her. The man promised to come back to Vietnam after several months to take his mother-in-law to Korea.
On January 16, Hai's family was informed of her daughter's suicide. The mother went to Korea to receive the body of her daughter but she was informed that her son-in-law also committed suicide.
The man left a suicide note, in which he wished to be buried next to his wife on Jeju Island.
Quoc Huy - Chau Vu