VietNamNet Bridge – According to a survey conducted by the Vietnam General Confederation of Labor (VGCL) on around 2,000 workers, most complained that their basic salary was insufficient to even cover minimum monthly living expenses.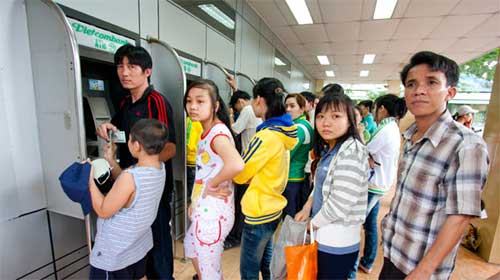 Workers in Linh Trung Export Processing Zone in HCMC
stand in line to receive their salary via ATM. (Photo: Tuoi Tre)
The survey was conducted at the end of June this year on workers from 60 state-owned and foreign-invested enterprises in 12 provinces and cities in north, central and south of Vietnam, and released as a report of the Institute for Workers-Trade Union under VGCL.
Only 6.6 percent of employees said they manage to save a little from their monthly salary, 45 percent said their wages are enough to live on, but about 38.4 percent said they find it hard to even meet daily expenses.
Meanwhile, 16.6 percent of employees said that their income was inadequate.
The total income of employees, including wages and overtime payments, generally has seen a decline this year.
As shown in the survey, the average basic income, which consists of the contractual salary and allowances, of workers in the surveyed state-owned enterprises was VND3 million (US$144), while it was less than VND2.4 million in foreign-invested enterprises.
The survey also focused on the living costs of the workers and found that such incomes were only enough to pay for 40-46 percent of their minimum expenses per month.
Along with income, the Institute also surveyed the meal allowance paid by employers to their employees.
Of the 60 surveyed businesses, 75 percent pay VND13,900 per meal or VND368,000 per month; 25 percent only pay part or up to half of the expense; and 5 percent do not pay at all.
Meanwhile, 31 percent of the surveyed foreign-invested enterprises received complaints from their workers that the meals did not meet regulations on food safety and hygiene, while the figure for joint stock companies was 41 percent.
From the survey results, the VGCL has proposed to the government to set up National Wages Council to study the issue of wage reform and adjust the income level to at least equal that for minimum living wages of workers.
In 2013, the Government needs to adjust the minimum wage that meets about 80 percent of the minimum living standard. Accordingly, the salary for Zone 1 to be VND3 million, Zone 2 to be VND2.8 million, Zone 3 to be VND2.5 million and Zone 4 to be VND2 million, suggested the proposal from VGCL.
VietNamNet/SGGP