VietNamNet Bridge - "I've never seen patients with psychiatric disorders and mental illness due to business as much as this year," said doctor Le Hieu, from the Cho Quan Mental Hospital in Ho Chi Minh City.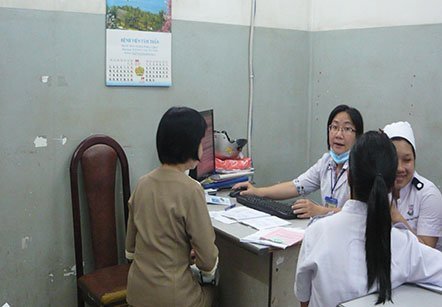 Dr. Hieu said every day he examined about 40 patients, with up to eight of them having the cause of diseases being related to money and business.
Doctors Chu Thi Dung, also from the hospital, said she had just examined Ms. Tran Thi H, 52, from Da Lat City.
Ms. H said she ran a detergent enterprise. This year business was very difficult and she owed a lot. H. owed workers' wages for up to three months while the supplier of raw materials demanded money continuously.
"I've not slept for almost a month. To solve everything smoothly, I have to have VND20 billion ($1 million). I've mortgaged all properties and my house. For the last 6 months, every month I lost VND300 million ($15,000)," H said.
"Sometimes when I was so tired, I fell asleep. I dreamed people were flocking to my house to collect debts. I was scared and woke up. In just one month I lost 5 kg. My husband and children recommended me to go to HCM City to see mental doctors," she said.
Dr. Le Hieu also met a man who committed suicide due to debt.  The patient is Mr. Nguyen Duc T., 45, from in District 6, HCM City.
T. was a tricycle driver. Police seized his vehicle, so he became jobless. The man was flooded in debt, totaling more than VND200 million ($10,000), a huge amount for a manual laborer like him.
Being worried of having no job while lenders went to his home each day, T. intended to end his life by committing suicide. Thankfully, T's suicidal intent failed because his wife and children discovered the plan and took him to the mental hospital for examination.
At the hospital, T. said he was always tired and asleep. He used an herbal drink but the situation did not improve.
Most people doing small business go to a hospital for mental examinations. Big bosses usually choose private clinics.
That is the case of Ms. Tran Thi M., 50, from Dong Nai province. M and her husband owned two furniture companies. Her husband's company is specialized in imports, while H's firm is in charge of domestic goods.
Looking at the property of M and her husband, everyone has to admire because the couple has a network of showrooms in Ho Chi Minh City, Dong Nai, to make Da Lat, Nha Trang and Da Nang. M's company created jobs for hundreds of workers.
Not long ago, M. saw a doctor in Ho Chi Minh City for advice about mental disorders.
Listening to M's story, the doctor sweated: "I'm very worried, doctor! Just in a few months, my hair turned to white. For the last two years, every month I lost VND1 billion ($50,000)," M said.
"Properties, real estates, and cars have been mortgaged to borrow bank loans. Previously, banks gave me VND60 billion ($3 million) based on my assets, but now the real estate market downturns and the assets were re-revalued, I could borrow half of that."
"I borrowed my friends VND30 billion to repay the VND60 billion in short to continue the company's operation. Only paying interest to the bank and my friends each month is enough to make me ... dizzy. We can lose our 30-year career any time. Our children's study in the US will be halted."
In front of the doctor was a woman dressed luxuriously, wearing diamond jewelry but the eye makeup could not hide the deep dark circles.
M's husband said his wife was in real panic. M. was deeply stressed that she could not eat or sleep. She could not run her business due to loss of concentration.
All the symptoms of the patients mentioned above are referred to anxiety disorders.
Doctor Le Hieu warned that if they are not treated and taken care of by their families, these patients have a very high risk of committing suicide.
Thanh Huyen