VietNamNet Bridge – In the afternoon of October 30, after a big bang, flames flared up at the Duc Tam furniture manufacturing company in Vinh Cuu district, Dong Nai province. Over 20 workers were seriously burned.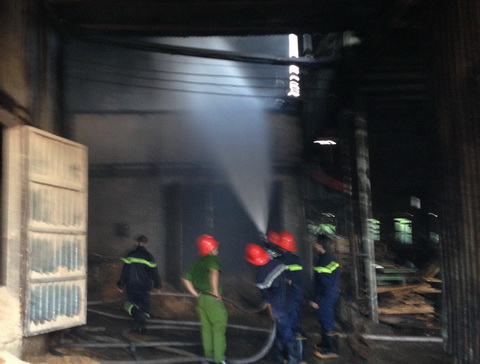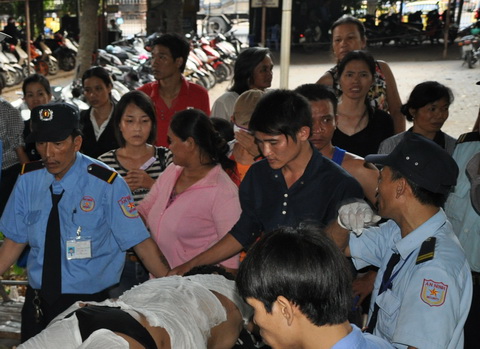 An explosion emitted at 2.30pm, shaking dozens of houses around the wood enterprise. At the same time, dozens of workers who were working in the enterprise detected smoke in the wooden handicraft processing zone.
They panicked and tried to run out but they could not avoid the intense fire. 23 victims were taken to the Thong Nhat Hospital (Dong Nai); some with burns of over 60 percent of their body.
Half an hour later, 15 people were transferred to Cho Ray Hospital (Ho Chi Minh City) because their burns were too severe.
Two fire engines and 40 firefighters of the Dong Nai Province Fire Police quickly arrived at the scene. But two hours later, the fire was controlled. The authorities are investigating the scene to define the cause.
"My family has three people working in that wood enterprise, now two brothers of mine were seriously burned. Currently I do not know how they are. I only saw their burnt bodies", said a young girl who is the sister of brothers Trinh Minh Tu, 38 and Trinh Minh Hai, 30 who are being treated at Cho Ray Hospital.
Dr. Tran Doan Dao, head of the Burns – Plastic Surgery Ward of Cho Ray Hospital said at 6.30pm on October 30, the hospital received 15 patients (14 male, 1 female) with burns of 8 - 72% of the body, in the fire at the wood factory in Dong Nai.
Compiled by Na Son