VietNamNet Bridge - 21 Chinese bras containing 2 bags of liquid substance and 3 white tablets were seized in the central province of Thua Thien - Hue on October 30. Phu Yen authorities also sealed 20 bras while Da Nang discovered 3.

Chinese bras contain unknown chemicals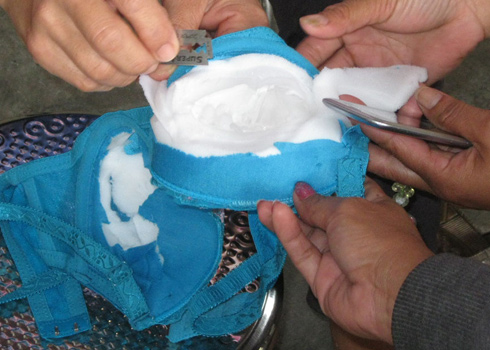 In Thua Thien – Hue province, the bras were found at a shop in Ben Ngu market. The owner failed to present receipts as well as product labels in Vietnamese. The owner declared to buy bras from someone who traveled to China at the price of VND65,000-70, 000 ($3-3.5) and sold at double prices.
On the same day, Phu Yen authorities seized about 20 similar bras. "These products do not have origin, distributors, labels ... We will inspect and find the origin of these products," said the chief of the Market Management Bureau of Phu Yen province, Pham Dinh Thi.
The Da Nang market management force also seized three similar bras at a stall in Con market.
These bras carry different brands and are said to have Chinese origin. Samples of the liquid solution and the strange tablets in bras have been sent to labs for testing.
On October 26, a Da Nang woman who used Chinese bras felt itchy. She cut a bra and found out two packs containing liquid solution and some pills. The incident was reported to the authorities.
In Phu Yen, Ms. Tran Thi Kieu bought a bra at the price of VND45,000 ($2). After several times wearing it, she had chest pain and felt itchy. This bra also has two bags containing liquids and small white particles. Cutting the bag, the solution is viscous and sticky and it causes hands itchy, Kieu described.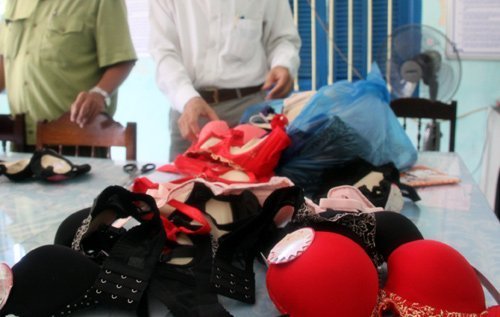 The information about Chinese bras with "strange substances" has made many women fear. Ms. Nguyen Thi Ba, 50, in Da Nang expressed surprise about the information. She said she used cheap bras a few years ago.
Hoai, 25, said she did not use cheap Chinese bras. The owner of an underwear shop in Con market, Hue city, said in recent days not many people buy Chinese bras at her shop.
The chief of Phu Yen Province Market Management also warned consumers to be wary of selecting goods, especially for goods with no clear origin.
Compiled by Le Ha