VietNamNet Bridge – The storm Gaemi that passed through the central provinces of Vietnam yesterday damaged dozens of houses, schools, etc. It also caused heavy rains and floods in many areas.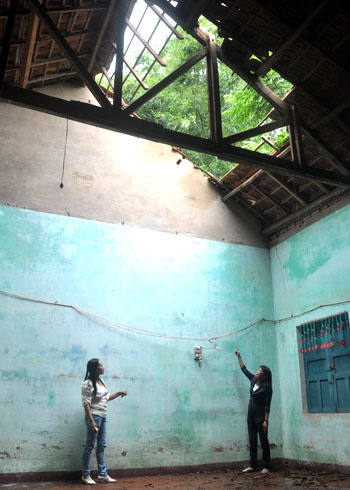 A damaged kindergarten in Tu Nghia district, Quang Ngai province.
On October 8, the Committee for Flood-Storm Control and Search-Rescue of Quang Ngai province said that the hurricane Gaemi or storm No. 7 injured one person, damaged nearly 30 houses and schools in the districts of Tay Tra, Tra Bong, Son Tay and Tu Nghia.
The storm also caused heavy rains and floods, resulted in erosion and landslides in Son Tay and Tra Bong districts. The total volume of soil and rock in landslides is estimated to more than 10,000 m3.
This morning, the Center for Hydrometeorology Forecast of Quang Ngai Province gave warnings on floods in rivers.
Due to the influence of the northern edge of the tropical convergence zone and the high southwest edge, Quang Ngai has had downpours of 50 - 100 mm, an up to 160 mm in the mountainous districts of Ba To and Minh Long, which can cause landslides and flash floods along streams and rivers.
Meanwhile, the Ba Ha River Hydropower in Phu Yen Province has been allowed to increase the flow of flood discharge from 3,300 m3 per second to 3,700 m3 per second, over the second-grade alarm.
The flow of water from the upstream region to the Ba Ha reservoir has increased to 4,100 m3 per second, so the water level in the reservoir is very close to the designed elevation of 105 m.
Vice Chairman of the Phu Yen Provincial People's Committee, Mr. Le Van Truc, worried that as heavy rains would continue in the Central Highlands, flood flow from upstream region to the Ba Ha reservoir may keep increasing. If this plant increases flood discharge to 4,500 m3 per second, it will result in severe flooding in a number of localities along the Ba River.
The rising flood has caused serious erosion along the Ba River, severely damaging many residential areas in Phu Yen. In Phu Hoa district, some sections of the river banks are eroded, totaling more than 2 km long, damaging tens of hectares of agricultural land and many houses.
In Tay Hoa district, the total eroded section is more than 50m long. The river water intrudes inland, endangering many residential areas. Floods also damage the Bach Dang embankment in Tuy Hoa City. This flood also damages nearly 1,000 hectares of rice, vegetables, and hundreds of hectares of shrimp ponds.
Na Son