VietNamNet Bridge – Seven out of 14 Vietnamese nationals who were killed in a Russian garment workshop fire on September 11 have been identified by relevant Vietnamese and Russian agencies.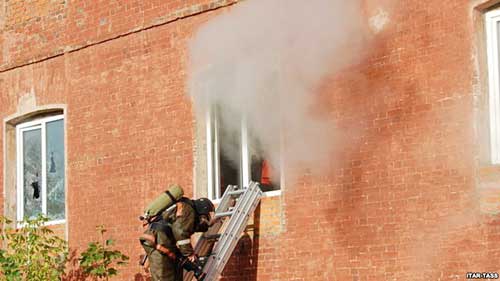 Firefighters trying to put out the fire. (Photo:ITAR-TASS)
Initial statistics showed that six victims come from Nghe An province, three from Quang Binh province, three from Hai Duong province, one from Thanh Hoa province, and one from Ha Nam province.
Representatives from Vietnamese and Russian agencies have been working hard to identify the victims using the DNA technology.
A special working group was established by the Vietnamese Embassy in Russia to speed up the rescue work. They comprise embassy officials, representatives from the Vietnam garment association and the Vietnamese community in Russia.
The embassy will re-grant personal papers to those who survived the disaster and lost all their belongings so that they can either stay longer in Russia or return to Vietnam, said Nguyen Dong Trieu, Minister Councellor of the embassy, head of the working group.
Embassy representatives arrived at a local hospital to inquire into the health of those who were injured in the fire.
More than 50 Vietnamese nationals were working when the fire broke out. Fourteen workers were burnt to death, one was injured, and the remainder managed to escape the roaring flame.
According to Trieu, survivors were asked to come to the hospital to identify their peers. In case the victims are not identified, their DNA samples will be taken to refer to those of their relatives sent from Vietnam.
VietNamNet/VOV