VietNamNet Bridge – Daily food ration of workers in northern provinces of Vietnam satisfies 90 percent of nutrition demand of male workers and 70 percent of female workers. Meal quality is low; with 72 percent of food being starch, low in protein, fat and redundant of preservatives.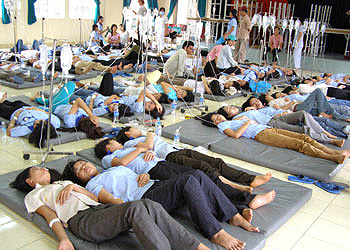 Tens of workers suffered from food poisoning at a factory in
Binh Duong province in 2011.
The National Institute of Nutrition and the Agency for Food Hygiene and Safety recently conducted a survey on meal quality of workers in northern provinces. The above figures are the survey results.

The survey shows that worker meals contain only 12 percent of protein, 16 percent of fat and 72 percent of starch.

The use of unprocessed food with high preservative residual is also a problem. The National Institute of Nutrition's quick tests of input food revealed that 20-25 percent of food contained preservative residual. Meanwhile, processed food contained a lot of addictives, especially in breakfast.

Experts from the institute warned that quality of worker food rations are unbalanced and if this situation is not solved, worker health would be affected.

Experts also said that worker meals are poor in quality because meal providers use low-quality food to cut cost. Many group food poisoning cases were report at companies recently.

Dr. Tran Quang Trung, head of the Agency for Food Hygiene and Safety, said that in the past six years, 927 food poisoning cases happened in Vietnam, with nearly 31,000 victims, including 229 deaths.

In southern provinces, 171 food poisoning cases were recorded from 2009 to 2011, with over 6,300 victims, including 35 fatal cases.

There are 256 industrial zones in Vietnam, including 65 in southern provinces. From 2007 to 2011, nearly 7,000 workers were victims of 72 group food poisoning cases.

In HCM City alone, 126 group food poisoning cases occurred from 2006 to 2012, with over 9,400 victims, including five deaths.

Compiled by Na Son