VietNamNet Bridge – The Tran Nhan Tong Award for Reconciliation will be officialy launched at a conference which will be held at the Harvard University on September 22. VietNamNet talks with Prof. Thomas Patterson, chairman of the Tran Nhan Tong Academy, about this international award.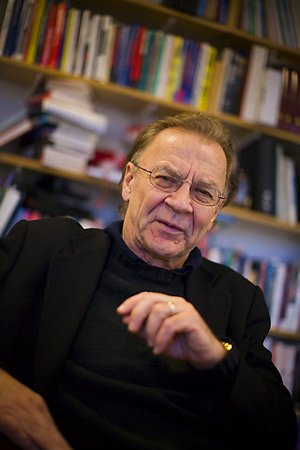 Dear professor, why does Tran Nhan Tong Academy hold on Tran Nhan Tong Reconciliation Award?
Prof. Patterson:
Reconciliation - reaching out to others, even if they have been your enemy - is a path to lasting peace and greater harmony, personally and between people. Tran Nhan Tong's life epitomized the importance of reconciliation, and it is fitting that the award bears his name.
What are the differences between Tran Nhan Tong International Prize for Reconciliation and The Nobel peace Prize?Prof. Patterson:
The major difference is that the Tran Nhan Tong Prize is always awarded to two or more individuals whereas the Nobel Prize, though it is sometimes given to more than one, is usually awarded to a single person. Reconciliation is an act of healing that brings together opposing sides.
For true reconciliation to occur, both sides must be willing to cooperate and make concessions, even though in some cases one side has oppressed the other.
Unless each side is willing to take a step toward embracing the other, true reconciliation cannot occur. Reconciliation is a mutual act, and it is this feature that separates the Tran Nhan Tong Prize from the Nobel Prize.
Prof. Patterson:
There are a variety of awards, which uniqueness make Tran Nhan Tong prize for Reconciliation prestigious and well known around the world?
Two factors make the Tran Nhan Tong Prize unique. One is that it is granted to two individuals who, working together from opposite sides, have helped reduce the differences between those sides.
The second is Tran Nhan Tong himself. He led a truly heroic and virtuous life. In the whole of human history, there are only a few leaders who have given up worldly power and riches in order to provide an example of simplicity and virtue for future generations.
Prof. Patterson:
What is special in the contents of the Tran Nhan Tong International Conference on Reconciliation?
The International Conference will have reconciliation as its theme. We will have several sessions, each of which will examine an aspect of the reconciliation process.
For example, we will have a session on the media's role in the reconciliation process. The conference will be an opportunity for those who seek to promote reconciliation to share ideas on the best ways of doing it.
Prof. Patterson:
Being a respected American professor at Harvard, what make you become the chairman of Tran Nhan Tong Academy and hold on both the Tran Nhan Tong conference and prize at Harvard?
When I was asked to play a leading role in Tran Nhan Tong Academy, I accepted with humility. Years ago, I was an American soldier in Vietnam and came to love the country, its people, and its history.
It was during this time that I first became aware of Tran Nhan Tong, the king who had accomplished what others could not—defeat the Mongols.
However, the full extent of his greatness did not become known to me until 2010, when I traveled to Vietnam with my wife and had the opportunity to visit his Yen Tu pagoda in Quang Ninh province.
It was there that I began to appreciate the full meaning of his selfless devotion to his country. It is the same selflessness and humility that was evident in the life of Ho Chi Minh or, in my country, George Washington.
Each man could have had worldly power and riches but each of them understood that greatness rests, not on possessions or power, but on setting an example for others to follow. It's an honor for me to play a small part in furthering Tran Nhan Tong's legacy by bringing it to the attention of people today, in Vietnam and elsewhere.
Thomas E. Patterson is Bradlee Professor of Government and the Press in the John F. Kennedy School of Government at Harvard University and is also President of the Open Minds Foundation. He is the author of numerous books and articles, including Out of Order, which received national attention when President Bill Clinton said every political leader and journalist should be required to read it. Out of Order was later named as best book of the decade in political communication by the American Political Science Association.
Each year, Tran Nhan Tong Academy will award the Tran Nhan Tong International Prize for Reconciliation and Compassion. Selected by the Academy's Prize Committee, the recipients will be distinguished by their exemplary character and by their devotion to promoting reconciliation.
For more information, visit TranNhanTongprize.org.
PV