VietNamNet Bridge – Previously, Vietnamese hospitals only detected patients whose eyes were infected with parasites by Spirometra erinacei worms. Recently, two patients were reported to have Spirometra erinacei in their lungs and abdominal wall.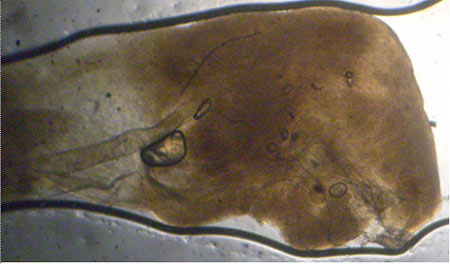 Spirometra erinacei larva in the lung of the 26-month-old baby.
A 26-month-old baby in the northern province of Bac Giang was hospitalized to the Central Pediatrics Hospital in Hanoi in high temperature and with breathing problems. The baby did not recover after being treated for several days. Scans showed a strange thing in the baby's lung.
To save the baby, doctors decided to perform an operation. They found a worm larva of 42cm long, 0.8cm wide. Test revealed that it was the Spirometra erinacei worm.
The second case is a 70-year-old patient in Hanoi, who received emergency aid for stomach bleeding at the Hanoi Medical University Hospital.

Spirometra erinacei larva in the 70-year-old patient's abdominal wall.
During the stomach surgery, doctors saw a tumor on the patient's abdominal wall and they decided to cut it. Doctors were surprised to see a larva of Spirometra erinacei worm of 20cm long, 0.6cm wide inside the tumor.
Spirometra erinaceieuropaei is a tapeworm that infects domestic animals and humans. In humans infection is called sparganosis. The worm has an interesting lifecycle, the adult worm is present in the small intestine of cats and dogs where it may grow as long as 1.5 meters.
Eggs from the worm are passed with the host feces, when they develop into a proceroid larva. This larva may be directly ingested by humans or may enter an intermediate host which include frogs, birds, snakes, rats and mice and become a plerocercoid larva. When cats, dogs, etc. eat the intermediate host the worm completes its life cycle becoming an egg producing adult. Because humans would normally ingest the worm at the proceroid stage, the human is a dead-end host.
SK&DS