Two killed, one injured after truck collision in Quang Tri
At the scene (Photo: Lao Dong)
A road traffic accident involving a truck and a motorbike left two people dead and another injured in Cam Lo district of central Quang Tri province on January 27.
According to initial reports, a truck registered 74C-04027 was heading towards Lao Bao-Dong Ha. Upon arriving at Km13+700, National Highway 9, at 18:15 the vehicle crashed into a motorbike that was driving in the same direction. At that time, the motorbike registered 74G1-13967, was carrying two children.
The two children were killed at the scene while their father suffered severe injuries. He was then transferred to hospital to undergo emergency treatment.
Upon receiving the news, local police rushed to the scene to investigate the incident.
Nghe An police seize 120kg of illegal firecrackers
Two men have been arrested smuggling firecrackers by border guards in Nghe An province. They were caught illegally transporting a total of 120 kg of firecrackers from Laos to Vietnam on January 28.
According to initial reports, the police noticed two suspicious vehicles one with a Laotian and one with a Vietnamese registration plate, when they were on duty at Cao Veu border checkpoint.
Upon stopping the vehicles they conducted a search, and in doing so discovered nearly 120 kg of firecrackers.
The two suspects were identified as Vo Kim Tuan, 34, and Nguyen Huu At, 48, both of whom reside in Anh Son district, Nghe An province. 
Both suspects admitted to having bought the firecrackers in Laos before transporting them over the border to Vietnam where they planned to sell them.
The incident is still under investigation.
Vietnam's tallest building to have Tet fireworks display
Saigon's Landmark 81 has been added to the list of venues where fireworks will be let off on Lunar New Year's Eve.
The Lunar New Year falls on February 5 this year.
The city administration announced the addition on January 28 after earlier announcing fireworks displays at seven other venues – the Saigon River Tunnel in District 2, Dam Sen Cultural Park in District 11, Ethnic History-Culture Park in District 9, Ben Duoc Memorial Temple in Cu Chi District, the Can Gio District Administrative Center, the Hiep Phuoc Industrial Complex in Nha Be District, and the Military Headquarters in Binh Chanh District.
Letting off fireworks has been a tradition during major national celebrations like Reunification Day on April 30 and Independence Day on September 2. 
The Lunar New Year, known as Tet in Vietnam, is a national holiday, with people getting 9 days off this year from February 2 to 10.
Landmark 81 in Binh Thanh District was built last July and is Vietnam's tallest building and the 13th tallest in the world. The mixed-use building has hotels, apartments, offices, a shopping mall, restaurants, and bars.
LSBF, iBosses Vietnam ink training program on Financial Management
London School of Business and Finance and iBosses Vietnam have recently signed a strategic co-operation agreement on Financial Management training in accordance with international standards.
Under the cooperation agreement, London School of Business and Finance (LSBF) will appoint iBosses Vietnam to manage and implement a training program set by the Association of Chartered Certified Accountants (ACCA). As per the agreement, iBosses Vietnam will have access to all of LSBF's learning and educational information.
In addition, LSBF will provide students with access to online learning resources, documents, and study materials as well as sending international lecturers to teach modules offline on a face-to-face basis.
In terms of iBosses Vietnam's end of the agreement, they will be putting up the facilities and human resource to manage learners and ensure everything is intact for the training projects to run to the highest standard.
Upon addressing the signing ceremony, Tang Ngoc Truong An, President and CEO of iBosses Vietnam, said the strategic co-operation agreement signed between iBosses Vietnam and LSBF will provide training programs on financial management in accordance with international standards.
This will help smooth the transition for many Vietnamese businesses when trying to integrate into the world's economy.
Moreover, several training programs will be rolled out during courses through online learning platforms in accordance to trends set by Industry 4.0, a trend that the Vietnamese government is keen to stay ahead of the curve on.
The London School of Business and Finance was established in 2003, and has grown from a single college focused on providing professional qualifications through executive education courses at business school as well as offering postgraduate degrees delivered online.  
LSBF now has campuses worldwide in the UK, Sydney, and Singapore. It also delivers programs via an online learning platform, which allows students to study entirely remotely meaning they can be based anywhere in the world. It currently has students from over 150 countries. 
A representative from the school emphasized that they will co-operate in offering training programs on financial management in accordance with international standards with courses tailored to online platforms.
This will enable learners to access a module's content from anywhere at any time, needing only internet or a 4G connection.
The agreement only marks the first phase of co-operation and LSBF will equip iBosses Vietnam with ACCA programs.
In the future, both sides will target other programs such as CIMA, AAT, corporate training, and a variety of other specialized programs, the LSBF representative noted.
Thúng grapefruit farmers expect good profits during Tết season
Thúng grapefruit grown by a farmer in Tiền Giang Province's Mỹ Tho City weighs between five and seven kilogrammes and sells for around VNĐ1 million (US$43.1).
Farmers who grow Thúng grapefruit in Mỹ Tho City in the Cửu Long (Mekong) Delta province of Tiền Giang expect to earn a good profit during the Tết (Lunar New Year) holiday season.
The grapefruit, which looks like a thúng (a large basket), weighs 5-7kg each, far more than other kinds of grapefruit which weigh over 1kg each.
Ngô Văn Tám, 64, who has about 20 Thúng grapefruit trees in the city's Đạo Thạnh Commune, said this year he would provide about 140 fruit for the Tết market.
"When ripening the green-skin grapefruit develops a yellow skin and pink flesh and sour taste. It is commonly used as a decoration or gift during Tết," he said.
Every year, many traders and people come to his garden to buy the big grapefruit, but he refused to sell them.
He only sells his Thúng grapefruit to a company in HCM City that places deposits to buy all of his ripe fruit for VNĐ900,000 to VNĐ1 million (US$38.8-43.1) each one week before Tết.
Each year, he earns a profit of over VNĐ100 million ($4,310), he said. "Thanks to this, my family has a good condition to welcome a warm and happy Tết."
He bought the seedlings from Châu Thành District's Long An Commune in the province nearly 10 years ago. After three years of growing, the trees will bear fruit, he said.
"There are many people who try to grow this type of grapefruit, but not many people can be successful," Tám said.
The fruit ripens eight to nine months after flowering, producing only one crop a year which he harvested for Tết.
Farmers need about seven to 10 fruit per tree to ensure product quality and long-term growth, he said.
Tám also uses the fruit at exhibitions on agricultural products in the city and neighbouring localities where visitors order seedlings.
He plans to expand his cultivation area, and is currently planting more 30 Thúng grapefruit trees. 
Special market for poor patients held in capital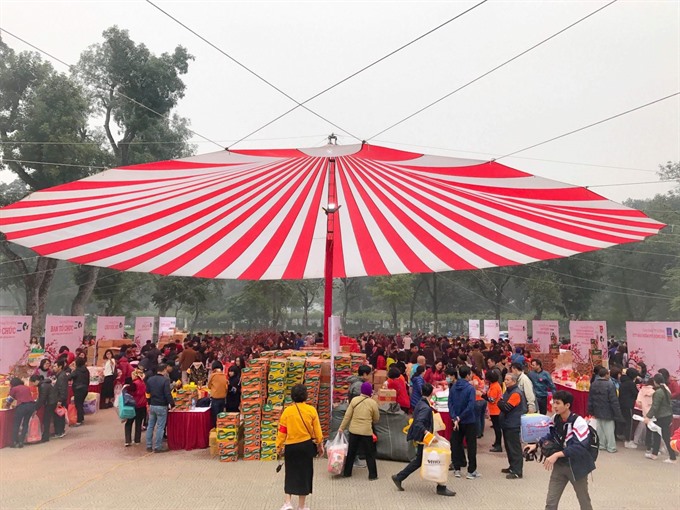 The "0 đồng market" took place at Thống Nhất Park in Hà Nội. — Photo courtesy of the organiser
Poor patients received up to 10 free items for the Tết holiday at a special event dubbed the "0 đồng market" which took place on Sunday at Thống Nhất Park in Hà Nội.
With hope of bringing joy to welcome the Lunar New Year, the volunteer group Ngôi trường ước mơ (Dreaming School) worked with partners to organise the charitable market for the third time.
About 3,000 poor people have attended the market in total, including those suffering from life-threatening diseases and homeless people in Hà Nội.
The organisers said this year's market had nearly 40 stores with different goods for the traditional Tết holiday, such as chưng cake (square glutinous rice cake), fruit jam, vegetables, pork pies and sausages.
The market this year also offered important items for homeless people including sleeping bags, blankets, pillows and clothes.
Nguyễn Thị Thọ, 60, who is a patient at K Hospital – the hospital for cancer, could not hide her emotion.
"I'm grateful to the organisers for creating an opportunity for poor patients like me to welcome a warm holiday," she said.
Thọ only picked up some confectionery at the market because her health would not allow her to carry anything heavy.
"I will take it to my hometown as a present in a few days. It's a market of love, so that poor people can see society is full of love," she said.
Trần Công Huy from Ứng Hòa District in Hà Nội, whose son suffers from cerebral palsy and is under treatment at the National Paediatrics Hospital, was also moved by the event.
"My son cannot walk and must use a wheelchair, but I still took him to the market so he could find something he liked," said Huy.
Although Huy's son is young, Huy believed he could feel the love from people.
Đỗ Thị Thanh Hà, a representative from the Dreaming School group, said the market was successful.
More than 100 student volunteers cooked soup and helped patients with their goods, and free buses for patients were also arranged.
The enthusiasm created a special atmosphere at the year-end with hope for a year full of happiness, she said. 
Sóc Trăng Province says marine fish stocks being protected efficiently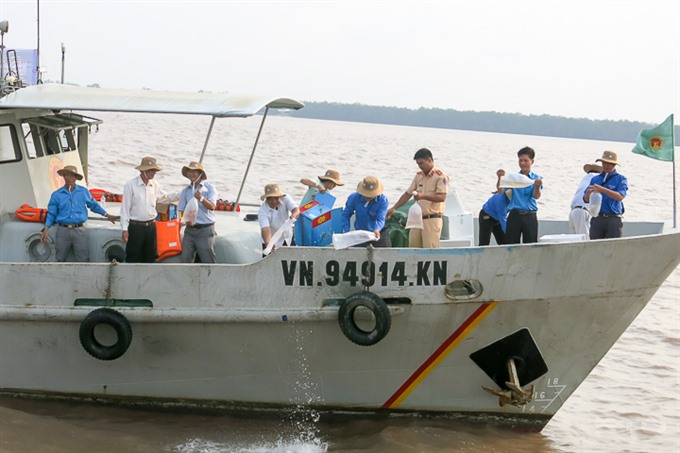 Local authorities and people release black-tiger shrimp juveniles into the sea in Sóc Trăng Province's Trần Đề District to improve stocks. – Photo baosoctrang.org.vn
Authorities of Sóc Trăng said the Mekong Delta province has achieved outstanding results in conserving fisheries resources by effectively preventing the use of banned fishing methods and increasing public awareness of the need for protecting fish stocks. 
It has organised more than 3,000 advocacy activities to enhance public awareness of the impacts of climate change on fisheries resources and the need for protecting those resources in the past five years, according to the local Department of Agriculture and Rural Development.
In the period the province also released more than 15 million black tiger shrimp juveniles and 1.4 million fry of various freshwater fish species into the sea and rivers.
It has adopted many fisheries conservation models like protecting aquatic species carrying eggs and establishing zones to protect breeding clams.
Activities that affect fisheries resources and the environment like using electricity and toxic chemicals to fish have been effectively checked.
Speaking at a meeting to review the efforts to protect and develop fish stocks in 2012-20 on Tuesday (Jan 8), Lê Văn Hiểu, deputy chairman of the province People's Committee, said public awareness is the main factor in protecting fisheries resources.
"Advocating activities to enhance awareness among locals of fisheries resources protection and development should be strengthened."
He said the department should completely prevent banned activities that deplete fish stocks.
Effective fisheries management models should be expanded to protect the livehoods of people living on the coast, he said.
Many households living near the coast derive their income mainly from fishing near shore since they do not have or have little farming land.
The province has adopted many models that help protect fisheries resources and provide livelihoods for fishing households such as breeding aquatic species in mangrove forests, raising sea ducks, breeding shrimp and tilapia together, breeding goats for bearing kids, and making nylon bags.
These have improved incomes for fishing households and reduced fishing near shore.
Breeding obtuse horn shell, mangrove crab, mud clam, and mudskipper in mangrove forests in Cù Lao Dung District's An Thạnh 3 and An Thạnh Nam communes fetches people high incomes.
Mã Văn Tùng, who with four other fishermen has been breeding aquatic species in a 1ha mangrove forest in An Thạnh 3 since 2017, said the model has enabled fishing households near the coast to switch livelihoods and is lucrative.
"[It] offers locals higher incomes than fishing near shore."
It reduces the number of fishing trips to sea, thus helping marine protect fisheries resources, according to participating members.
The model also helps develop mangrove forests, which in turn improves fisheries resources.
Đỗ Văn Thừa, deputy head of the Cù Lao Dung Agriculture and Rural Development Division, said after adopting the various models, local fishermen's awareness of fishing at sea has improved and they are no longer overfishing like before.
VND6.3 billion in assistance for impoverished ethnic children, families
A child in mountainous area (Photo: Vietnamnet.vn)
Deputy Prime Minister Vuong Dinh Hue, head of the Central Steering Committee for 2016-2020 National Target Programmes, recently approved the use of 6.3 billion VND (272,000 USD) to support disadvantaged ethnic children and households.
The amount was mobilised through the national humanitarian portal 1400 in 2018.
Some 5 billion VND (216,000 USD) will be spent on buying clothes for ethnic children residing in specially difficult communes ahead of the Lunar New Year (Tet) 2019. The remainder will be used to provide the poor ethnic families with audio-visual devices.
Deputy PM Hue ordered the Ministry of Labour, Invalids and Social Affairs and the Ministry of Information and Communication (MIC) to join hands with the Standing Board of the Vietnam Fatherland Front Central Committee to carry out the programme.
Particularly, the MIC is responsible to popularise the programme among local people, and call for joint efforts to support the needy.
Vice President presents Tet gifts to disadvantaged people
Vice President presents Tet gifts to disadvantaged people 
Vice President Dang Thi Ngoc Thinh presented 300 Tet gift packages to social policy beneficiaries, families and children with disadvantaged backgrounds in An Luc Long commune, southern Long An province on January 28.
The leader extended Tet greetings to these people and suggested local authorities to improve the implementation of social welfare policies and care for poor families and social policy beneficiaries.
At the event, philanthropists handed over 150 million VMD to the communal administration to carry out socio welfare activities.
More localities get food aid ahead of Tet
Prime Minister Nguyen Xuan Phuc has asked the Finance Ministry to allocate nearly 718 tonnes of rice from national reserves to Hoa Binh, Dak Lak and Kon Tum provinces on the occasion of the upcoming Tet (Lunar New Year) festival. 
Accordingly, the northern mountainous province of Hoa Binh will get more than 85.8 tonnes of rice, the Central Highlands province of Dak Lak over 431 tonnes and Kon Tum province, also in the Central Highlands region, 201 tonnes. 
Earlier, the Finance Ministry has been asked to provide rice for the six localities of Ha Giang, Phu Yen, Binh Dinh, Quang Binh, Yen Bai and Cao Bang. 
The provincial People's Committees will be responsible for distributing the rice to the targeted residents.
The General Department of State Reserve under the ministry provided 120,428 tonnes of rice worth about 1.18 trillion VND (50.74 million USD) for needy people in localities nationwide in 2018.
Each year, about 16 provinces send requests for rice to help locals ahead of Tet and in between-crop periods. The total requested volume averages 12,000 tonnes per million people.
Vietnamese communities around the world celebrate Tet
Vietnamese in Mexico held a get-together to celebrate the traditional Tet (Lunar New Year) festival. 
Vietnamese communities in Mexico, Israel, the UK, and India recently held get-togethers to celebrate the traditional Tet (Lunar New Year) festival.
Speaking at the event arranged for overseas Vietnamese (OVs) in Mexico, Ambassador Nguyen Hoai Duong affirmed the Party and State always view OVs as an indispensable part of the nation.
The Vietnam-Mexico relations have been promoted in all fields, including politics, economy, trade, culture, education, and tourism, the diplomat noted, adding that bilateral trade will surge as the Comprehensive and Progressive Agreement for Trans-Pacific Partnership (CPTPP) takes effect. 
Data from Mexico's Office for Economic Affairs showed that two-way trade hit about 4.25 billion USD in last year's January-November period, with Vietnam recording a surplus of 4.04 billion USD. 
Meanwhile, the Embassy of Vietnam in Israel held a similar event in Tel Aviv on January 27, with the participation of more than 200 Vietnamese expats.
Ambassador Do Minh Hung said that the bilateral ties have expanded and become more effective. Israel is currently among Vietnam's top partners in the Middle East in terms of economic and science-technology cooperation.
In 2018, the two countries held various activities to commemorate the 25th founding anniversary of diplomatic ties. Two-way trade also surpassed 1.2 billion USD last year as many of Vietnam's staples – like seafood, cashew nuts, coffee, and garment-textile products – gained footholds in the Israeli market.
The bilateral free trade agreement is under negotiation and is expected to be inked shortly, in hope of lifting two-way trade to 3 billion USD.
The same day, OVs celebrated Tet during a gathering organised by the Vietnamese Embassy in the UK. 
Ambassador Tran Ngoc An took the occasion to update OVs on Vietnam's economic growth of 7.08 percent, the highest figure since 2008.
Vietnam and the UK launched many activities to bolster the strategic partnership and people-to-people exchange, marking 45 years of diplomatic ties, he noted.
The UK continued to be Vietnam's leading trade-investment partner in Europe. Export-import values of the countries reached 6.2 billion USD in 2018, a year-on-year rise of over 10 percent.
Bilateral cooperation in education, culture, tourism, and defence-security also made strides. Vietnam attracted more than 300,000 tourists from the UK in the previous year.
The two sides have agreed and boosted exchanges to set up new mechanisms and cooperative frameworks, especially in trade-investment to ensure further development.
A meet up was also held for the Vietnamese community in India, with various traditional dishes served at the event.
In early January, Vietnamese Ambassador to India Pham Sanh Chau extended Tet wishes to Vietnamese people in Bhutan while presenting his credentials to the country. 
Vietnam, Sri Lanka step up cooperation in culture
Vietnam and Sri Lanka should promote cooperation in various sectors, including culture, thus enhancing cultural exchanges between the two nations, said a Sri Lankan expert.
At a workshop held by the Institute of Archeology under the Vietnam Academy of Social Sciences in Hanoi on January 28, Bindu Urugodawatte, also a Buddhist archeologist, said that her country was once a centre of Buddhist religion and culture, and Buddhism has played an important part in the nation's politics, society and culture in the past thousands of years.
Participants at the event said that the oceanic Silk Road lends credence to the existence of the association between the two countries over millennia. The road not only facilitates trade but it also offers a journey of diverse cultures and religions.
Dr. Nguyen Gia Doi, Acting Director of the Institute of Archeology, underlined that the Silk Road has existed for thousands of years and passed through many different empires and nations, including Vietnam and Sri Lanka, where Buddhism has been well developing.
He expressed his hope that the bilateral ties will be strengthened during the integration process.