Hanoi to spend big on improving locals' stature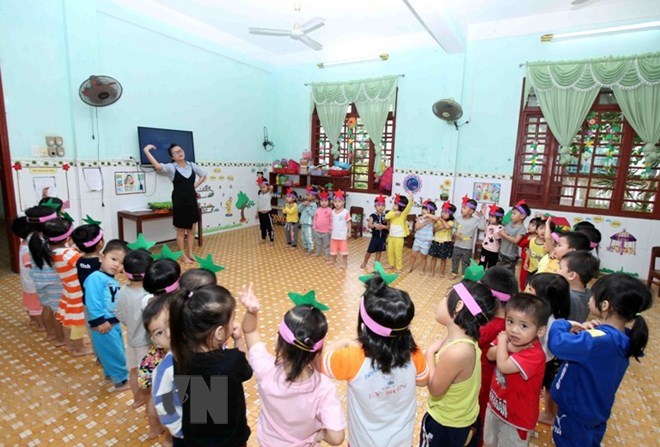 Increasing physical education for people between three and 18 years old is among activities Hanoi will promote to improve locals' average height 
Hanoi plans to spend more than 363 billion VND (15.5 million USD) on activities to help raise local people's average height between 2018 and 2025.
The capital city has issued a plan to develop Hanoians' physical strength and height until 2030, aiming to improve the quality of local human resources.
The plan looks to help local young people have stable height increase so that at the age of 18, male youth can have average height of 167.5cm by 2025 and 169cm by 2030, while females will be 156.5cm and 158cm tall, respectively.
The national averages are expected at 168.5cm among males and 157.5cm among females by 2030.
To that end, Hanoi is going to boost communications to raise public awareness, promote height increasing nutritional regimes, and step up physical education for people between three and 18 years old.
In 2017, the Hanoi Sub-department of Population and Family Planning revealed the outcomes of a study calculating average height of 1,500 people aged six and above in four districts. It showed that after 10 years, Hanoians' height rose by 2 – 3cm, reaching 166cm for men and 155cm for women.
A survey in 2010 indicated that the average height of Vietnamese grew by only 4cm in 35 years.
In 2015, Vietnamese men were 164.4cm tall in average and women, 153.4cm, 15.4cm and 10.3cm shorter than the global averages, respectively.-
Former PVTEX Chairman sentenced to 28 years in prison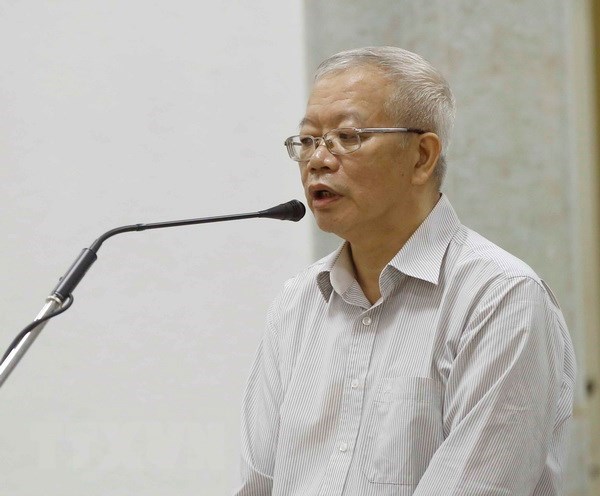 Former Chairman of the Board of Directors of PVTEX Tran Trung Chi Hieu at the first-instance trial 
The Hanoi People's Court on August 31 announced prison sentences between eight and 28 years for four defendants involved in wrongdoings at the PetroVietnam Petrochemical and Textile Fiber JSC (PVTEX).

Tran Trung Chi Hieu (born in 1963, former Chairman of the Board of Directors of PVTEX) was given 13-year imprisonment for "deliberately violating State regulations on economic management causing serious consequences", and another 15 years for "accepting bribes". The total penalty is 28 years in prison.

Do Van Hong (born in 1967, Chairman of the Board of Directors and General Director of Kinh Bac Petroleum Construction and Investment JSC, or PVC.KBC for short) also received a sentence of 13 years behind bars. The jail terms for Dao Ngo Hoang (born in 1978, former head of the trade-contract division of PVTEX) and Vu Phuong Nam (born in 1979, former chief accountant of PVTEX) are nine and eight years, respectively. The three defendants were also found guilty of "deliberately violating State regulations on economic management causing serious consequences".

Aside from the prison sentences, Hong also has to return 19.2 billion VND (over 822,200 USD) to PVTEX, while Hieu has to pay 3 billion VND (nearly 128,500 USD) to the State budget.

The court said Hieu had borne the main responsibility for all activities of PVTEX. While directing the company's implementation of a housing project for its employees, he violated investment and construction regulations, selected an incapable and inexperienced contractor, agreed to change the approved design of the project, and let the contractor build attached houses instead of apartments for employees.

Hieu was found to have intentionally violated the State's regulations on advancing money in construction contracts, approved and directed his subordinates to illegally advance 20 billion VND (nearly 856,500 USD), and not organised the monitoring and management of the use of the advanced money.

He was also guilty of abusing position and power and, through former General Director of PVTEX Vu Dinh Duy, forcing Hong to bribe him with 3 billion VND.

The court said in these irregularities, although Hieu was Chairman of the Board of Directors of PVTEX and held the most responsibility, he was only an active accomplice of Duy. Duy, who has fled authorities and is being hunted by police, must bear the main responsibility for the wrongdoings.

Meanwhile, when Do Van Hong received the advance of 20 billion VND, he used the money for unapproved purposes and did not continue carrying out the construction contract, leading to the project's dilapidation and a loss of over 19.4 billion VND to the State. Therefore, Hong must bear the main responsibility for this loss, the judging council said.

Dao Ngo Hoang and Vu Phuong Nam were in charge of giving proposals and making decisions on specialist issues assigned to them. They knew that advancing the 20 billion VND to PVC.KBC was illegal but still went through with it, leading to the loss of over 19.4 billion VND, according to the verdict. –VNA 
Ho Chi Minh City seminar seeks to reduce child labour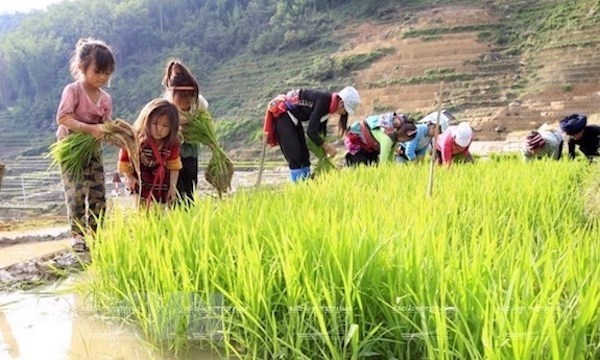 A seminar discussing solutions to preventing and reducing child labour took place in Ho Chi Minh City on August 31. 
Co-hosted by the Ministry of Labour, Invalids and Social Affairs (MoLISA) and the International Labour Organisation, the event was part of a project on providing technical support for enhancing the national capacity to prevent and reduce child labour in Vietnam. 
According to the MoLISA's Department of Child Care and Protection, Ho Chi Minh City is home to the country's largest industrial parks along with thousands of household tailors'. The city also attracts a number of foreign-invested enterprises and immigrant workers, including children, mostly from Dak Nong, Dak Lak, Dong Thap, An Giang and Quang Binh provinces who are at risk of labour and sex abuse. 
Deputy head of the Ministry of Public Security's Department of Criminal Police, Colonel Phan Minh Truong called attention to managing household registration and business establishments as well as supporting children's studies and poverty reduction. 
Participants stressed the need to offer direct services to children who are at risk or did join the workforce, especially vocational orientations and training to children aged 14-17, and to improve livelihoods and sustainable job opportunities for families of children. 
Tran Thi Kim Thanh, head of the municipal Department of Labour, Invalids and Social Affairs' Office of Child Care, Protection and Gender Equality, said the city allocates over 2 trillion VND (86.9 million USD) for school infrastructure in 322 wards and communes, and scholarships for poor students with outstanding academic performance each year. 
The city is working closely with the United Nations Entity for Gender Equality and the Empowerment of Women (UN Women), the UN Children's Fund (UNICEF) and the International Labour Organisation to work out solutions to preventing child labour. 
Head of the Department of Child Care and Protection and Gender Equality Dang Hoa Nam suggested raising public awareness of child labour and alerting the issue to the hotline 111 and local social work centres. 
Authorities should also enhance their capacity in using State management tools via legal and policy enforcement, he said. 
At present, Ho Chi Minh City has the largest population nationwide with over 8 million people. According to a recent national survey on child labour, more than 80,000 children below 17 have joined economic activities, 77.5 percent of them aged 15-17.
Ha Long-Hai Phong expressway open to traffic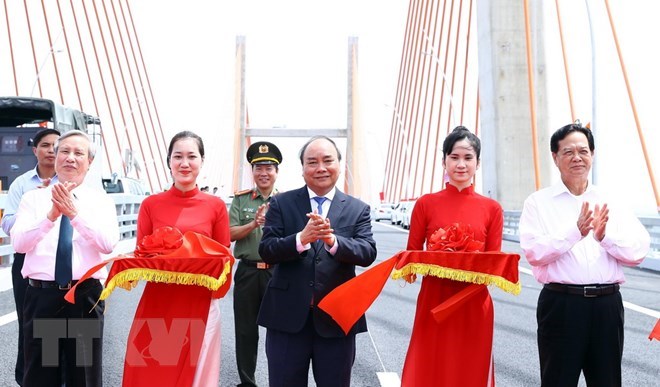 PM Nguyen Xuan Phuc (middle) cuts the ribbon to inaugurate the expressway 
The Ha Long-Hai Phong Expressway was open to traffic at a ceremony on September 1 which saw the attendance of Prime Minister Nguyen Xuan Phuc. 
This is the first expressway nationwide the PM has assigned localities to implement, using the provincial budget and capital mobilised from the public-private partnership (PPP) model. 
Built at a cost of over 13.6 trillion VND (581 million USD), the 25.2 km long expressway connects Highway 18 in Dai Yen ward of northeastern Quang Ninh province's Ha Long city with the Hanoi-Hai Phong Expressway in Hai An district of the northern port city of Hai Phong. 
The Ha Long-Hai Phong Expressway is expected to create breakthroughs in socio-economic development of the economic triangle covering Hanoi, Hai Phong and Quang Ninh. 
It will cut the distance between Hanoi and Ha Long from 180km to 130km, and the Ha Long-Hai Phong route from 75km to 25km. 
Addressing the ceremony, PM Phuc stressed that infrastructure development is the Government's important priority in order to ensure rapid and dynamic economic development in tandem with sustainability goals. 
The project is expected to carry forward values of the Hanoi-Hai Phong Expressway, while promoting regional connectivity, opening up more opportunities and spaces for economic development, he said. 
The project has proven Vietnam's ability in road and bridge construction as it was invested and designed by the country, using cutting-edge technologies, the leader noted. 
Following the ceremony, vehicles were allowed to drive on the expressway with the maximum speed of 80km per hour.
Da Nang – Quang Ngai Expressway fully put into use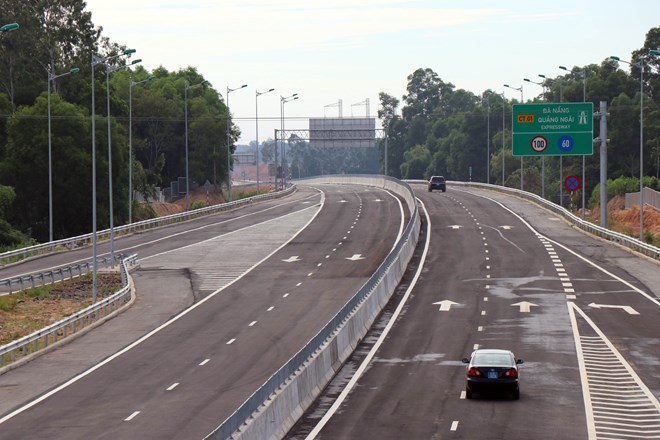 Da Nang - Quang Ngai Expressway is over 139.2km long and traverses Da Nang, Quang Nam and Quang Ngai 
The entire Da Nang – Quang Ngai Expressway was open to traffic on September 2, helping to cut down the distance among economic hubs of the central key economic region.

The road has total length of over 139.2km, including 131.5km of high-speed road and another 7.7km linking the expressway with National Highway 1A. It traverses Da Nang city, Quang Nam province and Quang Ngai province, which form part of the central key economic region of Vietnam.

It allows speed limits of up to 120km per hour, helping reduce travel time from Da Nang to Quang Ngai to one and a half hours, instead of the usual three hours when using National Road 1A.

The project, beginning in 2013, costs over 34.5 trillion VND (1.64 billion USD), including 798.5 million USD loaned by the Japan International Cooperation Agency (JICA) and over 590 million USD by the World Bank (WB). The rest was covered by the Vietnamese Government.

The first 65km-long section, linking Da Nang and Tam Ky city of Quang Nam, was inaugurated in August 2017.

Da Nang – Quang Ngai Expressway is expected to create opportunities for central localities to make breakthroughs, attract investment, and promote the development of industrial parks and tourism along the country's central coast.

It is also hoped to boost transport connectivity from the Vietnam-Laos-Cambodia economic triangle through the East-West Economic Corridor to seaports in the central region.

Speaking at the launch ceremony, Deputy Prime Minister Trinh Dinh Dung thanked the JICA and the WB for funding the project.

He asked the Ministry of Transport to direct the investor to urgently complete support facilities along the route, and the investor, Vietnam Expressway Corporation, to abide by State regulations in management, exploitation and maintenance of the expressway, ensuring traffic safety, environmental hygiene as well as safe, smooth and effective operation of the road.
Over 38,600 people visits President Ho Chi Minh Mausoleum
A long line people waiting to pay tribute to late President Ho Chi Minh inside his mausoleum
As many as 38,625 people, including 1,133 foreigners, paid tribute to late President Ho Chi Minh at his mausoleum in Hanoi on September 1 and 2.

The President Ho Chi Minh Mausoleum Management Board coordinated well with relevant agencies to make preparations for the occasion. On September 2, Vietnam's National Day, visitors to the mausoleum were served free water bottles and breads.

President Ho Chi Minh was born on May 19, 1890 in Kim Lien commune, Nam Dan district, the central province of Nghe An. He devoted all of his life to the national liberation cause while tirelessly striving for peace and progress in the world. 

He led the nation to success in the struggle for national independence and in establishing the Democratic Republic of Vietnam following the August Revolution in 1945. The President passed away on September 2, 1969.

The President Ho Chi Minh Mausoleum, opening to the public on August 29, 1975, is an important landmark of Hanoi capital city and stands integrated to the political and social history of Vietnam. 

After his death, President Ho Chi Minh was embalmed and put for view in this granite mausoleum. The mausoleum, modelled after Lenin's tomb in Moscow, was built in two years, from 1973 to 1975, with materials donated by people from all over the country.
Vietnam Red Cross Society provides aid to flood-hit provinces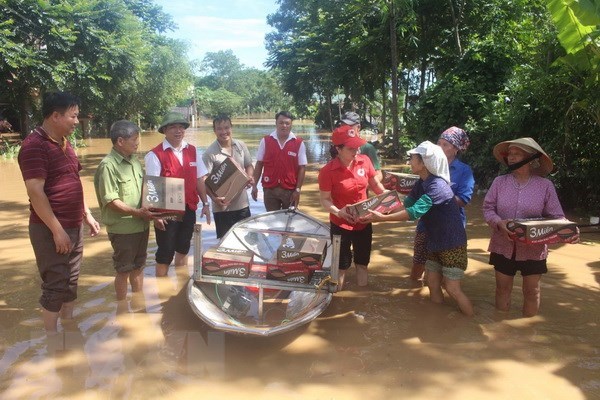 Vietnam Red Cross Society staff deliver aid to locals in Thanh Hoa's Yen Dinh district 
The Vietnam Red Cross Society's Central Committee has decided to offer urgent support to three flood-hit provinces of Thanh Hoa, Nghe An and Son La with a total funding of 420 million VND (18,000 USD).
Along with sending its working teams to Thanh Hoa to perform support activities, the organisation also directed its chapters in the localities to coordinate with local administrations to help the affected locals.
Initially, central Thanh Hoa province has handed over 30 million VND, over 3,300 packs of instant noodles, over 1,500 water bottles, 200 life vests to the needy in Thach Thanh, Yen Dinh, Vinh Loc, Cam Thuy and Ba Thuoc districts.
Thanh Hoa has been seriously suffered by floods and landslides. Currently, landslides blocking road still make three districts of Quan Hoa, Quan Son and Muong Lat inaccessible. 
The disasters killed 9 people in Thanh Hoa. Three locals are still missing.
In Son La province, floods killed one local and injured two others, while affecting 1,521 houses, including 37 completely destroyed.
Nearly 615 hectares of rice and crops have been submerged in floodwater, while 11 schools in Mai Son, Van Ho, Muong La, Quynh Nhai, Song Ma and Sop Cop districts were damaged. 
Floods and landslides blocked various roads, causing 153 traffic congestion points. As many as 45 irrigation works were damaged, while the power supply in 25 communes in eight districts was affected.
Meanwhile, as of September 2, 27 houses in Nghe An were destroyed, along with 26 hectares of crop and many irrigation works.
Can Tho serves nearly 83,000 visitors during holidays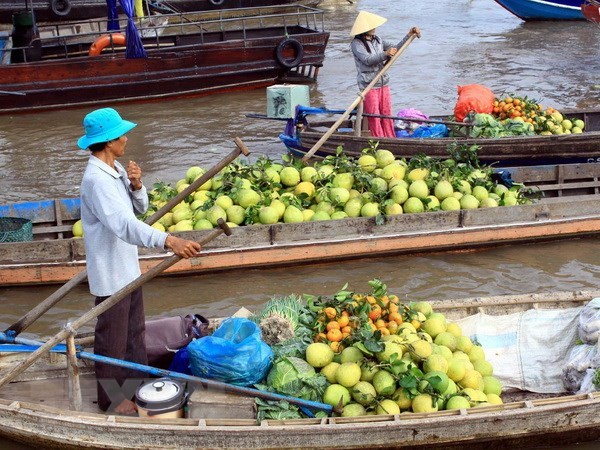 Cai Rang floating market in Can Tho 
The Mekong Delta city of Can Tho welcomed 82,800 visitors, including 6,200 foreigners, in the three-day National Day holidays spanning from September 1-3, a rise of 8 percent year on year.
According to the municipal Department of Culture, Sports and Tourism, about 21,900 tourists stayed overnight in the city during the holidays, up 10.6 percent year on year, including 2,550 foreign visitors, an increase of 10.1 percent.
Total earnings from tourism activities are estimated at 54 billion VND, 12.7 percent higher than the same time last year, the department reported.
Can Tho is at the centre of the Mekong Delta, which is designed to be one of the seven key tourism regions of Vietnam under the master plan for tourism development until 2020 with a vision to 2030. 
Major tourist destinations of Can Tho include Ninh Kieu bridge, Ninh Kieu port, Truc Lam Zen Pagoda, My Khanh eco-tourism village, Lung Cot Cau and Lung Tram tourist areas, and Mien Tay bird park.
In the first seven months of this year, Can Tho served more than 5.2 million visitors, and the figure for the entire year is estimated to surpass 8 million.
Stone formation discovered in central Phu Yen province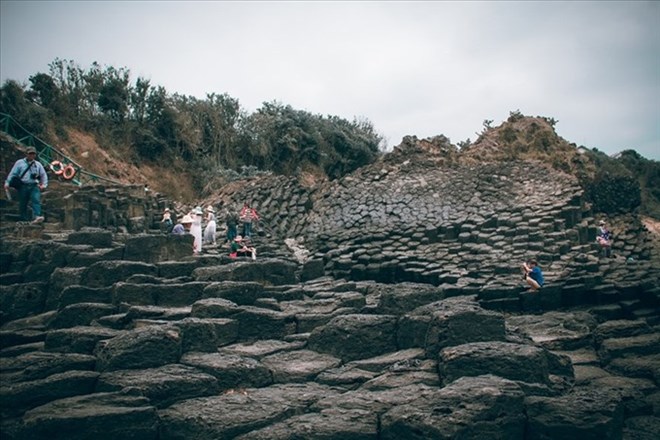 A stone formation has been discovered in the southern province of Phu Yen and is expected to be a new tourist draw in the locality. (Photo: laodong.com.vn)
A rock formation made of stone has been discovered in the south central province of Phu Yen and is expected to be a new tourist draw in the locality.
The area covers 500sq metres, locating near Ganh Da Dia, a national landscape site in An Ninh Dong commune. It is formed by layers of hexagonal, square and round stones. The larger stones have vertical cracks due to the influence of nature over the years.
Trinh Trong Dao, a worker at the site said the area had previously been covered with bushes and mud, therefore no one knew what was underneath yet when the mud was removed, the stones were uncovered.
Ho Van Tien, Director of the provincial Department of Culture, Sports and Tourism, said the department was given permission to work with scientists to uncover the mud layer above the stone. After that, the department will work out a plan to preserve and develop the area into a tourism site.
Tien said the research process will be done carefully so that it won't affect the stone.
The Ganh Da Dia was recognised as a national landscape site in 1998 and has become a top tourist draw in Phu Yen.
ASIAD 2018: Closing ceremony highlights solidarity spirit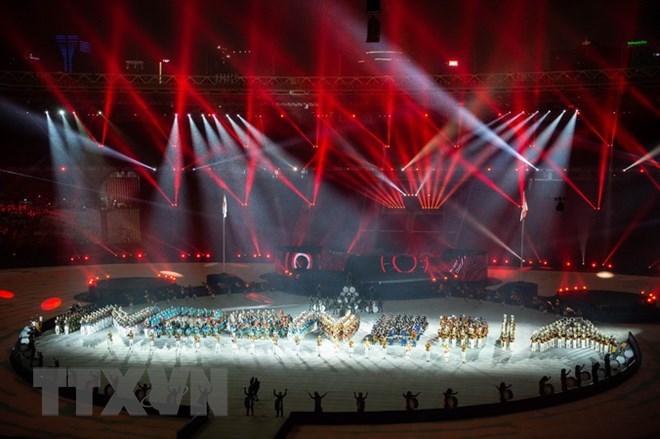 A performance at the 18th Asian Games' closing ceremony at the Gelora Bung Karno stadium, Jakarta, Indonesia on September 2, 2018 
The 2018 Asian Games (ASIAD) closed in a glittering ceremony in Jakarta's Gelora Bung Karno Main Stadium on September 2, delivering a message of solidarity in the region as athletes were not grouped by their countries and territories, but by the sports.
The ceremony began with the national anthem Indonesia Raya, followed by a marching band parade by the police academy and military academy, as well as a procession of ASIAD 2018 contingents.
Addressing the event, Indonesian Vice President Jusuf Kalla, who is also Chairman of the Steering Council of the 2018 Indonesian Asian Games Organizing Committee, expressed his hope that all the athletes had unforgettable memories in this year's ASIAD. 
President of the Olympic Council of Asia Ahmed Al-Fahad Al-Admed Al-Sabah praised the success of ASIAD 2018 and hoped for the success of the next event. Indonesian President Joko Widodo delivered a speech via a televised broadcast. 
The ASIAD 2018 opened on August 18 with the participation of 11,646 athletes from 45 countries and territories, who competed for sets of medals in 40 sports.
Vietnam finished 17th out of 45 countries and territories in the medal tally of the continental sporting event, with four gold, 16 silver, and 18 bronze medals. 
In addition, the Olympic football team made history by earning a ticket to the semi-finals of the men's football and winning praise from international experts, and the support and love of millions of fans.
At the closing ceremony, the ASIAD flag and torch was handed to China, which will host the next Asian Games in 2022 in Hangzhou.
Over 1,500 runners join Hue Half Marathon 2018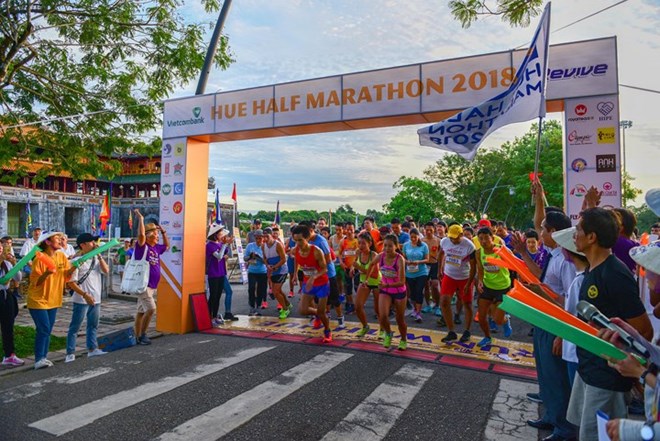 Runners and fans at the Hue Half Marathon 2018 
More than 1,500 runners, including 120 foreigners, participated in the Hue Half Marathon 2018 in the central province of Thua Thien-Hue on September 2.
Winners of the 5km, 10km and 21.1km team races were from the ABBank, Hanoi Beast Runners, and Da Nang Runner. 
The organizers also awarded the first, second and third prizes to female and male individuals. All runners finishing their races received an honorable medal.
The Hue Half Marathon 2018 was the first professional race applying international standards in Hue city. It aimed to promote healthy life style and raise funds for local orphans.
The same day, a traditional boat race festival took place on Huong River, one of the most well-known destinations in Hue city.
Buddhist Vu Lan festival held in Czech Republic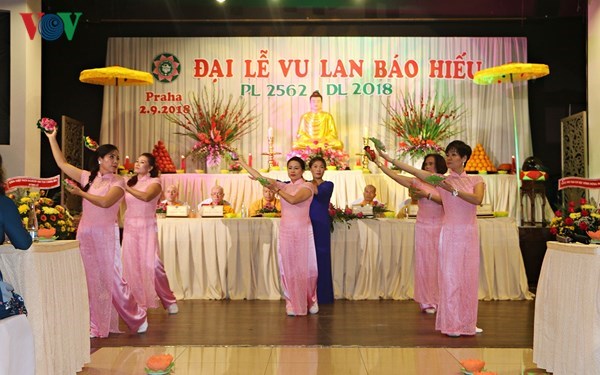 A performance at a ceremony marking the Buddhist Vu Lan Festival in Prague on September 2 
Vietnamese expatriates in the Czech Republic held a grand ceremony to mark the Buddhist Vu Lan Festival in Prague on September 2.
Along hundreds Vietnamese expatriates in the Czech Republic, Hungary and Germany, the event was attended by dignitaries from the Vietnam Buddhist Sangha (VBS) Central Committee, associations of Vietnamese Buddhist followers in Europe and the Czech Republic, representatives from the Vietnam Embassy, leaders of the union of Vietnamese in Europe and association of Vietnamese in the Czech Republic.
Delivering a speech at the ceremony, Most Venerable Thich Thien Bao from the VBS Central Committee highlighted the significance of the Vu Lan festival as an occasion to pay tribute to parents
He said Vietnamese communities abroad should educate their younger generations to preserve the tradition and Vietnamese cultural identities.
The Vu Lan festival falls on the fifteenth day of the seventh month in the lunar calendar. On this month's full moon, wandering souls are believed to return to their former homes. 
The festival is based on the legend that once when mediating, a Buddha's disciple named Muc Kieu Lien saw his mother suffering hell's tortures. Following Buddha's advice, on the seventh full moon of the year, Lien gathered monks and devotees to pray for his mother. 
Therefore, the festival is also an occasion for children to express their gratitude towards their parents (especially mothers) and help ancestors' souls find their way back to the earth.
Two siblings hired to sell heroin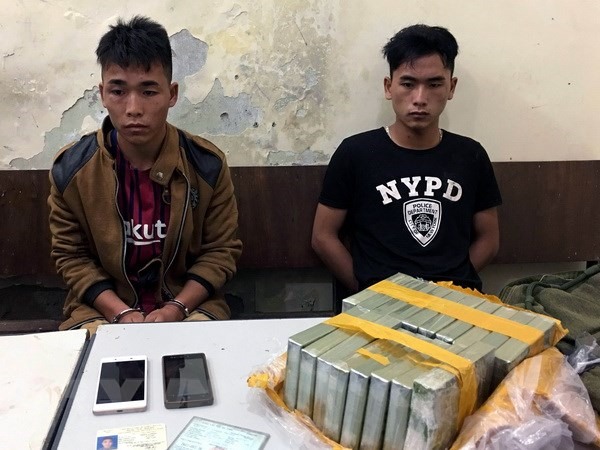 Two siblings from Mộc Châu District in the northern province of Sơn La were arrested for drug trafficking. 
Police in the northern province of Sơn La on Wednesday arrested two siblings residing in Lóng Sập Commune, Mộc Châu District trafficking 18 bricks of heroin.
The traffickers – Tráng Láo Sư, 18 years old and Tráng A Chống, 21, admitted to police that an unknown man in the border area between Việt Nam and Laos hired them to sell the heroin.
For every brick of heroin sold, they would received VNĐ2 million (US$86), they said, adding that they were just on the way to seek buyers.
The case is under further investigation. 
Bến Tre enjoys rapid development process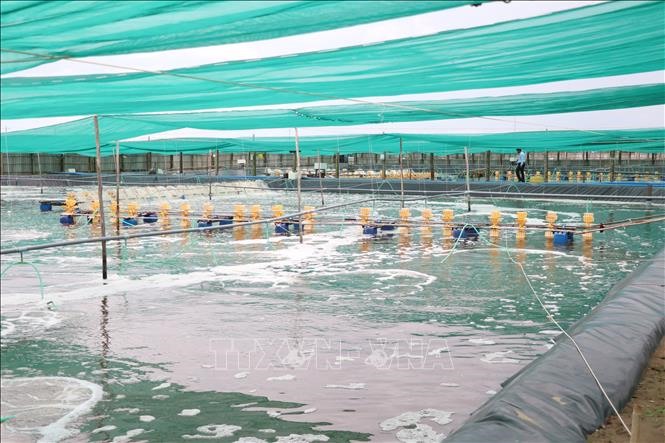 The Mekong Delta province of Bến Tre's socio-economic development in the first half of the Party Committee's five-year term (from 2016-21). 
The Mekong Delta province of Bến Tre's socio-economic development in the first half of the Party Committee's five-year term (from 2016-21) showed that it had reached 50 per cent of 10 of its 13 targets, according to the Sài Gòn Giải Phóng (Liberated Sài Gòn) newspaper.
The Gross Regional Domestic Product (GRDP) of the province from 2016 to July 2018 reached 6.92 per cent, with positive changes in economic structuring, including trade and services, more high-tech rather than traditional agriculture, and development of industry and construction.
Infrastructure for a modern retail system, along with rural markets, has been built.
The value of agricultural production for the period reached VNĐ66.7 trillion (US$3 billion), nearly 50 per cent of the target set by the provincial Party Committee's resolution.
Industry and construction had annual growth of 10.22 per cent.
The coconut processing industry and support industry have continued to grow. From 2016 to 2018, the industries gained a turnover of nearly VNĐ60 trillion ($2.6 billion).
The province has attracted 44 investment projects for total capital of VNĐ625 billion ($27.5 million) in the period.
Investment for nine new residential areas on 526ha totals VNĐ1.7 trillion ($74.5 million) in capital.
The province now has 97 co-operatives working in six fields, including industry, light industry, agriculture-seafood, trade and services, transport, and natural resources and environment.
Administrative reform has improved along with its provincial competitiveness index, increasing by seven positions in comparison with 2015, ranking five among 63 cities and provinces.
The province's investment encouragement policy has reached significant results, with 84 per cent of newly established enterprises and 48 per cent of household businesses of the target.
Finance and banking activities have achieved good results, with total budget collection reaching VNĐ8 trillion ($351 million), over 50 per cent of the target.
The annual income per capita has reached VNĐ35.2 million ($1,600).
Taiwanese job agent jailed for raping Vietnamese migrant
A Taiwanese man was jailed for four years and seven months after being found guilty by Taichung District Court of raping an illegal Vietnamese migrant worker. He was also found guilty of illegally deducting 60 percent of her salary as a job referral charge.
In September last year, the accused surnamed Su, a self-employed employment agent, published online an advertisement in Vietnamese. It announced a temporary position working for a family in Taichung who were looking for a Vietnamese caregiver for a few days, The Liberty Times reported.
The victim named Nova, who was identified as an illegal migrant worker in Taiwan, contacted Su for the job and she worked for the family for six days from September 20 to 25.
It was learned that Su appeared at her workplace on her last day of employment, collected the wages of NT$12,200 on behalf of the woman, and left with her in his car.
While driving, Su gave her NT$4,800, which meant that he had kept 60 percent of her wages for himself.
He then drove to a secluded spot near the Dajia River, which at that late hour was deserted. There, he raped her.
The Vietnamese woman turned herself in at a police station, where she accused Su of rape and illegally skimming her wages.
Su pleaded not guilty in court, arguing that the sex was a payment for him providing transportation.
The judge condemned this as nonsense and sentenced Su to imprisonment for four years and seven months.
International workshop on human rights training and dialogue opens in Da Nang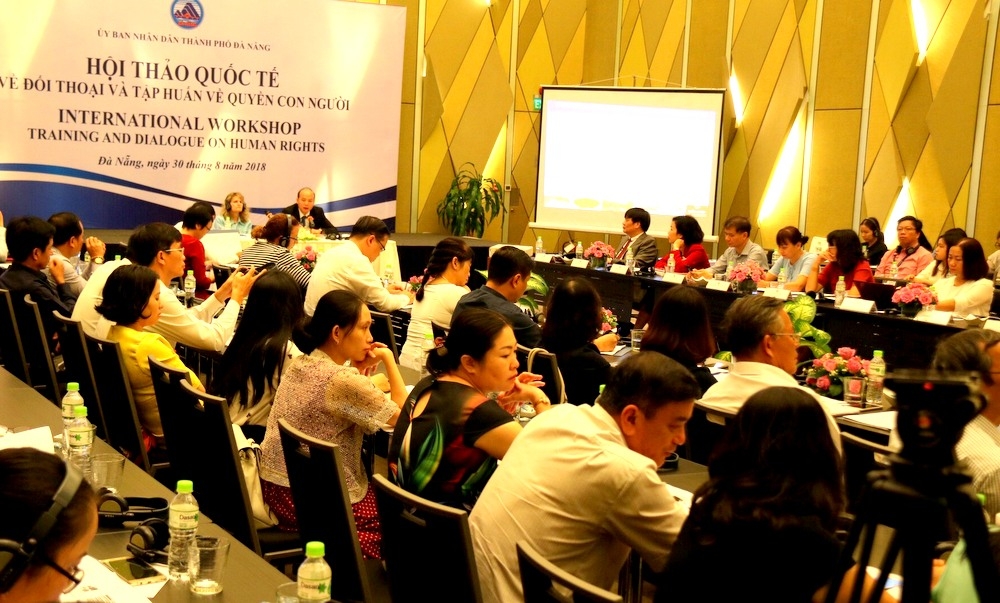 The Da Nang city People's Committee organised an international conference on human rights training and dialogue in Da Nang on August 30.
The workshop attracted more than 100 international delegates, representatives of ministries, sectors and units from the central and local level and representatives from a number of diplomatic missions, consulates and international organisations in Vietnam.
The workshop focused on discussions, sharing experience and solutions to implement policies on human rights and various issues related to people with disabilities, as well as the practice of human rights in Vietnam, the experience of ensuring the rights of women and children and support for the disabled, women and children in certain localities.
Vice Chairman of the Da Nang People's Committee, Ho Ky Minh, said that the contents shared at the workshop will be the basis for the Party committees, authorities and mass organisations to study, apply and implement the policies related to human rights. Da Nang will continue to improve and implement policies related to human rights, as well as placing people at the centre of all policies to enhance the realisation of human rights, ensuring social equality and inclusive development, he added.
The workshop also provided an opportunity for Da Nang to introduce international partners to the efforts and achievements in protecting and promoting the human rights of Vietnam in general and the city in particular, while step by step creating a forum for exchanges in the spirit of sharing and cooperation on the enforcement of human rights in accordance with the objective conditions of economic, political, social and cultural aspects in each country, he noted.
Thua Thien-Hue specialty pomelo is festival highlight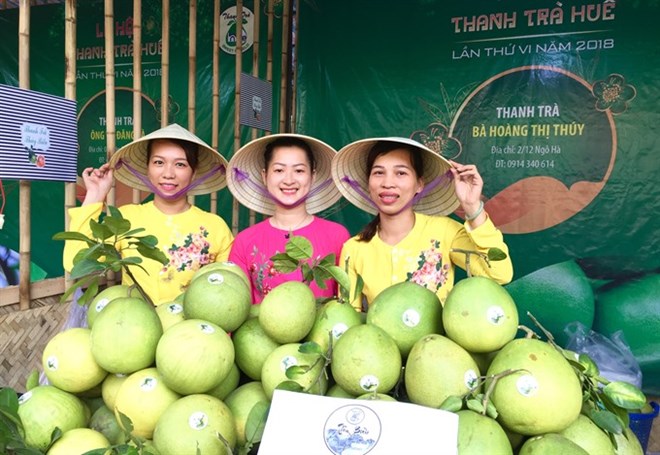 The ladies selling pomelo at the festival.
A festival featuring the "thanh tra pomelo", a specialty of the central province of Thua Thien-Hue, opened in Hue city on August 31 to promote the trademark of the product as well as tourism in the former royal capital city.

This year, the biennial event has 60 booths introducing thanh tra pomelo grown in different localities across the province, including Thuy Bieu of Hue city, Phong Thu in Phong Dien district, Huong Van in Huong Tra town, and Duong Hoa in Huong Thuy town. The fruit takes on a unique flavour according to each locality it is grown in. 

The fruit has become famous due to its unique taste. It is sweeter and does not have the slightly bitter taste found in other types of pomelo. It also has a light mint flavour.

The fruit has become renowned as it was once famously reserved for only the royal family members of the Nguyen Dynasty (1802-1945).

Originally, the citrus tree was grown only in those three villages, where alluvia soil was deposited annually by the Huong and Bo rivers. A decade ago, farmers in other regions around Hue started planting the trees to meet the increasing demand of this specialty fruit from localities around the country.

Experts, however, have said that the fruit grown outside those three villages are not as tasty, explaining that the difference is due to the difference in soil.

At the festival, visitors get chance to taste dishes made with the fruit's flesh, peel, and leaves. These include pomelo wine, pomelo spring rolls, pomelo sweet soup, pomelo tea, chicken salad with chopped pomelo leaves, dry squid-pomelo salad, and pomelo peel marmalade. During the day, organisers provide electric buses to transport those who want to visit the thanh tra pomelo orchards.

They will also have chances to visit thanh tra farms and some other famous tourism destinations of Hue city's Thuy Bieu wards. 

Currently, Thua Thien-Hue has about 1,114ha of thanh tra pomelo farms. In Thuy Bieu commune alone, 127ha out of a total 147ha harvest the fruit with the production of 450-500 tonnes per year, helping local farmers earn 20-25 billion VND per year. 
Seminar discusses RoK's new rural development model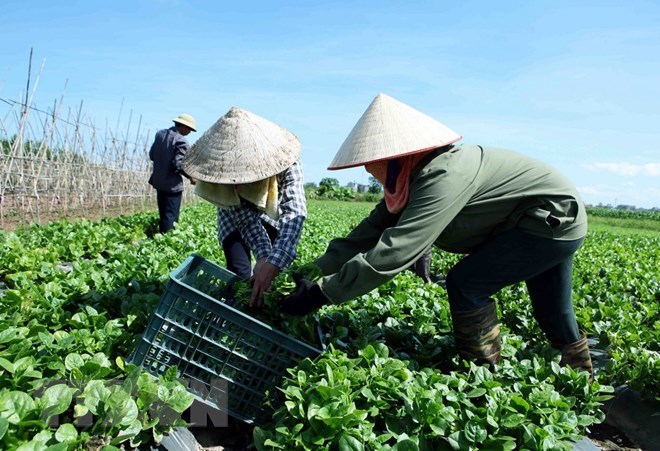 An international seminar discussing the spread of the "Saemaul Undong" (new village) model in modern rural development took place in the northern province of Thai Nguyen on August 31. 
Speaking at the event, Deputy Minister of Agriculture and Rural Development Tran Thanh Nam hoped that the event would help share relevant experience and propose practical solutions. 
In Vietnam, the Saemaul Undong movement was first piloted in Rung Van village, of La Bang commune in Thai Nguyen's Dai Tu district, by the Republic of Korea's Gyeongsangbuk-do province in 2007. Since 2008, the Vietnamese Party and Government have revised their strategy on the development of agriculture, farmers, and rural areas. 
The Saemaul Global Foundation (SGF) also later piloted the model in To village, Phuong Tien commune, Dinh Hoa district in 2014, and in Phu Nam 1 village, Phu Do commune, Phu Luong district in 2017. 
The model was also piloted in villages across Bac Ninh, Ninh Thuan, Thua Thien-Hue, and Hau Giang provinces. 
After seven years of launching the new rural development campaign, the country recorded 3,478 communes, or 38.98 percent of the total, meeting criteria on new-style rural areas as of July 2018. As many as 55 district-level units from 28 cities and provinces were credited by the PM for fulfilling their missions. 
From 2010-2017, more than 1.67 quadrillion VND (72.6 billion USD) was mobilised for the effort – 28.6 percent of which was funded by the State budget, 56.7 percent from credit organisations, 4.9 percent from businesses, and 15.82 percent from the public. 
Doan Van Tuan, Vice Chairman of the provincial People's Committee, said the new village model aims to improve the living environment and local income via infrastructure building, supporting goat and rabbit farming, fruit growing, and personnel training. 
SGF President Lee Ji-ha said Vietnam is one of the key partners of the project on the globalisation of new rural areas, adding that the SGF will offer assistance to Vietnam in management, training, and commercialisation in villages. Meanwhile, the Vietnamese Ministry of Agriculture and Rural Development will establish pilot villages for the effort.  
At the event, participants discussed launching pilot projects to build new rural areas in developing countries as well as effective models in Vietnamese cities and provinces.
Exhibition on Paris Peace Accords opens in HCM City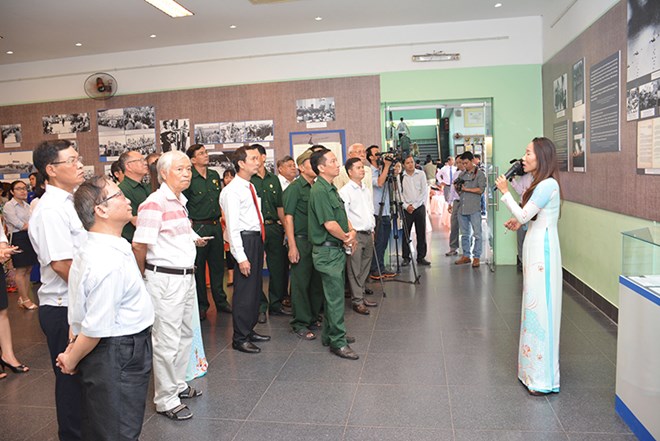 An exhibition, themed "The Paris Agreement on Vietnam – The Door to Peace", opened at the War Remnants Museum in Ho Chi Minh City's District 3 on August 31.
On display are 120 documents, objects, and photos relating to the Paris Peace Accords, which were signed 45 years ago.
The exhibition focuses on categories of the negotiation, the signing and implementation of the accords, as well as the fight to protect it for peace and reunification.
Also at the event, the Centre for National Archives II under the Department of State Records and Archives will present to the public more than 600 pages of documents exchanged between the Republic of Vietnam and the United States. Many of these pages were classified as confidential or top confidential.  
Speaking at the opening ceremony, Deputy Director of the museum Chau Phuoc Hiep said the exhibition not only provides information on the Paris Peace Talks, but also highlights the importance of peace and friendship between Vietnam and international people who support peace in the country.
On January 27, 1973, the Paris Peace Accords – an agreement to end the war and restore peace in Vietnam – were signed between the four governments of the Democratic Republic of Vietnam, the National Front for the Liberation of South Vietnam, the Republic of Vietnam, and the United States.
The agreement called to an end the longest and most difficult struggle in the history of Vietnam's diplomacy, with 202 public meetings held over the war's four years, eight months, and 14 days.
The exhibition will run until February 28 next year. 
Int'l conference introduces latest in nanotechnology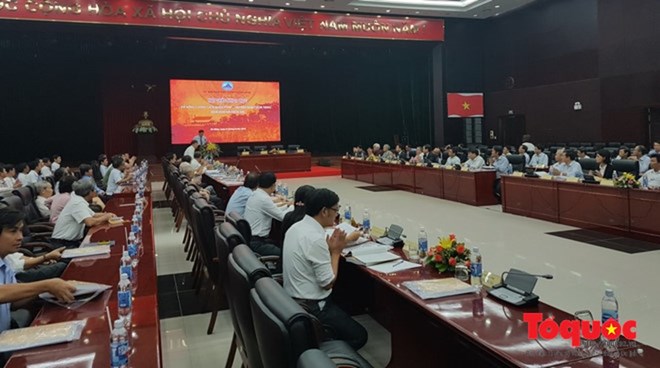 An international conference on nanotechnology and advanced materials was held in Ho Chi Minh City on August 31, introducing the field's latest research ideas and application achievements from Vietnam and around the world.

The event, organised by the Saigon Hi-tech Park and the national programme for high technology development, presented 12 speakers – all of whom are leading nanotechnology and nanomaterial researchers from Japan, the US, Singapore, and Vietnam. They included Prof. Sumio Iijima from Japan's Meijo University and Prof. Munir Nayfeh from the University of Illinois in the US.

Le Hoai Quoc, head of the Saigon Hi-tech Park management board, said that nanotechnology and nanomaterials have been among the four key investment fields of both the park and HCM City over the last two decades. Research in these areas have received significant investment internationally due to their widespread influence and application in many important areas like electronics, biomedicine, food, and aeronautics.

He expressed his hope that this conference would help enhance cooperation among universities, businesses, and research institutes in researching and applying nanotechnology and nanomaterials. It is also expected to help promote technology transfer from universities and research institutes to enterprises, thereby stepping up the commercialisation of inventions.

At the meeting, speakers presented studies and application relating to nanotechnology and advanced materials such as semiconducting materials and technology for bio-nano applying therapies, producing aerogels from industrial waste, and converting waste at shrimp farms into electricity. 
"Brighten up your life" art project launched in Da Nang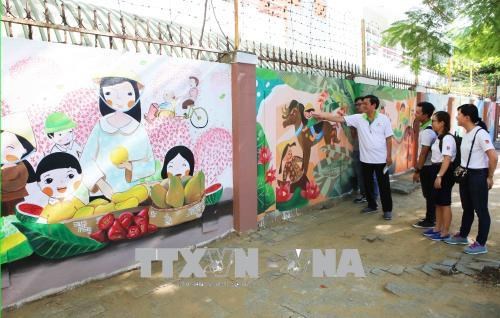 A street art programme entitled "Brighten up your life" was inaugurated in Hoa Cuong Nam ward in Hai Chau district, the central city of Da Nang, on August 31.

The programme was carried out by Hoan My Da Nang Hospital, the Ho Chi Minh Communist Youth Union's chapter in Hoa Cuong Nam ward, and the Da Nang University of Architecture.

Seven painters along with youths, and local people turned the moss-covered walls of houses on Ho Nguyen Trung road into 30 colourful murals.

The pictures depict the beauty of the fishing community, wildlife, local children, and the natural landscape. The images aim to raise public awareness of environmental and marine life protection. Walls of local schools were also repainted as part of the programme. 

Besides, the programme presented scholarships and free movie screenings to local students, as well as hygiene and first aid training courses for them.

Director of the Hoan My Da Nang Hospital Pham Nguyen Cam Thach said over the years, the hospital has worked to organise free health screenings and cardiovascular surgeries for children in disadvantaged and remote mountainous localities nationwide, as well as present scholarships to children of soldiers in Truong Sa archipelago. 
Workshop features Da Nang's battle against French-Spanish coalition forces
A scientific workshop titled "Da Nang's fight against French-Spanish coalition forces during 1858-1860: Past and Present" was held in the central coastal city of Da Nang on August 31 with the participation of domestic and foreign cultural managers, researchers, historians, and architects.
It was 160 years ago when the French-Spanish coalition forces fired the first shots, looking to invade Vietnam. Da Nang became a powerful emblem for the whole country during its mission of national defence, with many heroic displays at battlefields such as Cua Han (mouth of Han River).
For over 18 months from September 1, 1858 to March 23, 1860, the French-Spanish alliance continued to open attacks on Da Nang in their invasion attempts. 
However, with courage, intelligence, and creativity, the Vietnamese army and people fought hard to defeat the quick-win plan of the invaders, forcing them to withdraw from Da Nang.
The workshop participants discussed historical milestones in the fight and highlighted the strategic geopolitical position of Da Nang and the role of generals such as Dao Tri, Le Dinh Ly, and Nguyen Tri Phuong in battlefields, as well as of locals.
They also talked about the preservation and development of Da Nang in the 21st century; the management, conservation, and promotion of heritage value of national relic site of Dien Hai citadel; Da Nang international relations; and Da Nang's historical urban architecture, among others.
Vice Chairman of the municipal People's Committee Dang Viet Dung said Da Nang is on the path of industrialisation and modernisation, striving to become a city people are proud to live in.
The national patriotic and revolutionary tradition is a significant contributor to the city's growth, he said.
The workshop is expected to give an insight into the city's patriotism and revolutionary tradition, he added. 
HCM City: Summer volunteer campaigns prove effective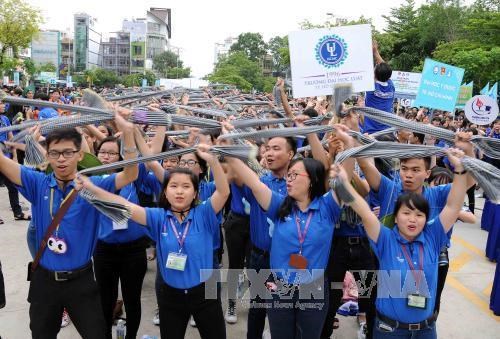 The summer volunteer campaigns launched by the Ho Chi Minh Youth Union's Ho Chi Minh City chapter have proven effective, Deputy Secretary of the chapter Ngo Minh Hai said at a conference in the city on August 30.
Local youths have actively engaged in voluntary activities in districts on the outskirts of HCM City as well as border localities in the south-eastern, south-western, central and Central Highland regions and Laos.
The local youth union opened training programmes, transferred science-technology, and provided farming techniques for farmers while supporting youngsters in rural areas in doing business, introducing job opportunities for over 9,000 young people, and training social skill practices for 86,000 others.
Young volunteers also got involved in upgrading 50km of rural roads and repairing a dozen of bridges, while contributing to building clean, safe and civilised apartment blocks and bus stations.
They presented gift packages worth 2.4 billion VND (102,729 USD) to more than 14,000 locals and youngsters from difficult backgrounds, repaired and replaced electric equipment for 1,200 poor households, and granted 332 scholarships to needy students.
Particularly, in the Lao provinces of Attapeu and Champasak, 97 volunteers from HCM City provided health check-ups and medicine for 4,500 disadvantaged people.
They also handed over 21 computers to Champasak youth union, 11 computers to Attapeu and Champasak provinces, and three houses to poor Lao youngsters.