The police force in Ho Chi Minh City has devised numerous measures to increase the helmet-wearing rate among local children.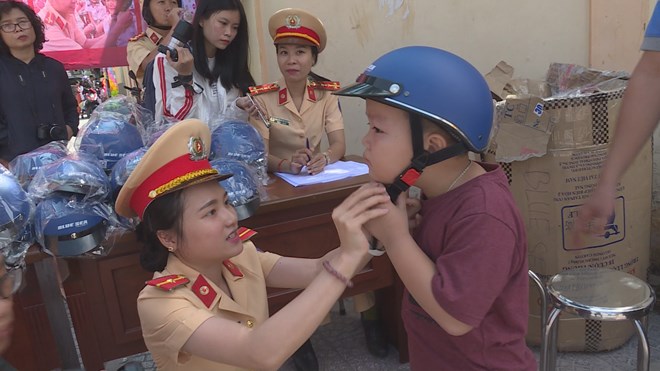 They have been imposing fines and conducting publicity campaigns to raise parental awareness of the issue. Helmets are also given away to children, hoping to ensure their safety on the road.
Police said their move aims to increase helmet-wearing rate among children. The rate of adult drivers wearing helmets in Vietnam ranges between 80-85 percent. However, the figure is less than 10 percent amongst children passengers. 
It is a recurring event that in traffic accidents, it is often the children who fall victim as they are not adequately protecting their heads. The situation is blamed on the lack of law enforcement, publicity, and parental attention. 
 "I don't ask my child to wear a helmet because I think that my child is only small and sitting between us is safe enough," said Nguyen Thuy Anh, a resident in District 7, Ho Chi Minh City.
On many streets of downtown Ho Chi Minh City, most children do not wear helmets as they ride around on motorbikes with their parents. For those that do, many are often of poor quality or are not worn correctly, and are therefore useless.
According to the Law on Road Traffic, police may impose instant fines of 4-8 US dollars on those who carry children aged six and above without helmets on motorbikes. The price of the fine could buy a decent quality helmet.
Police said many children become victims in traffic accidents due to not wearing their helmets properly, with their straps either unbuckled or too loose. 
"Parents should help their children understand the importance of wearing helmets," said Nguyen Ngoc Tho, vice head of the Ben Thanh District Traffic Police. "Wearing helmets would help reduce the risk of serious head injuries, even preventing the potential deaths of their children during motorbike accidents," he said.
Forcing children passengers to wear a helmet is not about obeying the law, but is a matter of care for the younger generation. Parents must take responsibility in ensuring this basic aspect of safety for their children, police said. –VNA