VietNamNet Bridge – Investing in irrigation works has proven effective task in the fight against rapid desertification in the southern province of Binh Thuan.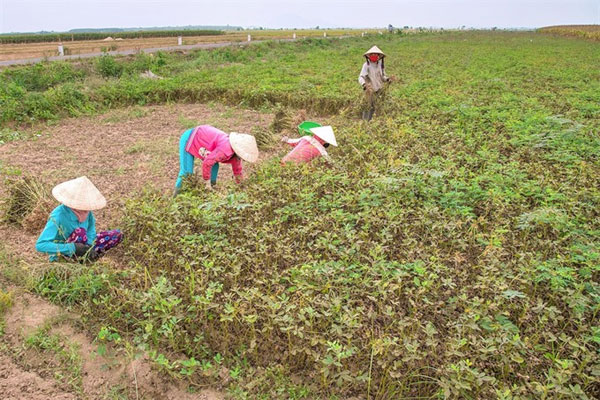 Farmers in the southern province of Binh Thuan collect peanuts. The province has been trying to expand production land to fight off desertification. — VNA/VNS Photo Hong Hieu
Desertification is when fertile land becomes desert, often due to drought, deforestation, or farming.
According to Mai Kieu, director of Binh Thuan Province's Department of Agriculture and Rural Development, the province is affected by the some of the harshest weather in Vietnam, with the driest climate in the country, annual average temperature of more than 27 degrees Celsius and average rainfall from 1,000 to 1,600 mm per year.
It has more than 80,000ha of desertified land (accounting for 11 per cent of the province's total natural land area).
Kieu said desertification was getting worse in coastal districts.
"The biggest worry is the speed of land degradation getting faster, especially in the dry areas of the province such as Chi Cong, Binh Thanh, Le Hong Phong districts."
The province has strong winds in the dry season from October to April of, the director explained.
This has created favourable conditions for desertification, spreading along nearly 50km of coastline.
The rapid speed of desertification is due to two causes: firstly, severe degradation in coastal sandy land that becomes 'dead land' due to sea wind, and exploitation of underground water.
There is little cover while the surface is sandy, so during the dry season, the sand creates mobile sand dunes and hastens desertification, according to Kieu.
Sand dunes formed by the wind can reach thousands of hectares and be 40-50m high. After that, the sand will easily fall down the slope, and gradually move from the coast inland.
Implications from desertification
According to the provincial Department of Agriculture and Rural Development experts, at desertifed land areas, frequent strong winds create violent sand storms, moving sand from the coast and threatening to bury villages and farming land.
Most serious is the mobile sand area in Chi Cong, Lien Huong, Binh Thanh districts that threatens to destroy farmland, especially industrial crops and fruit trees such as cotton and grapes.
Desertification is always a matter of survival, because it destroys the diversity of land, experts have concluded.
Bac Binh District now has no forest trees and water resources are exhausted, killing off animals and plants. Ten years ago, the land was good, the crops were rich and diverse, and animals had shelter in the forest.
Water is a vital element in tackling desertification. Due to the lack of protective forest, sand can easily fill farming areas, residential areas or create new sand dunes.
These impacts have made people in the coastal areas face economic difficulties due to a lack of water for farming.
Climate change and drought have caused severe consequences for forestry production, damaging hundreds of hectares of forest.
Nguyen Ngoc Hai, chairman of Binh Thuan Province People's Committee, said "Desertification has had a negative impact on water, soil and ecosystems."
"The quality of water, especially groundwater, has been deteriorating dramatically over the past 30 years. The ecosystem is not as rich and diversification as 30 years ago."
He said as a result of land degradation, forest land was washed away, and it was difficult to restore forests.
Efforts to revive the desertification
Desert land can be considered as 'dead land' because no plant can live without human intervention.
Binh Thuan has been trying to implement solutions to expand production land.
Via tree plantation, trees have gradually replaced some sand dunes, but the most important thing was developing irrigation.
The province has built more than 270 large-and small-scale irrigation works, including large constructions designed with more than 40 million cu.m-capacity such as Song Quao, Ca Giay and Long Song lakes.
Water irrigation has helped fight desertification and aided agricultural and rural development in the province, according to the provincial People's Committee.
The irrigation system has contributed in raising the total provincial farming area from 53,000ha (2005) to 110,000ha (2017).
Hai, chairman of the provincial People's Committee, said local authorities have created favourable policies to get farmers to invest in intensive farming, exploit the advantages of land conditions and change crop structure towards commodity production.
Irrigation works not only provide farmers water, but also increase cultivation area.
Thousands of households have benefited from irrigation works and escaped from poverty.
From the State and local budgets, the province has made efforts to build an 8,000ha coastal protection forest, from Tuy Phong District to Ham Tan District.
These forests have helped improve the environment and stabilised the crops that ensure the livelihoods of coastal people.
In addition, many anti-desertification projects have been approved, such as planting forests against sand; development of irrigation system; sustainable agricultural production; and transfer of farming measures.
The initial success of these projects has opened the possibility of limiting the harshness of nature and in the future, will turn thousands of hectares of 'dead land' into forests.
With abundant water resources, local farmers have made use of ponds to raise fish, bringing economic value and changing their lives day by day.
Source: VNS