VietNamNet Bridge – Provinces in low-lying areas in the Mekong Delta are at risk of heavy flooding due to water from upstream coupled with quickly rising tides, especially in Kien Giang, An Giang, Dong Thap and Long An.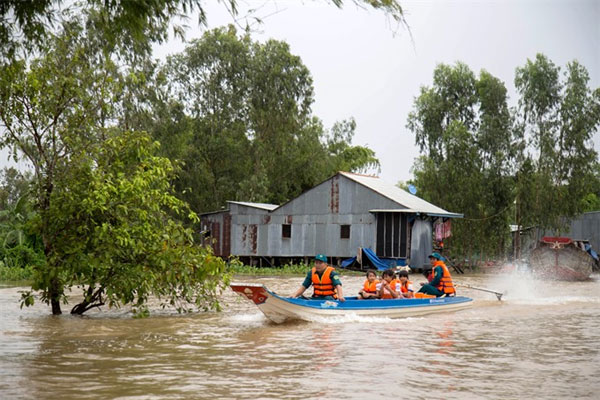 Mekong Delta provinces face a risk of heavy floods in low-lying areas. — VNS Photo
The National Centre for Hydro-Meteorological Forecasting, which said that water levels in the Mekong Delta are rising at alarming levels, has issued a warning level of 2 and 3.
On August 25 water levels rose to 3.86m at Tan Chau Station on the Tien River and at 3.38m at Chau Doc Station on the Hau River, but did not exceed the warning level 2.
However, by August 31, floods are expected to rise to 4.2m at Tan Chau Station and 3.7m at Chau Doc Station, surpassing the warning level 2 by 0.2m.
On September 5, water levels are forecast to peak at 4.15m at Tan Chau Station on the Tien River and 3.65m at Chau Doc Station, about 0.15m above the warning level 2.
This is expected to affect agricultural production and the livelihood of residents in low areas.
From September 12 to 14, the peak of flooding is predicted to reach 4.5m at Tan Chau Station and 4m at Chau Doc Station, reaching warning level 3.
This will cause serious flooding that threatens to destroy infrastructure and livelihood of local residents.
Meanwhile, downstream areas could reach warning levels of two and three, and some places surpassing level 3.
On Monday, the Central Steering Committee for Natural Disaster Prevention and Control issued an instruction on immediate response to mitigate possible losses and damage caused by heavy floods in the Mekong Delta region.
Accordingly, localities in the region must be prepared to deal with heavy floods, including ensuring safety for children and students.
Households that need to move to the concentrated area will be supported by local authorities.
Authorities have also been told to closely monitor changes in floods and rains, ensure information flow to local governments at all levels, adjust production schedules and warnings, and relocate people living in areas under threat of inundation and landslides.
Group patrols and guard forces must regularly check dyke systems, embankments, drainage and water systems, riverbanks and coastlines, especially in upstream areas.
Disaster prevention
Provinces in the delta are responding to natural disaster risks by ensuring the safety of local residents and farm production.
An Giang and Kien Giang provinces, for example, have agreed to release water from two flood-regulating dams, Tha La and Tra Su, tomorrow, three days earlier than scheduled, according to Lu Cam Khuong, deputy director of An Giang Province's Department of Agriculture and Rural Development.
The annual release of water from the dams will ensure safety for the dyke system and agricultural production activities downstream of both areas outside and inside the dyke.
On Tuesday, flood waters peaked at 3.95m at Tha La Dam and 3.99m at Tra Su Dam, exceeding the second warning level.
Meanwhile, water levels reached over 3.66m on Vinh Te Canal, threatening 700ha of autumn-winter rice in Tri Ton District's Lac Quoi Commune.
Tran Van Cuong, head of Tri Ton District's Sub-department of Agriculture and Rural Development in An Giang Province, said the local authority had helped farmers in the district reinforce and upgrade a sewerage system to protect 150ha of rice yields.
On Saturday, local farmers said the drainage system began leaking water caused by powerful floodwaters rising on Vinh Te Canal in Lac Quoi Commune's Vinh Phu Hamlet.
Localities are mobilising all resources to reinforce sewage and drainage systems to protect people and property from rising floodwaters.
To minimise possible losses, farmers have been told to harvest crops earlier than usual.
Tra Vinh Province is implementing 14 construction projects with total investment cost of more than VND1.7 trillion (US$73 million), according to the local Committee for Disaster Prevention and Search and Rescue.
Of the figure, about VND647 billion ($28.8 million) will be used for erosion-prevention projects along riverbanks and the coast.
The projects include building dykes along the Co Chien River to protect the My Long Town residential area in Cau Ngang District, and anti-erosion works; planting mangrove forests to protect sea dykes in Hiep Thanh and Dan Thanh communes, Duyen Hai and Tra Cu districts, and Dinh An Town; and reinforcing dykes and embankments.
More than VND581 billion ($25 million) has been allocated to upgrade sea dykes and river dykes, while nearly VND189 billion ($8.1 million) will be used for the upgrade and expansion of Dinh An fishing port in Tra Cu District and to build safe shelters for fishing boats.
The rest will be invested in two projects that aim to prevent saltwater incursion, and dredge and upgrade canal systems, increase the number of clean water-supply construction for local residents affected by severe drought and saline intrusion.
Kim Ngoc Thai, vice chairman of Tra Vinh Province's People's Committee, said since the beginning of the year, high tides have damaged several roads in Tra Vinh City and Tieu Can District's Tan Hung Commune.
The province has recorded dykes totalling a length of 1,300m and about 300sq.m of embankments damaged by high tides.
Additionally, heavy rains along with tornadoes have destroyed about 100 houses and numerous hectares of crops in the province.
In the first eight months of this year, total losses and economic damage caused by natural disasters reached over VND3 billion ($128,790), Thai said.
To minimise the loss, the province issued regulations against illegal encroachment on rivers, canals, and coastal areas and is planting more mangrove trees to cover riverbanks, sea dykes and coastlines.
It is also limiting the development of prawn farming along rivers or near dykes.
Local authorities are encouraging local residents to plant nipa palm trees and water hyacinth to create mud flats that could prevent landslides.
Source: VNS