VietNamNet Bridge – The National Centre for Hydro-Meteorological Forecasting has warned northern mountainous provinces of the imminent threat of flash floods and landslides.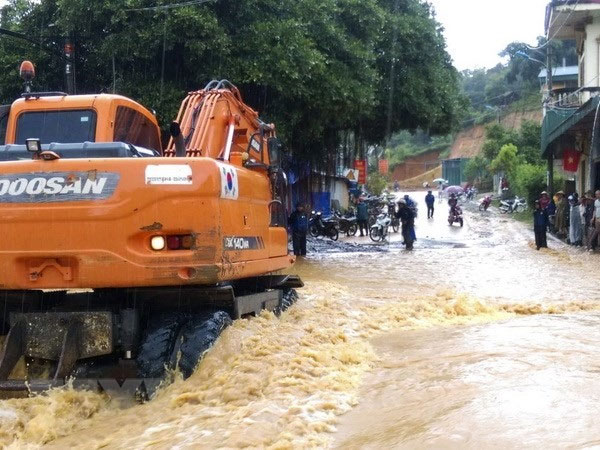 A flooded section of road in Muong Bang Commune in the northern province of Dien Bien's Tua Chua District. — VNA/VNS Photo Xuan Tu
According to the weather service, in the early hours of Tuesday morning, parts of Dien Bien, Son La and Lai Chau suffered medium to heavy downpours, with rainfall reaching 31-43mm.
Torrential rains are forecast for the region overnight, and are likely to trigger landslides in the districts of Muong Cha, Muong Nhe (Dien Bien), Muong Te, Phong Tho (Lai Chau) and Yen Chau and Thuan Chau (Son La).
Hanoi is also forecast to experience heavy rains combined with thunderstorms high winds today and Thursday.
Traffic paralysed
Landslides triggered by heavy downpour in the northern province of Dien Bien since Monday night have disrupted traffic on a number of routes.
Luong Thanh Tung, director of Land Road Company II, said landslides occurred at a number of sections on the National Highway 4H, with more than 3,000cu.m of rock and soil falling down onto the roads.
The company has deployed workers and machines to clear the damaged route, but continuous torrential rains were hampering the repair work, he said.
The roads should be open to traffic again by Tuesday evening, Tung said.
Initial statistics from Tua Chua District's People's Committee showed Muong Bang, Xa Nhe, Sinh Phinh and Muong Dun had suffered most with a number of traffic and irrigation structures being affected. Traffic damage was estimated at more than VND2 billion (US$86,000).
Water levels in Tong Lenh Reservoir have reached an alarming level while the Tan Phong Irrigation Project at the section crossing Nam Seo Stream is also on the verge of collapse.
Tua Chua District has recorded dozens of hectares of rice fields and fish ponds in Sinh Phinh, Muong Bang and Xa Nhe communes that have been flooded.
Pham Quoc Dat, chief of the district's People's Committee, said local authorities had been instructed to direct the recovery work so that life could return to normal soon.
Similar damage was also reported in Nam Po District, as one bridge and 150m of road leading to the district's centre were destroyed by the floods.
"These are historic floods," said Khoang Van Van, head of Cha Nua Commune's Party Secretary.
As of Tuesday evening, no human casualties had been recorded in the province but floods had inundated 130ha of rice, 30ha of and fish farming areas, swept away 100 cattle and fowls. As many as 69 houses were totally ruined and some villages were isolated as incoming and outgoing traffic became nearly impossible.
Schools, People's Committee buildings, post offices and houses had all been affected by heavy rain, he said.
Due to the high risk of flash floods, local authorities are evacuating dangerous areas. 
Source: VNS