VietNamNet Bridge – Border guards in central Quang Tri Province on Tuesday arrested a Lao man carrying 65,800 methamphetamine pills from Laos to Vietnam. The man was named as Liep Latsavong, 19, residing in the Lao province of Savannakhet.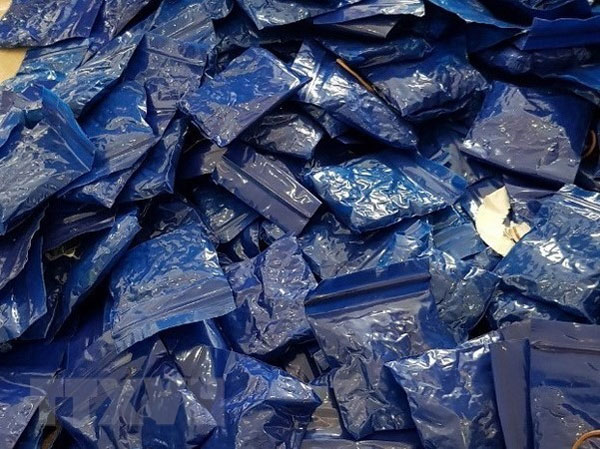 Liep Latsavong was caught while transporting the pills, which were contained in 329 bags. — VNA/VNS Photo
Latsavong was apprehended while transporting the pills, which were contained in 329 bags. Based on the man's testimony, the border force station at the Lao Bao international border gate and the drug and crime prevention team of the provincial border guard arrested Tran Khac Hoang, 27, in Bac Giang Province and Nguyen Anh Quynh, 19, in Tuyen Quang Province, who were accused of hiring Latsavong to transfer the drugs to Vietnam. 
One day earlier, the border guard force in the central province of Nghe An also stopped a suspect who was transporting a large volume of drugs from Laos to Vietnam. 
Accordingly, the force's unit at Nam Can international border gate, in collaboration with the provincial Customs Department, arrested Phan Tuan Anh for illegally transporting ketamine across the border. Anh, born in 1992 and residing in Nghe An's Yen Thanh District, was found with 285 phials of ketamine in his luggage while passing the border gate.
Thirty-six out of 285 phials of ketamine were detected in Anh's bag and the remainder was found in the luggage compartment of a passenger car with Lao registration number UN 0279, which was passing through immigration procedures at the border gate. Anh admitted that he transported the drugs into Vietnam to sell to a Vietnamese person. Both cases are under further investigation.
Source: VNS