VietNamNet Bridge – With space limited in downtown Hanoi, parking spaces are at a premium.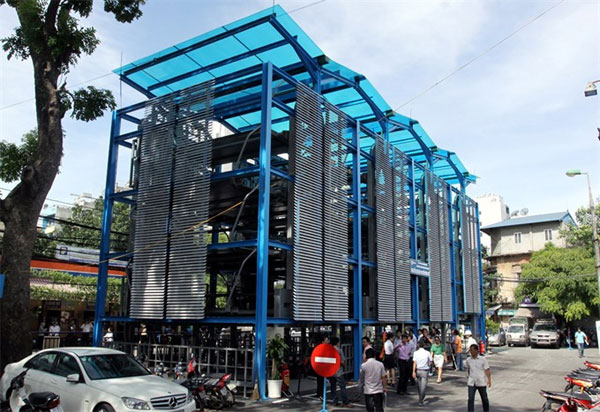 Hanoi will develop modern car park in downtown. With space limited in downtown Hanoi, parking spaces are at a premium. — VNA/VNS Photo The Duyet
So difficult it is to find a place to park cars and motorbikes, it seems any spare piece of land, on sidewalks and even in the yards of State agencies, is snapped up to be used as an illegal lot.
In front of an office in Hai Ba Trung District on Doan Tran Nghiep Street, the motorbike parking lot of the Anh Duy Development Investment Co Ltd charges VND10,000 (US$0.4) to park – despite the price printed on the ticket as only VND5,000, reports Tien Phong (Vanguard) newspaper.
Last month, the capital city expanded the use of the iParking app at 146 lots. The project is part of the ongoing efforts to improve urban traffic management by monitoring the number of vehicles using parking lots and ensuring transparency in collecting fees.
According to the newspaper's reporters, within 30 minutes, two parking staff collected in cash from dozens of vehicle owners but did not give them the ticket, charging VND20,000-30,000 per car based on parking duration.
Even though the app allows for cashless payments, paying via cell phones only accounts for around one-tenth of tickets bought.
On Dinh Le and Nguyen Xi streets, close to Hoan Kiem Lake, where books and stationery are sold, there are a number of discrepancies.
Staff there collected VND10,000 per motorbike even though the regulated price is just half of that amount.
Nguyen Xi Street also saw many motorbikes parked on the pavement, leaving pedestrians with no choice but to walk in the road.  
In Hosng Mai District, the yard of Traffic Police Inspectorate Office located in Hoang Van Thu Ward, has certainly become a car park.
The guard of the office told the newspaper that there were 40 cars parking here each day, with the fee for each car of VND1.3-1.8 million per month.
It means that the office can collect at least VND52 million per month, the report said.
The guard told reporters that all space of the office is used for car parking. The pavement in front of the office is also used as a parking lot to collect money. Sometimes, the vehicles occupy the entire sidewalk.
Most of illegal spots were reported to collect VND20,000 per motorbike.
With limited infrastructure facilities, some urban management experts suggested authorities consider granting temporary permits to the illegal lots to bring more funding to the State and improve management.
According to Ha Noi Police, the city has about five million motorbikes and more than 500,000 cars, not including 1.2 million vehicles traveling in and out the city regularly.
Meanwhile, the land for static traffic works in the city has met only about 8-10 per cent of demand. Current legal car and motorbike parks can only accommodate 10 per cent of demand, according to the Ha Noi Department of Transport.
This was one of the reasons for illegal parking spaces.
Hoang Minh, a resident from Hai Ba Trung District, said he often went out by motorbike instead of car because it was difficult to find a place to park. 
"I also see many yards of State offices, even universities becoming car parks. I think in order to wipe out the illegal lots, the city should build more underground and car parking buildings," he said. 
Nguyen Duc Chung, chairman of Ha Noi People's Committee, recently said the underground parking lot project will soon be constructed at Quan Ngua Stadium in Ba Dinh District.  
Besides the tentative parking lot at Quan Ngua Stadium, Hanoi's authorities are collaborating with investors to study the feasibility of building parking lots at other municipal areas, reported Tuoi tre (Youth) newspaper.
Last year, nearly 500 illegal parking lots in the city were discovered by the Ha Noi Police.
Source: VNS