Efforts made to help locals overcome flood aftermath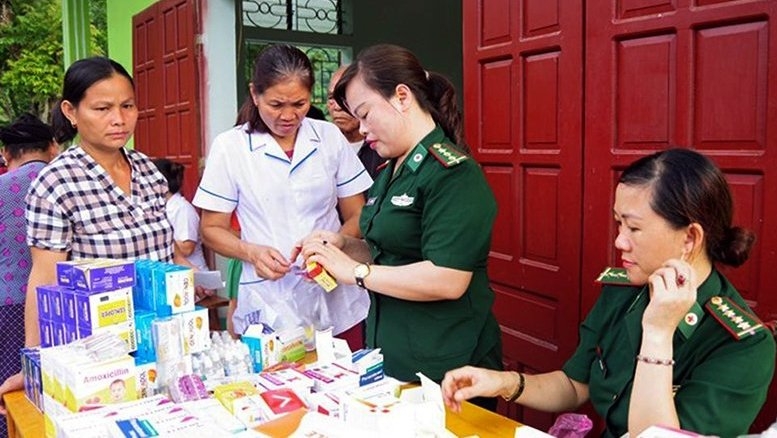 Nghe An province's border guards provide free medicine to locals in Huu Kiem commune, Ky Son district 
Localities, the army and agencies are making asserted efforts to help people in flood-hit areas to overcome the consequences of floods.
Nghe An provincial Border Guard High Command and Military Headquarters have sent doctors to provide free health check-ups and medicine to 650 locals in Bong Khe commune, Cong Cuong district, and Huu Kiem commune, Ky Son district. The delegation also presented VND 20 million to four households whose houses were washed away.
The provincial youth union also mobilised nearly 5,000 members to support locals in overcoming the aftermath of the flood.
In Ky Son district, the local authorities visited and present nearly VND30 million to six families, who have a dead or missing family member following the floods in Chieu Luu, Tay Son, and Muong Ai communes.
On August 18 and 19, more than 200 youth union member and volunteers joined 50 doctors to provide health check-ups and medicines to people in Chuong My district and clean up the environment there in order to help the locals stabilise their lives as soon as possible.
The Hoa Binh provincial Children Sponsor Fund in coordination with the Prudential Insurance Company granted 60 gifts worth VND1 million each to children in areas badly damaged by natural disaster in Vinh Tien, Tu Son, and Ha Bi communes.
Heavy rains and cyclones over the past two years have collapsed and blew away the roofs of more than 100 houses in Ca Mau province. The provincial authorities aided VND 10 million to each family who lost a relative due to the houses collapsing.
As of August 19 morning, all households in Lang Chanh, Ba Thuoc, Quan Hoa and Quan Son districts in Thanh Hoa province returned to their residential areas after being temporality evacuated due to floods and landslides. Measures have been taken to repair and rebuilt houses, provide food and essential goods to the locals, helping them resume their routine production and daily activities.
Bullets found during building work
Construction workers have discovered a mortar store with about 100 old bullets lying underground in the central Quảng Ngãi Province People's Committee office when they were upgrading the building.
Last Saturday, workers found the ammunition from the war with America while they were digging the foundations.
Construction officials stopped digging the foundations and reported the discovery to the authorities.
On Sunday, engineers from the provincial Military Command came to the scene, examined, collected and removed the bullets.
The upgrade of the building was implemented by the Industrial and Civil Work Construction and Investment Project's Management Board of Quảng Ngãi Province. 
Two brothers drown in Gia Lai, bodies found
The bodies of two young brothers were found in a lake on Sunday after the pair went missing in the Grai District in the Central Highlands province of Gia Lai the day before.
Lê Quang Đạo, chairman of Ia Grăng Commune, confirmed to vietnamplus.vn online newspaper that two children, one 10-years-old and his eight-years-old sibling went swimming at a lake in nearby commune, O Re, early Saturday without telling their parents.
They raised the alarm when the brothers didn't return home later that evening.
Local authorities mobilised all available forces to search for the children after they were reported missing.
The pair was found drowned in a 3m-deep and 100m-wide lake that was created several years ago by stone mining companies.
Japanese culture leaves impression on Quang Nam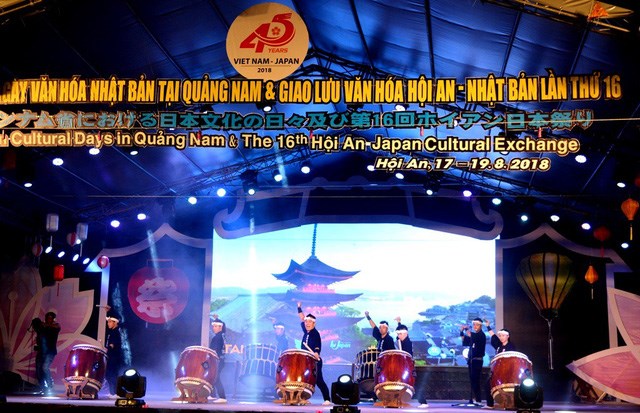 Minori Dako drum artists from Japan's Ibaraki Prefecture performed at the opening ceremony of the two events (Photo: dantri.com.vn)
The Japanese Cultural Days in Quang Nam and the 16th Hoi An – Japan cultural exchange programme were rounded off in Hoi An ancient town, the central province of Quang Nam, on August 19.

Aiming to celebrate 45 years of Vietnam-Japan diplomatic ties (September 21, 1973 – 2018), the two events entailed a series of activities. 

During their three-day courses, business networking and investment promotion events took place, with several memoranda of understanding on economic cooperation signed. An experience exchange in smart city building as well as discussions on Japanese culture, education, and literature were also organised. 

In addition, the events featured photo and handicraft exhibitions and a food festival.

Le Van Thanh, Vice Chairman of the Quang Nam People's Committee, praised performances featuring Japanese folk culture like Yosakoi dance, and Kagura music and dance, and those staged by Minori Dako drum artists from Japan's Ibaraki Prefecture.

He stressed the importance of exchange and cooperation activities between Quang Nam and its Japanese partners in deepening Vietnam – Japan friendship.

Hoi An is one of the localities in Vietnam having early friendship ties with Japan. The two sides boast long-standing trade, economic and culture exchanges, which were dated back to hundreds years ago when Japanese traders came to do business in Hoi An, a popular international trading port back then. 
Summer camp for Vietnamese youth in Europe wraps up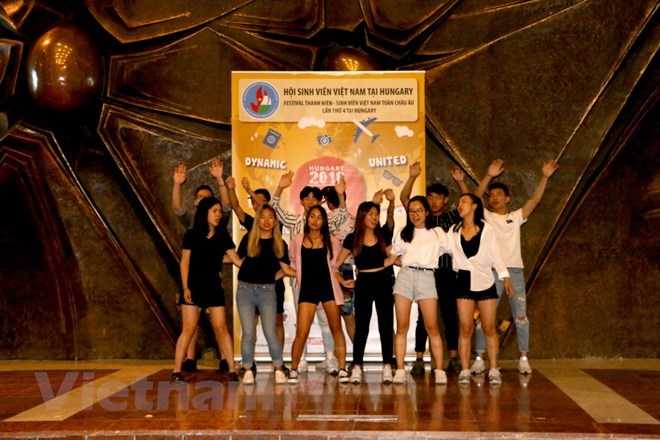 The fourth summer camp of Vietnamese youth in Europe (Duna Camp) wrapped up on August 19. 
The fourth summer camp of Vietnamese youth in Europe (Duna Camp) wrapped up in Budapest capital city of Hungary on August 19.

Highlight of the closing ceremony was a talent contest, in which eight teams showed off their innovation, enthusiasm and profundity through various topics, including family, gender inequality and brain drain.

Stellar art performances were delivered at the event, leaving lasting impressions on the participants.

The three-day summer camp lured the attendance of 150 Vietnamese students from 19 European countries. A wide range of activities such as folk games, sport events and symposiums on history and culture of Vietnam and Hungary were organised.

Notably, there was a photo exhibition displaying hundreds photos, maps and documents affirming Vietnam's sea and island sovereignty and introducing the country's socio-economic achievements as well as potential on tourism development.

The camp was previously held in Germany, France and the Czech Republic. The next event will be held in the Netherlands in 2019.

According to Nguyen Anh Tu, President of Vietnamese student association in Hungary and head of the organising board, the summer camp has been served as a forum for Vietnamese youths and students in Europe to promote connection and enhance experience sharing for their current and future jobs.

Workshop highlights Ton Duc Thang – outstanding revolutionary leader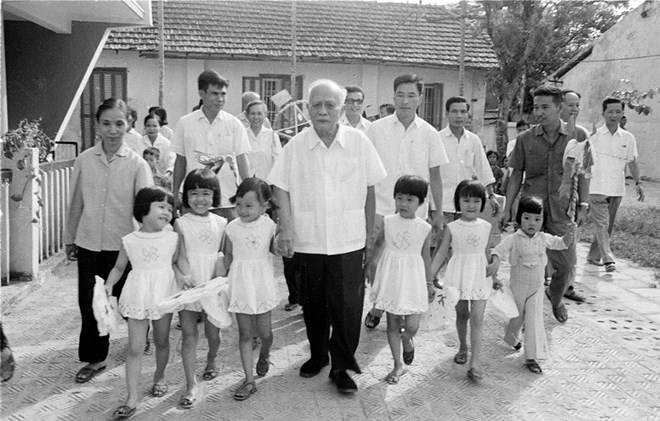 President Ton Duc Thang (front, centre) was the first president of the reunified Socialist Republic of Vietnam who served in office from 1976 - 1980 
A scientific workshop on President Ton Duc Thang held in the late leader's home province of An Giang on August 19 drew the participation of many senior officials and researchers, including President Tran Dai Quang. 

The workshop was held by the Ho Chi Minh National Political Academy in coordination with the Party Central Committee's Commission for Education and Popularisation and the Party Committee of the Mekong Delta province of An Giang. 

The event received 45 papers from officials and scientists at central and local agencies, which described the late President as an exemplary communist and an outstanding leader of the Vietnamese revolution. 

President of the Vietnam General Confederation of Labour Bui Van Cuong discussed factors that affected the late President's decision to become a worker, his participation in workers' movement during 1906-1916, his role in the formation of secret workers' union and his leadership of strikes by workers in Sai Gon during 1920-1930. 

Cuong also spotlighted Ton Duc Thang's contribution to the revolutionary cause of the nation, and drew lessons from his contributions to workers and trade union's movements in Vietnam. 

A paper by Associate Professor-Dr Tran Minh Truong from the Ho Chi Minh National Political Academy discussed in length the leading role of the President during 15 years he was imprisoned in Con Dao. He was the founder and leader of the Party cell in the Con Dao prison. 

Professor-Dr Pham Hong Chuong from the Ho Chi Minh National Political Academy presented reasons why President Ton Duc Thang was considered to be the most outstanding example in implementing President Ho Chi Minh's ideology on national unity.   

Concluding the event, Chairman of the Central Theoretical Council and Director of the Ho Chi Minh National Political Academy Prof-Dr Nguyen Xuan Thang said the papers presented at the workshop had provided deeper insights into the revolutionary career and contributions of President Ton Duc Thang as the founder of the first workers' union in Vietnam, a pioneer and a leader of the Vietnamese working class. 

He emphasized that Ton Duc Thang is an exemplary communist who had devoted his entire life to the cause of national liberation for people's freedom and happiness. He is also a bright example of revolutionary ethics.
Winner crowned at Miss Hoa Lư 2018 beauty pageant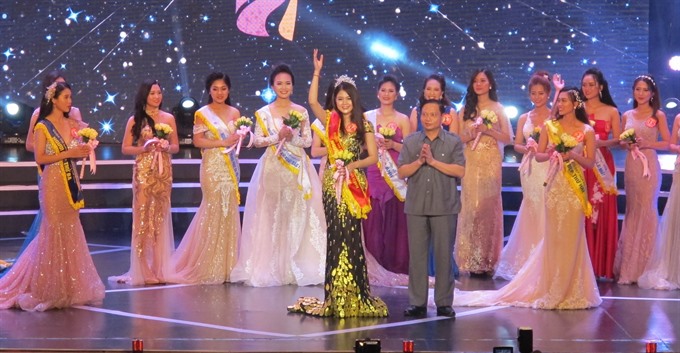 Phạm Thị Mỹ Huyền (centre) was crowned Miss Hoa Lư 2018.
Phạm Thị Mỹ Huyền has surpassed 19 other contestants to be crowned Miss Hoa Lư 2018 at a ceremony held in the northern province of Ninh Bình on Sunday.

Second place went to Trịnh Thị Vân Giang and third to Vũ Thị Lan Anh.

Huyền will receive a prize valued at VNĐ55 million (US$2,400), which includes cash and services at a beauty salon.

The final night of Ninh Bình's beauty pagaent included áo dài (Vietnamese traditional long dress), gown and bikini contests, through which the contestants showcased the elegance and grace of Vietnamese women. The Q&A round to select the final five required the contestants to possess firm knowledge on various fields, particularly the history and culture of the province.

The contestants of Miss Hoa Lư 2018 were highly evaluated for their beauty, knowledge, eagerness to learn and self confidence. Most were students of universities and colleges nationwide, while some had graduated and were living in Ninh Bình Province.

Previously, the contestants took part in many social activities in the communities like visiting and giving gifts in Nho Quan District's Invalids' Nursing Home; and burning incense and posing in traditional long dresses at the Hoa Lư Historical Relic.

Miss Hoa Lư 2018 aims to honour the beauty of Vietnamese women in general and women from Ninh Bình in particular.

The beauty pageant was also expected to promote the images of both local landscapes and people to promote tourism to Ninh Bình. It is also one of the cultural activities to celebrate the 1,050th anniversary of the former capital of Hoa Lư (now Hoa Lư District, Ninh Bình Province). — VNS
"Vietnamese Seeds Fund" scholarships presented to students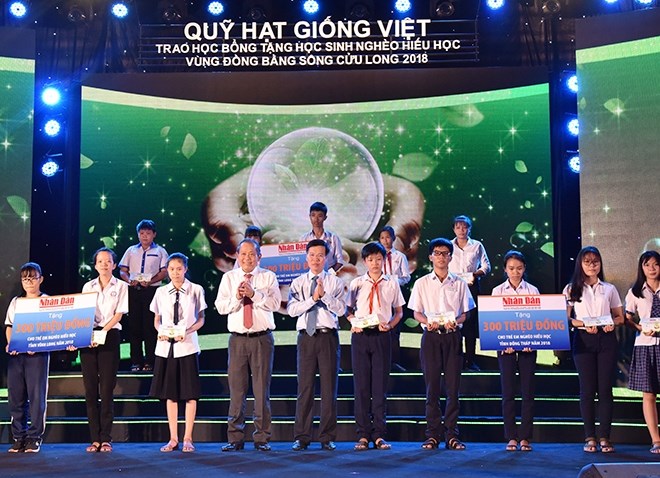 Scholarships from the "Vietnamese Seeds Fund" presented to poor students in Mekong Delta (Photo: nhandan.com.vn)
As many as 1,300 disadvantaged students with outstanding academic results during the 2017-2018 school year in the Mekong Delta received scholarships from the Nhan dan (People's) Newspaper's "Vietnamese Seeds Fund" on August 18.

The scholarships, each worth 3 million VND (132 USD), were handed over to the students by Deputy Prime Minister Truong Hoa Binh, Head of the Party Central Committee's Commission for Information and Education Vo Van Thuong, President of the Vietnam Fatherland Front Central Committee Tran Thanh Man, officials from the Ministry of Education and Training, and leaders of Mekong Delta provinces.

The scholarships were funded by the Lien Viet Post Joint Stock Commercial Bank. 

Speaking at the ceremony, Phan Huy Hien, Deputy Editor-in-Chief of the Nhan Dan Newspaper stressed that the scholarships aim to give timely support to impoverished students who have excellent academic performances.

According to the Ministry of Education and Training, the rate of school dropouts in the region remains high as compared to that in the Central Highlands and northwest regions, he said, adding that it has been spurred by the poor living conditions of local households, forcing children to leave school early and earn a living in order to cover simple daily needs.

Established in 2012, the "Vietnamese Seeds Fund" aims to step up the campaign for building a more educated society, which involves improving the quality of learning at secondary schools located in wards and communes nationwide.-VNA
Quang Nam promotes people-to-people exchanges with Japan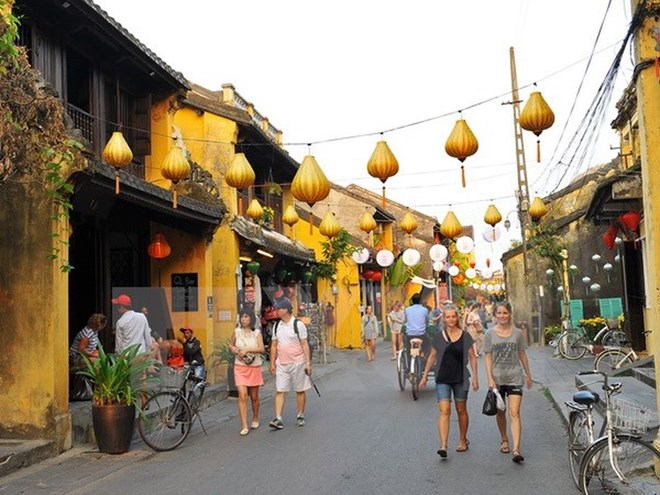 Hoi An is one of the localities in Vietnam having early friendship ties with Japan 
The Union of Friendship Organisations of central Quang Nam province held a workshop in Hoi An city on August 19 to promote people-to-people exchanges with Japan.

This was part of the Japan Cultural Days in Quang Nam to celebrate the 45th founding anniversary of Vietnam-Japan diplomatic ties (September 21, 1973).

Vice Chairman of the provincial People's Committee Tran Van Tan highlighted the growing extensive strategic partnership between Vietnam and Japan for peace and prosperity in Asia.

The strong development of the bilateral relations in a comprehensive and practical manner creates a foundation for the two countries to expand people-to-people exchanges in various realms such as culture, education, and science-technology, he said.

Vice Chairman of the People's Committee of Hoi An city Nguyen Van Son said that Hoi An is one of the localities in Vietnam having early friendship ties with Japan and the two sides boast long-standing trade, economic and culture exchanges, which were dated back to hundreds years ago when Japanese traders came to Hoi An to do business, contributing to the prosperity of the one-time international trading port.

The past trade, economic and cultural exchanges between Vietnam and Japan in Hoi have created a foundation for the thriving friendship at present, he said.

Over the past 30 years, many researchers, managers and entrepreneurs from Japan have come to Hoi An to cooperate in scientific research, heritage preservation, and investment to develop tourism and services, Son added.

Through the Japanese Embassy in Vietnam, Japanese organisations have provided financial and technical assistance for research, archaeological activities, and conservation of the ancient city as well as restoration of degrading relic sites.-VNA
Talk introduces environmental protection initiatives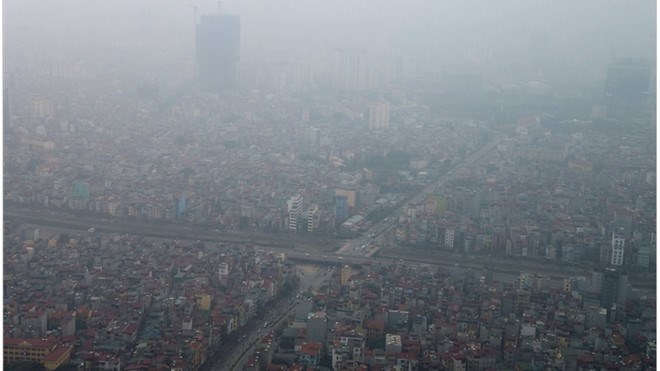 Hanoi was covered in thick fog in March. (Photo: Channel News Asia)
Initiatives to protect the green planet towards a sustainable development environment were introduced at a talk held by the Live & Learn Centre in collaboration with the French Cultural Centre (L'Espace) in Hanoi on August 19.

Director of the Live & Learn Centre Do Van Nguyet said that the talk was held in the framework of the USAID's Clean Air Green Cities project, aiming to promoting initiatives and solutions among children, youths, communities, and locals impacted by air and environmental pollution in Hanoi.

Sharing his initiative to classify domestic waste, Nguyen Ba Hung, a student from Alfred Nobel school, said that an average of 6,500 tonnes of rubbish are dumped every day, resulting in critical impacts to both environment and residents' health.

Rotting trash classification and treatment will help people live in harmony with the environment, Hung explained.

Meanwhile, Le Phuong Tra, head of the Les Pas Vets Club, shared her eco-brick production project. She noticed that they are plastic bottles stuffed solid with non-biological waste to create reusable building blocks, and this is one of the effective ways to handle domestic waste.

In Guatemala, 116 schools have been built from eco-bricks since 2009 as part of an inspirational and regenerative campaign against rubbish. All of the works have shown high endurance, she said.

The forum served as a bridge to connect the youths who have made concerted efforts in concretising their initiatives to protect the environment, and make positive impacts on the community.
Vietnam, Japan share experience in building smart cities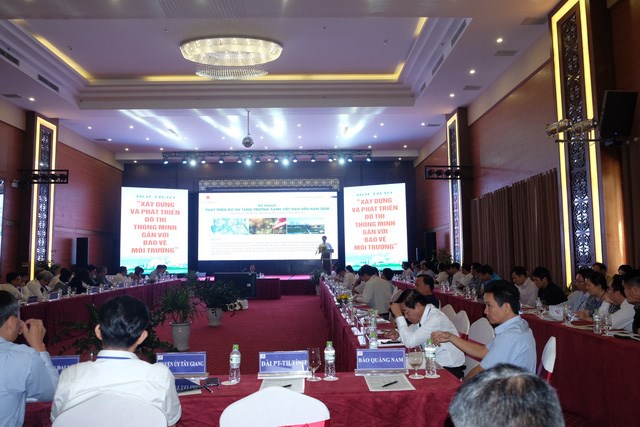 At the seminar (Source: http://dantri.com.vn)
Vietnamese and Japanese experts shared experiences in building and developing smart cities in combination with environmental protection during a seminar held in the central province of Quang Nam on August 18.
The event was part of the Japan Cultural Days in Quang Nam to celebrate the 45th anniversary of the establishment of Vietnam-Japan diplomatic ties (September 21, 1973).
Director of the provincial Department of Information and Communications Nguyen Hong Quang said smart city is an urban management model that uses information and communications technology as an important tool to address challenges in urban development.
This model helps local authorities with analysing, planning and making decisions to better serve people's lives.
At the seminar, experts shared successful models of smart cities in Vietnam and Japan.
They put forth solutions to building ecological, environmentally-friendly and energy saving smart cities.
By the end of 2017, Vietnam had over 800 urban areas. The rate of urbanisation increased rapidly to 37.5 percent in 2017 from 23.7 percent in 1999.
Despite this fact, the country is facing a number of challenges such as poor technical infrastructure, water shortage, submergence, and environmental pollution.
In Quang Nam, the sustainable development of urban areas has been implemented since 2015 with a vision to 2020. Tam Ky city has been selected to build itself into a smart city.
Hoàng Sa (Paracel) Museum logo contest launched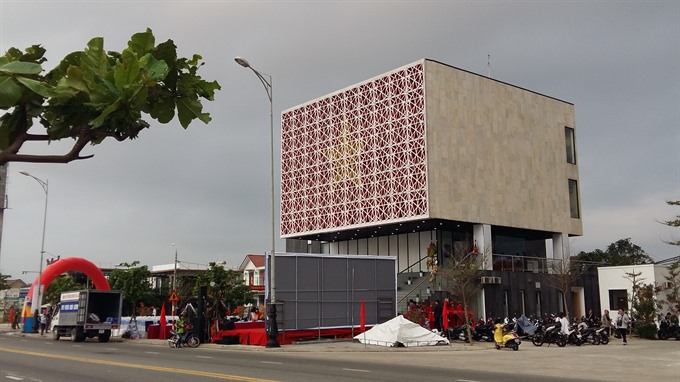 The Museum of Hoàng Sa (Paracel) situated on Hoàng Sa Street in Đà Nẵng city. The district of Hoàng Sa has launched a logo contest for the museum. 
The island district of Hoàng Sa (Paracel) in Đà Nẵng City has launched a contest for designers to create a logo and slogan for the island's museum – one of the most visited sites on Sơn Trà Peninsula.
The district's secretariat Lê Phú Nguyện told Việt Nam News the logo contest will run from September 30 through October.
He said the contest's organising committee will select the best three designs to grant awards and make the final logo announcement later this year.
The logo winner will walk away with a cash prize of VNĐ5 million (US$221), while two runners-up will take VNĐ1million ($44.2) each.
Nguyện said the logo contest aims to raise patriotism and awareness of the country's sovereignty on the Hoàng Sa (Paracel) and Trường Sa (Spratly) archipelagos, while creating a unique way for local and foreign tourists to recognise and remember the museum and the city when they visit.
Vietnamese and foreign competitors or groups can send their entries to email: nhatrungbay.hoangsa@gmail.com or Facebook: Nhà Trưng bày Hoàng Sa.
The museum, which was built on nearly 1,300sq.m along coastal streets of Hoàng Sa-Trường Sa-Võ Nguyên Giáp in the Sơn Trà Peninsula, has hosted 11,000 tourists, of which 300 were foreigners, between March and July of 2018.
The museum displays artifacts, documents and legal evidence of Việt Nam's sovereignty over the Hoàng Sa and Trường Sa islands
The shape of the museum, which was inspired by a seal made for the Hoàng Sa Flotilla during the reign of the Nguyễn Dynasty's King Minh Mạng in 1835, was designed by Vietnamese architects Trần Quốc Thành and Nguyễn Quang Huy and Japanese architect Fuminori Minakami in 2015.
The seal was a stamp of authority for Việt Nam's sovereignty over the Hoàng Sa and Trường Sa archipelagoes, recorded in ancient documents from previous centuries.
The museum displays a collection of 150 maps published between 1618-1859, and 1626-1908. Many show evidence that the Paracel and Spratly archipelagoes belong to Việt Nam, and 102 books published in English, German, French, Spanish, Italian, Dutch and the Han Chinese script show the frontier of Southern China is Hainan Island.
Nguyện also said the district plans to display a shipwreck in the museum's backyard. The vessel was rammed by Chinese boats in Vietnamese waters off the Hoàng Sa Archipelago in 2014. 
Hanoi International Piano Festival wraps up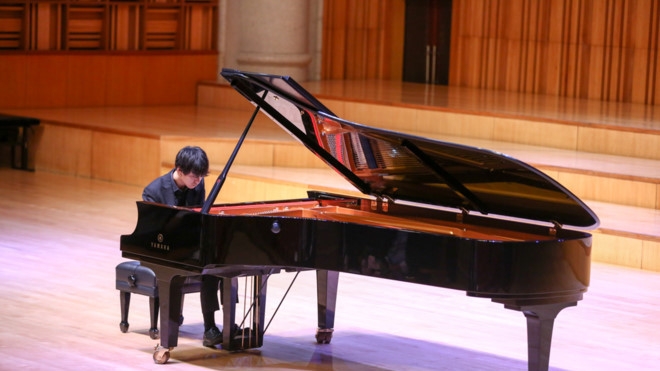 A performance at the closing ceremony of the Hanoi International Piano Festival on August 17 (Photo: toquoc.vn) 
The Hanoi International Piano Festival 2018 wrapped up on August 17 with 25 scholarships being awarded to the most excellent pianists.

The week-long event was attended by 15 Vietnamese pianists and 31 international artists from nine countries and territories around the world, including Japan, China, Canada, the US and Australia.

The participating artists took part in piano master classes, conferences and workshops at the Vietnam National Academy of Music (VNAM) under the instruction of acclaimed pianists including Dang Thai Son (Vietnam), Prof. Susumu Aoyagi (Japan), Prof Tran Thu Ha (Vietnam) and Prof. Katzyna Popowa-Zydron (Poland).

VNAM Director Le Anh Tuan said that the event aimed to help talented young Vietnamese pianists hone their performance skills before heading to professional international musical competitions in the near future.

Such festivals and competitions will help to develop a professional Vietnamese music scene which will be able to strongly integrate into the regional and the world music market, he said.
Over $6 million proposal to tackle flooding in Tan Son Nhat airport
The city's Steering Center of the Urban Flood Control Program has proposed an investment of VND150 billion ($6.45 million) for canal upgrading project, the center announced yesterday.
In the recent years, flooding has become a frequent problem and a threat to the aviation safety as dozens of the flight was delayed or forced to land on other airports because of the prevailing situation.
Accordingly, it is urgent to invest VND150 billion (about $6.45 million) taken from the city's budget on upgrading Hy Vong canal in ward 15, Tan Binh district to improve the flooding situation in Tan Son Nhat international airport and the canal basin, said the Steering Center on August 16.
Subsequently, the city People's Committee asked the Department of Transport to assess and approve the Hy Vong canal project based on its document in the HCMC flood control program from decision No. 2319/QD issued on May 10, 2016.
Two years ago, the People's Committee gave approval for the HCMC's Flood Risk Management Program using Official Development Assistant (ODA) from World Bank.
In this program, the 1882-meter-long Hy Vong canal upgrading project  will cost VND110 billion (about $4.73 million) in the duration of five years (from 2016 to 2011).
90 scholarships offered to students in Hanoi, HCMC, Danang & Can Tho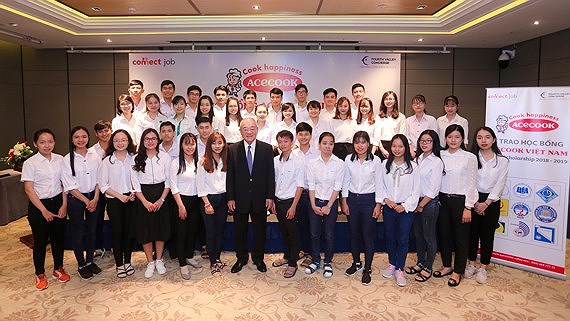 Acecook Vietnam granted scholarships to 39 outstanding students in the universities in HCMC and the Mekong Delta City of Can Tho yesterday in HCMC.
Acecook Vietnam plans to offer 90 scholarships worth US$ 5,000 per one (totaling over VND 1billion) to students with great learning achievements from universities in Hanoi, Danang, HCMC and Can Tho.
This year's program attracts 1.770 students from 9 universities cross over the country. On August 28 and 31, Acecook Vietnam will give scholarships to students in Hanoi and Danang.
Gov't inaugurates new school in Con Dao island
People's Committee in Con Dao Island of the southern province of Ba Ria – Vung Tau yesterday inaugurated the school building named the late Party General Secretary Le Hong Phong.
The school work started in August, 2016 with total investment of over VND153.9 billion ($6,606,772), of which, Ho Chi Minh City donated over VND104 billion and the rest from the province's state budget.
The 2-ha school comprises of five two-story buildings and one floor and other rooms, stadium and library.
As the number of junior high students has risen drastically for years in the island; however, the island has merely one junior and senior high school Vo Thi Sau; therefore there has been a serious shortage of classrooms.
The new school is hoped to solve the shortage of classrooms in the island.
Former Politburo member and Secretary of the Ho Chi Minh City Party Committee Le Thanh Hai and leaders of Ba Ria – Vung Tau attended the inauguration ceremony.
An Giang organizes stamp exhibition to commemorate late President Ton Duc Thang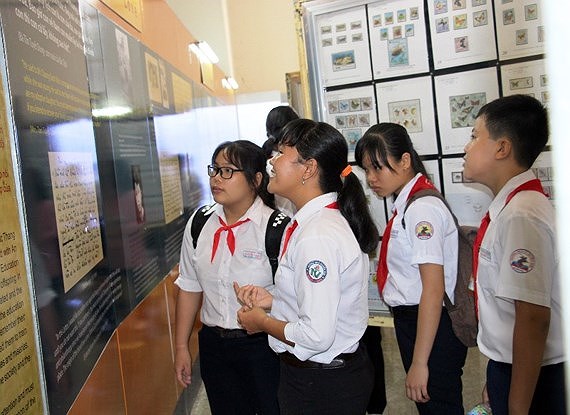 A stamp exhibition marking the 130th birthday of late President Ton Duc Thang (August 20) opened at An Giang province's Museum on August 18.
The display themed on the life and revolutionary career of late President Ton Duc Thang, and Vietnam's sovereignty over Hoang Sa (Paracel) and Truong Sa (Spratly) aims to educate patriotism to students and promote the Vietnamese people and landscapes.
On this occasion, the organization board also launched a movement calling on students to collect stamps and participate in stamp exhibitions in the province.
The event is held by the An Giang province's Museum, the An Giang province's Stamp Association and relevant departments.
First-ever Vnese book stall in Japan opened
"Vietnamese book week in Japan" was kicked off at Kinokuniya bookstore in Tokyo, Japan yesterday. On this occasion, Kinokuniya also opened its first-ever Vietnamese book stall in Japan.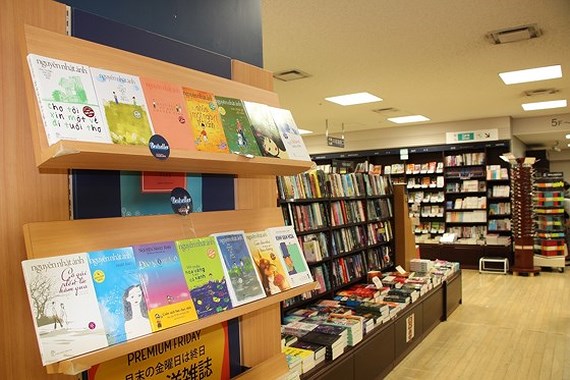 Over 10,000 books themed on introducing President Ho Chi Minh, Vietnam, people and culture; learning Vietnamese language, Vietnam cuisine and books for children…are on display at the stall.
The event runs till September 9, however Kinokuniya and Fahasa Vietnam will continue running Vietnamese book stall and to add new books monthly, meeting the readers' demand in Japan.
It is expected that the second Vietnamese bookstore in Osaka city will also be opened to public soon.
Film screening program marks National Days
A film screening program marking the 73rd anniversary of the 1945 August Revolution (August 19) and National Day (September 2) will take place from August 19-September 5, according to the Vietnam Cinema Department.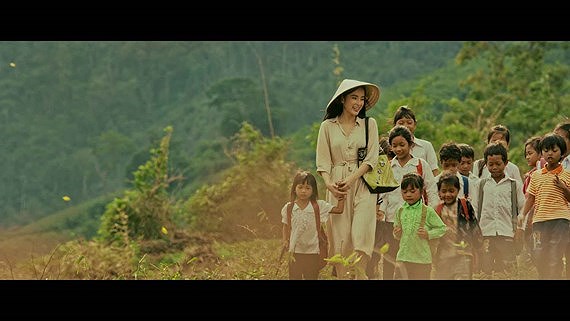 A scene in the film Su Menh Trai Tim (Mission of Heart)
Film lovers will have a chance to enjoy selected movies themed on traditional history, revolutionary soldiers, typical examples, generations of youth in the war time and remote areas, such as Su Menh Trai Tim (Mission of Heart), Patriotic scholar Huynh Thuc Khang, Dat nuoc giua bien khoi (Youth's trip to Truong Sa Archipelago), Me oi con da ve (Mom, I came back home), Giac mot tho cam (Dream of brocade), Nha tien tri (The prophet), Cao hon bau troi (Higher Than the Sky) and among others.
The event is organized by the Vietnam Cinema Department in coordination with film distribution companies and cinemas across the country.
SeABank run raises funds for poor students
As many as 800 amateur athletes, who are members of the Da Nang Young Businesspeople Association and staff of the Southeast Asia Joint Stock Commercial Bank (SeABank) participated in the "Run for the Future" held in the central city on August 19.
The event aims to raise public awareness of the importance of physical exercise, and call for support for impoverished students through the bank's "Dream Nursing" Fund.
Ten disadvantaged students, including seven in Da Nang city, one in Binh Dinh province, and two in Quang Tri province, received scholarships worth nearly 1 billion VND (44,000 USD) in total.
According to Le Thu Thuy, SeABank General Director, the scholarship fund was set up at the beginning of 2016 to assist poor students with 1 million VND (44 USD) per month until they graduate high school.
Fifty-six poor students in 25 provinces and cities nationwide have benefited from the fund, she said, adding that the fund has joined hands with BRG Group to sponsor scholarships for 55 disadvantaged students in Lao Cai province during 2016-2018.
In the coming time, the fund will give more support to needy students to ensure that they can realise their dreams, and have a brighter future, Thuy added.
The same event was held in Hanoi two months ago, drawing the participation of 1,500 athletes. Scholarships worth 1 billion VND were presented to 10 students in the capital city.