Vietnam launches portal on dental tourism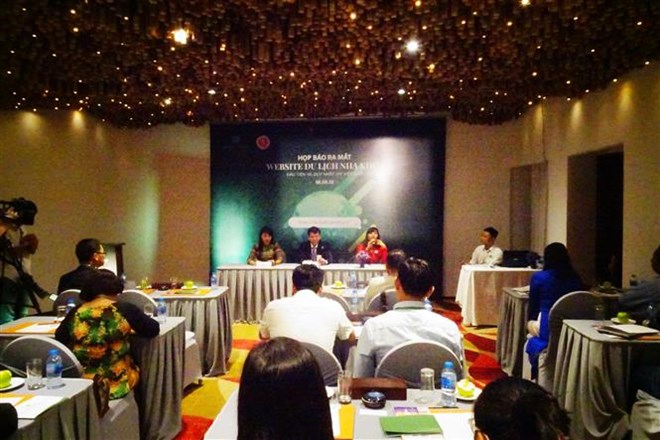 At the ceremony to launch the official portal on Vietnam's dental tourism 

The Vietnam Tourism Dentistry JSC has launched the country's official portal on dental tourism, https://dentaltourism.vn, in a bid to build Vietnam into the world's dental care tourism destination in the future.

The new website will provide users with various services, including dental implants, porcelain veneer, teeth whitening and deep cleaning, among others.

It also links with tourism companies to introduce services and packages that are suitable with travel tours in Vietnam with budget-friendly prices and high quality. Customers using services on the website may receive maintenance and care services in countries having dental cooperation with Vietnam, particularly the US and Australia.

At the launching ceremony, Director of Ho Chi Minh City Odonto–Stomatology Hospital Nguyen Duc Minh said the website will enhance connection between dental clinics and travel agencies across the country, which helps to attract more foreign tourists to Vietnam.

Dental tourism is part of medical tourism, which involves individuals seeking dental care while travelling. Nearly 100,000 foreign tourists travel to Vietnam each year for dental treatment, providing revenue of about 150 million USD. Those from Australia, the US and New Zealand topped the list.-VNA

First commune-level clinic with 17 specialist doctors in HCM City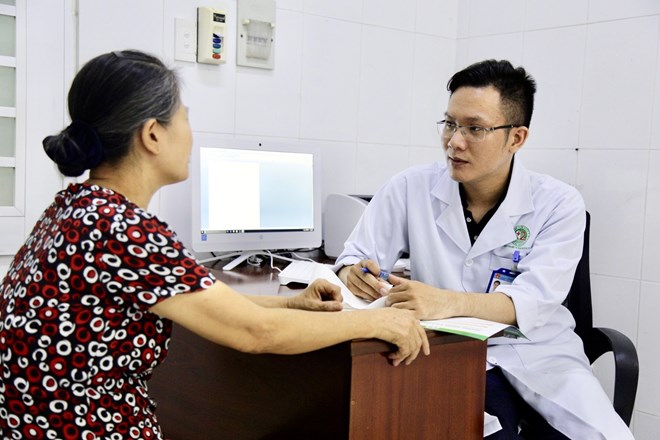 A doctor gives advice to an elderly women at the medical centre of Thao Dien ward

The medical centre of Thao Dien ward in District 2, Ho Chi Minh City, has become the first of its kind in Vietnam to have 17 specialist doctors when a satellite consulting room of the district's hospital was opened there on August 8.

The facility is able to give check-up to more than 300 patients each day. Its doctors specialise in emergency aid, internal medicine, surgery, paediatrics, odonto-stomatology, otolaryngology, ophthalmology, obstetrics and gynecology, dermatology, and traditional medicine.

Aside from the high-quality staff, the consulting room is also equipped with modern equipment, Director of the District 2 Hospital Tran Van Khanh said, adding that people who come to the clinic will receive similar examinations as at his hospital.

The District 2 Hospital has invested 10 billion VND (over 430,300 USD) in developing the satellite consulting room, which initially focuses on basic examination and treatment activities and epidemic prevention. In the future, the hospital will develop it into a specialist consulting room with high techniques and low cost.

Tang Chi Thuong, Deputy Director of the HCM City Health Department, said opening satellite consulting rooms at local medical centres is one of the solutions to reduce the overload at higher-level hospitals while making use of the clinics' facilities and staff. It will also help improve people's trust in the grassroots healthcare network.

Before the District 2 Hospital, the hospitals of Thu Duc and Tan Phu districts also opened consulting rooms at local clinics, but these facilities are on a small scale and do not have as many specialist doctors as the Thao Dien ward medical centre.-VNA

Hotel investor found discharging wastewater onto Danang beach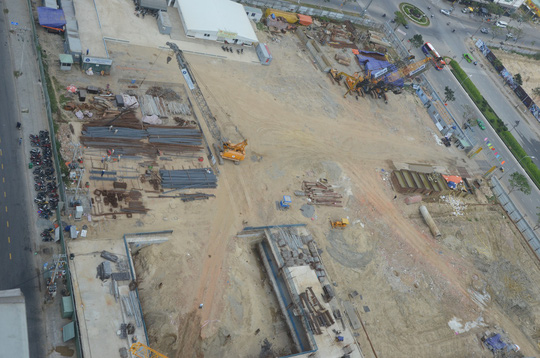 The hotel complex project on Vo Nguyen Giap invested by Kim Long Nam Company
The investor in a real estate project in the central city of Danang was recently found to have directly discharged wastewater onto a local beach.
The information was given by the municipal Director of Natural Resources and Environment Le Quang Nam.   
According to Nam, an inspection jointly carried by the departments of Natural Resources and Environment and Construction along with environment police detected Kim Long Nam Company as the violator. The firm is the investor in a hotel project on Vo Nguyen Giap Street. 
The company discharged wastewater directly into the beach in Son Tra District through four pipes and it would face the fine of VND700 million (USD31.81 million).
On the evening of August 5, visitors saw a huge amount of noxious wastewater poured into the Son Tra beach.
The problem was firstly thought to be caused by a leaking pipe system which might be resulted from the big amount of wastewater from swimming pools of hotels along Vo Nguyen Giap Street.
Meanwhile, according to some local residents, they often see such wastewater discharged into the Son Tra beach.
Many beaches in Danang are facing pollution due to the direct discharge of wastewater.
My Khe Beach, which used to be ranked among the world's most beautiful beaches, is among those. Wastewater has been discharged from the city's 41 wastewater discharge outlets directly into the sea, resulting in not only water pollution but also erosion of hundreds of cubic metres of sand.
Danang plans to build a VND211 billion (USD9.45 million) drain system for coastal wastewater in Ngu Hanh Son District.
VND7trn bridge connecting Quang Ninh and Hai Phong races toward completion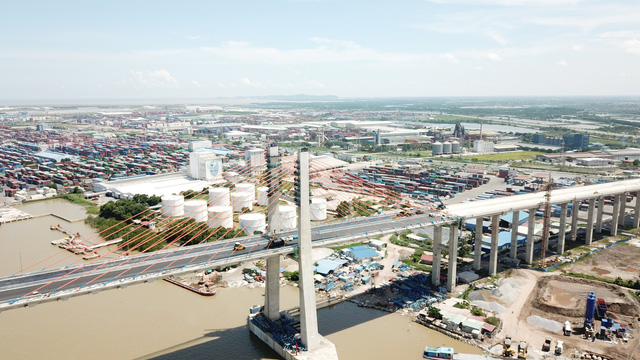 The nearly-completed Bach Dang Bridge which connects Quang Ninh Province and Hai Phong City will help reduce travel time from Hanoi to Quang Ninh.
The construction of VND7trn (USD280m) Bach Dang Bridge was started on January 25, 2015, under a build-operate-transfer contract. The bridge starts from Dong Hai 2 Ward, Hai Phong City and ends in Lien Vi Commune, Quang Ninh Province. The bridge is 5.4km long with four lanes and 100km/h limit speed. It was designed with three H-shaped towers, indicating the close connection among Hanoi-Hai Phong and Ha Long.
The bridge will help boost the economy in the north, complete the coastal highway and help to reduce the travel time by car from Hanoi to Hai Phong from 3.5 hours to 1.5 hours. The total distance from Ha Long to Hai Phong will be reduced from 75km to 25km.
Nguyen Van Doc, party secretary of Quang Ninh, said this was a breakthrough in receiving and implementing road and bridge construction technology as the bridge is built and designed by local firms.
The bridge had been trial opened on April 28 with 90 percent done. However, the final process hasn't been as quick as expected as some parts are behind schedule due to complications.
Facility concerns over Hanoi Children's Palace raised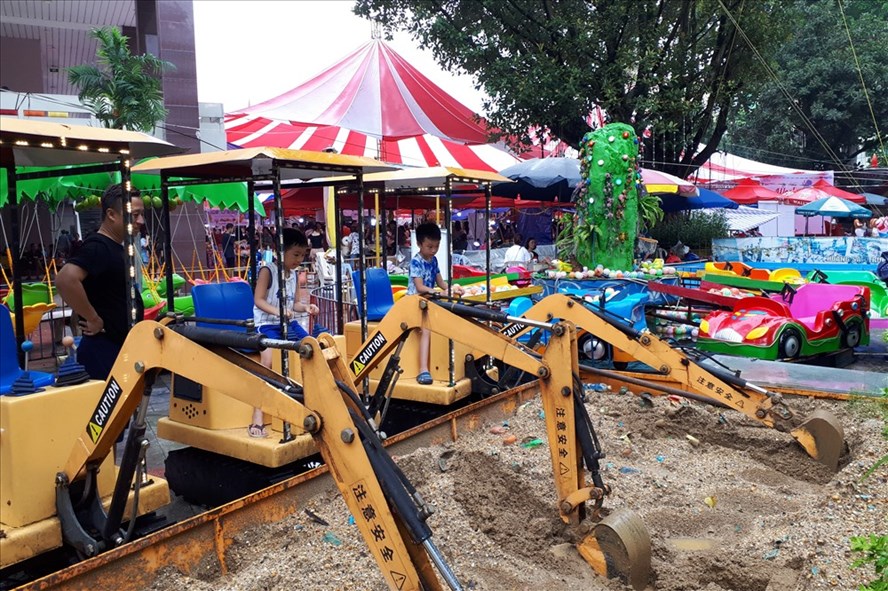 Children play at the Children's Palace
Many people are worried that the Children's Palace in Hanoi will suffer after it was announced that the French sector on the site will be transferred to the Hanoi People's Committee's management for other uses.
The Children's Palace is located in the city's centre, near Ly Thai To Statue and the Hoan Kiem Lake. It is especially crowded during the summer when children flock to the palace to participate in various kinds of art classes and other activities. It is estimated that about 20,000 children study more than 70 subjects there every year.
A summer camp is being held at the palace this month and attracted hundreds of children and parents. Teachers, children and parents are worried when it was announced that the palace's land planning will be changed and the Department of Finance has been asked to make a report to the city people's committee.
Chu Hong Minh, director of the Children's Palace, said, "We have many memories here. The city Youth Union is also working with the staff in order to gain a better understanding of their needs."
An employee said they hoped to keep the block and the Uncle Ho with Children Hall because it's where generations of children had learned. Many people also hope that the grounds would not be made smaller since Hanoi already lacked space for children.
Bui Thi An, former NA deputy in Hanoi said the Children's Palace had been the entertainment and studying area for children and she believed that the city would not take it away. Nguyen Xuan Dat, deputy head of Vietnam Urban Environment and Industry Zone Association agreed and said they should make better use of the palace while building more playing grounds for children. 
"The Children's Palace is one of the rare places in the middle of a busy city that provides both playing and training areas for children's development. We should keep it, not make it smaller," he said.
The Children's Palace consists of a five-storey building, the Red Scarf Theatre and the French sector. The French sector covers 1,200 square metres with gardens. The Ho–Sainteny agreement was made on March 6, 1946, at the French building. To this day, 15 rooms are still being used as classrooms for children and six others are offices for teachers.
Experts raise concerns over Yên Sở bus station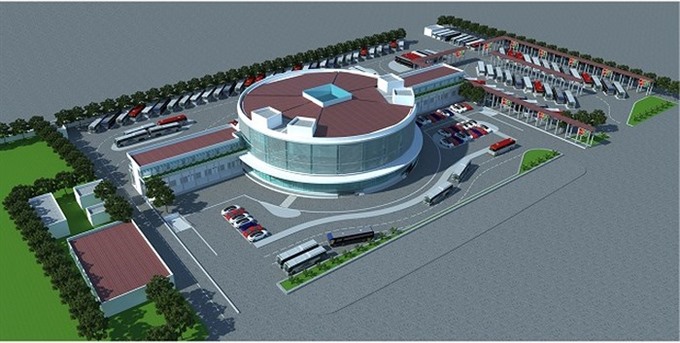 The image of Yên Sở Bus Station when construction is completed. 
Experts have raised concerns over the construction of Yên Sở bus station, which will be located inside the city instead of the suburbs, saying that the construction would cause waste and would not suit the city's planning.
According to Hà Nội's planning on bus stations and parking lots to 2030 with a view to 2050, which was approved by the Government in 2016, Yên Sơn bus station would be a medium-term inter-provincial facility to reduce overloading on Giáp Bát, Nước Ngầm and Gia Lâm bus stations.
The station would be located near Yên Sở Park south of Ring Road 3. It was expected to serve passenger buses and trucks with capacity to accommodate between 800 and 1,000 buses and 200 trucks per day.
The construction of the bus station has proved controversial among transport experts. 
Dr Đào Ngọc Nghiêm, vice chairman of the Hà Nội Urban Planning and Development Association said that in the past, the city had rejected the construction of two bus stations in the inner city, which were about 2km from Yên Sở station. 
The planning of bus stations and parking lots until 2030 included details on moving existing bus stations to Belt Road 4, so it was unnecessary to build Yên Sở bus station in the inner city.
Vice Chairman of the Hà Nội Transport Association Bùi Danh Liên said the construction project would be a waste because the bus station would operate for a few years and then be moved.
In reply to concerns over the planning of the bus station, deputy director of the Department of Transport Ngô Mạnh Tuấn said the construction project was part of the city's planning of bus stations and parking lots until 2030, and was suitable with the city's planning, which was approved by the Government in 2016.
Tuấn said after the building of the southern bus station on Ring Road 4 was completed, Yên Sở bus station would be transformed into a public transit hub and car park. 
Currently, the project for the southern bus station is still in the research phase. 
Bùi River dyke upgrade mooted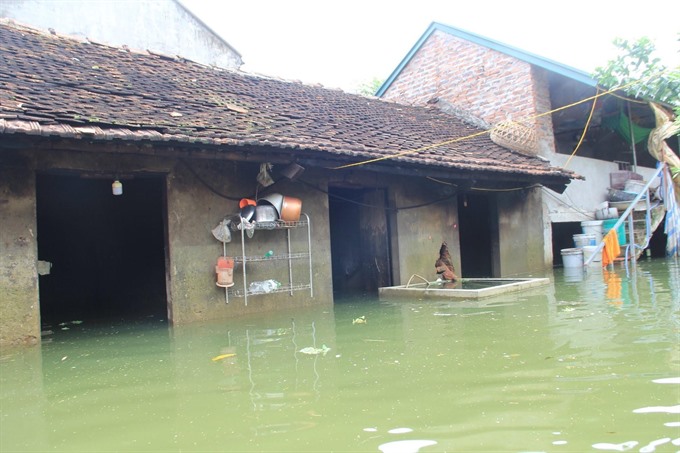 Houses inundated in floodwater in Chương Mỹ District, Hà Nội. 
Authorities of Hà Nội's Chương Mỹ District are studying a plan to repair and upgrade the Bùi River dyke using pre-stressed concrete to ensure safety for residents when floodwater overflows, said Ðinh Mạnh Hùng, chairman of the district's People's Committee.
Next year, the capital will trial upgrading a weak dyke section covering 1.km, he told press at a meeting on Tuesday on floods in outlying districts of Hà Nội.
Due to prolonged torrential rain that started late last month in the north, the water level of the Bùi River rose to the third warning level (the highest) and overflowed. Residents of Tân Tiến, Nam Phương Tiến, Tốt Ðộng, Hoàng Văn Thụ, Mỹ Lương and Hữu Văn communes of Chương Mỹ District, together with others in Quốc Oai Mỹ Ðức districts were submerged in water.
The floods affected more than 4,600 households with more than 22,400 people.  
Chương Mỹ District, the hardest hit one, suffered losses of more than VNĐ264 billion (US$11.5 million).
According to the chairman, the water has receded and there are less than 1,000 households still submerged.
Hùng said that along with dyke renovations, transport and clean water supply systems must be ensured. Production activities of local people must be re-organised so their lives are less affected by floods.
For a long-term strategy, Hùng said residents living along the right side of the Bùi River dyke must be evacuated to safer places. The area on the right of the dyke will serve manufacturing purposes.
He added that Chương Mỹ District needs more than VNĐ447 billion ($19.5 million) to repair 11 broken or eroded dykes, to build the headquarters of Nam Phương Tiến Commune's People's Committee and to renovate five downgraded historical and cultural structures.
At the meeting, Đỗ Đức Thịnh, chief of the secretariat of Hà Nội's Steering Committee for Natural Disaster Prevention and Control, warned that the water levels of the Tích and Bùi rivers are high. Authorities must make plans to evacuate residents out of low lying and risk-prone areas. 
Measures sought to ensure reservoirs' safety in Central, Central Highlands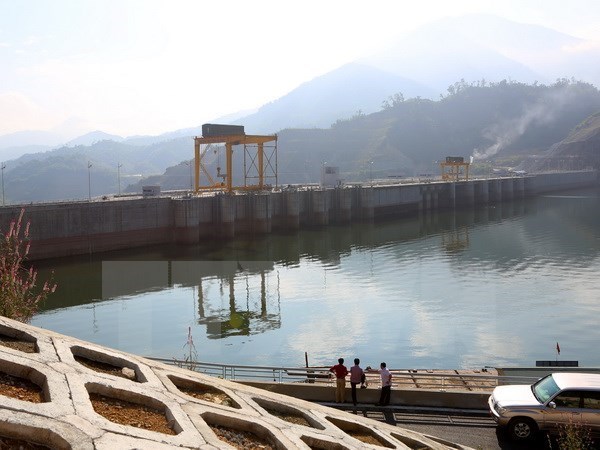 It is necessary to build dedicated hydro-meteorological networks in large reservoirs and install systems for monitoring reservoirs' operation  in order to better ensure  dam safety, said Le Van Duong from the General Department of Irrigation under the Ministry of Agriculture and Rural Development (MARD). 
Speaking at a recent conference on natural disaster prevention in the Central and Central Highlands regions held in the central city of Da Nang, Duong underlined the urgent need to construct monitoring stations for forecasting the real-time operation of reservoirs in steep rivers where floods usually rise suddenly. 
He noted that guidelines for the development of reservoir operation procedures have not yet met the actual operation of reservoirs. 
The assessment of dam safety, the making of plans on flood prevention for downstream areas, and the setting up of corridors to protect reservoirs require substantial funding, beyond the affordability of dam and reservoir management units, he added. 
Attention should also be paid to personal training in this field, promoting dissemination of legal regulations on dam safety, and raising public awareness and response, Duong said. 
According to the General Department of Irrigation, around 12 trillion VND (516.3 million USD) has been spent on upgrading and repairing 633 reservoirs nationwide. However, there are still 1,200 seriously damaged others that need repair. 
The department recommended more investment in improving the flood resistance of large reservoirs in line with international standards. 
Priority should be given to repairing seriously degraded small reservoirs which have low capacity to discharge floodwater by using official development assistance (ODA) capital resources, and the central and local budgets, the department said. 
As many as 450 reservoirs have been included in the list of those which will be repaired under a project to improve dam safety (WB8) with a total investment of 433 million USD. 
The MARD has also proposed the Prime Minister support 19 provinces in the Central and Central Highlands in repairing and upgrading 47 reservoirs at a total cost of 287 billion VND. 
According to statistics from the General Department of Irrigation, the Central and Central Highlands regions have 3,551 irrigation reservoirs, accounting for 53.4 percent of the country's total number.
Localities having the most reservoirs are Thanh Hoa with 610; Nghe An, 629 and Dak Lak, 543. 
The regions have 693 degraded reservoirs, or 58 percent of the country's figure. Many of them, especially small ones, are not capable of resisting floods in line with current standards. 
They witnessed 38 dam and reservoir-related incidents out of 50 cases nationwide in the last decade, accounting for 76 percent. 
In 2017, heavy rains caused 16 dam and reservoir breakdowns in the regions.
Quang Tri strives to minimise child drowning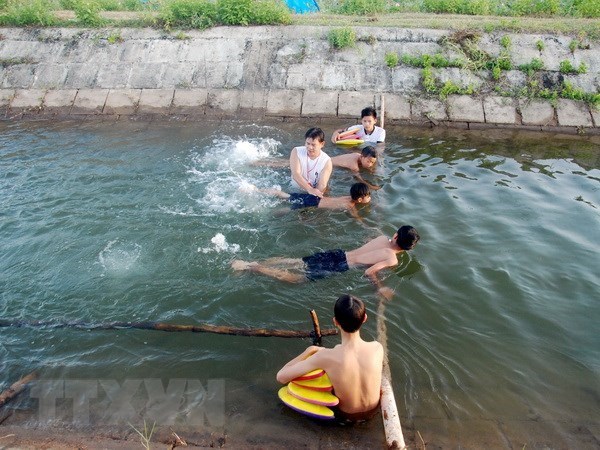 Authorities in the central province of Quang Tri have coordinated with local organisations to open free swimming courses for local children in the hope of minimizing child drowning, especially in rural and remote areas.
The courses are designed to equip children with necessary skills to avoid drowning and accidents, while raising children and parents' awareness of protecting their health and life.
As part of activities to prevent child drowning in 2018 launched by the provincial Ho Chi Minh Communist Youth Union, the union's chapters in Hai Lang, Trieu Phong, Vinh Linh, Cam Lo districts and Quang Tri and Gio Linh towns as well as the provincial Children's Cultural House have organized 45 swimming courses for nearly 1,200 children.
The courses, held from June 30 to August 30, also provide life skills to the children.
Nguyen Thi Phuong Lieu, Vice Secretary of Hai Lang district's Ho Chi Minh Communist Youth Union said that Hai Lang is a low area with high number of drowning cases.
The district's youth union first launched swimming courses for children in 2015, which have become an annual activity of the district in summer, she said, adding that 106 courses have been opened so far, drawing 2,650 local children.
In 2018 alone, the union has offered 34 free courses to 850 children in the locality.
Since early June 2018, the World Vision International in Vietnam have coordinated with seven communes in Hai Lang – Hai Duong, Hai Xuan, Hai Truong, Hai Thanh, Hai Thien, Hai Hoa and and Hai Quy – to organise 14 courses for 420 children aging from 12-18, during which the children are taught swimming skills and the process of giving first aids to victims of accidents.
According to Vice Director of the Vietnam Sports and Physical Training Administration Pham Van Tuan, drowning is the leading cause of death in children and adolescents in Vietnam, especially in the summer and storm season.
He noted that an initial report showed that the ratio of children who can swim in Vietnam remains under 30 percent.
A report by the Ministry of Labour, Invalids and Social Affairs showed that about 2,000 children lost their lives to water in Vietnam each year between 2015 and 2017.
Photo exhibition marks 100th birth anniversary of UAE leader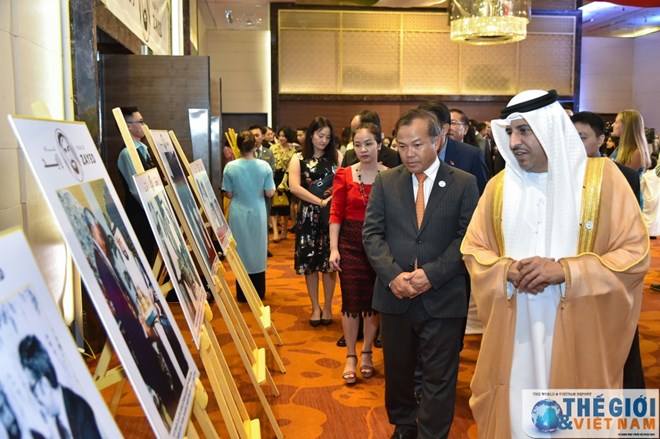 At the event 
The Embassy of the United Arab Emirates (UAE) held a photo exhibition in Hanoi on August 8 marking the 100th birth anniversary of UAE founding father, late President Sheikh Zayed Bin Sultan Al Nahyan. 
Speaking at the opening ceremony, Ambassador Obaid Saeed Bintaresh Al Dhaheri said in order to mark the historic national event, the incumbent UAE President has declared 2018 as the Year of Zayed, during which a series of events and initiatives will be launched at home and abroad in memory of the late leader, his life, career and humanitarian values. 
He said the late President was one of the eminent and respected leaders of the country. In his life, he always respected all people irrespective of nationality, gender, religion and position, paid attention to promoting women's rights and highly appreciated foreigners' contributions to national development. 
The President led the country from 1971 till his death in 2004. 
The ambassador said the leader's vision brought about a dynamic and balanced diplomatic policy without interference into internal affairs of other countries, contributing to building a better future for the mankind. 
Visitors had a chance to watch a film featuring the life of the late President, enjoy the country's cuisine, photos and pictures featuring his life and career.
Cà Mau to speed up urban area upgrades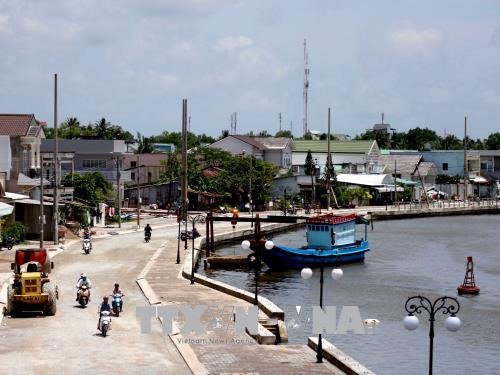 Cà Mau Province has built resettlement areas for residents, and has upgraded urban areas and drainage systems in Cà Mau City. 
The authority of Cà Mau Province is taking measures to speed up the upgrading project for the urban area of Cà Mau City.
Phan Hoàng Vũ, chairman of Cà Mau Province's People Committee, said that 23 Official Development Assistance-funded (ODA) projects in the first stage and 13 projects in the second stage were currently underway.
Seventeen projects in the first stage have been completed.
In the first stage of the upgrading project, Cà Mau used ODA to build resettlement areas for residents, and upgraded urban areas and drainage systems.
Cà Mau has disbursed VNĐ665 trillion (US$28 trillion) from ODA and VNĐ452 trillion (US$19 trillion) of reciprocal capital from the Government, including VNĐ130 billion for site clearance and compensation.  
To speed up the projects, Cà Mau's urban upgrading management board is working with authorities and related units to disseminate information to households to encourage them to relinquish land for the upgrading project.
As many as 2,403 households out of 2,433 households have agreed to hand over land to the project management board.
The province has asked the Government to invest more than VNĐ190 billion (US$8 million) to speed up implementation of the second stage of the projects. 
Mekong Delta Cycling Tournament to start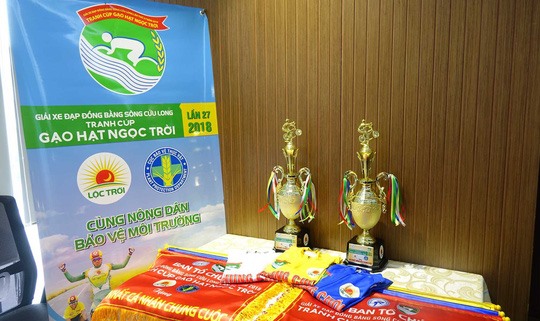 Hạt Ngọc Trời Rice Cup. — Photo nld.com.vn
The Mekong Delta Cycling Tournament, the Hạt Ngọc Trời Rice Cup is scheduled to start on August 11 and last until August 19.
The event will attract 102 cyclists from 17 teams such as Lộc Trời Group, Hà Nội, VUS-HCM City, and Domesco Pharmacy Đồng Tháp.
They will compete in 10 stages lasting 965km via 13 provinces to finish in An Giang City.
The event will offer a record prize total of VNĐ666 million (US$28,900).
The overall yellow jersey winner will walk away with VNĐ50 million. 
Smart water management helps promote sustainable development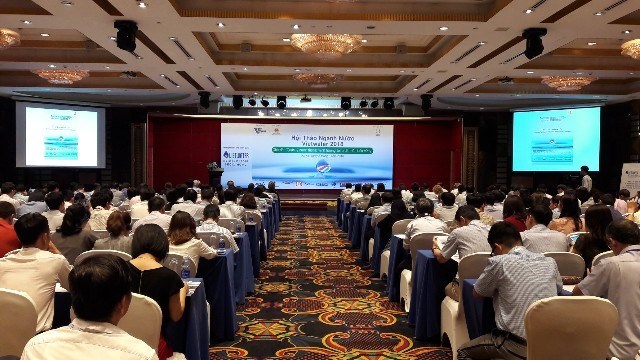 At the workshop (Photo: VOV)
Experts shared information on smart water management policies and technologies for sustainable development during a workshop in Hanoi on August 8.
President of the Vietnam Water Supply and Sewerage Association (VWSA) Cao Lai Quang said Vietnam is facing a number of challenges in this field such as urban population growth, limited budget, poor management capacity, water pollution, climate change impacts, including droughts, floods, and saltwater intrusion.
Given these difficulties, the country is focusing on policies reforms to attract more investment in new science and technology, he said, adding that some leading businesses have applied many smart water management solutions to catch up with the fourth industrial revolution (Industry 4.0).
He stressed the necessity to promote the adoption of such solutions in order to secure sustainable development.
Head of the Ministry of Construction's Department of Technology Infrastructure Mai Thi Lien Huong said the country has over 500 urban water supply systems with a total capacity of 8.7 million cubic metres per day. Seventy percent of which are able to supply water around-the-clock while the remaining could provide water for 8-20 hours per day. Notably, the rate of water loss in Vietnam remains high, averagely at 22.5 percent.
It requires a large amount of investment in water supply and drainage, she said, referring to the limited budget in the field.
To address the financial problem, Paul Smith, director of international cooperation from the Australia Water Association, said partners in the private sector could bring improvements to the water sector.
He shared that governments in many countries have adopted the public-private partnership (PPP) model over the past 20 years as it can save financial resources and promote effective provision of services.
Each country will select the most suitable model according to their situation but with the common goal of sustainable development, he said.
The workshop was held by the UBM Asia Limited under the chair of VWSA as part of the activities in the Vietnam's International Water Supply, Sanitation, Water Resources, and Purification Event (Vietwater 2018) to be held in Ho Chi Minh City from September 7-9 with the participation of 500 businesses from 41 countries and territories.
The event created a good chance for enterprises to seek partners and introduce their latest products and technologies in the water industry.