The Transport Ministry has proposed a timeline for pushing transport business service providers to install cameras to monitor their vehicles.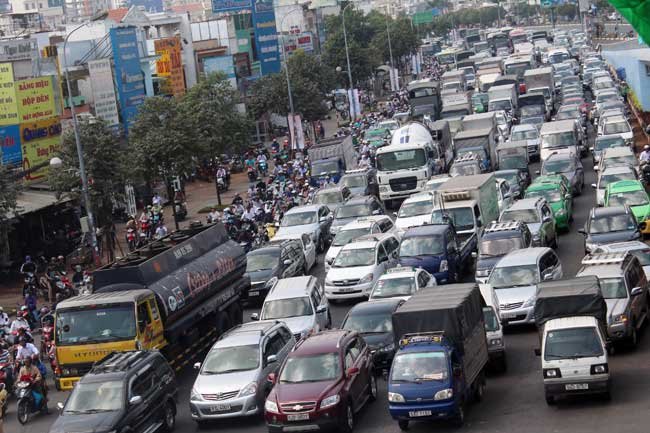 Vehicles get stuck on a road in HCMC. The Transport Ministry has proposed a timeline for pushing transport business owners to install cameras to monitor their vehicles
The ministry recently sent the Government a draft decree aimed at replacing Decree 86/2014 on business conditions for road transport. Article 12 regulating surveillance equipment to monitor the journeys of vehicles includes the additional timeline for installing cameras.
Clause 2 of the article in the draft decree stipulates that monitoring devices must be fitted inside passenger cars, container trucks, semi-trailers, semi-trailer trucks, and cargo transporters with a designed payload of 20 tons or more. The aim is to collect image data on the drivers' activities and journeys.
The suggested deadlines for various types of vehicles range from July 2022 to July 2025.
According to the Transport Ministry, the regulation follows the recommendations of the Ministry of Justice and the instructions of Truong Hoa Binh, deputy prime minister and chairman of the National Traffic Safety Committee, provided at a recent conference on traffic safety.
A representative of the Ministry of Justice told Phap Luat newspaper that developed countries have compelled vehicle owners to install GPS-enabled cameras to monitor the drivers and their cars. The GPS information is made available on the internet.
The official noted that current regulations have exposed many shortcomings in the operations of transport companies and the competent authorities, such as corruption and tax evasion.
"Installing in-vehicle, GPS-enabled cameras to impose (possible) fines will limit dependence on traffic police, traffic inspectors and other law enforcement," the official added.
Do Van Bang, director of Minh Thanh Phat Trading and Services Co., Ltd, however, told the newspaper that the installation of cameras is unlikely to tackle bribery. According to him, cameras will be more appropriate for monitoring what drivers do during their journeys.
Bang stressed that the fee for installing and operating black boxes in cars is extremely high. Each camera costs roughly VND2 million (US$86), but the cost of a 3G or 4G internet connection to transmit live images to his company is expected to be up to VND10 million per month.
A traffic expert commented that the compulsory installation of cameras should be weighed carefully due to the high costs involved. Transport businesses would certainly pass on these costs to their customers.
Bui Danh Lien from the Hanoi Transport Association opposed the regulation, explaining that transport companies have already faced great difficulty in recent years, owing to rising fuel costs.
According to the Transport Ministry, the regulation could affect more than 340,000 cargo transport vehicles.
A set of surveillance equipment, capable of recording and transferring image data, costs some VND4.5-5.5 million (US$193-236). In addition, the cost for maintaining servers and data transmission lines is estimated at some VND120,000 (US$5) per car on a monthly basis.
SGT