Thirteen provinces in the Mekong Delta region are facing a shortage in physicians, prompting delegates to raise concerns over the issue at a conference on August 7 on healthcare specialists and staff training. They called on Can Tho University of Medicine and Pharmacy (CTUMP) to help increase the number of doctors in these localities.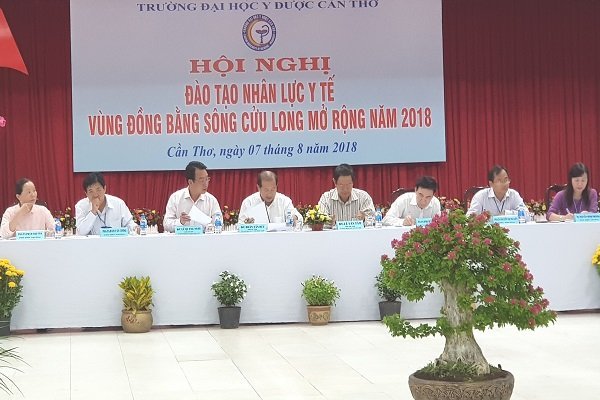 Delegates participate in a conference on healthcare manpower training, held on the afternoon of August 7 in Can Tho City
Le Van Tam, vice chairman of the municipal People's Committee, proposed the school raise its enrollment target to meet the rising demand for physicians in these provinces. Tam added that a number of localities have seen a surge in demand for healthcare check-ups and treatment among local residents.
Director of Hau Giang Province's Department of Health Nguyen Thanh Tung noted that the department had registered to receive 30 general doctors, but CTUMP had only provided half that number. Regarding majors, the university has seen low admission for forensic medicine, tuberculosis and psychiatry and has only 10 professors on staff, failing to meet the provincial order on staffing. Other leaders in health departments made similar proposals, requesting the school to weigh options to increase the number of physicians available in these localities.
Addressing the conference held in Can Tho City, Tran Viet An, head of the CTUMP academic affairs office, stated that 1,229 students of the university this year are aspiring doctors and pharmacists. Of these, 624 students want to become general doctors; 41, traditional medicine physicians; 67, preventive healthcare specialists; 75, oral maxillofacial surgeons; and 210, pharmacists, while the rest are majoring in public health, nursing and testing.
The school will offer training to 1,450 students this year, of which 410 students have applied for admission based on proposals from the provincial authorized departments, An added. This year's enrollment target is higher than the number of graduates but still fails to meet current demand for personnel in the region.
Reports presented at the conference indicate that the density of physicians per 1,000 residents remains low in the Mekong Delta region. This year, the average physicians-to-population ratio stands at 7.85 per 1,000 people, while the pharmacist-to-population is 1.39, both of which are higher than last year's figures, at 7.2 and 1.22, respectively.
SGT