Quảng Ninh coal mine accident kills one, injures another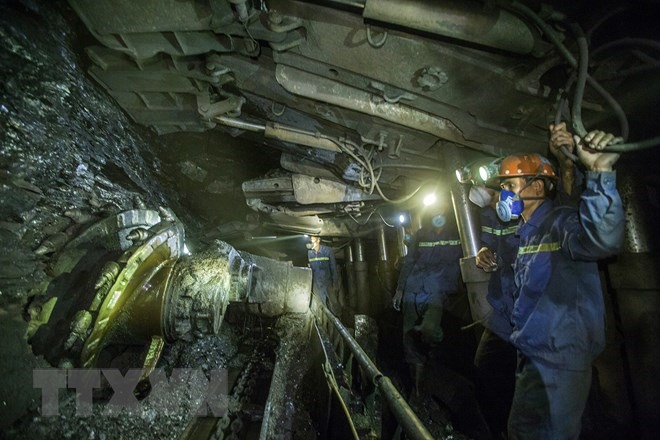 Two workers were trapped in a coal mine belonging to Mông Dương Coal Company in Cẩm Phả City, northern Quảng Ninh Province, after an accident on Wednesday morning. One of the miners died before being rescued. The cause of the accident was initially determined to be the collapse of a tunnel.
The two miners were named as Nguyễn Thế Hoạt, 25 years old from northern Yên Bái Province, and Vi Văn Dụng, 27 years old from the northern mountainous province of Cao Bằng.
Hoạt was found dead and his body removed from the mine at 4.50am. One hour later Dụng was rescued with leg injuries and transferred to Cẩm Phả General Hospital.
The two men were working at a depth of 100 to 120m when the accident happened. Further investigation is ongoing. 
Landslide-hit residents resettled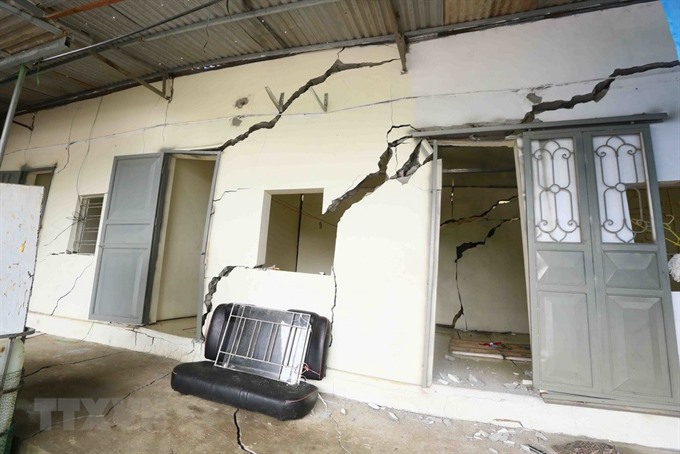 A sinking house with cracks in Thái Thịnh Commune, Hòa Bình City. 
Chairman of Hòa Bình Province's People's Committee Nguyễn Văn Quang has ordered authorities of Kỳ Sơn District to arrange a resettlement area for residents whose houses have been vulnerable to landslides on Road 445.
The provincial authorities will supply water and power for the resettlement area, he said on Monday at a provincial meeting on resettlement projects for people affected by natural disasters.
He ordered officials to arrange accommodations for eight families whose houses were directly affected by the landslides and to issue landslide warnings on Road 445 for people passing by.
Torrential rains since the middle last month due to the Sơn Tinh storm plus a high volume of water released from Hòa Bình Hydropower Plant have flooded the downstream area of the Đà River, including Kỳ Sơn District and Hòa Bình City, and eroded land in the area.
Fifteen houses along Road 445 in Kỳ Sơn District, located about 20km from Hòa Bình Hydropower Plant, were vulnerable to land erosion and collapse.
Since July 30, nine houses in Đồng Tiến Ward, Hòa Bình City completely collapsed into Đà River. Then other houses half collapsed and nine houses had cracks on the walls or floors.
As many as 134 other houses along the Đà River in Đồng Tiến Ward of Hòa Bình City are highly prone to landslides.
Thirty-five households of the ward have been evacuated to safer areas.
The local authorities have planned to move another 35 households to Trung Minh Commune's resettlement area and expand the land lot next to Trung Minh Commune's resettlement area to build a new resettlement area which is expected to cover 2.1ha.
The city's authorities have also proposed building a new resettlement area in Thái Thịnh Commune for landslide-prone families.
The provincial People's Committee ordered Hòa Bình City authorities to level the surface of landslide-prone areas before September 10.
Chairman Quang also ordered the installation of more pumping stations in the city to prevent floods.
Thirteen urgent resettlement areas have been completed in the districts of  Đà Bắc, Kim Bôi, Mai Châu, Tân Lạc and Hòa Bình City and residents have moved in. Power and water infrastructure is about to be completed. 
Hậu Giang invests $160 million for electrical grid
The Mekong Delta province of Hậu Giang on Tuesday approved a development master plan for its medium- and low-voltage electricity grid from now to 2035.
Total capital for the plan will be VNĐ3.65 trillion (US$160 million), of which VNĐ1.375 trillion ($60 million) will be spent during from now to 2020.
A sum of VNĐ990 billion ($43 million) will be invested during the 2021-25 period, VNĐ650 billion ($28.2 million) in the 2026-30 period, and VNĐ625 billion ($27.2 million) in 2031- 35.
The total electricity provided by 2035 will be 3,622GWh, at an annual growth of 9.8 per cent.
"Towns and districts must review and update development master land plans for electrical development. The Department of Industry and Trade should conduct research and prepare for solar energy development," Nguyễn Văn Tuấn, vice chairman of Hậu Giang People's Committee, said at a meeting.
To prepare for the expansion of urban areas to 2020, authorities and consultants should make plans for a medium-voltage electrical grid in urban areas such as Vị Thanh City, Long Mỹ and Ngã Bảy towns, he said.
To ensure the success of the project, authorities should support land compensation, ensure safety for the electrical grid, and promote an energy saving programme.
The low-voltage electrical grid in remote areas in the province is unstable and does not have the capacity to generate sufficient power.
HCM City pilots five taxi-pick up areas in District 1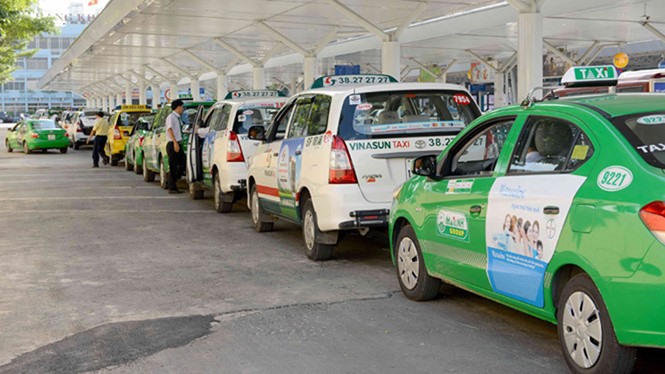 HCM City is piloting five areas for taxis to pick up passengers in District 1 beginning on August 8, according to Trần Vĩnh Tuyến, vice chairman of city's People's Committee.
The six-month pilot project will be evaluated and expanded if it is proven effective.
The five taxi pick-up areas will be at 139 Nguyễn Du Street, 16 Alexandre De Rhodes Street, Children's Hospital No 2,  29 Lý Tự Trọng Street and 3 Hàn Thuyên Street.
Besides the space designated for taxis, the pick-up spots have waiting areas on the pavement, with "no parking" signs posted.
The city said the taxi pick-up stops would ease traffic congestion and make taxi services more efficient in District 1, the city's central business district. 
Cù Mông tunnel to be ready by the end of this year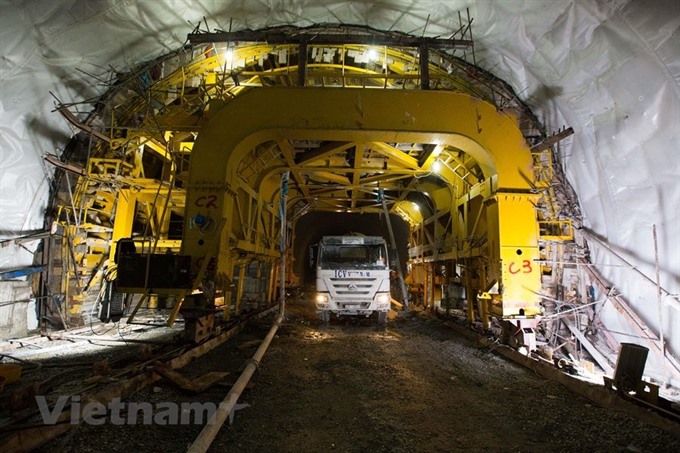 Labourers, along with modern equipment and machinery, work hastirly at the construction site of Cù Mông Tunnel in order to complete the project three months ahead of schedule. 
The construction of the tunnel through the Cù Mông Mountain Pass connecting Bình Định and Phú Yên provinces is expected to be completed by the end of this year, three months ahead of schedule.
Construction on the project, with total investment of VNĐ 3.92 trillion (US$174 million), began construction in September 2015. It has a total length of 6.6 kilometres, including the 2.6 kilometre approaching road with designed capacity of 80 kph. It also includes two parallel sides consisting of two lanes each.
Đèo Cả Investment Joint Stock Company was the investor of the project. Once completed, the tunnel is expected to reduce traffic accidents and ensure traffic flow on the National Highway No 1, boosting the socio-economic development of Bình Định and Phú Yên provinces and surrounding areas.
Currently, 80 per cent of the project has been completed.
Nguyễn Tấn Đông, deputy director of Đèo Cả Investment Joint Stock Company and director of the Cù Mông Tunnel Project Management Board, said the most difficult construction phase of the two ends of the tunnel has been completed since the beginning of this year. 
Thirty per cent of the soil and stones dug from the two sides of the tunnel has been used to make the road surface. 
Currently, the approaching road is under construction.
Đông said the construction units have prepared and submitted detailed plans for the construction period from now to the end of the year. In addition, the investor has also planned to mobilise more qualified engineers to accelerate the construction progress. 
The project could be completed by the end of this year, and the tunnel could take in traffic in the first quarter of next year, he said.
According to Đông, the Cù Mông tunnel was located in a relatively weak geological area with many fault zones running along the tunnel. Therefore, during the construction process, engineers and geotechnical engineers must constantly monitor geological changes to establish the proper supporting structure and prevent the risk of destabilising the tunnel roof. 
Đông said alongside the construction progress, the investor has implemented measures to ensure labour safety and fire prevention and control to monitor and correct violations.
When using a large amount of explosives for the construction, the investor has instructed the contractors to build explosive storage facilities and coordinate with local authorities to regularly check the regulations on the use of explosive materials. 
Tuyen Quang's irrigation systems battered by floods
A degrading sewer system on Lô River in Tuyên Quang Province. 
More than 350 of nearly 3,000 irrigation structures in the northern province of Tuyên Quang are seriously degraded and at risk of breaking down at any point during the ongoing rainy season.
According to Nguyễn Công Hàm, deputy director of the provincial Department of Agriculture and Rural Development, these include 61 severely broken works, 43 large-scale broken or downgraded works and 94 middle-scale structures.
He said that the broken or downgraded irrigation systems need nearly VNĐ1 trillion (US$43.5 million) in total for repair work.
The department is asking for assistance from the State and provincial budgets.
Tuyên Quang Province's management board of irrigation systems has been assigned to assess the status of the structures, especially reservoirs to make repair plans.
Weak structures must be reported to authorised agencies for timely repairs. Officers must be mobilised to quickly spot incidents and follow weather developments to adjust water levels. 
Vietnam's electricity facilitates Lao economic development

Electricity supply from Vietnam has facilitated economic development in Laos and improved living standards of villagers in border districts, said Vilaphorn, assistant to Director of the Electricity Corporation of Laos (Electricite Du Laos - EDL) on August 7.

He made the statement at a conference on Vietnam – Laos electricity purchase held by the Electricity of Vietnam's Central Power Corporation (EVNCPC) in the central province of Quang Tri.

On August 4, 1998, the EVNCPC and EDL signed an agreement to supply electricity for the Lao province of Savannakhet, which shares the border with Quang Tri, via Lao Bao border gate. The deal marked the start of cross-border power trading between Vietnam and Laos.

The second agreement between the two sides was inked in 2003 to provide electricity for Samouay, a district of Salavan province in southern Laos, which also shares the border with the Vietnamese province.

From 2009 to 2015, three more Lao districts – Dak Cheung and Kaleum of Se Kong province and Phouvong of Attapeu province – started to access power from Vietnam as the cooperation expanded.

Over the last two decades, the EVNCPC has made constant efforts to expand and upgrade the power grid to satisfy the increasing demand for electricity in Laos.

In 2015, the EVNCPC replaced a 35kV single-circuit line with a 22kV double-circuit line for power transmission from Lao Bao 110kV transformer station to Laos and upgraded the power transmission line via Dak Ooc border gate in the central province of Quang Nam.

According to EVNCPC Deputy Director General Pham Sy Hung, the conference aimed to review to electricity trading between Vietnam and Laos and provide an opportunity for the two sides to exchange experience and learn about new advanced technologies to improve the management of power generation and trading. –VNA
Seminar discusses challenges in recruiting caregiver interns for Japan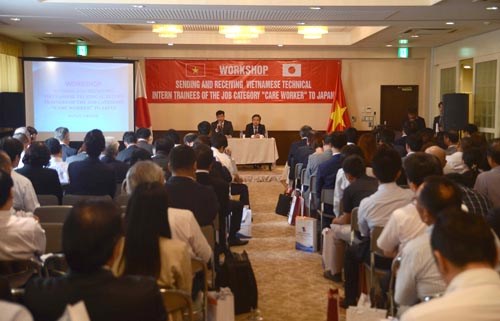 Scene at the seminar held by the Vietnam Ministry of Labour, Invalids and Social Affairs (MOLISA) at the Vietnamese Embassy in Tokyo, Japan, on August 6.
Strict requirements in language and professional skills are the main obstacles for Vietnamese caregivers who wish to work as interns in Japan under the Japanese Government's training programme for foreigners.
The information was released at a seminar held by the Vietnam Ministry of Labour, Invalids and Social Affairs (MOLISA) at the Vietnamese Embassy in Tokyo, Japan, on August 6.
The event attracted the participation of 200 representatives from Japanese labour unions and Vietnamese enterprises operating in labour export.
To be eligible for working as caregivers in Japan, candidates must receive training in the field and pass the Japanese-Language Proficiency Test (JLPT) at N4 level. The candidates are also required to obtain the JLPT N3 level certificate after one year working in Japan.
Participants also noted that despite the strict requirements, the wage for the apprentice caregivers is not higher than those in other jobs. 
Speaking at the seminar, Charge d'Affaires of the Vietnamese Embassy in Japan Nguyen Truong Son said Vietnam is a potential partner of Japan in supplying apprentice caregivers, as the country is facing a serious shortage of thousands of labours in the sector.
According to Kyodo News, Japan's labour ministry estimates that the country will need an additional 550,000 caregivers in fiscal 2025 compared to the fiscal 2016 due to the rapidly aging population. As an effort to receive more foreign workers in the nursing sector, Japan enacted a new law in November, 2017 to add nursing care to the list of fields in which foreigners can work under a training programme. 
The training programme for foreigners was introduced in 1993, aimed at transferring skills to developing countries by training workers who would then return home.
According to the MOLISA's Department of Overseas Labour, Japan is one of the biggest markets of Vietnamese labourers. By the end of 2017, Vietnam had the highest number of participants in Japan's training programme for foreigners with about 126,000 interns. The ministry has also licensed six Vietnamese companies to send caregiver interns to Japan.
Earlier this month, Japan and Vietnam signed a memorandum of understanding under which Vietnamese caregiver interns will receive free Japanese language and professional training courses before working in Japan.-VNA
Grassroots health care network expanded nationwide: minister
At the working session. 
The grassroots-level health care network has been expanded nationwide, basically meeting public demand for health care, said Health Minister Nguyen Thi Kim Tien. 

Speaking at a working session of the National Assembly's Committee for Social Affairs in Hanoi on August 7, Minister Tien highlighted achievements in vaccination, maternal and child health care, and the prevention of non-communicable diseases at the ward/commune level. 

She cited the inpatient satisfaction index towards medical check-up and treatment of 79.6 percent between September 2016 and December 2017, along with the 2016 Provincial Governance and Public Administration Performance Index (PAPI) Report announced in April 2017 which showed that the quality of hospitals, especially those at the district level, has been improved significantly and people have satisfied more with medical services. 

Deputy Minister of Planning and Investment Nguyen Van Hieu said that thanks to investments sourced from Government bonds, hospitals and medical centres at the district level have been built or upgraded, with the number of sickbeds per 10,000 people increasing from 17.9 in 2005 to 25.7 in 2017, surpassing the target assigned by the legislature. 

Participants at the working session also pointed out limitations in the grassroots health care network regarding public confidence in the quality of medical establishments at the district and commune levels, primary health care, investments in grassroots-level health care, and human resources. 

They shared the views that more investments should be channeled into grassroots health care, and underlined the need to mobilise the participation of different economic sectors and finalise the legal framework to promote the engagement of the entire political sector in the network. 

It is necessary to allocate mid-term capital in the health sector, especially in remote, disadvantaged and ethnic minority-inhabited areas, they said, proposing the Health Ministry implement policies to attract and maintain personnel for grassroots health care establishment. -VNA
Lang Son destroys counterfeit goods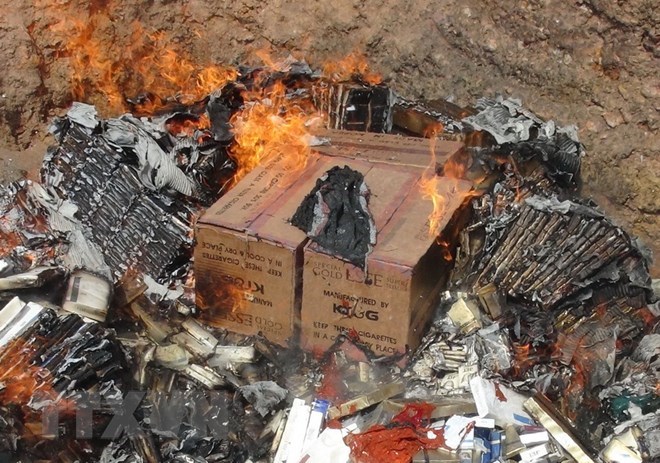 Over 1.3 billion VND (55,859 USD) worth of fake batteries, packaging materials, labels bearing Toshiba and Maxell brands along with a battery production chain were destroyed in the northern mountainous province of Lang Son on August 7.
There were more than 250,000 pairs of fake Toshiba batteries and 13,300 pairs of fake Maxell batteries.
A team from the Lang Son Market Surveillance Department in collaboration with the local police seized the counterfeit products on April 9, when inspecting the battery workshop of the Hoa Viet JSC at No 100 Ngo Quyen Street, Dong Kinh ward, Lang Son City.
At the inspection, the company was caught red handed producing fake goods bearing the two Japanese brands.
Owners of the company and people involved admitted they made the batteries for profit.
The provincial investigation police department began criminal proceedings against the case on June 22.
Public transport center seeks to resume minibus service in HCMC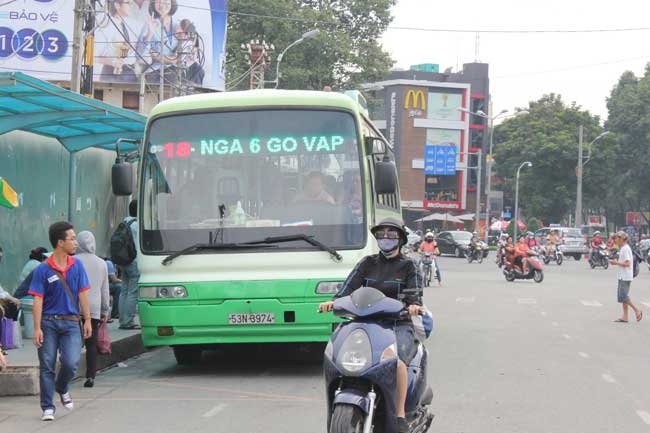 Large buses cannot run on narrow alleys, so minibuses could help raise the number of bus passengers 
The HCMC Public Passenger Transport Management and Operation Center plans to propose the municipal Department of Transport resume minibus services to transport passengers from narrow alleys to wider streets so that they can take buses, stated Tran Chi Trung, director of the center.
On July 31, Trung noted that more than 46% of alleys in HCMC are less than six meters wide, with 85% of the city residents living in alleys. Therefore, minibus lines will help locals commute.
If the proposal is approved, the center will launch 30 minibus lines, comprising 200-250 12-seater minibuses. These vehicles can run on four- to six-meter-wide alleys, will be designed to feature the characteristics of HCMC and will be equipped with special hooters with a lower-pitch honking device.
Commuters will have to walk for only 200 meters to catch the minibuses, which will be piloted in Districts 1, 10 and Tan Binh next year if the scheme gets nod.
This will mark the second attempt at piloting minibuses in HCMC. In the previous attempt, cooperatives decided not to run the program due to the small number of passengers and the lack of support policies.
In addition, residents preferred to travel by motorcycle owing to the long distances between alleys and bus stations.
Agency proposes supervision system to prevent dam collapse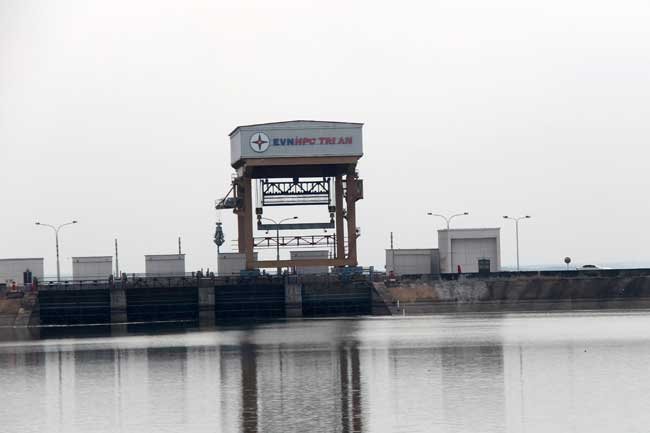 A view of the Tri An dam in Dong Nai Province
The Vietnam Rivers Network (VRN) has proposed setting up a system of supervision and carefully monitoring dams nationwide to promptly issue warnings to avoid calamities caused by a dam collapse similar to the Xe Pian - Xe Namnoy dam incident in in Laos' Attapeu province.
VRN noted in a statement that the Lao hydropower dam burst serves as an important lesson on dam safety not only for Vietnam in the current flood season but also for other countries.
Statistics from VRN show that Vietnam is home to some 7,000 irrigation and hydropower reservoirs, with capacities ranging from thousands to billions of cubic meters of water. The Lao dam incident proved that no matter which dam collapses, the resulting damage to lives, property, the environment and society is severe.
In Vietnam, although authorities have built operation systems and inter-reservoir operation systems aimed at ensuring safety, the risk of a dam collapse seems to be threatening residents and authorities due to the unpredictable weather and the low quality of construction works, among other factors.
After the Lao dam collapse, VRN stressed the need to have supervision systems in place and a mechanism to issue urgent warnings.
Even though the water from the collapsed dam flowing into the Mekong Delta did not adversely affect the region, VRN proposed the six countries of the Mekong River basin cooperate in adopting preventive measures against another collapse.
HCMC urges speedier work on bridges to Thu Thiem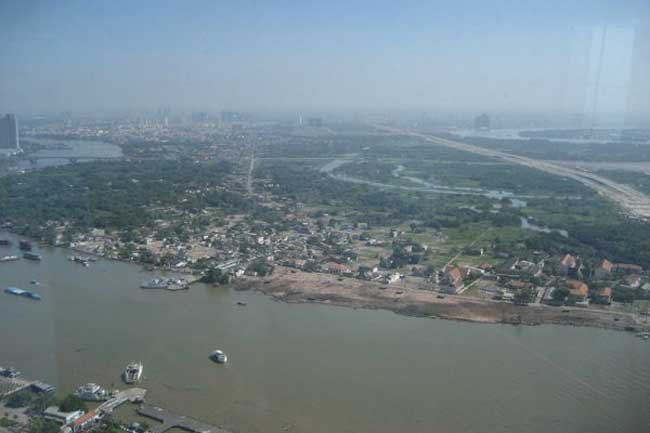 File photo of Thu Thiem peninsula seen from the Bitexco Financial Tower in downtown HCMC 
The HCMC government has assigned relevant agencies and departments to work with investors to speed up work on Thu Thiem 2 and Thu Thiem 4 bridges, Nguoi Lao Dong newspaper reported.
HCMC Chairman Nguyen Thanh Phong has given approval to the investor Dai Quang Minh Real Estate Investment Company for an extension of two months to flesh out a plan for building pedestrian bridges spanning the Saigon River under the build-operate (BT) format.
To put the pedestrian bridge projects on the fast track, the HCMC chairman has assigned the HCMC Department of Planning and Architecture to support Dai Quang Minh Company in coming up with at least three plans for pedestrian bridge construction.
In addition, Phong asked the Department of Natural Resources and Environment to collaborate with relevant agencies to draw up a document proposing an urgent site handover to start Thu Thiem 2 bridge construction as scheduled. The 852-meter-long Thu Thiem 2 Bridge will stretch from the intersection of Le Duan and Dinh Tien Hoang streets to that of Ton Duc Thang and Nguyen Huu Canh streets -- all in District 1 -- before passing through Ba Son Shipyard to connect with District 2.
The Department of Natural Resources and Environment was required to carry out land valuations for compensation and support the Thu Thiem 2 Bridge project while the Department of Transport is in charge of urging relevant agencies to make suggestions for technical design and cost estimates of construction components executed under the BT format.
As for the project of Thu Thiem 4 Bridge, a 2.16-kilometer bridge expected to connect District 2 and District 7 when in place, the Department of Planning and Investment is responsible for publicizing the project, which will be implemented under the public-private partnership (PPP), to attract investors. Investors may register for participation in the project and conducting a pre-feasibility study.
Hanoi seeks green light for US$351-million software park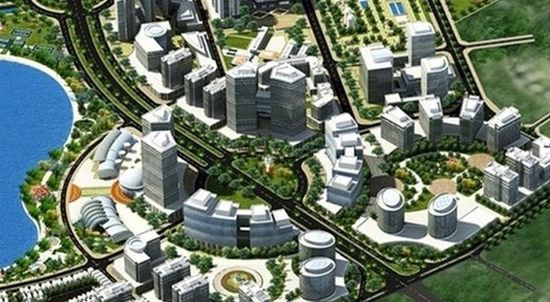 The software park, to be built by Vingroup, will be the working area of ​​nearly 20,000 people of technology groups in and outside the country.
Hanoi has submitted a proposal to the Ministry of Construction and the Ministry of Planning and Investment to build a software park along Vo Nguyen Giap road, Nhat Tan - Noi Bai axis, north of the city. 
This document is based on the recent proposal of Vingroup to invest in a software park in Nguyen Khe commune, Dong Anh district, and has been approved by Hanoi's authority.
The park will cost an estimated VND7.87 billion (US$351.5 million) and span an area of 78.1ha. It is expected to provide working space for some 19,557 officials and experts. 
According to Vingroup's proposal, the project will have a 50-year operational period. Its construction will be started from the fourth quarter of 2018 and is poised to be completed by the end of 2022.
The project aims to invest in the construction of technical and social infrastructure in the software park. Besides, the project aims to form the centers for supplying infrastructure and technology services, the centers for researching and developing information technology products and services, training, technology transferring, creating international working environment to attract large technology corporations in and outside the country.
In the area of 78.1ha, the investor proposes building facilities such as data centers, functional areas of information technology and professional hotels, mixed commercial office and research development, consulting and training, exhibition center, and parks.
PM agrees to PPP bridge project in central provinces
Design of the bridge. — Photo chinhphu.vn
Prime Minister Nguyễn Xuân Phúc agreed to the construction of a VNĐ1trillion (US$45) million bridge connecting the central provinces of Hà Tĩnh and Nghệ An under a public-private partnership (PPP) project, according to the Government.
The proposed bridge will span the Lam River to connect the two neighbouring provinces. It will be 6.2km long, 1.2m wide and have four lanes as well as two walking corridors.
It will be the fourth bridge spanning the river to connect Nghệ An and Hà Tĩnh. The bridge will continue the National Highway No. 8 in Hà Tĩnh's Nghi Xuân District, which is part of Asia Highway AH15.
The bridge is expected to foster trade, tourism and economic cooperation between the provinces. It also contributes to traffic circulation in the northern central region as well as trade from Laos.
The PM agreed to transfer funds for an upgrade project on National Highway No. 1A to this bridge project.
Earlier in 2017, the Ministry of Transport proposed the project under a build-operate-transfer (BOT) contract at cost of VNĐ1.6 trillion. However, the ministry this year changed their proposal due to recent turmoil related to toll booths of BOT projects across the country.  
VNPT, Đà Nẵng agree on 'smart' city development
The central city, in co-operation with the Việt Nam Posts and Telecommunications (VNPT) Group has officially signed an agreement for the 'smart city' project over the next two years.
The agreement will help develop information technology (IT) applications in the fields of e-Government, natural resources and environment, agriculture, tourism, traffic and public security over the next two years.
It's also a next step in the co-operation between Đà Nẵng and VNPT to create a 'green' and 'smart' city by 2025.
Đà Nẵng was the first city in Việt Nam to launch the e-Government system in 2014.
According to a report from the city, the Đà Nẵng's e-Government had been used by 225 agencies and 4,000 users.
Vice chairman of the city's People's Committee Hồ Kỳ Minh said the city's IT infrastructure was now available for smart connections among air control, water, garbage, meteorology, and energy agencies. It could also provide earthquake and tsunami warnings, and data on flooding, erosion, sewage management and bridges.
The city will be ready for 4G LTE (Long-Term Evolution) later this year.
Đà Nẵng had provided 1,200 online administration procedures, including one-stop shops, residential management, public transport and water supervision through the e-Government system, while free wireless internet (wifi) services offer a maximum of 20,000 connections at public sites.