The National Center for Hydro Meteorological Forecasting issued its latest weather forecast this morning that a low-pressure system is heading to the East Sea and centers at 14.5 to 15.5 degrees north latitude, 114.7 to 115.7 degrees east longitude, 350 to 400 km from the southeast part of Hoang Sa Archipelago.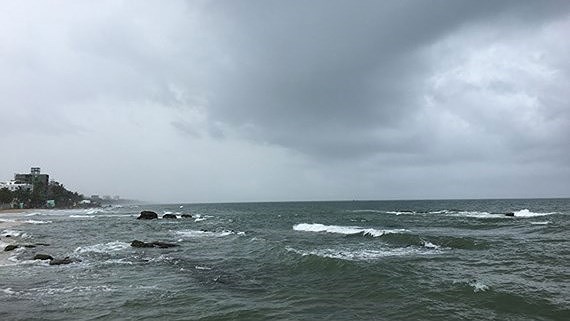 A low-pressure system is heading to the East Sea Photo: SGGP
In the next 24 hours, low-pressure system will move slowly and be able to gain strength.
At 7am on August 7, it will center at 15-16 degrees north latitude; 114.5-115.5 degrees east longitude, 300-350km in the east east south part of Hoang Sa Archipelago.
Due to the impact of the system, tonight the areas in the middle of the East Sea (including Hoang Sa Archipelago) will sea torrential rains, strong winds.
While the south west monsoon is continuing to develop. As this, tonight and tomorrow the sea areas from Binh Thuan to Ca Mau continue suffering torrential rains, whirlwinds, added the center.
Heavy rains will also hit the central highlands region and southern provinces. From August 6 to 8, the central province of Danang to the southern central province of Binh Thuan will experience heavy rains.
To deal with low-pressure system, the national steering committee on natural disaster prevention and control sent its dispatch to provinces, cities nationwide asking the authorities to update weather forecast and low-pressure zone, calling upon all vessels operating at sea to move to safer places.
In addition, local authorities were asked to have rescue forces to timely deal with emergencies.
SGGP