VietNamNet Bridge – Vietnam plans to build five new airports in the next 12 years.

Currently, the country has 23 airports, comprising 13 domestic and 10 international. It aims to have 15 domestic and 13 international by 2030.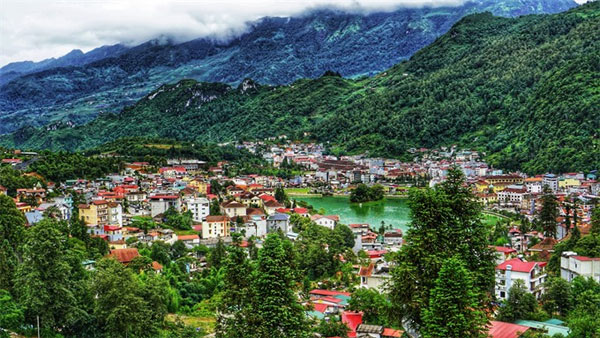 A view of the Sa Pa Town, a popular tourist destination in the northern mountainous province Lao Cai. The local authorities have proposed building a 371-ha airport in Cam Con Commune, Bao Yen District. — VNS Photo Trong Kien
The ambitious goals were announced as part of Prime Minister Nguyen Xuan Phuc's decision in 2016 for the adjusted planning on aviation transport until 2020 with a vision towards 2030.
Also included in the adjusted planning, the Government of Vietnam wanted to build airports in areas with big tourism potential like Sa Pa, Van Don, Dong Hoi and Chu Lai.
In the latest move, earlier this month, the People's Committee of the northern province of Lao Cai proposed to the Ministry of Transport construct an airport in the province with total investment of nearly VND5.8 trillion (US$252 million).
According to the proposal, the airport will be used for both commercial and military purposes.
The airport will be located in Cam Con Commune, Bao Yen District, about 40km from Lao Cai City and will be positioned to easily connect with the Noi Bai-Lao Cai expressway, which cut travel time between Hanoi and Lao Cai from seven to 3.5 hours when it opened in 2014.
The construction of Sa Pa airport will be divided into two phases.
In the first phase, expected to begin before 2020, the airport targets a capacity of 560,000 passengers and 600 tonnes of cargo per year. Aircraft, including A320, A321 and equivalent, will be able to land in two locations. Total investment for the first phase is estimated at about VND4.7 trillion (including site clearance cost of the whole project).
In the second phase, the airfield will receive 1.5 million passengers and 2,880 tonnes of cargo per year by 2030. Aircraft would be able to land in five locations. Total investment is set at about VND1 trillion.
The provincial People's Committee proposed finding private investments to fund the project.
Specifically, Lao Cai will call for investment of VND160 billion from Vietnam Air Traffic Management Corporation (VATM) and VND1.724 trillion from Vietnam Aviation Corporation.
Vuong Trinh Quoc, chief of the Lao Cai Province People's Committee Office, said Lao Cai was located on the economic corridor of Kunming - Lao Cai - Hanoi - Hai Phong and an economic belt based on trade development among provinces in southwest China.
"An airport will help boost the province's economic development and help carry tourists to Sa Pa," he said.
Currently, the province's transportation system incorporates only roads and railways. Therefore, an airport is considered a big boost to the improvement of the transportation network, contributing to the diversification of modes of transport and creating new drivers for the development of Lao Cai. Last year, the province received nearly four million visitors.
Assoc Prof Dr Nguyen Thien Tong, former head of the HCM City Polytechnic University's aviation technology faculty, told Viet Nam News that when it came to an airport project, there must be demonstrable evidences of future demand, technical capacity to build and operate it, and its financial viability.
"Assessments on financial effectiveness – cost and revenue – are the most important," he said, adding that according to the Airport Corporation of Viet Nam, just three of 23 airports nationwide - Tan Son Nhat, Noi Bai and Cam Ranh - were running a profit while the other suffered losses because of huge investment but few passengers.
"While Vietnam is tightening its budget and regulations on investing in airports, particularly ones for military use, are unclear, it will be more reasonable to improve the roads and railway system in the province," he said.
Another option for Lao Cai was to build a small airport for small planes with less than 19 seats, one pilot and without flight attendants.
"Such small planes will better connect with neighbouring provinces, make use of less space and are better for private engagements," Tong suggested.
He said that when selecting investors for airport projects, it was essential to take national security and defence into account.
Assoc Prof Dr Dinh Trong Thinh from Hanoi-based Academy of Finance said many localities in Vietnam wanted to have an airport.
"It's unreasonable and a waste to have an airport every 100-200km," he said.
Localities voiced their need for airports, called it an advantage to compete with other localities and attract investors but there was not the same growth model for every locality.
Thịnh said that central Government and policy makers must harmonise needs, show demonstrable evidences and more importantly, they must clearly point out who would take responsibility if the project was ineffective.
Dr Luu Bich Ho, former director of the Institute for Strategic Development under the Ministry of Planning and Investment, said that when the Government put Sa Pa airport into an approved plan, meaning that in the long-term, it was necessary to have an airport in the northern mountainous province to improve its transport infrastructure.
The airport is more meaningful as Lao Cai has potential for further development and the province has Sa Pa – a popular tourist attraction.
"When the project should be started should be taken into consider carefully," he said.
Now is not right time to start the project as both central and local government found it difficult to arrange funds for it, plus demand for goods/passengers transportation to Lao Cai via air was not high. Hanoi-Lao Cai Expressway can still deal with travel demand.
On the other hand, if central and local governments could find non-State investment, the project should be implemented, he said. 
Source: VNS