US volunteer doctors offer free health checkups to Cao Bang's poor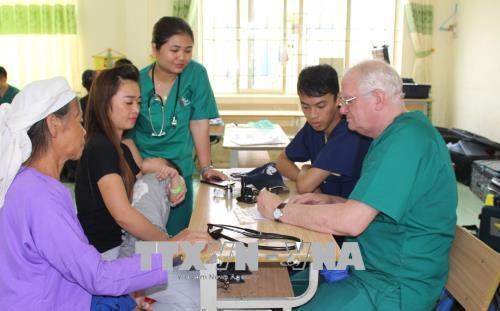 US volunteer doctors from the Good Samaritan Medical Dental Ministry provide free medical checkups to poor people in Tra Linh district, Cao Bang. 
A team of American volunteer doctors provided free medical examinations for about 2,570 poor people in the northern mountainous province of Cao Bang from July 9 – 19.
The medical aid workers from the Good Samaritan Medical Dental Ministry (GSMDM) also offered free medicine to people from the district of Bao Lam, Bao Lac, Ha Quang, Tra Linh and Hoa An.
After the medical screening, 53 people who needed acute hospital care were admitted to Cao Bang General Hospital. Twenty six of them received surgeries from the US doctors at the provincial health care facility while four others were transferred to central hospitals.
In addition, the team presented 500 gift packages to pre-school children and elementary school students in the communes of Quang Thanh (Nguyen Binh district), Hong Quang (Quang Yen district), Binh Duong and Bach Dang (Hoa An district).
During a meeting with the team on July 19, Chairman of the provincial People's Committee Hoang Xuan Anh awarded the doctors with certificates of merit in recognition of their contribution to the rural community in Cao Bang.
Founded in 1999 by a Vietnamese-American doctor, Vien Doan, the GSMDM sends a team of physicians, surgeons, dentists, optometrists, pharmacists and students to the rural poor in Vietnam through field clinics and surgical services, provided at no cost.
The first GSMDM team, including one physician and four young adults, made their trip to Vietnam in the summer of 2000. They treated 1,100 people in 10 days in the Mekong Delta on a budget of 12,000 USD. 
Since then, more and more volunteers, including many Vietnamese-American medical workers and students, have joined the team. 
Vừ A Dính Scholarship Fund continues supporting ethnic girls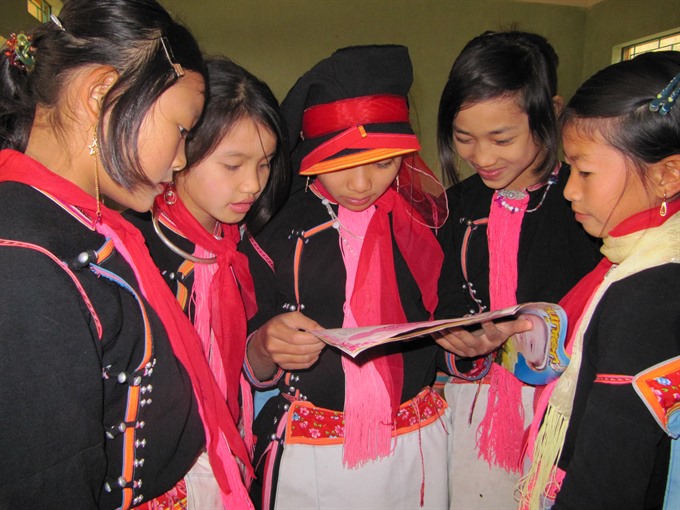 Girls study at a school in mountainous area. The HCM Communist Youth Union's Vừ A Dính Scholarship Fund, in cooperation with Vinacapital Group, has launched the second phase of Mở đường đến tương lai (Opening Paths to The Future) by providing scholarships to 50 ethnic minority girls from 36 provinces nationwide. 
The HCM Communist Youth Union's Vừ A Dính Scholarship Fund, in cooperation with Vinacapital Group, has launched the second phase of Mở đường đến tương lai (Opening Paths to The Future) by providing scholarships to 50 ethnic minority girls from 36 provinces nationwide.
At the launching ceremony, which took place in the central city of Đà Nẵng on July 19, organisers said they aim to support ethnic girls to complete their high school and college educations over seven years from 2017-24.
As planned, the fund will finance each girl with VNĐ230 million (US$10,000) for her education costs over seven years.
In the first phase from 2010-16, 50 ethnic girls were also awarded scholarships for a seven-year education course, and 98 per cent of those had completed their college courses, while 87 per cent had been employed after graduation.
The Fund was established in 1999 on the initiative of the Tiền Phong (Young Pioneers) newspaper. In 19 years, the fund has awarded more than 80,000 scholarships to well-educated and well-trained ethnic minority students. Domestic and foreign donors have contributed nearly VNĐ29 billions ($1.3 million) to the fund in supporting poor people and students as well as social assistant programmes. 
Đồng Lộc T-junction victory: 50 years later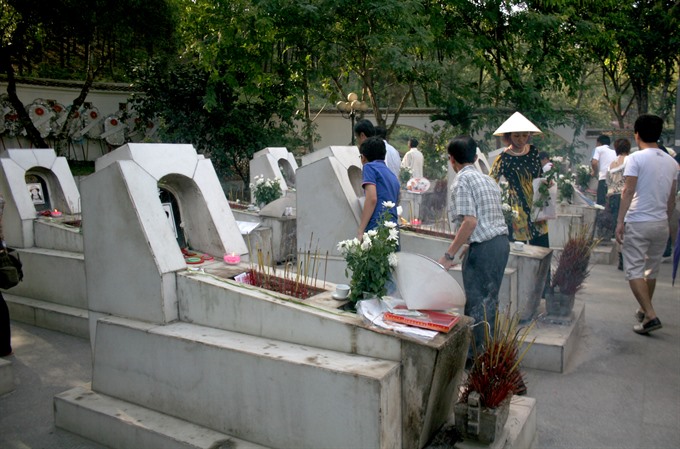 People offer incense at the Đồng Lộc T-junction monument in Hà Tĩnh Province. 
During the 300 continuous days that Nguyễn Tri Ân spent on Hồ Chí Minh trail in Hà Tĩnh Province in the war in 1968, he went through 293 bombings and was almost buried alive 15 times.
Luckily, he survived them all.
But from 1965 to 1968, another 16,000 Vietnamese soldiers sacrificed themselves in this area, on the Khe Út – Khe Giao section of the trail just south of Đồng Lộc T-junction
During the war, Đồng Lộc intersection was the most important site on the legendary Trường Sơn – Hồ Chí Minh trail. Trucks carrying soldiers, food, arms and munitions from the north to battlefields in the south passed through the junction.
From 1965 to 1968, the US army dropped nearly 50,000 bombs and fired tens of thousands of missiles on the Đồng Lộc T-junction in Đồng Lộc Commune to cut off the transport route to the southern front.
All human resources were mobilised by the Vietnamese Government at that time to ensure the road would be clear.
Ân, who volunteered to serve the army at the age of 20, was assigned the task of detecting and clearing bombs along the southern section of the Đồng Lộc intersection along with two other soldiers.
"Typically, they would drop bombs for 28 days in a row, with more than 800 bombs of all kinds," he said.
"We had to hear the sounds of bombs all day and night," he said.
Obviously, they wanted to turn the intersection into a dead point where no one and no vehicles could cross, Ân added.
But there were people who were fearless of death and danger, who came to clear the mess so the transportation wouldn't be disrupted.
"Wherever they bombed, we came after that and cleared the wreckage and detected unexploded bombs to open the way," he said.
Death was not in their minds at the time, since they were busy focusing on defusing as many bombs as possible.
"I detected and cleared 545 bombs," Ân, who was granted the title "Labour Hero", proudly said.
Hà Thị Thực, a comrade who joined Ân and others in the 1968 task, said she would never forget those days.
"The war was intense but the youth volunteer force was determined and never afraid. The spirit was like this: our blood can stop running, our hearts can stop beating, but the transportation can't be cut off," she said.
With such determination, while levelling bomb craters, 10 young female volunteers on the Hồ Chí Minh Trail were buried alive by bombs dropped by US forces.
At noon on the 15th day since the bombing started, a bomb fell very close to the mouth of the cave where these female transport volunteers, aged from 17 to 24, were working, trying to level bomb craters to reopen the intersection.
Their sacrifice remains immortal and has become a symbol of Vietnamese heroism.
After the national reunification day, the Hồ Chí Minh Communist Youth Union Central Committee decided to build a victory monument at Đồng Lộc T-junction. The intersection has now become a relic site. On the hill, surrounded by pine trees, a monument was erected on which the names of the 10 heroines are engraved.
Bomb shells collected from the Đồng Lộc battlefield were arranged into the shape of a plane plunging from the sky. 
A special art performance together with a national ceremony will be held on the night of July 21 at the Đồng Lộc T-junction relic site to commemorate the 50th anniversary of the victory.
A gathering for war veterans and former youth volunteers, as well as a requiem for fallen soldiers, will also be scheduled. 
Workshop looks to develop human resources amongst ethnic minorities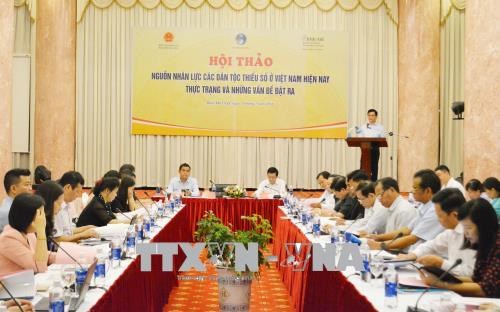 At the workshop 
A workshop was held in Buon Ma Thuot city, the Central Highlands province of Dak Lak, on July 19 to look into the locality of human resources of ethnic minority groups in Vietnam.
The event – jointly held by the National Assembly's Ethnic Council, the Government's Committee on Ethnic Minority Affairs, and the Irish Embassy in Vietnam – aimed to seek out ways to develop human resources amongst ethnic minority communities, thereby helping to reduce poverty in a sustainable manner and boost comprehensive development in the communities.
Among the 54 ethnic groups in Vietnam, 53 are minorities with over 13 million people, accounting for 14.6 percent of the country's population. There are ethnic communities in 56 of the 63 provinces and cities nationwide.
While 48.6 percent of ethnic minority people reside in the northern midland and mountainous areas, about 30 percent also live in northern central, coastal central, and Central Highlands regions.
Participants in the workshop reviewed the situation of minorities' human resources in terms of their living standards, income, employment opportunities, educational level, occupational skills, engagement in the political system, health and longevity, and marital status.
They also pointed out some of the shortcomings in human resources of ethnic minorities, especially those in border and remote areas, and evaluated existing policies on human resource development in those communities.
The National Assembly and Government is soon to complete its legal framework relating to ethnic minority groups and those in rural, mountainous areas. 
They also need to build a master plan for the socio-economic development of ethnic minorities and mountainous areas for 2021-2025, and press ahead with implementing current policies on ethnic minority human resources, including the prioritisation of educational resources and vocational training facilities in ethnic and disadvantaged areas, participants noted. 
Kien Giang urged to protect aquatic resources
The Mekong Delta province of Kien Giang has been advised to combine fishing activities with the protection of aquatic resources, said Deputy Minister of Agriculture and Rural Development Vu Van Tam. 
At a meeting with representatives of Kien Giang on July 19, Tam suggested the locality shift its traditional livelihood of standard net fishing to more sustainable methods, such as developing fish farms and offshore aquaculture. 
He urged Kien Giang to make substantial efforts to raise the awareness of illegal, unreported, and unregulated (IUU) fishing amongst boat owners, captains, and fishermen, as well as increasing the responsibility of agencies and local authorities in this regard. 
Competent agencies need to closely monitor the operation of fishing boats, step up patrols at sea – especially at bordering and overlapping waters – and strictly punish fishing boats that enter foreign waters while fishing, the official said. 
Kien Giang has a coastline of 200km, with 143 islands. The province boasts a fishing ground of more than 63,000sq.km. 
In May, the province announced a list of eight vessels and their owners which had engaged in illegal fishing activities in foreign waters since the beginning of 2018.
The move is part of Kien Giang's efforts to implement the Government's Direction No.45 on actions in response to the European Commission's (EC) yellow card warning over IUU fishing, which was issued to Vietnam on October 23 last year.
In the first three months of 2018, Kien Giang's seafood output exceeded 90,000 tonnes, equivalent to 16 percent of the year's plan and up 4.6 percent year-on-year.
In 2017, the figure was above 548,000 tonnes, accounting for 20 percent of the country's total output.
Medical advances in treating endometriosis shared at conferences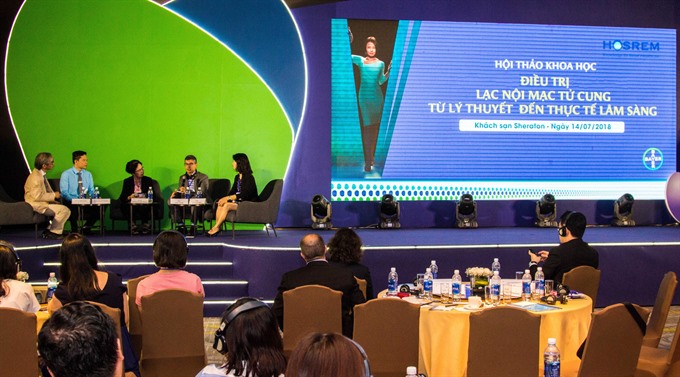 Many advances and medical updates in treating endometriosis in Việt Nam were shared at a series of scientific conferences jointly organised by Bayer Vietnam, the HCM City Society for Reproductive Medicine and the National Obstetrics and Gynaecology Hospital.
The conferences heard that endometriosis is a chronic, progressive disease where tissue resembling the lining of the womb (the endometrium) is found outside the womb, forming endometriotic lesions which cause pain and inflammation.
These lesions are most often found on the ovaries and other organs within a woman's pelvis, but can also spread to other parts of the body.
Left untreated, the lesions will continue to proliferate throughout the pelvis and possibly beyond and will typically eventually require surgery. 
Dr Sony Singh, director of minimally invasive gynaecology, department of obstetrics and gynaecology, University of Ottawa, Canada, said: "Endometriosis places a heavy burden on women in the prime of their life. In those affected, the disease may cause significant pain and this can impact every aspect of a woman's life. The sooner the pelvic pain is addressed, even in young girls, the better the quality of life."
There is no cure for endometriosis and treatment of the disease aims to relieve pain, slow the growth of the endometriosis, improve fertility (where desired) and/or prevent the disease from relapsing after successful treatment. 
Singh said : "Once diagnosed, patients require long-term care and follow-up to help manage symptoms. Options include surgery, medicines or fertility treatment in those who have difficulties getting pregnant."
With the development of science, many advanced treatments have been discovered to help women living with endometriosis.
One of them is the new oral progestin treatment.
Bayer has recently launched a new oral progestin treatment, which has proven to be highly effective in relieving the pain caused by endometriosis.
Singh said: "The good news for women living with endometriosis in Việt Nam is that recently there is an oral progestin treatment taken once daily, which is an important management option for patients with the disease as it has been proven to relieve the chronic, debilitating pelvic pain caused by endometriosis including menstrual pain and pain during sexual intercourse.
"This is the first new treatment here in Vietnam in more than a decade to help these women, which is encouraging."
Clinical studies have shown that the new oral progestin treatment is as effective at relieving the pain of endometriosis as existing gonadotropin-releasing hormone analogue (GnRH-analogues) treatments, and is superior to placebo.
In clinical studies, this new therapy has shown continuous pain relief over 15 months of treatment.
The effectiveness of the new oral treatment in reducing pain and improving the quality of life has also been proven in real-world clinical practice.  
In an Asian study, the new treatment positively influenced health-related quality of life in all assessed domains, especially the "pain" domain, which was improved by 78.4 per cent. Endometriosis-associated pelvic pain was effectively reduced in patients, both surgically and clinically diagnosed.
Results from study indicate that the new oral treatment could be a potential first-line therapy for long-term management of endometriosis-related pain. 
"We are committed to improving the health and well-being of women and their families everywhere through research and development of new treatment options for diseases primarily afflicting this population," Dr. Lynette Moey, country head of the pharmaceuticals division, Bayer Việt Nam, said.
"As endometriosis is a long-lasting gynaecological condition that causes dramatic and recurrent pain, turning a woman's life upside down, there is a need for an effective and well-tolerated treatment that can be used over a long period of time.
"The novel oral progestin addresses this need with an endometriosis-specific therapy that has the same efficacy as the current therapeutic standard but with significantly less side effects, thus allowing for long-term treatment."
Prof. Nguyễn Thị Ngọc Phượng, vice president of the Vietnam Gynaecology and Obstetrics Association, and president of the HCM City Society for Reproductive Medicine, said: "It is very common for women to live for several years with the severe pelvic pain of endometriosis before receiving an official diagnosis. 
"This often means a delay in disease management, negatively impacting their professional, social and psychological life. 
"Women should not think that pelvic pain is just a 'normal' symptom associated with menstrual periods, but they need to know this may be one of the symptoms of endometriosis.
"Endometriosis can occur in 10 per cent of women and it is important for them to speak with their doctor for early diagnosis and treatment when they suffer from pelvic pain.
"The new medical therapy is a good option for women with the disease, especially for young women who want to have more children."
Programmes honour familles on War Invalids and Martyrs' Day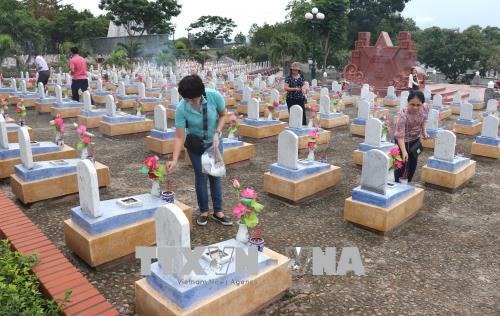 Incense is offered at National Martyrs' Cemetery on Road No 9 in Quảng Trị Province. 
Many provinces and cities plan to visit and present gifts to families who are beneficiaries of state policies on the occasion of War Invalids and Martyrs' Day on July 27.
Lê Minh Tấn, head of HCM City Department of Labour, Invalids and Social Affairs, said the city would present gifts to more than 79,200 beneficiaries, including heroic Vietnamese mothers and war invalids.
Each gift this year will be worth VNĐ1 million to VNĐ2.5 million (US$43.3), an increase of VNĐ500,000 compared to last year, Tấn said.
Unlike previous years, people who take care of heroic Vietnamese mothers, war invalids with 80 per cent of disability, and those with 80 per cent of lost working capacity, will receive gifts.
Hà Nội will allocate more than VNĐ103 billion for gifts. Six teams of leaders and representatives of agencies will visit and present gifts to outstanding individuals.
They also will lay wreaths and offer incense at cemeteries that are home to many war martyrs in Hà Nội.
Hà Nội had 800,000 people who served and sacrificed during the cause of national liberation, construction and defence, accounting for nearly 10 per cent of the country's total.
Hà Nội offers care for the survivors. In the first six months, Hà Nội presented 2,450 bank-saving books worth more than VNĐ3 billion to them and upgraded 296 houses.
The Central Highlands province of Đắk Lắk will allocate more than VNĐ5.2 billion for gifts to more than 15,500 war invalids, martyrs' families and revolutionary contributors who sacrificed and served during the cause of national liberation, construction and defence.
The province has instructed its agencies to carry out activities to express profound gratitude to them, take care of their life, and carry out supporting policies for them. They will also visit cemeteries to lay wreaths and offer incenses.
According to the provincial Department of Labour, Invalids and Social Affairs, the province last year called for VNĐ9.3 billion for the Đền ơn đáp nghĩa (Gratitude Activities) Fund to repair 92 charity houses, build 115 new houses, and present 163 saving bank books for these people who are beneficiaries of state policies.
In the first six months of the year, nine houses were upgraded and 10 new houses were built. 
Quảng Bình bags one more gold at national swimming event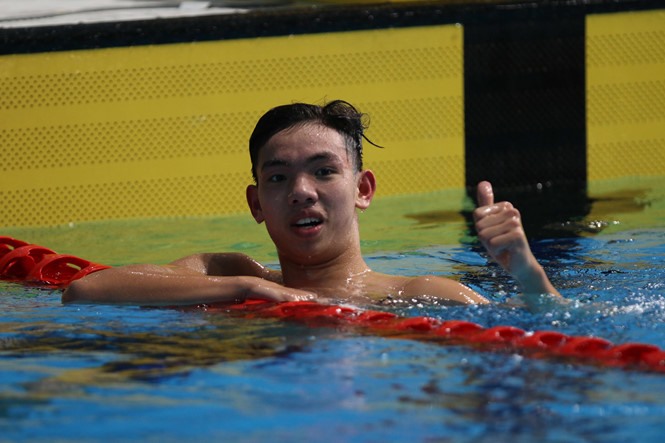 Nguyễn Huy Hoàng from Quảng Bình Province won a gold medal in the 800m free-style at the National Youth Swimming Championship in HCM City. — Photo xaluan.com
Defending champion Nguyễn Huy Hoàng from the central province of Quảng Bình won a gold medal in the 800m free-style at the National Youth Swimming Championship in HCM City, which concluded on Wednesday.
Hoàng, who triumphed in the men's 1,500m free-style at SEA Games 29 in Malaysia, also broke the national record in the 800m free-style which he has held since last year's event, by 8.5 seconds.
He beat Nguyễn Hữu Kim Sơn from An Giang with a time of 7.58 seconds and contributed six gold medals to his hometown with this victory.
The 18-year-old swimmer is training at Cần Thơ national sports training centre in order to prepare himself for ASIAD 2018, which will be held in August in Indonesia.
In this event, Hoàng won six gold medals out of the total of nine won by Quảng Bình, helping his hometown team level up to 5th rank. Meanwhile, host HCM City remains at top of the chart with 36 gold medals.
Vietnam's rich and storied culture introduced to ASEAN friends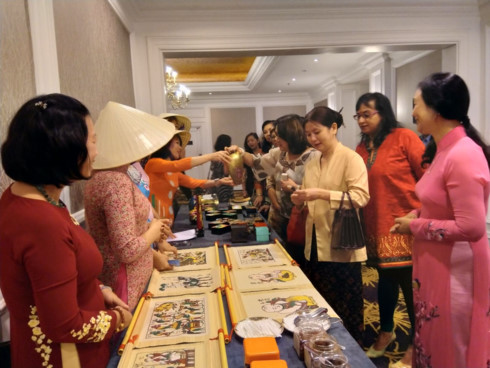 Vietnam introduced the wide-range of the nation's cultural characteristics to ASEAN friends within the framework of a meeting of ambassadors' wives and members of ASEAN countries in Malaysia on July 19.
Pham Thi Hong Lien, wife of Ambassador Le Quy Quynh, presented guests with examples of the country's traditional cultures such as Quan Ho folk songs, Dong Ho folk painting, and lacquer products made by Vietnamese artisans.
Afterwards, ambassadors' wives and other members of ASEAN enjoyed a variety of special art performances and a presentation of Ao dai (traditional long dress) and Ao tu than (four-panel traditional dress).
Guests at the event lined up to savour some of Vietnam's delicious cuisine such as nem (spring rolls) and pho bo (beef noodle soup).
In a hands-on experience of Vietnam's food culture, ASEAN friends were shown how to make seaweed agar in cute shapes by Vietnamese artisans.
Vietnamese movies on show for Film Day in RoK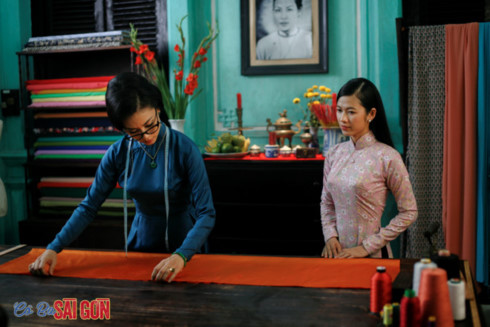 A scene from "The Tailor".
Three well-known Vietnamese films, "Em Chua 18" (Jailbait), "Co Ba Sai Gon" (The Tailor), and "Co Gai Den Tu Hom Qua" (The Girl from Yesterday) have been screened for Korean audiences on the occasion of Vietnamese Film Day in the Republic of Korea (RoK).

Two documentaries, "Phien Cho Vung Cao" (Highland Market) and "Mui Ne - Vung Bien Thuc" (Mui Ne – The Sea of Knowledge) were introduced at the event, along with a private space showcasing the filming locations across Vietnam.

The Vietnamese Film Day in RoK, held on July 18-19, is helping to promote the country's culture and film industry in RoK as well as enhancing the solidarity and friendship between the two countries.
Vietnam, Singapore share experience in trade union work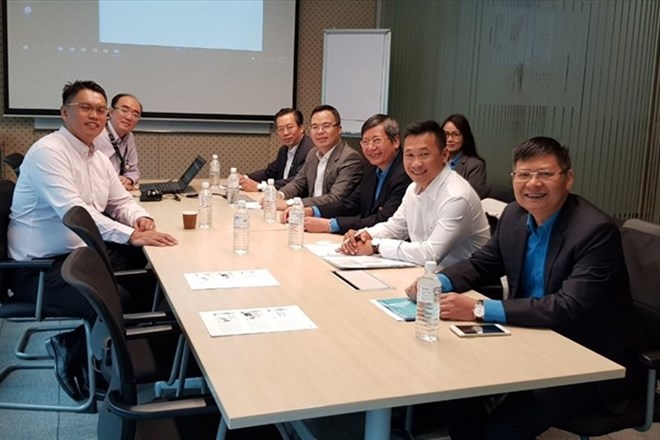 The Vietnam General Confederation of Labour (VGCL)  works with Singapore National Trades Union Congress (SNTUC) (Source: https://laodong.vn)
A delegation from Vietnam General Confederation of Labour (VGCL) led by its Vice President Tran Thanh Hai made a working trip to Singapore on July 17-20 to exchange experience in trade union work.
During talks between the two sides, Assistant Secretary-General of Singapore National Trades Union Congress (SNTUC) Patrick Tay Teck Guan updated the guests about changes in the leadership apparatus and priorities of Singapore trade unions.
He pointed out challenges that Singaporean trade unionists and workers have to encounter in the face of the fourth industrial revolution and an aging population.
Meanwhile, Hai informed the host about major issues for Vietnamese trade unions ahead of their 12th congress and shared the unions' efforts to protect the rights and interests of workers and bring more benefits to trade unionists.
SNTUC has nearly one million members, including those with many years of experience in developing and operating social enterprises. 
The VGCL delegation learned about the development, management and operation of SNTUC social enterprises to ensure sustainable development and benefits for trade union members and employees.
The guests also worked with the Amalgamated Union of Public Employees (AUPE), a social enterprise of AUPE and Singapore National Co-operative Federation.
The VGCL and the SNTUC agreed to step up specific cooperation, especially in supporting collaboration activities and sharing management experience among social enterprises.
Vietnam Red Cross enhances cooperation with IFRC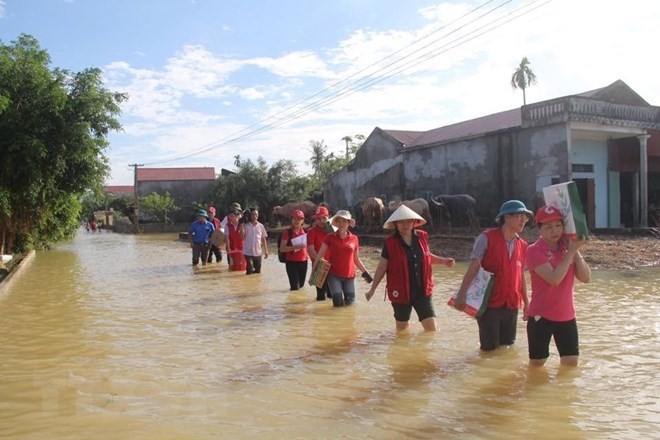 A delegation of the Vietnam Red Cross Society works in a flooded area 
The Vietnam Red Cross Society (VRC) Central Committee signed a cooperation agreement with the International Federation of Red Cross and Red Crescent Societies (IFRC) on July 19.
The signing ceremony was attended by VRC Chairwoman Nguyen Thi Xuan Thu and head of IFRC Country Cluster Support Team Bangkok Marwan Jilani, along with representatives from the German Red Cross and American Red Cross, among others.
VRC Chairwoman Nguyen Thi Xuan Thu said that since 1991, the IFRC has made contributions to humanitarian activities of the VRC, particularly in urgent aid projects, disaster prevention and response, as well as livelihood development programmes for disadvantaged people. 
The VRC highly valued the IFRC's assistance in humanitarian projects, she said, voicing her hope that bilateral cooperation will be strengthened.
For his part, Marwan Jilani said the IFRC will spare no efforts to work with the VRC, especially in technical support in relevant fields, particularly planning and implementation of projects.
On the occasion, the two sides discussed accomplishments in previous cooperation and issues for future activities.