VietNamNet Bridge – Every Friday morning, a group of women gather under the shade of trees in Quang Ba Park in Hanoi's Tay Ho District to practise a style of martial arts that might be new to some : Krav Maga.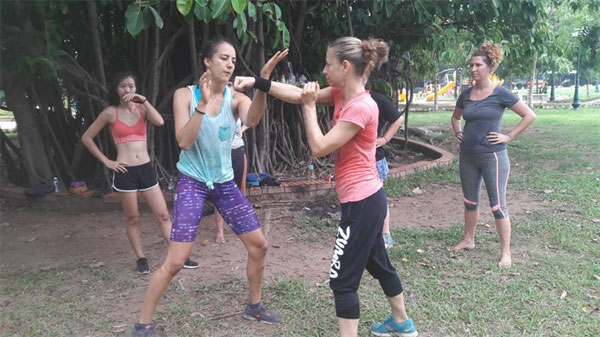 Fighters: Krav Maga equips the learners with self-defence techniques in threatening real-world situations, prioritising the efficiency and speed of fighting back. — VNS Photo Luong Thu Huong
Under the guidance of their instructor, Yuval Miodovsky, an Israeli expat based in Vietnam, they practise Krav Maga drills and techniques to handle threatening situations like being attacked face-to-face or grabbed from behind.
As a harmonious combination of various martial arts like boxing, aikido, karate and judo, Krav Maga equips learners with self-defence techniques for real-world situations, prioritising the efficiency and speed of fighting back. Originating from Israel, KravMaga literally means "contact-combat" in the Hebrew language.
The martial art, despite its popularity in Israel, is still new in Hà Nội and Miodovsky is among the first instructors to introduce Krav Maga here. The 24-year-old instructor has spent over 15 years practising Krav Maga and earned a black belt 1st Dan.
"I was introduced to the martial art by luck at the age of eight. It started as an after-school activity. I really liked it and kept going on. My instructor was master Ilan Fadlon who founded the Krav Maga Israel organisation or K.M.Il," she recalled.
Arriving in the country in August 2016, Miodovsky first settled in HCM City as a spinning instructor at a gym. She moved to Hà Nội in August 2017 and has been teaching Krav Maga and fitness ever since.
"I have been in Thailand, Laos, Cambodia and Europe a little bit but surprisingly, I have been in Việt Nam for the longest time," Miodovsky said.
Besides the out-door class in Quảng Bá Park, she also offers Krav Maga classes in a gym and yoga centre, and she works seven days a week. Each class normally lasts between 60 and 90 minutes.
"I teach Krav Maga because it is important for me to share and spread the knowledge. Especially when I'm outdoors teaching in the park, new members are welcome to join without a gym membership. I have my regular students here who love the class and have become my friends," she added.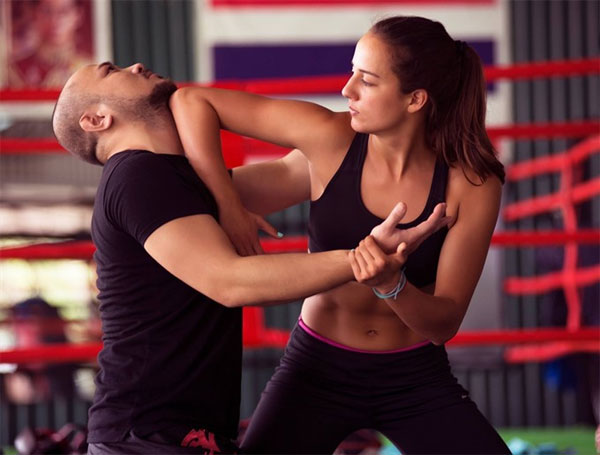 Learned: Yuval Miodovsky has over 15 years of practising Krav Maga and earned the black belt 1st Dan. — Photo courtesy of Song Hong MMA Gym
According to Miodovsky, everyone can learn Krav Maga, regardless of their age, gender and physical abilities.
It takes time to develop an understanding of Krav Maga techniques. Miodovsky said it takes at least 10 classes for each student to get familiar with the basics and obtain a good foundation.
"It's ideal to learn two to three times a week to feel the movement. It's hard to learn something from just one class. The more you do it, the better you get. Practice makes perfect," she continued.
As long as one understands basic Krav Maga, the benefits are really rewarding. Besides health improvement, the method will teach the trainees honour and respect for themselves and others. They might feel more calm, safe, confident, prepared and aware of their surroundings.
Though she teaches her students self-defence, Miodovsky has never had to use Krav Maga for her own safety.
"I feel very safe living in Việt Nam. Though it is not my country and I don't speak the language, I have made a home here and feel secure, even when I walk alone late at night," she said.
In addition to safety, what has made Miodovsky fall in love with the country are both the local and expat communities here.
"For the Vietnamese side, I'm proud and honoured to say that Vietnamese culture is very welcoming. The Vietnamese are incredible in the way that they want to learn and are open to changes and new things. The Western community here would not bloom and be successful if the Vietnamese culture were very strict. There are a lot of places and spaces for Westerners here. If you have a dream you want to achieve, I believe that Hà Nội is a very good place to start. Meanwhile, the Western community in the city is very open-minded to new experiences and share strong bonds," she said.
There are further benefits to mental and physical growth in the practice of  Krav Maga that are attracting an increasing number of both Vietnamese and expats in Hà Nội to Miodovsky's class.
"I learned about the class via Facebook," said Anemi Wick, from Switzerland, who has been practising Krav Maga for a few weeks. "Miodovsky is a really good teacher and instructor."
"I really enjoy outdoor activities such as Krav Maga at the park. People appreciate the social aspect of the practice. What I like about martial arts is that it takes your brain off anything else." 
By Lương Thu Hương
Source: VNS