VietNamNet Bridge – Maison Chance (Nha May Man, or Lucky House) is a non-governmental organisation that provides housing, healthcare and vocational training for orphans, street children, and the disadvantaged and physically handicapped in Vietnam. Along with its three centres in HCM City, the Maison Chance Shelter, Take Wings Centre and Village Chance, the NGO's fourth centre will open in the Central Highlands province of Dak Nong later this year. Phuong Mai reports.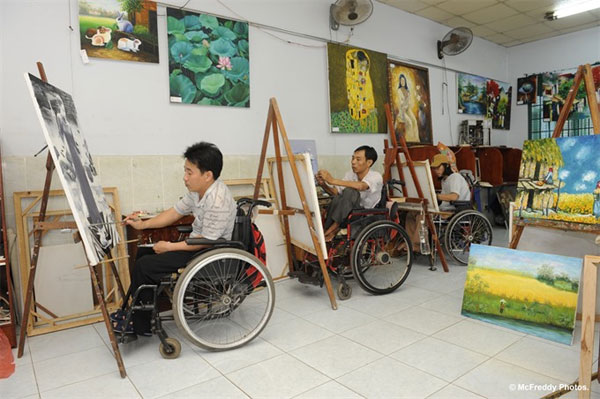 A painting class at Chap Canh (Take Wings) Centre in HCM City. Photo courtesy of Maison Chance
Maison Chance's new centre, to be located 25 kilometres from Buon Me Thuot City in the Central Highlands, is expected to become home for 250 children and adults with severe physical disabilities.
Founded in 1994 by Swiss painter Aline Rebeaud, Maison Chance has three other centres in HCM City. The centre in Dak Nong will house mostly quadriplegic children and adults, as well as people with cerebral palsy and polio, and children with autism or delayed development.
"Maison Chance's purpose is to help orphans and the physically handicapped integrate back into society," she said. "Quadriplegics especially need help. Unfortunately, very few spouses or partners are willing to accept a quadriplegic partner for all of their life." 
The rural location in Dak Nong, with its cool and quiet atmosphere, will be a nurturing environment for the residents, who are mostly from the countryside.
"I did not want to build a nursing home," the 45-year-old said.
Painting and computer classes will be offered at a Maison Chance centre in HCM City to selected residents who will later become trainers at the Dak Nong centre. 
Rebeaud said that she chose Dak Nong because it lacked a large social assistance centre and was not far from HCM City.
She received approval from local authorities who provided her with a three-hectare area to build the centre.
"The construction began two years ago and is expected to be completed by the end of this year," she said. 
The centre will include accommodations for residents, a school, an infirmary, a guesthouse for visitors, a 300-seat dining room, a heart-shaped swimming pool, and cafeteria.
At the centre, most of the food will be locally grown.
"We will plant vegetables, raise chicken for eggs and goats for milk, and will also have fish," Rebeaud said. "We'll breed dogs and horses who will be the residents' friends, too."
"Growing plants and raising animals will be beneficial for the residents," she said.
In the future, the area for vegetable cultivation will be expanded, offering jobs for ethnic minority members living in the region.
Eco-tourism activities, which will bring revenue to the centre, will also be launched in the future, according to Rebaund.
"We have 25 people now living in the centre, which is partly finished," she said. "We have different generations living together. So we want to show them love and a feeling of family at the Dak Nong centre."
Long journey
Rebaund, who is lovingly called Hoang Nu Ngoc Tim in Vietnamese, said that a chance encounter with a poor orphan in HCM City in 1993 changed her life.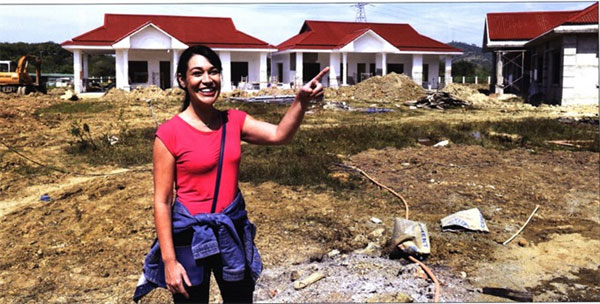 Tim Aline Rebeaud, founder of Maison Chance, at the construction of its fourth centre in Dak Nong Province, which is expected to be completed by the end of this year. Photo courtesy of Maison Chance
In 1994, she opened her first Maison Chance shelter in HCM City. She did almost everything by herself in the early days, from shopping and cooking to taking care of residents.
In 2006, she established the Chap Canh (Take Wings) Centre which specialises in vocational training.
The HCM City centre is now offering training in six fields, including painting, computing, handicrafts, table service, and baking.
Maison Chance's products include stuffed animals made of brocade, paintings, bamboo lamps, picture frames, and toys. The centre also offers computer services.
In 2011, she completed Lang May Man (Village Chance) with classrooms for kindergarten and grades one through five, a swimming pool, and a simple restaurant to serve people in the neigbouring area.
The village also has 40 apartments designed for families of people with disabilities.
Every year, the village welcomes dozens of tourist groups from Asia, Europe and North America who take part in community activities at the village.
The three centres in HCM City -- the Maison Chance Shelter, Take Wings Centre and Village Chance -- are located in Binh Tan District. 
Maison Chance's representative branches in Belgium, Canada, the US, France and Switzerland generate funds that ensure stability for the work done in Vietnam, according to Rebaund.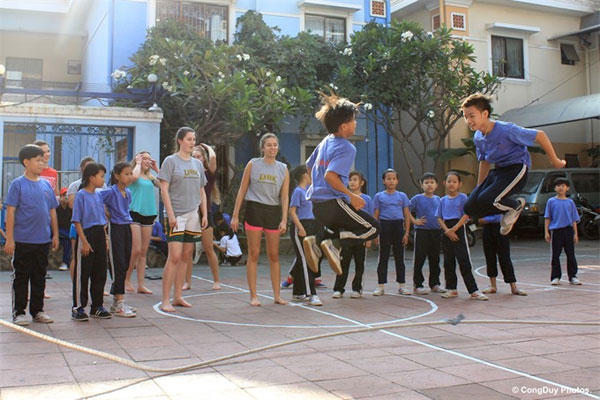 Foreign visitors take part in community activities with children at Village Chance in HCM City. Photo courtesy of Maison Chance
Source: VNS