VietNamNet Bridge – More than 13 tonnes of fish raised in cages along a section of the Da River in Thanh Thuy District, Phu Tho Province, died en masse over the past few days, incurring losses of up to VND2.6 billion (US$113,000).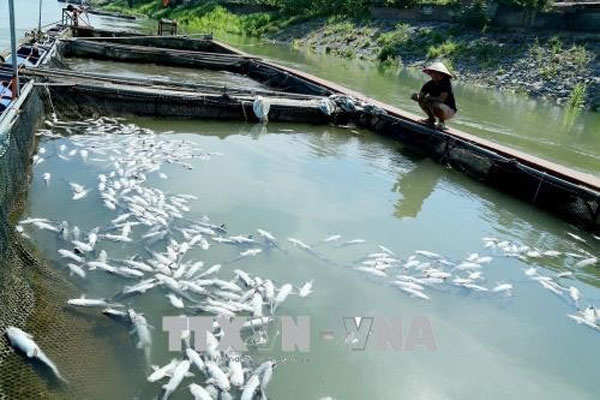 Caged fish die on the Da River in Phu Tho Province. — VNA/VNS Photo Trung Kien
The incident was reportedly caused by water released by two flood gates at the Hòa Bình hydropower plant early this week after torrential rain in northern areas.
According to Thanh Thuy District's People's Committee, as of 11am on Thursday, as many as 76 fish cages had been affected. Red rashes and refusal to eat were identified as symptoms before the fish died.
On Monday, two flood gates at the hydropower plant were opened as directed by the Central Steering Committee for Disaster Prevention. Since then, the number of dead fish has risen.
Bui Ngoc Thanh, a fish breeder in Xuan Loc Commune, owns seven fish cages, containing mainly tilapia, red tilapia, hemibagrus and carp. He found a number of them dead on Tuesday. His financial losses up until now have reaches VND700 million ($30,500).
"The damage caused by water released from the hydropower plant is bigger than last year. Last year, I lost VND200 million ($8,700). This year I stand to lose all the fish without knowing how to save them," he said.
Duong Tien Dung, another fish breeder in the commune, told Vietnam News Agency that his fish, weighing one to two kilos each, were about to be sold. The number of dead fish will increase.
"We were told the flood gates would open but could not sell the fish in time because they were still small. Besides, we didn't know where to relocate the fish because it's not a small sum," he explained.
Nguyen Thanh Tung, head of the Aquaculture Department of Phu Tho Province, said local authorities instructed fish breeders to move cages close to the river bank to minimise damage. Fish breeders should sell adult fish, while smaller dead fish could be fed to animals.
The Local Department of Agriculture and Rural Development has been asked to clarify and report on the total losses to the provincial People's Committee for further assistance for fish breeders.
The authorities are following the incident closely in case the hydro power plant continues to release water.
Last July, Hoa Binh Hydropower plant opened three floodgates to discharge water after torrential rain, killing 407 tonnes of fish raised in 413 fish cages on the Da River. This was the biggest loss of fish in Thanh Thuy District last year.
Source: VNS