VietNamNet Bridge – The morning glory plants stood unharvested.

Considering how popular a green vegetable this is across the length and breadth of Vietnam, it was strange that farmer Nguyen Manh Hong could not be bothered to cut and sell them.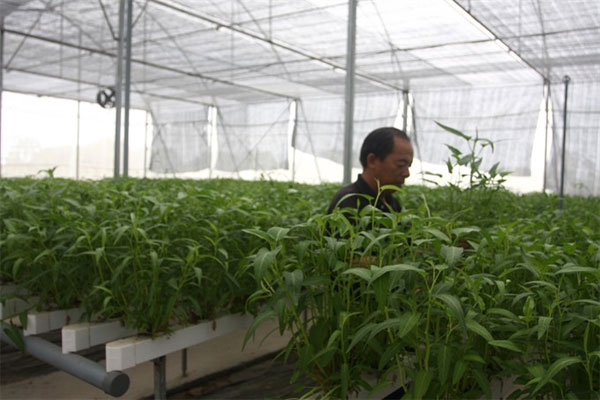 Nguyen Van Hong and the unharvested morning glory.—VNA/VNS Photo Thu Van
But Hong is a disheartened man these days.
It has been a year since he started growing clean vegetables in his 2,600 square-metre net house in Hanoi's Yen My Commune, Thanh Tri District.
When Hong decided to invest more than VND3 billion (US$130,000) in the net house along with other equipment, he hoped that the increase in demand for safe, organic products would deliver handsome returns.
But he has been brought down to earth by a combination of factors that defy simplistic analysis.
While there is demand for organic vegetables from increasingly health conscious customers, as also increasing recognition of the environmental benefits of organic farming, farmers in Vietnam struggle to sell and get a decent price for 'clean' produce.
One factor is that despite the significant demand, supermarkets will not take orders unless a farmer or group of farmers can deliver 300 kilograms daily.
So, for Hong, who can harvest 50 to 60 kilograms of vegetables a day at best, supermarkets are ruled out as buyers.
He can sell all of his produce to other retailers, but pricing becomes a serious problem.
"If you ask whether I can sell them all, yes, I can, but not at the same price," Hong said.
"A large portion of the harvested vegetables would have to be sold to traders for the same price as non-organic ones, which is often a third of what I should get," he added.
"I have been involved in farming all my life. I wanted to farm clean vegetables because I understand how much better it is compared to what many farmers in the city are doing. They want quick profits and use many kinds of harmful sprays, making their vegetables look good… but if we know how much chemical residues we're taking in from such vegetables, we wouldn't want to go back to it," he said.
Nguyen Thi Thoa, head of plants division at the Ha Noi Department of Agriculture and Rural Development, said they found that 95 per cent of organic vegetables grown in Hanoi are sold at low, wholesale market prices.
This is happening even as the capital city targets increasing the area of organic vegetable production to 300 hectares by 2020 to meet the increasing demand for safe and clean food.
Supermarkets are not interested in signing supply contracts without large-scale farms involved, but most households growing organic vegetables are small farmers, Thoa said.
Promises, promises
Even if farmers want to expand their production area, getting loans from banks is almost impossible.
"Even though the Government has said they would provide favourable conditions for developing organic and high-tech farming, banks' requirements are too hard to satisfy – they always ask for collateral, which is always tough for us. I've tried and never been able to borrow from banks," Hong said.
Bui Thanh Ha, another organic farmer in Thuong Tin District, Hanoi, recounted similar experiences.
"I've been to many conferences, talked to officials and raised the problems we small households face. They always say they understand and promise to help us find solutions, but nothing changes," she said.
"And because we're just doing small-size farming, consumption becomes a tough calculation for us. I still have to sell some of my organic vegetables at non-organic prices."
Hong said he was going to work out a way by himself.
"I'm trying to look for five to 10 regular customers. If I'm successful, I can deliver the vegetables to them two or three times a week. It might not be as stable as selling to supermarkets, but what else can I do?"
Missing links
Nguyen Xuan Dai, deputy head of the Ha Noi Department of Agriculture and Rural Development, said that building connections between farmers and banks and enterprises should be a major focus for the city's agriculture sector.
"We would also focus on launching building supply chains that connect the production stage and consumption stages in order to promote organic and high-tech agriculture products," he told Viet Nam News.
An agriculture expert who wanted to stay anonymous said "there's something wrong with the system."
"One of the reasons that farmers struggle is that there is no link between them and consumption units and or customers. Why can't they sell their products while it's true that people in the city are increasingly demanding for safe and organic vegetables? The problem is that both sides don't seem to be finding each other.
"The authorities should play an active role in connecting farmers and their consumers, given the fact that small-scale farmers are facing difficulties selling their produce to supermarkets.
"And they should issue better policies for organic farming, facilitate credit access, offer tax breaks and so on, if they really want to promote organic farming in the city."
Organise and negotiate
Meanwhile, Nguyen Trung Anh, Research and Development Director of The Pan Group, a pioneering agriculture and food group, said from an enterprise's point of view, farmers should be organised and directed properly.
"Farmers, if they stand alone, are weak, but if they are organised into a group or a co-operative where they have the same responsibilities and the same rights, and operate like an enterprise, then they can become a strong entity that can talk, negotiate with other enterprises.
Anh also emphasised the need for proper market information.
"There's a need for proper planning, not just spontaneous farming, if farmers want to succeed. At Pan Group, we have a strategy under which we choose products that have a wide range of markets and can make long-term profits.
"For instance, we've been planting and exporting flowers abroad. Vegetables are a bit harder since it's fresh food and perishable that needs extra storage and process requirements, but we've been working on it too, because the market for safe vegetables (incl. organic one) is huge," he said.
While the larger picture awaits resolution, amateurs may be pointing to some small but practical solutions.
Nguyen Hanh, a state employee in Hanoi, started growing organic vegetables with a few friends early this year on a 1,600 square metre plot in Dong Anh District.
"My initial plan was to grow these just for family members and relatives, but now we are able to supply to several families and a few stores as well," she said.
"I know doing organic farming in Vietnam is so difficult and challenging. It has to be done on clean soil without chemical fertilisers, pesticides, growth stimulants and preservatives. It takes a lot more effort (than conventional farming) and the productivity is much lower.
"Meanwhile, agricultural land in Hanoi has been severely poisoned by farmers using chemical fertiliser and pesticides indiscriminately for a long time; and water in many places is severely polluted," Hanh said.
But, she is happy that she has made a small start.
It is a small start that can make a huge difference.
Source: VNS