VietNamNet Bridge – Nearly 4,000 households in the Central Highlands province of Gia Lai's Krong Pa District have been using contaminated water.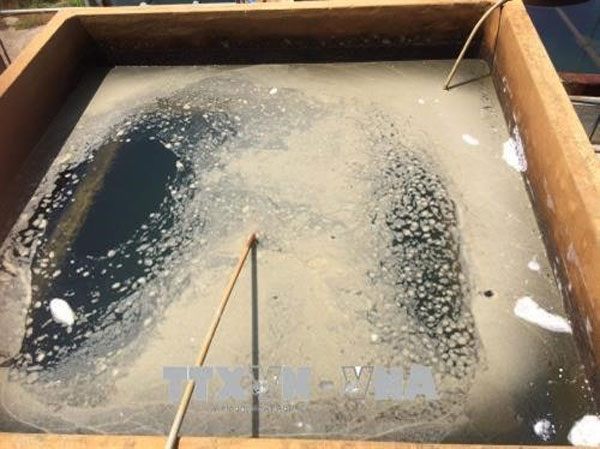 Scum forms in the filter tank of the Krong Pa water supply plant in Gia Lai Province. — VNA/VNS Photo Hong Diep
According to a recent report of the district's water supply plant, the level of iron present in the water is five times higher than the national standard. The contaminated water is mostly found in Phu Tuc township, Phu Can Commune and Kien Xuong Village in Chu Gu Commune.
According to vietnamplus.vn, water contamination started in May last year, but the water has still not been properly treated. 
In late 2017, the provincial Natural Resources and Environment Department took the water samples for testing. Results showed high levels of iron and manganese, exceeding the permissible limit.
In May this year, the water turned muddy, emanating a stink and forming dregs.
Vu Xuan Nam, a resident of Phu Tuc Township, said the water had been polluted for a long time but the local authority still did not find any solutions.
Local residents are buying canned water for drinking and cooking and are using tap water only for washing, Nam said. Many children get rash after using tap water. Using cloths to filter the water was the only thing local people could do.
The current water treatment technology of the water supply plant is unable to treat the contamination.
The plant's officers have recommended people not to use tap water for drinking and to filter the water before use.
Source: VNS