VietNamNet Bridge – Last month, a wave of public outrage swept the internet over a court's ruling to give a 78-year-old child sexual abuser a lenient 18-month probation sentence in the southern province of Ba Ria-Vung Tau.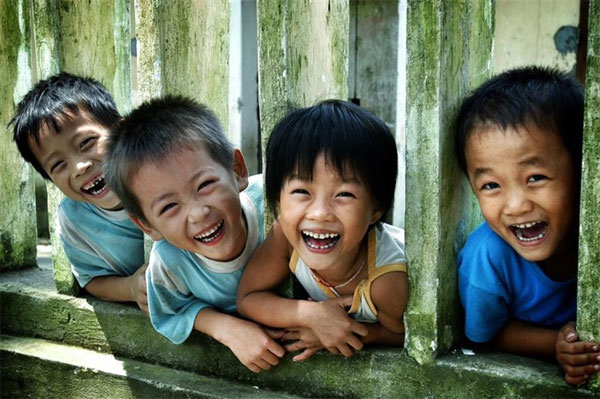 Children protection needs collaboration among public agencies, family and community. — VNS Photo Viet Thanh
The outcry led to an unprecedented move by HCM City's Supreme Court, which instead overturned the verdict and handed down a three-year jail sentence to Nguyen Khac Thuy.
However, many people still feel Thuy's sentence is not harsh enough given the pain he inflicted on the child and family.
Public concern over child abuse has been visibly growing in recent times.
"It's good that members of the public have contributed to revealing more and more sexual abuse cases. Technology and the media are helping people to capture footage and provide evidence for authorities to use," Ninh Thi Hong, deputy president of the Viet Nam Children's Rights Protection Association, told Viet Nam News.
Statistics from the Ministry of Labour, Invalids and Social Affairs (MOLISA), the Government body responsible for child protection, show that in the first five months of this year alone, 570 out of the reported 700 child abuse cases were of a sexual nature. 
Hoang Tu Anh, vice director of the Centre for Creative Initiatives in Health and Population, said that compared to the over 1,000 child sexual harassment cases reported by the ministry each year (and the actual number could well be higher), the number of cases that involved legal proceedings remained worryingly low.
MOLISA Minister Dao Ngoc Dung confessed that several cases related to child violence and harassment had not been properly dealt with.
Many of the weak sentences handed down for the sickening crime meet with public uproar.
For instance, a Grab bike driver in Hanoi was fined VND200,000 (US$8.7) for verbally  sexually abusing a nine-year-old girl.
In another tragic story, a predator in southern Tay Ninh Province showed no signs of fear after being named and shamed, and threatened to file a lawsuit against the victim's family after committing lewd acts with their six-year-old daughter who lived next door. Out of despair, the girl's father ingested pesticides to take his own life.
There are currently 17 State agencies responsible for child protection, but it is likely that "the victims' families are isolated", National Assembly (NA) Deputy Luu Binh Nhuong told Minister Dung during a recent NA question-and-answer session.
Tu Anh said that in many cases, it took a long time for verdicts to be handed down, and sometimes they were not even executed.
This raised questions about the competency and moral standing of legal and public agencies, she said.
"We need to review the investigation process. Only when laws are just and clear-sighted will we gain public trust and give victims the confidence to speak out," Tu Anh told Viet Nam News.
Regarding the country's legal system, Vijaya Ratnam-Raman, Children's Rights and Legal Adviser for UNICEF Vietnam, said that Vietnam had solid laws in place but those laws needed to be implemented effectively.
"A child in Vietnam is defined as under 16. It means that all the protection under the Law on Children does not apply to children who are 16 or 17. Therefore, potentially, there is a higher number of children experiencing sexual abuse than reported," he said.
Ninh Thi Hong said that the problem lay in the lack of co-operation among the agencies responsible for protecting children.
When a sexual harassment case is uncovered, the public security ministry launches an investigation, while other agencies are tasked with helping the victims. Each agency has an individual task but they lack collaboration.
"As no one of those agencies can solve the problem individually, it requires a multi-sector response," said Raman.
Dang Hoa Nam, head of the Childcare and Protection Department under MOLISA, claimed that the ministry always tried to protect victims' privacy as its first priority.
Besides the task of protecting victims' privacy, the Government has assigned MOLISA to work with judicial agencies to compile evidence for investigations, he added.
Responding to the question about child protection responsibilities among State agencies, Nam said that according to the Law on Child Protection, Care and Education, heads of commune-level and provincial people's committees where sexual assaults took place must take responsibility.
In cases where committees were unable to handle the incident, it should be reported to higher authorities or assistance should be sought from other localities or national agencies. If these localities or national agencies did not offer support, they must take responsibility, he said.
While the law states commune authorities should be dealing with the welfare of the victims and their families, Raman shared many communities did not have professional social workers.
"While the existence of specialised personnel working in social welfare is critical for adequate child protection, this level of expertise is still a big gap," he said.
Public-private collaboration
While public agencies are failing to reinforce policies or come up with effective solutions to protect children, some individuals and groups have stepped in.
Stressing the need for a community-based approach to preventing sexual harassment, Phạm Minh Anh, a trainer at Lon len an toan (Grow Up Safely), a social initiative, said that tight collaboration between schools, families and the community was essential for a child's development.
Lon len an toan was set up using $10,000 from the US Embassy in Hanoi. The initiative has helped raise sexual abuse awareness prevention among nearly 1,200 primary school students in the northern highland region, including Ha Giang Province and Lao Cai Province, over the last two years.  
Through engaging and interactive games, the project's trainers, mostly university students, gently convey insightful lessons about self-love, respect of privacy and sexual harassment prevention to the children.
Besides the actual lessons, they also have an official Facebook page so that parents can teach their children at home.
"We keep it low-key. For children in the northern highlands, we start by teaching them about body parts, and how to take care and love themselves. Child sexual abuse prevention should always come last," Minh Anh said.
"A checklist for parents before they post photos of their children on the internet, for example, is important to protecting children from sexual harassment, though it is usually neglected," she added.
Public agencies have also showed interest in the project.
According to Anh, the team had worked with Hanoi's Trung Liet Ward People's Committee to conduct a similar programme for children in the area.
The collaborative efforts have cemented their beliefs that the impact of public-private partnerships can prevent children from being abused.
"The Government has several mechanisms in place to protect children. However, the question remains how to use these mechanisms effectively. We need to enhance collaboration between schools, families and the community to avoid any harm happening to our kids," said Minh Anh.
More pragmatic investment
Sharing the same frustration, Tu Anh used the national children protection hotline 111 as an example, saying that due to overloading, one of her acquaintances had struggled to connect to an operator.
She suggested the hotline should be publicised by the media during peak hours.
The responsibilities of public child protection agencies should also be made public so that the public can supervise their operations and effectiveness, she said.
To improve child protection efforts, the funds raised by charities and action months should be invested specifically in children and the people working directly on child protection.
UNICEF's Raman suggested Vietnam should invest more in terms of budget and capacity building to respond to child sexual abuse.
"Moreover, professionals including social workers, teachers, doctors and nurses need to be trained with skills in dealing with children and the State budget needs to be allocated in order to make those measures effective," he said.
"Silence allows violence to continue. Therefore, efforts should be made to encourage communities, families and children to speak up against all violence against children," he added.
"Around the world, what countries realise is that once a child is sexually abused, the damage has been done. Therefore, if you invest in child violence prevention, stopping it before it happens, it will be the more effective usage of resources and also beneficial to the children, families and communities," he concluded.
June, the national child protection action month, is now coming to an end, but all we have seen is people riding bicycles waving banners about child protection.
However, it has been proven that these efforts simply do not raise public awareness about the issue.
Something practical has to be done, and done immediately, to prevent any violence from being inflicted on our children before it is too late. 
Source: VNS