As many as 2,000 children in Vietnam died every year from drowning, the highest rate in South East Asia and 10 times higher than developed countries.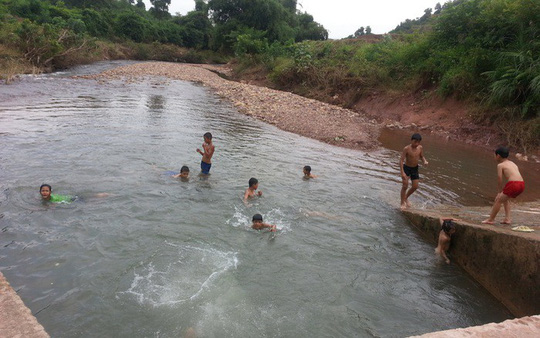 Illustrative photo. Public awareness about water safety is still low in Vietnam
The Ministry of Labour, Invalids and Social Affairs worked with Bloomberg Philanthropists, World Health Organisation, and Global Health Advocacy Incubator to hold a conference on June 26 about implementing a five-year swimming and water safety programme in Vietnam.
Deputy Minister Nguyen Thi Ha said the number of children died from drowning was still very high with an average of 5.5 children died in Vietnam every day. Drowning is also the leading cause of death for children.
On June 25, two children fell and died when going out to Thu Bon River while looking for clams in Quang Nam Province. On the previous day, two boys in Thanh Hoa Province drowned after swimming in a lake. In early June, a five-year-old boy jumped and drowned in a pool in Hanoi while his mother was talking with the swimming teacher.
According to many experts, local awareness about drowning is still limited. Parents, especially those in disadvantaged areas, can't monitor their children closely enough. Vietnam also lacks swimming teachers, facilities and compulsory courses for children even though many people like to swim in the lakes.
Kelly Henning, head of the public health program of Bloomberg Philanthropies, announced that they would give a USD2.4m fund for the first two years of the programme. 
Lao Cai, Yen Bai, Ninh Binh, Quang Binh, Thanh Hoa, Dak Lak, Dong Thap and Soc Trang provincial authorities will be provided with methods to ensure the safety of children under five years old. A swimming programme will be provided to children from six to 15 years old. 
The programme also aims to raise public awareness about the danger of children drowning as well as preventative methods.
Nguoilaodong/dtinews