VietNamNet Bridge – A resident of Hanoi's outer district of Chuong My has been providing ambulance services for his neighbours and strangers for the past 20 years.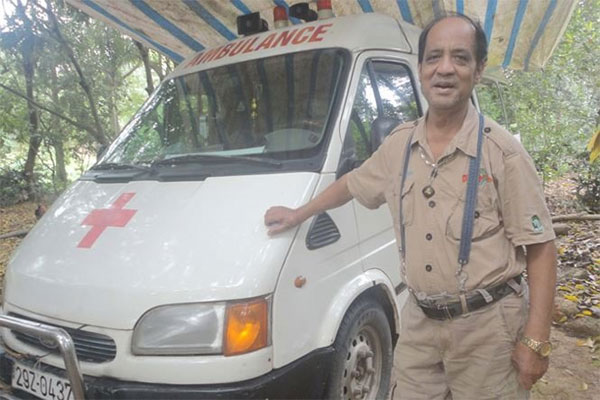 Vuong Van Thanh stands beside one of his ambulances. — Photo tienphong.vn
Vuong Van Thanh used to serve in the car squadron that delivered necessities to the army during the Vietnam War.  In 1990 he retired, bought a van of his own and started delivering passengers on short routes from his hometown to Ha Dong District.
It was during this time that he started picking up sick strangers on the road and taking them to hospitals. One of his first passengers was a woman whose child was suffering from severe asthma.
"She was waving at me from the side of the road with such a desperate look on her face," Thanh recalled. "The child's skin had turned purple by the time they got into my car, and she was breathing heavily."
Thanh rushed them to a local hospital for emergency treatment, and never asked them to pay for the ride. Since then, once in a while, he has helped deliver sick and injured locals to hospitals. In 1995 he had made a name for himself as the local 'ambulance driver'.
"People always called me when there were road accidents, so many times that I could no longer maintain my transportation service," Thanh said.  
But that did not disappoint him. Thinking the new occupation suited him, Thanh decided to make a career change and modified his van, externally and internally, turning it into a real ambulance.
"I lost a steady source of income with the new job. But I felt happy even when I had nothing to do, because it meant no one was hurt or injured," he said.
Thanh made do with the meagre payments from relatives of the victims he helped.
He went out of his way to help in road accidents by delivering not only the victims but also the bodies of dead victims to hospitals. For this, he had to buy another van.
"At first I was scared of being so close to dead people, but then I got used to it," he said.
"Sometimes I was more scared of the living than the dead," he added, referring to the time when he got a knife put to his throat by a drugged young fellow who he was taking to a local hospital.
"He was trying to steal my van," Thanh said. "I gathered all my courage to push him away and screamed at the top of my lungs for help until he gave up and jumped out of the vehicle."
Nothing good ever comes out of helping this type of people, he added. "But I will keep doing my job, whenever I get called," he said.
Le Thi De, the mother whose child almost died from severe asthma some 20 years ago, said she will be forever grateful for his act of kindness.
"My daughter would have died if it had not been for his ride," she said. "I don't know how I will ever be able to repay him for that."
Thanh's compassion has been passed onto his adopted daughter. Now 18, Vuong Xuan Mai said she wants to take on his job as an ambulance driver. 
"He didn't allow me to," she said. "He was afraid I would have to endure hardships like him, and kept telling me to study harder."
"Two years ago I started tagging along whenever he was called on a job," she added. "At home I help him clean the ambulances and stretchers."
In 2017 Thanh was honoured by the Ha Noi People's Committee for his good work. But no one understands the flip side of glory as much as his wife, Le Hang.
"Sometimes I woke up during the middle of the night to welcome him home from a free emergency ride that he generously offered," she said. "Then we had to wash the blood out of the ambulances before it dried."
"I used to feel sad, but he said: 'It feels so good to be able to help people who are down on their luck', and that put me at ease," Hang said. 
Source: VNS