Former Chairman of PetroVietnam Construction JSC (PVC) Trinh Xuan Thanh used money from the company's project to build his own villa in Tam Dao District, Vinh Phuc Province.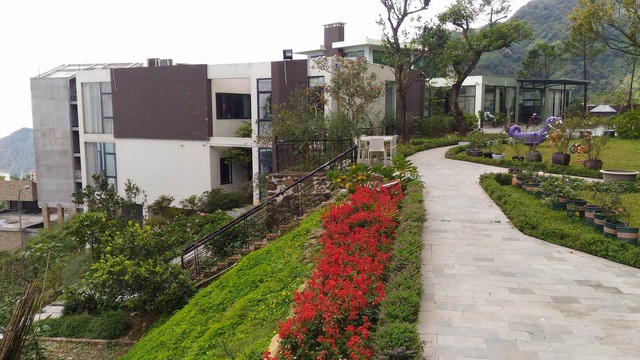 Huge villa in Tam Dao
When Trinh Xuan Thanh was the chairman of PVC, he agreed to let PVTex, one of the subsidiary companies, hire Kinh Bac Petroleum Construction and Investment JSC (PVC-KBC) to do some constructions at the VND7trn (USD308m) Dinh Vu polyester plant project. 
Do Van Hong, chairman of the PVC-KBC asked for VND25bn (USD1.1m) in advance money and was approved by Thanh. In reality, VND23.8bn was used to buy 3,400 square metres of land in Tam Dao. PVC-KBC then transferred the land to Mai Phuong Company which belongs to Thanh's father, Trinh Xuan Gioi. 
Thanh later completed procedures to make the advance money become PVC's investment into PVC-KBC.
He built a huge villa said to be worth millions of USD include a swimming pool, a cinema and grounds. 
A local hotel owner said, "This villa was very famous since it was built five to six years ago as no-one we knew had so much money to spend."
He went on to say that the locals called the villa The Oil Building because it was bought by an oil company before being sold to another party. 
The owner and his cars came to the villa during the weekends. When being asked about the villa in 2016, Tam Dao Town Vice Chairman Tran Quang Tha claimed he didn't know who the owner was.
The Ministry of Public Security asked the provincial authorities to report immediately if they detected any transactions related to the villa and land.
PVTex was established in 2007 to construct the Dinh Vu polyester plant with investment co-operation between the Vietnam Oil and Gas Group (PVN) and the Vietnam Textile and Garment Group (Vinatex). 
It was supposed to be the first polyester plant in northern Vietnam with a capacity of 500 tonnes per day, over VND5.43trn (USD237m) investment and was expected to recover the investment in eight years. 
However, the total investment was later adjusted to VND7trn and the plant incurred more than VND1.47trn in losses after two years going into operation. It has stopped working since late 2015.
According to the Government Inspectorate, there are many reasons led to the losses such as turbulent input prices, high interest rates and lack of customers. 
But PVN and Vinatex both must take responsibility for being unable to manage the plant and deal with the inflated spending.
In 2013, PVN was ordered by the prime minister to cut its share in PVTex from 56% to 36%. However, the capital ratio actually increased to 75% after some decisions from PVN and the Ministry of Industry and Trade.
PVTex failed to properly evaluate costs and spending. The inspectorate also found many violations in contracts for equipment purchases which resulted in faulty equipment, a long pilot period and low-quality products. 
The inspectorate proposed transferring the case to the Ministry of Public Security.
Hanoi People's Procuracy proposed a life sentence to Trinh Xuan Thanh, former Chairman of the Board of Directors of PetroVietnam Construction Corporation (PVC) on January 25 on the charge of embezzlement at PetroVietnam Power Land JSC (PVP Land).
Dtinews