VietNamNet Bridge – Health insurance coverage for people with HIV has increased, but many are still out of the net, the Viet Nam Administration of HIV/AIDS Control has said.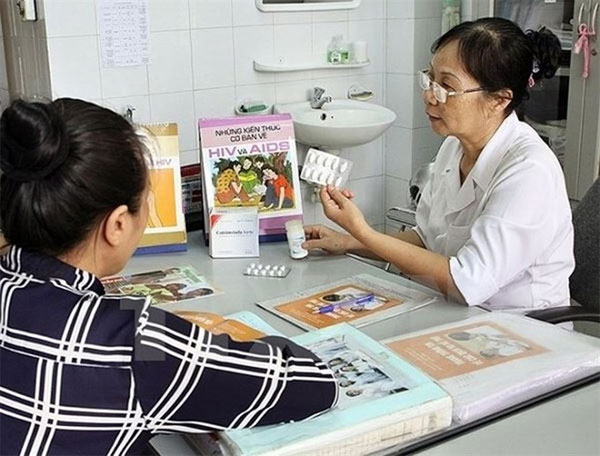 The Ministry of Health aims to ensure everyone with HIV in the country has health insurance by 2020. —VNA/VNS Photo
People with HIV need health insurance, which will cover the cost of their anti-retroviral (ARV) drugs after 2018 when international donors end their sponsorship.
They need to take ARV drugs for the rest of their life, with the average cost being nearly VND20 million (U$877) a year.
At a conference on ensuring patients can afford to buy ARV drugs held yesterday in the Mekong Delta City of Can Tho, delegates said helping people with HIV get health insurance is the long-term solution.
Duong Thuy Anh, the administration's head of finance and accounting, said the insurance coverage was 84 per cent last September but fell to 83.4 per cent this March.
In Hanoi and the provinces of Cao Bang, Bac Kan, Lang Son, and Ca Mau, everyone with HIV has health insurance.
In 30 provinces, more than 90 per cent are insured.
The Ministry of Health's goal is to achieve 100 per cent coverage by 2020.
But Anh said it is difficult to achieve the goal because nearly 10 per cent do not have personal papers, which are required to buy health insurance. Besides, many cannot afford health insurance, she said.
Deputy Minister of Health Nguyen Thanh Long said since health insurance covers HIV treatment, provinces and cities need to ensure all patients are covered soon.
The health ministry would soon amend regulations to ensure all patients can buy health insurance, he promised.
Suc Khoe & Doi Song (Health & Life) Newspaper cited figures from the administration saying there are nearly 250,000 people with HIV in the country but more than 50,000 do not know their status.
They are considered potential sources of transmission.
Source: VNS