VietNamNet Bridge – High temperatures during the day followed by heavy rains and thunderstorms in the late afternoon or at night have made people exhausted, leading to an increase in the number of patients with summer ailments.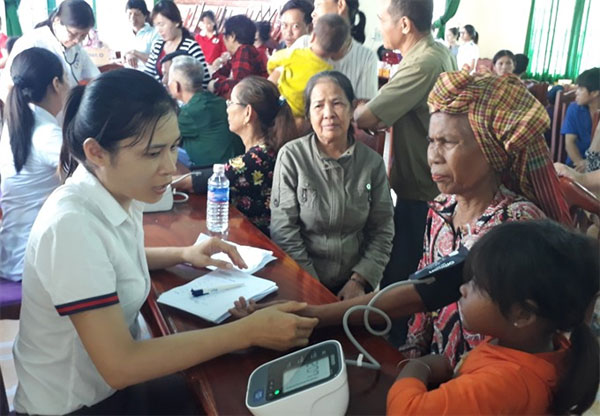 Elderly people are among the most vulnerable to heat-related ailments. – VNA/VNS Photo Duong Chi Tuong
According to the National Centre for Hydro-Meteorology Forecasting, the peak of this year's hot season falls in May, June and July, with temperatures reaching up to 40 Celsius degrees.
This year's first significant hot spell that affected the northern region arrived in the middle of last month. It also caused high temperatures in provinces from central Thanh Hoa to south central Phu Yen.
Early this week, northern provinces and mountainous areas experienced temperatures of up to 34-36 degrees Celsius. Some areas had temperatures rise in excess of 36 degrees Celsius, including Thai Binh (36.4), Nam Dinh and Hoi Xuan in Thanh Hoa Province (36.2), Tinh Gia in Thanh Hoa (37.2), Con Cuong in Nghe An Province (36.6), Nam Dong in Thua Thien-Hue Province (36.5) and Quang Ngai Province (37.1).
The hot spell yesterday continued spreading over northern provinces, north-central and the central region with temperatures of up to 37 degrees Celsius or higher in some areas.
The hot spell is expected to affect provinces of Son La, Hoa Binh and northeastern provinces today. From midday to 4 pm, temperatures are forecast to reach over 35 degrees Celsius.
"I'm afraid of this hot weather," Nguyen Khanh Anh, 33, of Hanoi's Hoang Mai District said, adding that almost all members of her family felt unwell because of the weather.
"I worry about getting burned when I go out, especially at noon or in the early afternoon," she said, adding that her children and elderly relatives spent almost all day in air-conditioned rooms.
High temperatures, long and intense hot spells create conditions for bacteria and viruses to develop and cause harm to humans.
Since the start of summer, hospitals in northern provinces have experienced overcrowding. A majority of young patients suffer from respiratory or digestive diseases. Meanwhile, elderly patients suffering from high blood pressure, diabetes and cardiovascular diseases, have seen their ailments worsen due to the hot weather and have had to be hospitalised for treatment.
Hoang Duc Hanh, vice director of Hanoi's Health Department said that the virus causing hand-foot-mouth disease could develop during hot weather. Within the last week, 86 cases of the hand-foot-mouth disease were detected in the city, pushing the total number of cases since the beginning of this year to 744.
Doctor Do Thien Hai, vice head of the Infectious Diseases Department under Viet Nam National Hospital of Pediatrics said that the department had received and treated more than 100 hand-foot-mouth cases.
Most of the cases were not serious but the disease could develop fast within a few hours, Hai said.
"Without timely detection and treatment, hand-foot-mouth disease could lead to stroke, Encephalitis, meningitis, Myocarditis (inflammation of the heart muscle) or death," he said. 
Head of Intensive Care Department of Hanoi's Hospital E, Vu Duc Dinh said that when working in environment with temperature of over 32.2 degrees Celsius for periods of three or four days, people can suffer exhaustion and faint. 
"Many people get exhausted because of hot weather and suffer from thirst, tiredness, headaches, nausea and fainting," he said. 
Doctors also warned about an increase in skin diseases during sunny and hot weather, especially among children with rashes due to insect bites or dermatitis. 
Do Trung Dong, director of Ha Nam General Hospital said that the hospital also receives an increased number of patients during these hot days, with at least a 20 per cent increase over cooler months.
Many cases relate to food poisoning because of spoiled food or contaminated ice used in drinks. 
Notably, the hospital received about 20-30 patients who were injured after drinking too much alcohol. 
Source: VNS