Son La: 20 bricks of heroin, 17,000 synthetic pills seized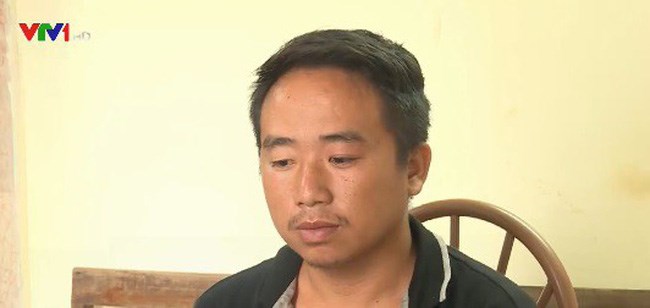 Ly La was arrested for carrying 20 bricks of heroin from Laos to Vietnam. (Photo: VTV)
A man carrying 20 bricks of heroin was arrested on June 12 in Chieng Khuong village, Chieng Khuong commune, Song Ma district, the northern mountainous province of Son La. 
The arrest was carried out by the provincial police in collaboration with the Chieng Khuong border guard station and customs.
The arrested is Ly La or No La, born in 1992, and resides in Long Ku village, Vieng Say district, Houaphan province of Laos.
Ly La said he was hired by a strange man to transport the drug from Laos to Vietnam.
On June 11, the Son La police and relevant authorities arrested Mua Thi Keo, born in 1996, for illegal trade of drugs, seizing 17,000 synthetic drugs and related evidence. Keo resides in Vieng Say district, Houaphan province of Laos.
The cases are under investigation.
Kien Giang strives to recover, develop coastal protection forests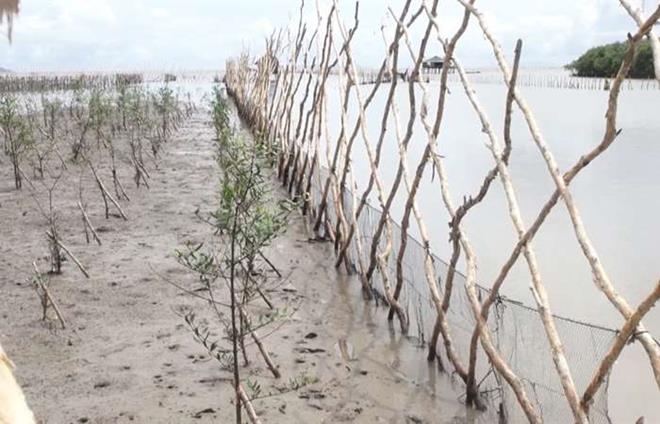 Kien Giang province has gained initial encouraging outcomes in recovering and developing its coastal protection forests amid coastal erosion and climate change worsening across the Mekong Delta region (Photo: thst.vn)
Kien Giang province has gained initial encouraging outcomes in recovering and developing its coastal protection forests amid coastal erosion and climate change worsening across the Mekong Delta region.
According to the provincial Department of Agriculture and Rural Development, Kien Giang has a 200-km coastline, stretching from Mui Nai in Ha Tien township to Tieu Dua of An Minh district.
The eroded sections are about 70km long in total, accounting for more than one-third of the coast length, seriously affecting local people's production and daily life. Kien Luong, Hon Dat, An Bien and An Minh districts record the most severe coastal erosion.
Facing this problem, 13 projects have been built in Kien Giang to protect the marine environment, prevent coastal erosion and natural disasters and respond to climate change between 2016 and 2020. 
Among them, the project on recovering and developing coastal protection forests has initially generated positive outcomes. It has been carried out along the 60km-long coast from Mui Ranh in Tay Yen commune, An Bien district, to Tieu Dua canal in Van Khanh Tay commune, An Minh district.
Tran Phi Hai, Director of the An Bien – An Minh forest management board, said two sub-projects are underway to recover and develop protection forests long the coast and create the ground for planting submerged water plants to protect sea dykes. Coastal alluvial grounds have been afforested with about 290 hectares of "mam" (Avicennia) and 88 hectares of "duoc" (Rhizophora apiculata) trees.
At least 85 percent of the newly planted trees have survived, helping to recover coastal protection forests and reduce coastal erosion. These forests have also helped speed up sea encroachment and protect forestry and fishery production behind the protection forests, he noted.
Hai added his management board also surveyed areas subject to the afforestation along the An Bien – An Minh coast. Accordingly, eligible areas will be planted with Avicennia trees, a species able to keep land and create alluvial grounds to support the development of other submerged plant species like "duoc" (Rhizophora apiculata), "ban" (Sonneratia caseolaris), "su" (Aegiceras corniculatum) and "vet" (Bruguiera gymnorrhiza).
Meanwhile, bamboo or cajeput barriers will be erected on the edge of vulnerable areas to create alluvial grounds for planting Avicennia trees.
Aside from these two sub-projects, the An Bien – An Minh forest management board will also implement some other projects funded by the World Bank and the KfW bank of Germany. These projects also aim to recover and develop coastal protection forests in the two districts.
Binh Thuan ensures safety for tourism activities
The People's Committee of the central coastal province of Binh Thuan has instructed relevant agencies and localities to ensure security, order and safety for tourists in the province, said a local official. 
Vice Chief of the Office of the People's Committee Vo Thanh Huy said on June 12 that communication work has also been stepped up so that tourists will not be incited to participate in activities affecting security, and social order and safety. 
The provincial Department of Culture, Sports and Tourism has sent a document to the tourist association and notices to tourist accommodations and sites, asking them to reinforce security to absolutely protect property and life of holiday-makers on major tours in the locality.
Security guards and fire fighters have been increased to promptly deal with unexpected situations, ensuring safety for vacationers and assets of businesses. 
The south central coastal province of Binh Thuan aims to develop sustainable tourism to become a national and regional tourism attraction.
It has 192 kilometres of coast with beautiful beaches, landscapes, clean environment, national historical – cultural relics and festivals.
As of the end of 2017, the province had 390 tourism projects, worth 63.5 trillion VND (2.79 billion USD), covering 7,400 hectares.
It is home to more than 300 tourist accommodations, with 11,000 rooms and over 500 villas and apartments for tourists.
The locality expects to welcome around seven million tourists by 2020, contributing 10 percent to provincial GRDP. 
USAID-funded project helps minimise plastic waste in Thua Thien-Hue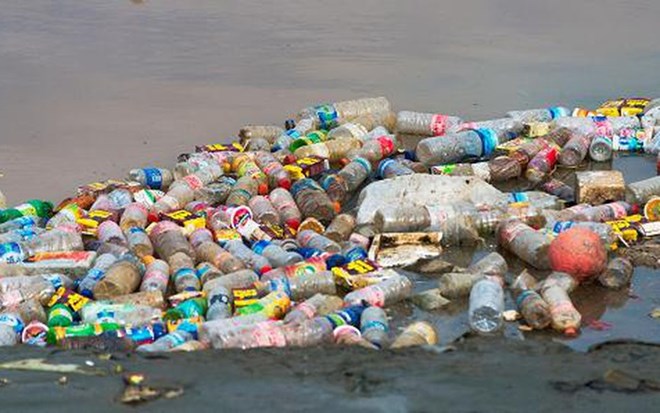 The US Agency for International Development (USAID) has provided a non-refundable assistance package worth 53,858 USD for the central province of Thua Thien-Hue to implement a project to recycle urban waste.
The two-year project aims to improve the ecological environment and minimise pollution caused by plastic waste in Hue city, rivers and coastal areas of the province. 
It is also hoped to contribute to raising public awareness of negative effects of plastic waste on the environment, as well as the importance of promoting efforts to protect the environment.
The project features a workshop on measures to reduce waste on Huong River and waterways, campaigns to collect waste on local beaches, a waste classification programme, and contests to gather initiatives for protecting the environment. 
Previously, Truong Son Xanh (Green Annamites) Project, also funded by USAID with total investment of nearly 10 million USD, was launched in Thua Thien-Hue on April. 
The project supports the locality in protecting the region's globally significant biodiversity and help local and ethnic minority communities to diversify and improve their livelihoods.
It targets improving the livelihoods of 20,000 forest dependent people and the biodiversity of over 400,000 hectares of natural forest, mobilising at least 20 million USD in public and private resources for sustainable livelihoods and forest conservation, and avoiding and/or removing the equivalent of at least 7 million metric tons of carbon dioxide from the atmosphere.
Over 1,500 delegates to attend Hanoi 2018 conference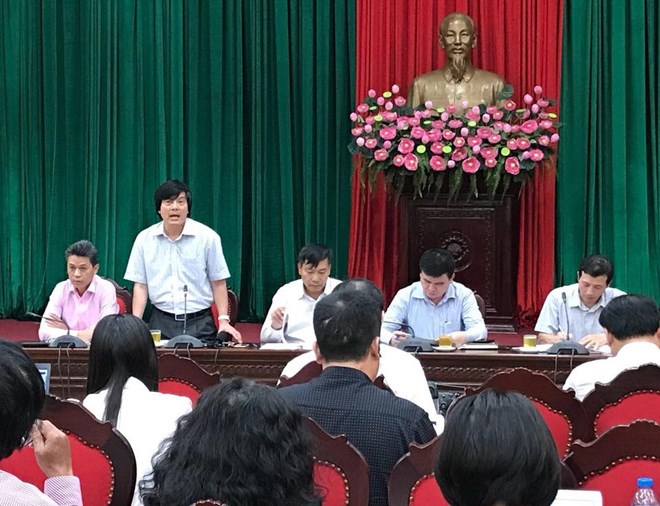 Vice Director of the Department of Information and Communication of Hanoi Nguyen Minh Khanh speaks at the press conference (Source:http://hanoimoi.com.vn)
Over 1,500 delegates, including Government, ministry, sector and locality leaders, representatives from international organizations and diplomatic agencies, investors, and businesses are expected to attend the conference "Hanoi 2018- Cooperation, Investment and Development".
The conference is scheduled for June 17, Vice Director of the Department of Information and Communication of Hanoi Nguyen Minh Khanh said at a regular press conference of the Hanoi Party Committee on June 12.
At the conference, ministry, sector, industry, and locality leaders and businesses will work to seek to attract investment into Hanoi, together with discuss joint projects, regional connectivity, and Hanoi's leading role in steering the development in other regions.
The capital city will review its cooperation outcomes with other provinces and cities in 2016 and 2017 and will introduce its key goals and projects calling for investment in the 2018-2020 in Hanoi and other provinces and cities in the region.
At the conference, memorandums of understanding on cooperation in smart city building, tertiary education, high-tech agriculture, healthcare, tourism and environment and investment certificates will be handed over while individuals, organizations and local and foreign businesses having contributed to spurring Hanoi's socio-economic growth and regional connectivity will be honoured.
Through the conference, Hanoi's authority will continue affirming their effort to unceasingly improve the investment environment in compliance with the international integration process, provide the best optimal conditions for investors and businesses' long-term operations, and seek to create connectivity between the city and the northern key economic region, the Hong (Red) River delta and Capital regions.
Short-film making contest on illegal wildlife trade launched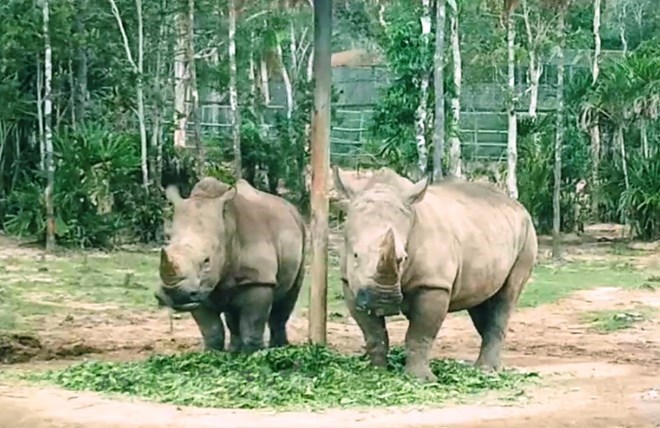 The UK Government, in conjunction with the Luang Prabang Film Festival, the World Wildlife Fund (WWF) and the Wildlife Conservation Society (WCS), has launched a short-film making contest on illegal wildlife trade, said the UK Embassy in Vietnam on June 12. 
The contest aims to raise awareness of the public and policy makers of the importance of protecting endangered species, thus increasing specific actions to protect wild animals as well as of devising relevant sustainable and long-term measures for countries along the Mekong River. 
It is available for all filmmakers in the region, with each entry will not be over 6 minutes. 
The best filmmaker will be awarded a prize worth 5,000 USD, and be invited to attend the International Conference on Illegal Wildlife Trade in London in October and the Luang Prabang Film Festival in December. 
Apart from professional filmmakers, students are also encouraged to participate in the contest as youths play an important role in creating changes. 
More information about the contest can be found at 
http://www.lpfilmfest.org/content/IWTMekong.html
The deadline for submission is August 15, 2018.
Ministry submits plan to give presents to revolutionary contributors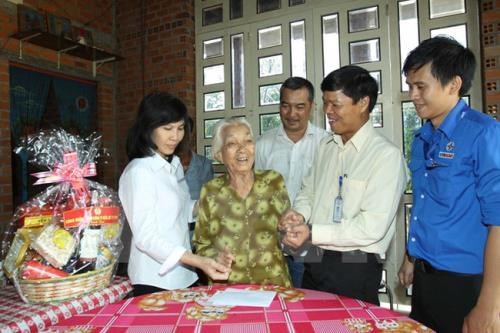 The Ministry of Labour, Invalids and Social Affairs (MoLISA) has proposed a plan on giving presents to people with meritorious services to the country's revolution on the occasion of the 71st anniversary of War Invalids and Martyrs Day (July 27). 
Under the plan, which will cost more than 355.4 billion VND (over 15.5 million USD), gifts worth 400,000 VND (17.5 USD) each will be presented to Vietnamese heroic mothers; war invalids and sick soldiers who have lost 81 percent or more of their working capacity; veteran revolutionaries who lost 81 percent or more of their working capacity due to exposure to toxic chemicals during the war; and fallen soldiers' next of kin who enjoy monthly daily living allowances. 
Meanwhile, gifts worth 200,000 VND (nearly 9 USD) each will be distributed to war invalids and sick soldiers who have lost 80 percent or less of their working capacity; veteran revolutionaries who lost 80 percent or less of their working capacity due to exposure to toxic chemicals during the war. 
Prime Minister Nguyen Xuan Phuc authorized the Minister of Labour, Invalids and Social Affairs to submit the plan to the President for approval.
The total amount of money for the gifts donation will be sourced from the 2018 State budget.
More than 100 works win 12th National Press Awards
Standing Vice Chairman of the Vietnam Journalism Association Ho Quang Loi (L) at the press conference (Photo: kinhtedothi.vn)
As many as 105 media works winning the 12th National Press Awards 2017 will be honoured at an award ceremony in Hanoi on June 21, the Vietnam Revolutionary Journalism Day.
The winning works include eight A prizes, 25 B prizes, 43 C prizes and 29 consolation prizes, heard a press conference in Hanoi on June 12.
According to Ho Quang Loi, Standing Vice Chairman of the Vietnam Journalism Association and Vice Chairman of the Council of the National Press Awards 2017, the council decided to raise the prize values from the 2017 season, with each A prize winner receiving up to 100 million VND (4,400 USD).
The 12th National Press Awards attracted 1,753 entries from 155 press agencies and individuals across the country.
There was no big difference in the quality between works of central and local press agencies, Loi said, noticing that reportages and documentaries made by local reporters were highly appreciated.
Regarding the 2018 edition, Loi underlined that a special prize will be chosen from A prizes and it will be kept secret until the award ceremony. A confidential group of critics will be set up to give further evaluation of the works entering the final round.
After 12 years of organisation, the National Press Awards has attracted the proactive participation of press agencies and journalists nationwide. The event aims to honour authors and group authors with excellent media works.
Two more prosecuted in Đông Á Bank case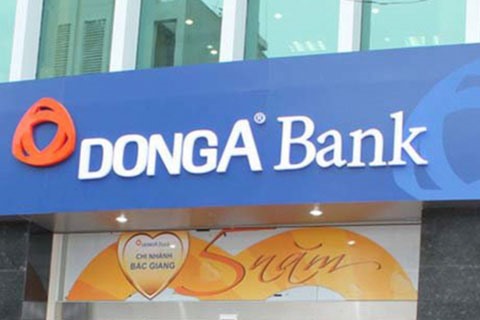 The Ministry of Public Security announced yesterday legal proceedings against two more people related to the ongoing Đông Á Bank corruption case.— Photo thoibaonganhang.vn
The Ministry of Public Security announced yesterday legal proceedings against two more people related to the ongoing Đông Á Bank corruption case.
The newly-announced proceedings were against Phạm Văn Phước, former director of Nam Định Food Joint Stock Company, for "abusing position and power to appropriate properties", and Nguyễn Thị Cúc, former head of Đông Á Bank's Control Unit, for "lack of responsibilities causing serious consequences." Phước has been detained for investigation while Cúc has been forbidden from leaving her residential area.
The Đông Á Bank case is under the supervision and instruction of the Central Steering Committee on Anti-Corruption. The case has led to legal proceedings against 25 suspects and confiscated property worth VNĐ2.8 trillion (US$124.4 million).
Decreasing use of methadone in rehab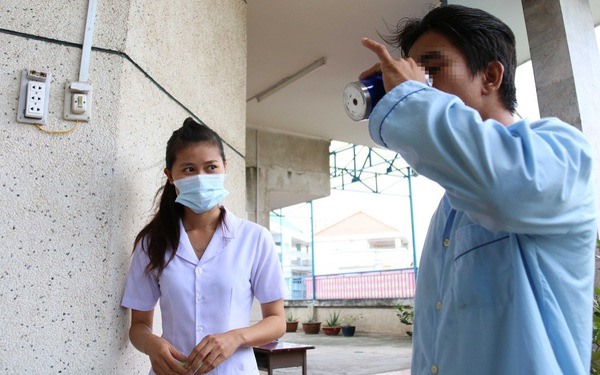 Just 1,300 people are still using methadone in drug rehabilitation treatment out of a total of more than 3000 registered patients.– Photo tuoitre.vn
Just 1,300 people are still using methadone in drug rehabilitation treatment out of a total of more than 3000 registered patients.
By the end of May, in the northern province of Sơn La, two thirds of those receiving treatment had stopped using methadone to treat morphine addiction, with the exception of 43 dead patients, the Vietnam News Agency reported.
"The Sơn La Department of Health has already established a technical assistance team to distribute methadone to the communes' centres. However, the distance from the villages to the centres is quite far, and as such many patients have simply given up," said Nguyễn Thị Kim An, Vice Director of the Sơn La Department of Health.
The main reason for this could be because the mountainous terrain makes patients unwilling to travel to the healthcare centres.
In Sơn La Province, 13 rehab stations are equipped to treat morphine addiction, 12 of which are located in wards, and one in Sơn La City.
As many as 51 communes' clinics are allowed to treat by addiction with methadone. Many patients proposed that methadone be distributed to their doorsteps instead.
Swine flu victim discharged from Đắk Lắk hospital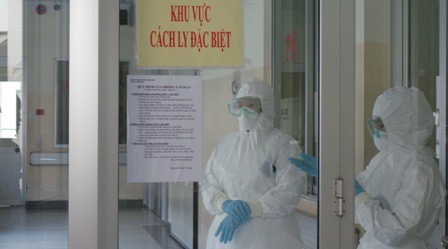 Đắk Lắk's Department of Health discharged a patient from hospital yesterday who had been diagnosed with swine flu A/H1N1 10 days ago.— Photo dantri.com.vn
Đắk Lắk's Department of Health discharged a patient from hospital yesterday who had been diagnosed with swine flu A/H1N1 10 days ago.
Lê Thị Kim Trang, 41, from Cuôr Knia Commune in Buôn Đôn District, was hospitalised on June 3 suffering from stomach pains, vomiting and diarrhoea. She was diagnosed with a gynaecological disease and transferred to Từ Dũ Hospital in HCM City for treatment, where she contracted A/H1N1.
Phạm Văn Lào, director of the Đắk Lắk Preventive Medicine Centre, said that Trang was quarantined and treated based on health and safety regulations.
Cần Thơ General Hospital also announced yesterday that it has been treating the first swine flu A/H1N1 in the Cửu Long (Mekong) Delta this year. The 84-year-old patient was taken to hospital on June 8 after five days of treatment for high blood pressure at a medical station in the southern province of Vĩnh Long.
Doctors said that her condition was improving, however, three medical workers are being monitored after showing symptoms of the virus. 
Vừ A Dính Scholarship Fund raises $1.3 million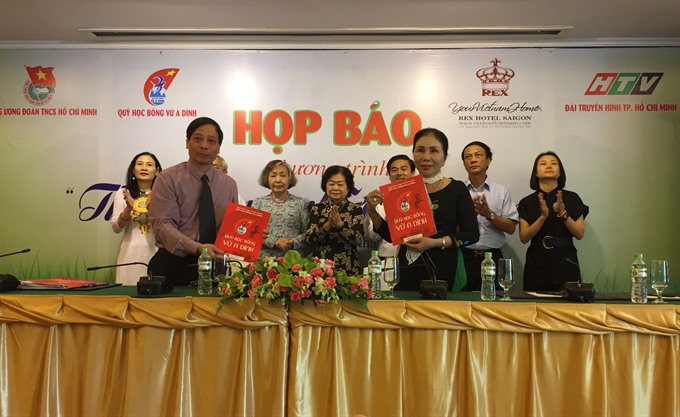 A representative of the Vừ A Dính Scholarship Fund signs agreements with donors in HCM City on June 12. 
The HCM Communist Youth Union's Vừ A Dính Scholarship Fund said it has attracted donations of nearly VNĐ29 billions (US$1.3 million) from 37 local and foreign organisations and individuals this year.
Since its inception in 1999 the fund has provided scholarships to 80,000 disadvantaged students in mountainous regions and islands, Trương Mỹ Hoa, former vice president of Việt Nam and the chairwoman of the fund, told a press conference in HCM City yesterday.
She thanked the donors and praised the efforts of the students who have benefited.
"The projects [carried out by the fund] reflect great humanitarian and social values and responsibility towards the community."
The projects include Ươm mầm tương lai (Nurturing The Future) in collaboration with private schools in HCM City, which has helped disadvantaged ethnic students continue studying.
There have also been Mở đường đến tương lai (Opening Paths to The Future) to award scholarships to ethnic minority girls to enable them to complete high school and tertiary courses, and Chắp cánh ước mơ (Giving Wings to Your Dreams) to provide monthly support to disadvantaged until they finish their high school and tertiary education.
Thắp sáng tương lai (Brighten The Future) has funded construction of schools, bridges, roads, and clean water supply works in deprived localities inhabited by ethnic minorities.
In 2014 the fund launched the Club for Beloved Hoàng Sa and Trường Sa to support fishermen and soldiers protecting the country's sovereignty in the East Sea by donating houses to them and offering scholarships and healthcare support for their children.
On June 16 a programme called Thắp sáng những ước mơ (Brighten Your Dreams) will be organised in HCM City to present Vừ A Dính Awards to nine outstanding collectives and 13 ethnic minority individuals for making important contributions to the community. 
HCMC hosts 2nd World Skin Summit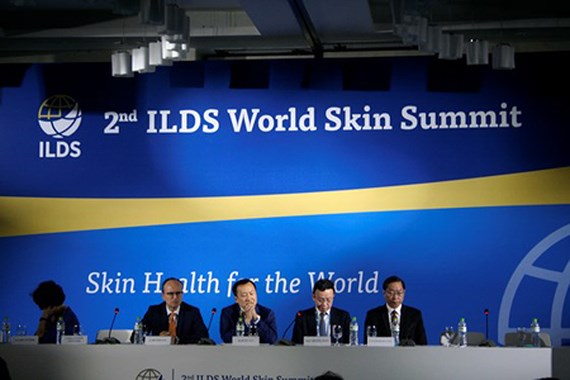 The Second World Skin Summit was held yesterday in Ho Chi Minh City (HCMC), co-organized by the Vietnam Dermatological Society and the HCMC Skin Hospital.
The World Skin Summit is a forum to share and discuss issues related to the design and development of strategies to improve skin health in all levels, ranging from grassroots to international scale; the current international challenges in skin care; the research on rarely seen skin diseases; and the health care for patients in remote areas with limited medical resources.
According to Professor Doctor Tran Hau Khang, Director of the Vietnam Dermatological Society, the organization of the 2nd World Skin Summit is a good opportunity for domestic doctors to meet and exchange knowledge with their international counterparts, helping them to easily integrate with the medical community in the neighborhood as well as in the world.
This, in turn, will aid in the development of suitable strategies for the medical growth of Vietnam.
As said by Prof. Dr. Tran Hau Khang, the Vietnam Dermatology Society has been a member of the International League of Dermatological Societies (ILDS) since 2011. It has offer many chances for Vietnamese doctors to widen their knowledge, skills, and experience via training and discussions, which sequentially help the growth of the dermatology field in the country. 
In this event, the ILDS will summarize and evaluate achievements of its members, followed by necessary recommendations, including plans and directions for many new strategies and projects, in order to come closer to the fulfillment of the goal 'For skin health in the world'.
Taking part in the 2nd World Skin Summit were Professor Doctor Tran Hau Khang, Director of the Vietnam Dermatological Society cum Deputy Director of the Asian Dermatological Society; Professor Doctor Nguyen Tan Binh, Director of the HCMC Department of Health; and more than 200 delegates from 30 nations worldwide as well as members of the ILDS.
Vietnamnese surgeons save French man from myocardial infarction
Surgeons are carrying out the operation to save the French man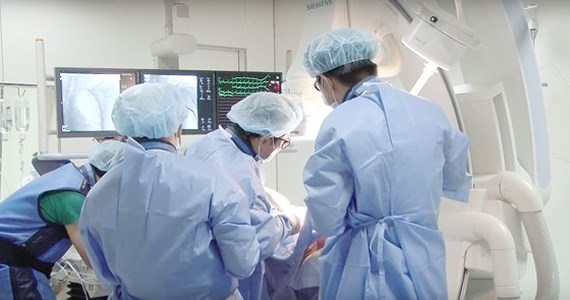 Hoan My Cuu Long Hospital in the Mekong delta city of Can Tho yesterday announced its surgeons saved a French man who had myocardial infarction
A 69-year-old man with French national went on a sightseeing tour with his wife in the Mekong delta. In the mid night, he suddenly suffered the heart attack; accordingly, he was taken to the hospital. he was diagnosed to have acute myocardial infarction, he underwent a coronary stent placement.
The surgery took place in 90 minutes.
After the surgery , he was recovering.
HCMC to pilot clean food supply program for schools in 6 districts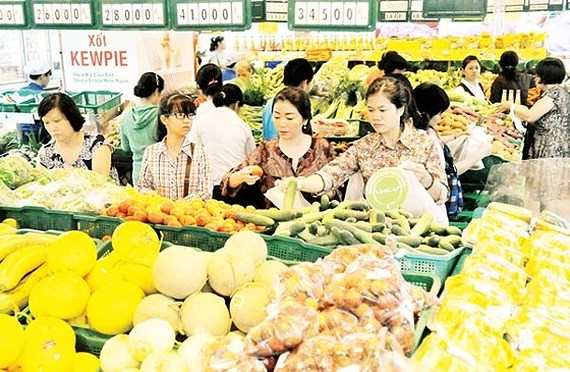 Ho Chi Minh City (HCMC) is piloting the program to deliver food in accordance with the food hygiene and safety regulations for all schools in six municipal districts.
The HCMC Department of Education and Training has just issued a document to instruct heads of the Division of Education and Training in all 24 districts citiwide to carefully select food suppliers for schools in order to guarantee food quality and safety.
Accordingly, in the six piloted districts of 3, 5, 8, 11, Tan Binh, and Binh Thanh, 100 percent schools must choose food suppliers, meeting the food hygiene and safety regulations issued by the Food Safety Management Authority of HCMC, or other similar certificates like ISO 22000:2005, Hazard Analysis and Critical Control Points (HACCP), Vietnamese Good Agricultural Practice (VietGap), Global Good Agricultural Practice (GlobalGap), and Good Manufacturing Practices (GMP). 
In the other 18 districts, the HCMC Department encourages its members to prepare a route to implement this program beginning this academic year of 2018-2019.
It is expected that in 2020, all canteen and kitchens of schools citiwide must receive high-quality food. 
Particularly, any school which has not terminated its contract with low-quality food suppliers in the academic year of 2017-2018 must announce the contract termination time in written form and send to the Division of Education and Training for a summary report to the HCMC Department of Education and Training.
'Student Research Awards 2018' launched
The Ministry of Education and Training (MOET) has just introduced a detailed plan on launching the 'Student Research Awards 2018'.
This is an annual award presented to students who love doing research all over the country, co-held by the MOET, the Ministry of Science and Technology, the Central Committee of the Ho Chi Minh Communist Youth Union, and the Vietnam Union of Science and Technology Associations (VUSTA).
All submitted projects for the award must be approved by the scientific committee at grassroots level. What is more, the nominated must be innovative and novel, feasible and scientifically valued.
Projects that have been published in national and international scientific journals or are now implemented in reality will be preferred.
Besides the requirement of ensuring honesty in scientific research, those projects must not receive any ministry-leveled awards at the time of submission.
There are six scientific and technological fields of natural science, science and technology, medical science, agricultural science, social science, and humanities.
All submitted projects will be evaluated in preliminary round first and then the final round. The award ceremony is expected to be held at the end of this November.
HCMC students bring classical dramas onto stage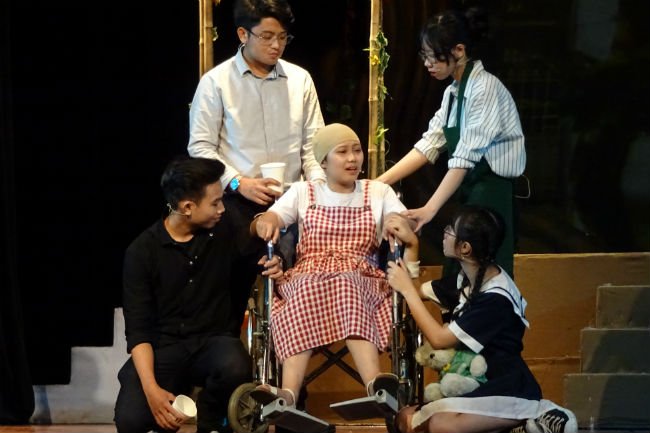 A scene of My Sister's Keeper where Kate (sitting on wheelchair) says the very last words to her family before her death 
Students at the Faculty of Foreign Languages at the HCMC Open University staged My Sister's Keeper, an American novel by Jodi Picoult, at the Drama Theater in downtown HCMC last Saturday.
This is one of four American and British novels brought onto stage under the university's Theater in Education program, with an aim to encourage the English language-learning community in HCMC to practice English and embrace their love for world-known English and American literary works.
My Sister's Keeper tells the story of 13-year-old Anna Fitzgerald as she sues her parents, Brian and Sara, for medical emancipation after she discovered she was supposed to donate a kidney to her elder sister Kate, who is dying from acute leukemia.
The story focuses on nurturing the love and affection among family members. However, above all, love must be fair in any case and the people, especially children, must have the ultimate right to their own body. Even parents should get their permission for doing anything that may affect their physical condition.
With the help of their teachers as mentors and language editors, the students, even though amateur, acted so naturally and emotionally, bringing the audience a memorable and meaningful night.
"Everything, from lighting and sound system, to stage properties, the organizers, tea break, and especially the students' acting, are so professional. If they don't say they are students, I would think they are professional actors," a spectator named Vo Thanh Tuan told the Daily.
According to Le Quang Truc, the lecturer who initiated Theatre in Education, the program has received great support from heads of the HCMC Open University, the university's alumni, sponsors, the media, and many volunteers.
One of the most enthusiastic volunteers is Ilse Zoerb, an American teacher at ILA English Center in HCMC, who helped the students with their pronunciation and played the judge in My Sister's Keeper. "The untrained actors are oftentimes just as interesting and watchable as trained actors. The students inspired me and I admired them a lot. They are very brave since it is difficult to stand on stage and share a story, especially taking on the added challenge of acting in a language that was not their mother tongue," she said.
"The performance is so smooth. I think the students had practiced very hard, with all their love and passion. I'm really impressed by the girl who played the mother as she acted naturally and her intonation was really good," said Nguyen Ngoc Vinh, an audience, to the Daily after the show.
My Sister's Keeper is the fourth and also the last drama brought onto stage under the Theatre in Education program. The earlier plays include The Happy Prince by Oscar Wilde, which opened the program on May 19, Agnes Grey by Anne Bronte, and Emily Bronte's Wuthering Heights.
The plays not only brought wonderful moments to the audience but also conveyed humanitarian values to the community and provided Vietnamese students majoring in English with opportunities to practice English, learn about English and American literary works, and boost their creativity.
"By joining the program, I can learn a lot about teamwork, especially how to get along well with other people and sacrifice my private affairs for the team. In addition, the program helps me improve my English and acting skill, and boost self-confidence," said Le Vo Nhat Huy, third-year student at HCMC Open University, who played the Mayor in The Happy Prince.
Speaking to the Daily after The Happy Prince, Dinh Thi Ngoc Lan who played little swallow, said the play encourages her and other people to help each other, and create a better and happier life.
Initiated in 2016 by Le Quang Truc as he wanted to use dramas to teach foreign language and assist his students to delve into English and American literature and culture, Theater in Education has been an attractive and meaningful annual program for the English language-learning and expat communities in HCMC.
Communication workshop held in response to immunisation week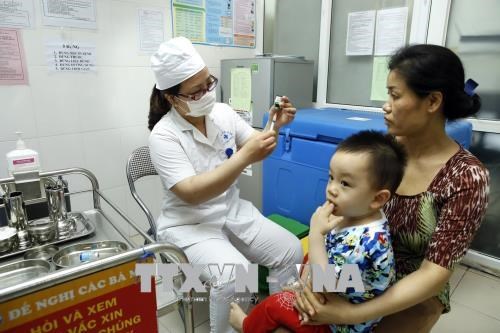 A communication workshop was held in Hanoi on June 12 in response to the immunisation week.
Director of the National Institute of Hygiene and Epidemiology (NIHE) Dang Duc Anh said the week is carried out this month with a view to increasing the effective implementation of the national expanded vaccination against infectious diseases.
This is a practical activity to raise public awareness of the importance of vaccination and call for the involvement and investment of authorities at levels and domestic and foreign organisations, he added.
According to the NIHE, the coverage of immunisation in the first three months of 2018 was on progress. Specifically, the rate of infants receiving hepatitis B vaccines within the first 24 hours after birth was 16.9 percent, higher than the same period last year (16.2 percent).
The number of whooping cough cases in January-March was reduced in comparison to the same period in 2017. No diphtheria cases were reported in the reviewed period (five cases recorded in the first quarter of 2017).
Particularly, in February 2018, the measles-rubella vaccine produced by Vietnam was utilised for children in Nam Dinh, Khanh Hoa, Dak Nong and Ba Ria-Vung Tau provinces.
As a result, 7,787 children aged 18-24 months received vaccination and no serious reaction cases were recorded after that.
The national vaccination information management system has been operated nationwide with more than 11,000 vaccination sites at medical stations in communes and wards.
Training courses for vaccination workers were held.
The immunisation week was initiated by the World Health Organisation in 2011. 
At present, 180 countries and territories have joined this event to protect the public health.
Gender equality significant for nation's global integration: official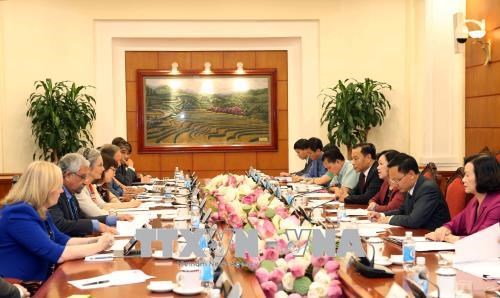 At the meeting between head of the Party Central Committee's Commission for Mass Mobilisation Truong Thi Mai and Informal Ambassadors and heads of Agencies Gender Policy Coordination Group on June 12.
Fulfilling gender equality criteria is significant for Vietnam, especially when the country is integrating deeply into the global economy, said Head of the Party Central Committee's Commission for Mass Mobilisation Truong Thi Mai.
In a meeting with the Informal Ambassadors and Heads of Agencies Gender Policy Coordination Group in Hanoi on June 12, Mai laid stress on Vietnam's efforts to realise gender equality targets. Despite limitations, the implemented policies have made significant contributions to raising public awareness on creating equal chances for female workers.
The amended Labour Code will be submitted to the National Assembly in May, 2019, she noticed, adding that it will ensure rights of the labourers, gender equality, social welfare and the unanimity of the legal system, which are in line with international treaties which Vietnam has involved in.
Kamal Malhotra, Co-Chair of the Informal Ambassadors and Heads of Agencies Gender Policy Coordination Group and the Resident Coordinator of the United Nations in Vietnam, said that he wants to study Vietnam's stance and the promotion of gender equality in the amended labour code, especially empowerment for women, gender equality and female workers, harmony of the retirement age between men and women, and regulations on sexual harassment and gender-based violence at working place.
He believed that removal of gender prejudice will help unlock women's potential, thus improving labour quality and reducing labour shortage.
The group also hoped that the amended labour code will maintain regulations on maternal leave and breastfeeding period, Kamal Malhotra added.
Tuấn helps Thanh Hóa beat Đà Nẵng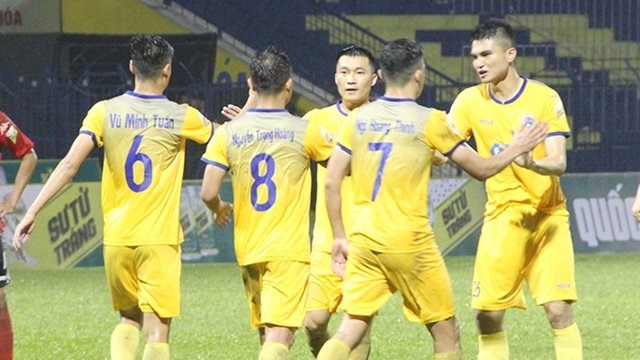 FLC Thanh Hóa celebrate beating SHB Đà Nẵng 1-0 in the 13th round of the V.League 1 yesterday. – Photo bongda.com.vn
Vũ Minh Tuấn's only goal helped FLC Thanh Hóa defeat SHB Đà Nẵng 1-0 in the 13th round of the V.League 1 yesterday.
The game was held at the Thanh Hóa Stadium in the central province of Thanh Hóa.
With the advantage of playing on their hometurf, the hosts were determined to take three points to stop their run of poor form in the event's recent matches.
They started with confidence and had a number of chances to take the lead in the opening exchanges. However, Nigerian striker Edward Ofere missed his chances to score the opener.
Meanwhile, the visitors played slowly and waited to counterattack. Their defence blocked the attacks of their rivals, helping Đà Nẵng to protect their goal.
After the break, the hosts still dominated the game, but after 30 minutes of the second half, Thanh Hóa weren't able to break Đà Nẵng's defence.
Thanh Hóa's coach Nguyễn Đức Thắng changed his tactics and squad in pursuit of goals. He called on midfielder Vũ Minh Tuấn although he hadn't fully recovered from injury. However, this change created a turning-point for the hosts.
In the 80th minute, through co-ordination with midfielder Bùi Văn Hiếu, Tuấn rushed to the left wing and managed to beat goalie Lê Văn Hưng of Đà Nẵng.
This was Tuấn's first goal in a Thanh Hóa jersey this season. Earlier, Tuấn, a key player of Quảng Ninh Coal, left his team to play for Thanh Hóa on a three-year contract.
In the remaining time, Đà Nẵng fought back strongly but failed to level the score.
The match attracted the attention of media and fans nationwide as the two sides have both had success in the national premier league. Đà Nẵng have won the league three times and finished runners-up five times. They have also won the National Cup twice. While Thanh Hóa were the runners-up in the last event and finished third in 2014 and 2015.
This win also eased pressure on coach Thắng as before the 13th round under his guidance, Thanh Hóa only gained one win, two draws and three losses.
In another match, Sanna Khánh Hòa earned three points after beating Cần Thơ 2-1 at the Nha Trang Stadium.
Phạm Trùm Tỉnh and Youssouf Toure scored goals for the hosts Khánh Hòa, while Cần Thơ's goal belonged to Brazilian striker Wander Luiz Queiroz Dias.
In a match played late yesterday, Becamex Bình Dương tied with HCM City 1-1.