Korean painters launch 30 more murals in Quang Nam village
Volunteers from the Republic of Korea have completed some 30 more murals on walls of houses in the coastal commune of Tam Thanh in Tam Ky, the capital of central Quang Nam province.
It is part of the second stage of the mural village project, namely "Art for a Better Community", a joint initiative of the Korean Community Art Exchange Programme and the People's Committee of Quang Nam to support the growth of local tourism industry.
On May 10, a group of Korean volunteers, comprising painters and fine arts teachers, together with local young people started working on the murals, depicting portraits of Vietnamese people, the nature, cartoon characters and the Vietnam-RoK friendship, in Thuong Thanh village. 
They also put on "new clothes" for more than 50 houses in the village with many paintings after 20 days of work.
The second phase of the project was inspired by the success of the first phase which saw Korean artists turning the old walls of 100 houses in Tam Thanh Village, Tam Thanh Commune into colourful murals in 2016.
Photographers from the RoK, the Philippines and Turkey flocked to take photos at the village for an exhibition in Seoul and other cities last year.
Quang Ninh promotes sea, island activities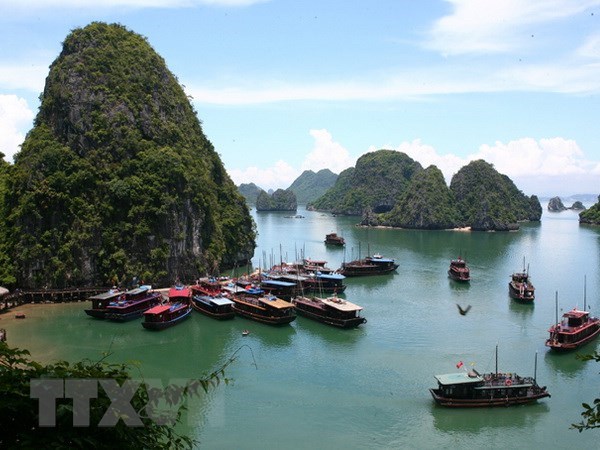 Ha Long Bay, a renowned destination in Quang Ninh province 
The northeastern province of Quang Ninh will host a number of activities in response to the Vietnam Sea and Island Week, which is scheduled to kick off in the locality on May 31.
The event will begin with an art performance themed "Joining hands to keep the blue sea" and a workshop on youths with sustainable development and protection of national sea and island sovereignty.
A contest composing songs on Vietnamese seas and islands will be launched at the opening ceremony.
Various activities will be held in response to the Vietnam Sea and Island Week and the World Ocean Day 2018 on June 1 such as visiting and presenting gifts to sea cleaning forces, conferences and seminars on effective use and management of marine resources, and protection of sea and island environment.
According to Pham Ngoc Long, Chief of the Office of the Vietnam Administration of Seas and Islands, besides Quang Ninh, the Vietnam Sea and Island Week is scheduled to take place simultaneously in the central province of Quang Tri and the Mekong Delta province of Bac Lieu.
Response activities will also be observed across the country, especially in coastal localities, from June 1-8.
Quang Ninh is endowed with natural advantages for sea and island tourism. It is home to the Ha Long and Bai Tu Long Bays, the Ha Long Bay National Park and some islands, the best known of which is Co To and Van Don. 
In particular, Ha Long Bay has been twice recognised as a World Natural Heritage site by the United Nations Educational, Scientific and Cultural Organisation (UNESCO). The Heritage site has become a magnet drawing visitors to Quang Ninh. 
In 2017, a total of 9.87 million tourists visited the province, including 4.28 million foreigners. More than 70 percent of the tourists came via sea and island tours. 
In 2018, Quang Ninh welcomed more than 10 million tourists, 4 million of them came from other countries. The province aims to attract over 12 million visitors this year, including 5 million foreigners.
Quang Ninh is expanding the space for sea and island tourism farther from Ha Long Bay towards islands such as Co To, Van Don and Hai Ha. 
Equipped with a strategic vision for developing the sea-based economy, the province in 2014 approved an Overall Plan for tourism development to 2020 with a vision to 2030. 
Under the scheme, the sea space in Quang Ninh is divided into five zones, which are the strictly preserved Ha Long Bay, the conservation area in Bai Tu Long National Park, the tourism zone, the zone with restricted development to serve national defence and security, and the zone with no development. Each zone, with their specific characteristics, has close links with each other to support the development of sea-based tourism and economy while ensuring national defence and security and serving the province's sustainable development. 
The Overall Plan has made positive impacts on the local tourism sector, helping attract a series of investment projects. Many big investors such as Vingroup, Sun Group, Myway, Tuan Chau and FLC have poured money into tourism infrastructure and entertainment facilities in Quang Ninh.
Seminar seeks ways to build united Vietnamese community in Laos
At the seminar. 
The Embassy of Vietnam in Laos held a seminar in Vientiane on May 30 to discuss ways to link religious and cultural activities with mass mobilisation to build a strong and united Vietnamese community in Laos.
The seminar saw the presence of Vietnamese Ambassador to Laos Nguyen Ba Hung, Vice Chairman of the State Committee for Overseas Vietnamese Affairs Luong Thanh Nghi, head of Phat Tich Laos Pagoda Venerable Thich Minh Quang and representatives from the association of Vietnamese businesses and investors in Laos.
At the event, participants heard presentations on the role of Vietnamese Buddhist establishments in Vientiane and Laos at large in mobilising Vietnamese people to take part in social and charity activities; promotion of cultural, social and religious activities to encourage the Vietnamese community in Laos to look towards their homeland; promotion of community movements, including social and charity activities, to foster the sense of cohesion between the community, Buddhism and the nation.
They also voiced a number of ideas to improve the effectiveness of cultural and religious activities with a view to building a strong and united Vietnamese community in Laos who turn their heart towards their homeland and contribute to the socio-economic development in Laos.
It was estimated that approximately 100,000 Vietnamese people are residing, studying and working in Laos, most of them follow Buddhism. Many see Vietnamese pagodas in Laos as common houses not only for religious practices but also for meeting each other.
Vietnamese Buddhism was introduced in Laos in the early 20th century. Laos is now home to 13 Vietnamese Buddhist pagodas, including three pagodas and one monastery in Vientiane.
Vietnam-German pilot project on nurse training successful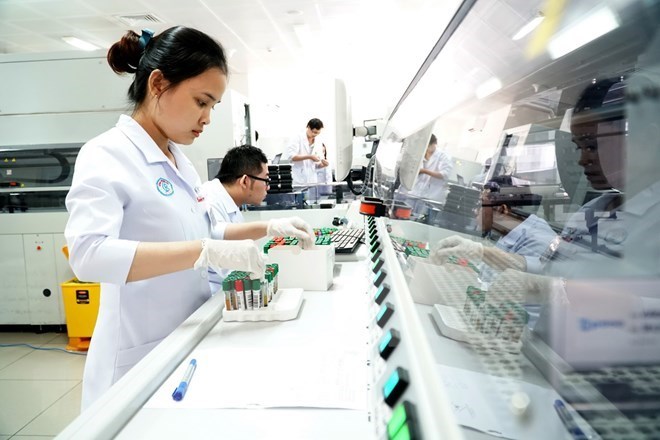 A pilot project of Germany on training Vietnamese nurses has proved effective, as heard a seminar reviewing the project recently held by the German Federal Ministry for Economic Affairs and Energy in Berlin.
Conducted by the German Development Cooperation Agency (GIZ), the project has trained 200 Vietnamese nurses since 2012, over half of them have completed the course and received working permits in Germany. 
Over 95 percent of German training establishments involved in the training programme spoke highly of Vietnamese trainees' diligence and expressed wish to welcome more from Vietnam. 
As Germany is facing rapid population aging, its government set the target of training and recruiting 8,000 – 13,000 nurses between now and 2021 at home or those from the third countries, including Vietnam. 
Minister Counsellor at the Vietnamese Embasssy in Germany Nguyen Huu Trang highlighted cooperation opportunities between Vietnam and Germany, especially in labour training and exchange. 
According to him, Vietnam now has a golden population structure with over 63 million people in working age, or 68.7 percent of the population. 
During their Vietnam visits this year, leaders of German states of Hamburg, Bremen, Rheinland Pflaz and Mecklenburg Vorpommern proposed boosting labour and vocational training cooperation with Vietnam, including training nurses. 
Trang took the occasion to ask Germany to simplify immigration procedures, especially for Vietnamese trainees. 
Vietnam now has agreements on training and employment of skilled workers with over 10 countries and territories, including Japan, the Republic of Korea, New Zealand, Taiwan (China), Australia, Belgium. 
More than 53,000 Vietnamese workers are working in 37 countries and territories worldwide.
Forum spotlights national anti-zoonosis One Health strategy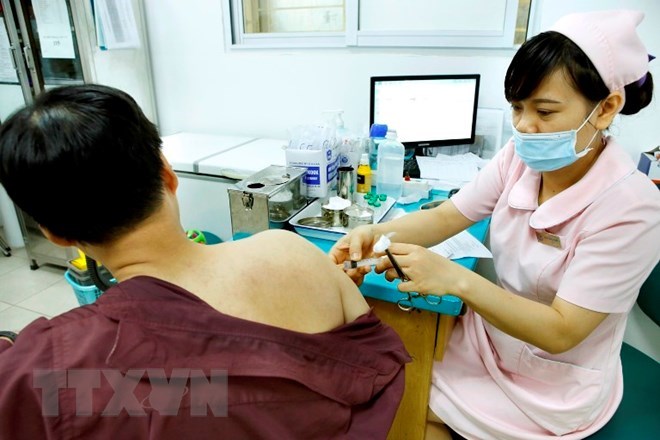 A forum took place in Hanoi on May 30 to review implementation progress of the national One Health strategy on zoonotic diseases prevention.
Speaking at the forum, Deputy Minister of Agriculture and Rural Development Vu Van Tam said Vietnam is sustaining its leading position in the region by stepping up efforts in response to the ASEAN Rabies Elimination Strategy (ARES).
Vietnam will host a regional conference on ARES in late 2018, he added.
The implementation of the One Health strategy regarding antimicrobial resistance, influenza, and other infectious diseases has been stepped up and recorded upbeat international cooperation outcomes, Tam said.
The official noted Vietnam is also continuing its involvement in the World Health Organisation's tool for performance evaluation of veterinary services and the World Bank's health security financing assessment tool.
He highlighted the country's ratification of an agreement on the establishment of the ASEAN Coordinating Centre for Animal Health and Zoonoses (ACCAHZ) in April this year and its successful hosting of the 3rd International Conference on the zoonotic diseases prevention and control last year.
Dang Anh Tuan, Deputy Director General of the General Department of Preventive Medicine under the Health Ministry, said in line with the One Health strategy, the Government has issued a number of legal documents, including the laws on infectious diseases prevention and on animal health.
Nguyen Thu Thuy, deputy head of the Department of Animal Health, informed the forum on One Health work to tackle bird flu, rabies, and antimicrobial resistance in animal husbandry and aquatic farming.
According to the official, her department has submitted to the Ministry of Agriculture and Rural Development for approving a budget of 2.5 billion VND (110,000 USD) for rabies prevention and control in 2018.
The department continues guiding localities in the management of dogs and organisation of rabies vaccinations, she said.
Thuy pointed to the fact that the country has banned the use of antibiotics as growth stimulators in livestock farming since January 2018. 
By 2020, the use of antibiotics for the prevention of animal diseases will also be banned, she added.
Social welfare facilities put into use on Ly Son island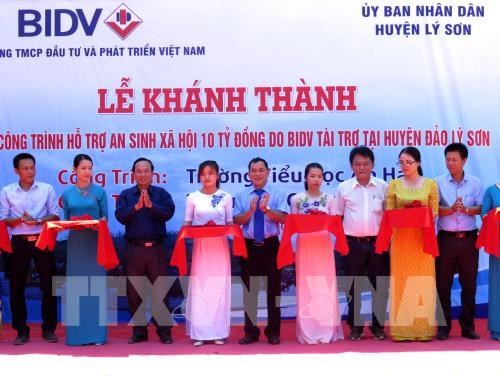 At the inauguration ceremony for the An Hai primary and secondary schools in Ly Son island district 
Two primary and secondary schools, funded by the Bank for Investment and Development of Vietnam (BIDV), were put into use in Ly Son island district, the central province of Quang Ngai on May 30.

Built at the total cost of 10 billion VND (440,000 USD), the construction of the An Hai primary and secondary schools began in July 2017. Each school has six classrooms.

According to Nguyen Thanh Phuoc, Director of BIDV's branch in Quang Ngai, the inauguration of the schools aims to help local people ease their difficulties.

Meanwhile, Chairman of the Ly Son island district People's Committee Nguyen Thanh hoped that with new education facilities, students in the district will try to have good academic performance. 

He wished that the bank and other benefactors will continue support for the island to build more social welfare facilities in order to improve local living quality.

From 2011, BIDV's branch in Quang Ngai has carried out various social security programmes in the locality. It has splashed out 50 billion VND (2.2 million USD) on national target programmes like education and health care assistance and building houses for impoverished people.

Ly Son island, the homeland of the Hoang Sa Flotilla, has received the bank's financial support of nearly 22 billion VND (968,000 USD).

Can Tho, Japanese prefecture boost links in environmental treatment
Can Tho city, with its position as a development driving force of the Southwest region, is selected as a main cooperation partner of Japan's Hiroshima prefecture in improving the environment in the Mekong Delta region, a Hiroshima official has said. 
Kazuki Matsubara, who is in charge of foreign relations and trade of Hiroshima prefecture, made the statement at a working session with representatives of the People's Committee of Can Tho city on May 30. 
The two localities' officials discussed how to connect enterprises operating in improving the environment in Can Tho and the Mekong Delta with those in Hiroshima.
Matsubara said climate change is a global issue and the Mekong Delta is one of the world's three deltas that are the most severely affected by climate change, especially in terms of water and saline intrusion.
Changes in the region's natural advantages have affected production models and habits of local residents, threatening the region's development, he noted. 
He revealed that in recent years, Hiroshima has actively shared Japan's technologies and new scientific achievements related to environmental treatment with other countries over the world, which was made through expanding cooperation and connections among its enterprises with those in countries that are facing serious challenges caused by climate change, including Vietnam. 
Matsubara hoped Can Tho will play the role as a bridge to support the expansion and development of hi-tech models adaptive to climate change in Mekong Delta provinces and cities, thus deciding optimal solutions suitable with the actual situation of the region, helping to remove difficulties and obstacles in environmental treatment.
Japanese delegates introduced Hiroshima's advanced technology achievements in improving the environment such as organic agricultural production, waste collecting and recycling technology, plastic recycling technology, gas monitoring technology in thermal power plants. 
They noted the need to promote cooperation among localities and relevant sectors in the Mekong Delta to enhance the efficiency in the work. 
Dao Anh Dung, Vice Chairman of the municipal People's Committee, highlighted the significance of connection with Hiroshima to the region's socio-economic development and environmental protection goals. 
The municipal authorities will create favourable conditions for the two localities' enterprises to enhance economic and investment links, and to transfer technologies in the environmental sector, he affirmed. 
As scheduled, eight enterprises operating in environmental treatment from Hiroshima, namely Aina, Ogawa Econos, Futaba, Sankyo, Chugai Technos, Furukawa, Hionomaru Sangyo, Mikuniya Japan and Tromso, will attend the Can Tho Investment Promotion Conference 2018 in August.
Italy's 72nd National Day marked in Hanoi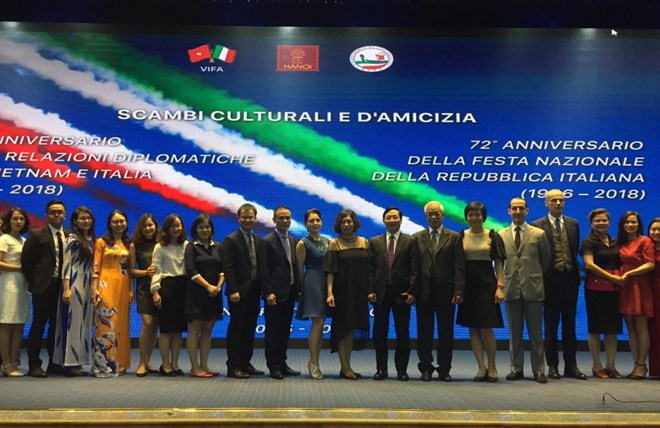 At the exchange to mark the 72nd anniversary of the National Day of Italy and the 45th anniversary of the bilateral diplomatic ties (Photo: baoquocte.vn)
The Vietnam-Italy Friendship Association (VIFA) in collaboration with the Hanoi University organised an exchange on May 30 to mark the 72nd anniversary of the National Day of Italy and the 45th anniversary of the bilateral diplomatic ties.
At the event, VIFA President Nguyen Van Nam expressed his delight at the strong growth and robust achievements of Italy in the past over seven decades to become an important member of the European Union (EU) and a proactive member of the UN and many other organisations.
The country has made significant contributions to the regional and global peace, development, and win-win cooperation, he highlighted.
He noted that the Vietnam-Italy cultural exchange centre (or Dante Alighieri centre), since it was established in Vietnam in 2006, has become an incubator for the Italian culture in Vietnam, hoping that training centres like this will promote their roles in enhancing cultural exchange and mutual understanding between the two peoples in the coming time.
For her part, Italian Ambassador to Vietnam Cecilia Peccioni affirmed that Vietnam has become one of the leading partners of Italy in the Southeast Asian region, across the fields of politics, economy, culture, education and training, and scientific research. Two-way trade hit nearly 5 billion USD per year.
The two nations have enjoyed close cooperation in the framework of the multilateral forums, particularly collaboration between the EU and ASEAN, she underlined.
Regarding education and training, the signing of 100 agreements between universities and training centres of both sides is vivid illustration for the huge cooperation prospects in the sector, she said, adding that students will help connect the two peoples and two economies in the future.
Later, Vice President of the Vietnam Union of Friendship Organisations Bui Khac Son presented the medal "For Peace and Friendship among Nations" to the Italian diplomat. Cecilia Peccioni also received a certificate of merit from the Hanoi University for her contributions to the bilateral education and training cooperation.
The exhibition "Vietnam-Italy in my eyes" is organised at the Hanoi University on the occasion.