Province cracks down on illegal sand mining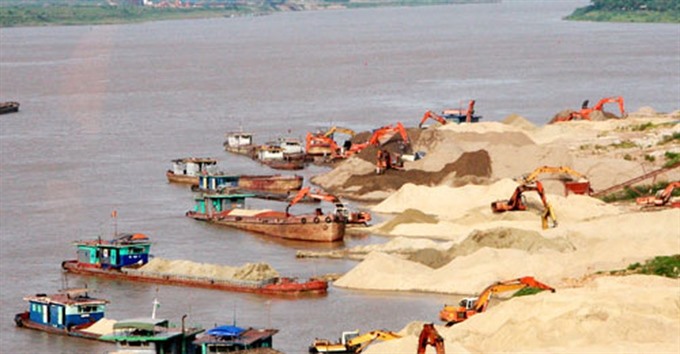 Bình Thuận Province cracks down on illegal sand mining. 
The People's Committee of Bình Thuận Province has asked local authorities to monitor and detect violations of illegal sand mining.
If the authorities do not handle or prevent such acts, they will be severely punished, according to the committee.
A report from the provincial police found that illegal sand mining occurs frequently in Tuy Phong, Hàm Tân, Bắc Bình, Đức Linh, Tánh Linh, Hàm Thuận Nam and Hàm Thuận Tân districts.
Sand is being illegally exploited in all 10 communes in Hàm Tân District.
Recently, Deputy Prime Minister Trương Hoà Bình ordered the people committees of provinces and cities, including Bình Thuận Province, to strictly handle violations committed by organisations and individuals.
In addition, the deputy prime minister has required authorities of provinces and cities to develop solutions to prevent illegal sand mining and submit a report to the Prime Minister before May 31.
Children and mothers to receive Vitamin A supplements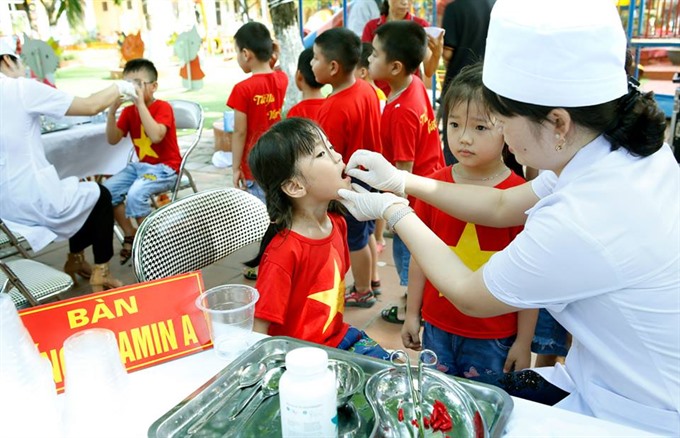 Children will get Vitamin A supplement in Ninh Bình Province as part of the Micronutrient Day which falls on June 1 and 2. — Photo courtesy of the National Institute of Nutrition
Children and new mothers will receive Vitamin A supplements as part of Micronutrient Day celebrations, the National Institute of Nutrition said.
The supplements will be provided to children between six and 60 months of age in 22 provinces with high stunting rate as well as children aged between 6-36 months old in the remaining 41 provinces and cities on Micronutrient Day, which falls on June 1 and 2.
The institute's director Lê Danh Tuyên said Vitamin A supplements will also be given to new mothers and children under high malnutrition risk, such as those with severe malnutrition, prolonged diarrhea, acute respiratory infection, and measles.
In addition, children from 24 to 60 months in 22 provinces and cities that have a high rate of stunted growth will be dewormed. Communication and education efforts will strengthen awareness about nutrition and nutritional requirements, and encourage good eating practices among people, Tuyên said.
"Việt Nam has made remarkable strides in addressing the malnutrition problem, especially among children under 5," he said. "Low weight and malnutrition have gone down rapidly and sustainably from 30.1 per cent in 2000 to 14.1 per cent in 2015 and 13.8 per cent in 2016."
However, Tuyên said Việt Nam still faced many challenges, such as the stunted growth rate of children under the age of five, which remained high at 24.3 per cent in 2016. The number of malnourished children differs across the country, with high rates of malnutrition being recorded in the Central Highlands and northern mountainous areas. Meanwhile, obesity is on the rise in urban areas.
Micronutrient deficiency prevention is one of the six important tasks of the National Nutrition Strategy for the 2010-20 period, which puts focus on comprehensive measures, including providing micronutrients for high-risk groups as immediate solution, adding micronutrients in food as a medium-term solution, and diversification of daily meals as a way to reduce micronutrient deficiency in a sustainable and long-term way.
Foundation honouring late writer forced to close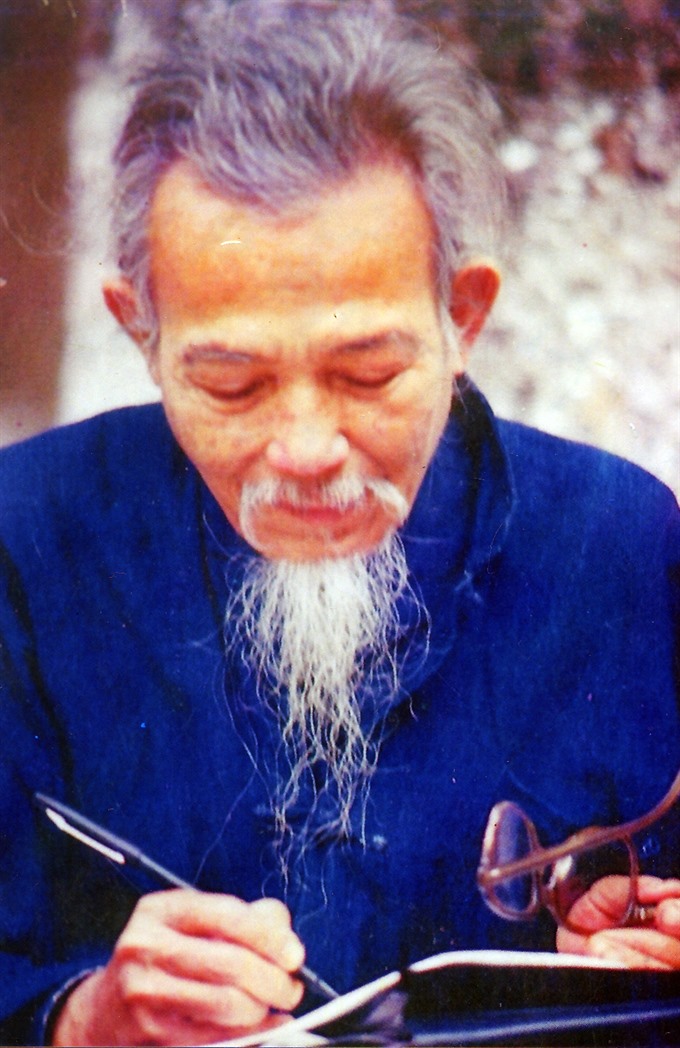 Late writer and poet Phùng Quán. A foundation which was founded in his memory has closed due to a shortage of funds. — Photo vnweblogs.com
The Phùng Quán Foundation, founded in memory of the late famous writer and poet Phùng Quán, has been forced to close due to a shortage of funds.
Poet Ngô Minh, founder and manager of the foundation, announced the closing of foundation because of its financial complete exhaustion.
Founded in 2011, the foundation aims to encourage excellent pupils from the writer Quán's hometown in Thủy Dương Ward, Hương Thủy Town, Thừa Thiên-Huế Province. It also aims to praise outstanding works of literature by Huế authors. The foundation has been run with more than VNĐ100 million (about US$4,400), which is the remains of donations from kind-hearted people to build the tomb for writer Quán and his wife. The foundation has also received small contributions from two other sponsors.
Born in 1932 in Thủy Dương Commune, Hương Thủy District in Thừa Thiên-Huế Province, Phùng Quán in 1945 joined the Vệ Quốc Quân force, which is the predecessor of the Việt Nam People's Army.
His debut literary work, Vượt Côn Đảo (Escape from Côn Đảo Island Prison) rose to fame, receiving the Việt Nam Writers' Association Prize in 1955.
In 1988, he published his novel Tuổi Thơ Dữ Dội (The Fierce Childhood) and received the Children's Literature Prize of the Việt Nam Writers' Association in 1990.
Alongside novels, Quán also composed several famous poems including Hoa Sen (Lotus), Hôn (Kiss) and Đêm Nghi Tàm Đọc Đỗ Phủ Cho Vợ Nghe (Reading Poems by Đỗ Phủ for my Wife in the Night in Nghi Tàm). His wife is Vũ Thị Bội Trâm, a teacher at the Chu Văn An High School in Hà Nội.
Quán passed away on January 22, 1995 in Hà Nội. Five years later, his wife also died. Obeying his wishes when he was alive, his family and friends brought his remains and those of his wife to be buried at his birthplace in Hương Thủy Town.
In 2007, Phùng Quán was granted the National Award for Literature and the Arts by the State of Việt Nam.
Việt Nam Coal and Mineral whip Sơn La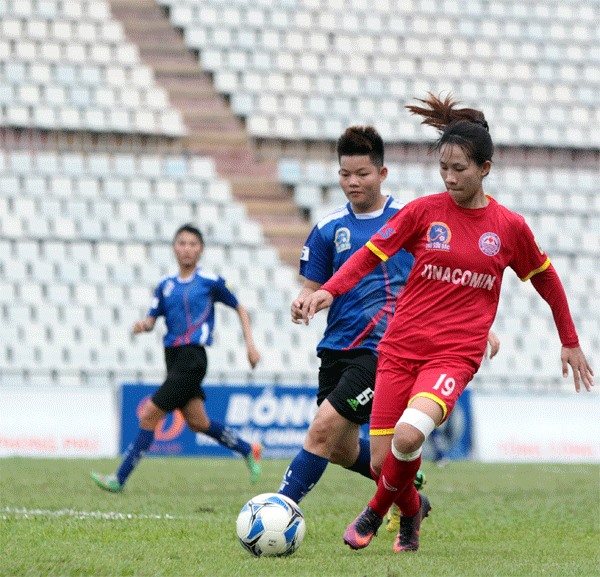 Việt Nam Coal and Mineral vs Sơn La in the third round of the National Women's Football Championship - Thái Sơn Bắc Cup on May 28. — Photo vff.org.vn
Việt Nam Coal and Mineral easily crushed Sơn La 6-0 in the third round of the National Women's Football Championship — Thái Sơn Bắc Cup.
Việt Nam Coal and Mineral were in clear control from the opening minutes of the game, which was held in the northern province of Hà Nam on Monday.
Thúy Hằng gave Việt Nam Coal and Mineral the lead in the 16th minute, scoring off a pass from one of her teammates.
Six minutes later, Phạm Thị Hằng doubled the score for Coal and Mineral.
Nguyễn Thị Vạn raised the score to 3-0 before the end of the first half.
After the break, Sơn La fought back strongly to try to narrow the gap but failed to score any goals.
Meanwhile, Coal and Mineral proved their mettle by scoring three more goals.
Earlier, Phong Phú Hà Nam beat HCM City 2, 5-0, while Hà Nội bested defending champion 1, 2-1.
Hà Nội is the provisional leader in the rankings with nine points, followed by Việt Nam Coal and Mineral with six points, and Phong Phú Hà Nam with four.
Teams have a day off on Tuesday to prepare for the event's next round.
Healthcare programme to mark International Children's Day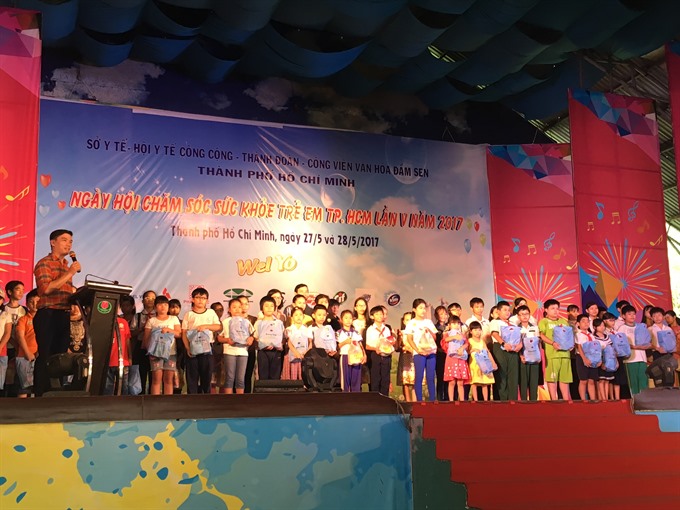 Children receive gifts at a children's healthcare programme organised last year by the HCM City Public Health Association.
A programme on children's healthcare will be held at HCM City's Đầm Sen Park on June 2-3 to mark International Children's Day (June 1)
Parents and children will be taught about healthcare, prevention of diseases, proper nutrition and food safety.
Children will be examined and given medicine if they are found with some illness.
There will also be gifts and games for them.
The annual programme is organised by the city Public Health Association together with the Department of Health, Hồ Chí Minh Communist Youth Union and the amusement park.
It is expected to attract around 10,000 kindergarten and primary school children.
Birthday of Lord Buddha celebration in HCM City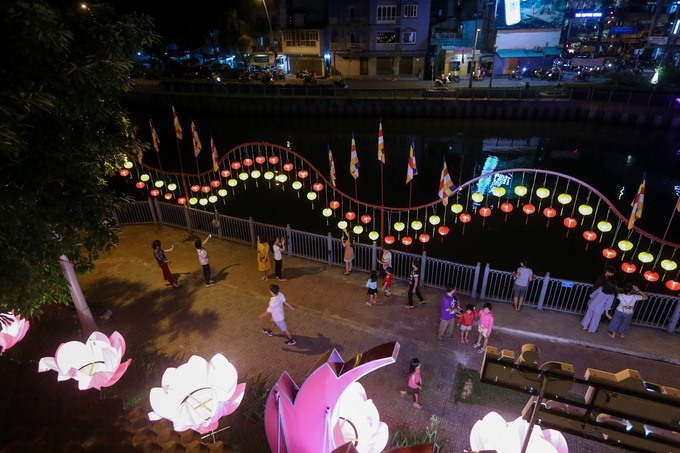 Lanterns along Nhiêu Lộc – Thị Nghè canal near Pháp Hoa Pagoda in HCM City attract local residents during the week-long celebration of the Lord Buddha's birthday. Photo vnexpress.net
The significant contributions made to the cause of religious freedom and national liberation by Vietnamese Buddhists were remembered yesterday in HCM City on the occasion of the 2,562th birthday of Lord Buddha.
A grand ceremony was held at the Việt Nam Quốc Tự Pagoda in District 10, which was attended by the Supreme Patriarch Council of Việt Nam Buddhist Sangha (VBS), Executive Council of VBS, and thousands of nuns, monks and Buddhist followers and local authorities.
At the ceremony, the Most Venerable Thích Trí Quảng, deputy head of the Supreme Patriarch Council of VBS, read a message from the Most Venerable Thích Phổ Tuệ, supreme patriarch of VBS, which said that Buddhists should continue to contribute to the country's prosperity.
"Over the past 26 centuries, the Lord Buddha has enlightened our life, bringing happiness, peace and prosperity to humanity across the planet, keeping away inequality, war, conflict and poverty," the message from the supreme patriarch said. 
The Most Venerable Thích Phổ Tuệ called on Buddhist followers and members of VBS to support the spirit of "Wisdom - Ethics - Integration – Development", which is essential for the national unity bloc, as well as build and defend the motherland of Việt Nam.
On behalf of HCM City authorities, Tô Thị Bích Châu, president of the HCM City Fatherland Front, praised the outstanding contributions and services of Buddhist dignitaries and followers to national construction and defence.
Châu said the Việt Nam Fatherland Front and other city agencies would create favourable conditions to promote the good values ​​of religions as well as ensure the Party and State's consistent policies in facilitation of freedom of religion.
Religious dignitaries and religious followers are encouraged to actively participate in patriotic emulation movements and campaigns launched by the Government and the Fatherland Front at all levels, she added.
The celebration of Lord Buddha's birthday this year took place when Buddhists nationwide marked the 55th anniversary of the self-immolation of Bodhisattva Thích Quảng Đức for the cause of national independence and protection of Buddhist traditions and Vietnamese culture.
Ceremonial activities at the pagoda included incense offering and releasing of pigeons to pray for peace and happiness. 
HCM City, Dutch Lady organise contest on food safety for schools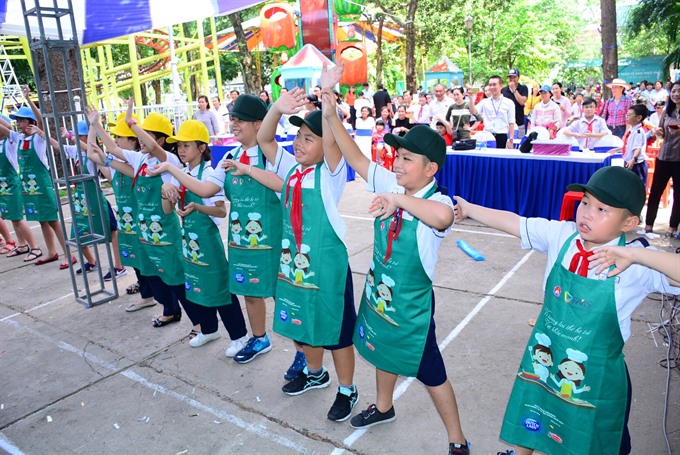 A contest was held by the HCM City Department of Education and Training for schools to improve knowledge of food safety. —Photo Courtesy of FrieslandCampina Việt Nam
Students of Lê Văn Sỹ Primary School in HCM City's Tân Bình District have won the first prize in this year's Food Safety and Hygiene Contest for students.
The month-long contest also included another category - for cooks – and attracted more than 250 primary schools in the city that make lunch for their students.
It was aimed at improving knowledge of food safety and hygiene and reducing the danger of food poisoning.
Contestants had to take online tests, fill questionnaires on food safety and hygiene and cook.
In the category for cooks, Nguyễn An Ninh Primary School in Hóc Môn District won the first prize.
The contest was organised by the city Department of Education and Training in co-operation with FrieslandCampina Việt Nam's Dutch Lady brand.
The rate of obesity among children aged below five in HCM City has increased by three times over the last 10 years while in the case of high school students it has doubled, according to a press release from FrieslandCampina. 
Laos presents Labour Order to Viettel joint venture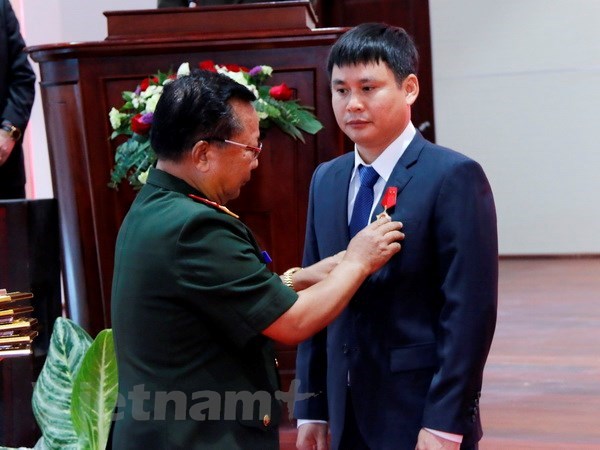 Lao Defence Minister Senior Lieutenant General Chansamone Chanyalath presents the Labour Order to Unitel Director Cao Anh Son 
The telecommunication company Star Telecom (Unitel), a joint venture between Lao Asia Telecom and Viettel Global, received the Labour Order and a certificate of merit from the Lao State on the occasion of its 10th founding anniversary (April 1, 2008) in Vientiane on May 26.
Lao Defence Minister Senior Lieutenant General Chansamone  Chanyalath presented the second-class Labour Order to Unitel in recognition of its significant contributions to the socio-economic development in Laos.
He described the company's achievements as active contributions to nurturing and enhancing the traditional friendship, special solidarity and comprehensive cooperation between the two countries' Parties, Governments and peoples.
On the occasion, the Lao Ministry of Defence also honoured Unitel's outstanding individuals.
Unitel has helped the telecom industry in Laos develop faster over the past 10 years, not only serving the Lao State and Government but also the local social services.
Director of Unitel Cao Anh Son said Unitel is now the biggest telecom provider in Laos with over 1,500 Vietnamese and Lao employees and 2.9 million mobile subscribers, making up 52 percent of the market shares.
The company's accumulative revenues have reached 1.3 billion USD, contributing over 350 million USD to the Lao State budget.
Unitel boasts over 6,000 stations in charge of 95 percent of 2G/3G/4G network coverage across Laos.
The company is a symbol of successful cooperation between the two armies in particular and the two countries in general.
It has actively sponsored a lot of programmes worth up to 13 million USD including the internet development project for Lao schools.
Son thanked the Lao Party and State for their recognition and pledged to develop Unitel into a leading business in promoting cooperation between the Vietnamese and Lao governments.